Stone Floor Cleaning Fulham
Discover Outstanding Stone Floor Cleaning Fulham.
The Way We Work With Each Other
Give The Size And Types Of Stone
In most cases the size and variety of stone, plus a few pictures showing the appearance of the floors will be all we require.
We shall email an in depth quotation once we have clarified your requirements.
Stone floors can frequently have a variety of finishes, therefore we may include alternatives to accommodate most budgets.
Our quotation will be complemented with a document displaying types of similar work.
We Decide On A Working Schedule
We arrive organized for work as well as on time.
Your natural stone floor will look lovely
Exactly Why You Ought To Contact London Stone Care
Your stone and tile floors brought back to like-new - or possibly better!
Affordable costs tailor-made to make stone floor cleaning very affordable on just about any budget.
If you are prepared to release the attraction of your stone and tile floors, speak to our restoration division!
happy to guide you with cleaning and maintenance advice
Following restoring a stone floor, we share a detailed maintenance program.
Contact Us Now!
Your stone floor cleaning quotation is only a click away.
Our Professional Stone Floor Cleaning And Restoration Services In Fulham Explored
Over time marble tiles will lose the initial surface. Scratches and etch damage add up and remove the initial shine. Before long, your floor will have to be polished.
We use diamond polishing equipment to reinstate the original gloss.
If your floor has been laid with not level tiles, this is known as "lippage". The only method to make a marble floor flat is by grinding off the lippage and irregular edges of the tiles. You require specialist machines and several years of marble grinding and polishing to successfully grind a marble floor, but the final result is beautiful.
After grinding, the marble will be flush with the grout lines. The marble will get a monolithic appearance as a single area of marble.
A smooth marble finish is much simpler to keep. A smooth floor won't have grout depessions to trap soil. Chips and cracks can be repaired with coloured resin fillers. We can recommend the right restoration service.
Travertine Floors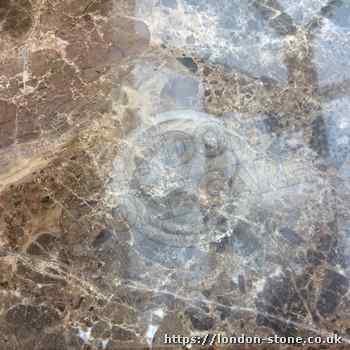 Almost all of the Travertine installed in the United Kingdom has a honeycomb structure with lots of holes. Travertine floor tiles come in many different finishes, smooth honed, polished and tumbled. The initial hole filler often comes away, allowing the holes to fill with dirt, soil and mopping water.
Working to the highest standard, restoration service providers have specialist machines and cleaners to get rid of the soil and old sealer residues on a Travertine floor.
As soon as the Travertine floor tiles and the holes are cleaned, any open holes are grout filled using a colour matched grout. We then apply a long-lasting sealer that also helps make the Travertine floorless difficult to clean.
Limestone Floor Cleaning
Progressively Limestone will loose the initial shine. This surface damage is due to traffic scratching and surface etching The best way to reinstate the polish is by polishing the tiles. We make full use of professional equipment and diamond tooling to grind, hone and polish the Limestone.
It is almost unachievable to install a Limestone tile floor really flat. We can grind off the jagged edges of the tiles, making a floor surface smooth. Limestone grinding is a professional job, giving great results. The Limestone floor will get a monolithic appearance as just one slab of Limestone.
Following grinding, the tiles and grout are at the exact same level. Mopping a ground, honed and polished Limestone floor is a lot like cleaning a single bit of glass. Also, soil doesn't get stuck within the grout lines. Chips and cracks can be filled with colour matched resin repair fillers. The type of restoration needed should be dependant on the current state of the Limestone floor.
Terrazzo Floor Restoration
Terrazzo has been utilized for many thousands of years as a flooring Sooner or later, Terrazzo will lose the original finish. The dullness is due to microscopic scratches on the surface where it has been walked on.
Ultimately, the Terrazzo will need to be polished to the highest standard. We have diamond polishing equipment to grind the Terrazzo and restore the initial finish. Our Terrazzo sealers will help minimize further siol related issues.
Sandstone Floor Cleaning
Sandstone is created primarily of quartz, iron oxide, silica and calcium based deposits making it a very long-lasting stone. Old sandstone may be covered with a variety of old coarings and trapped dirt, so ideally, it really needs expert cleaning and sealing.
We have specialist scrubbing and rinsing equipment to eliminate the soil and old coatings, restoring the initial sandstone surface Once the sandstone is clean, we allow it to dry, then apply a long-lasting, easy to clean sealer. After inspecting the tiles, we will advise the best Sandstone restoration service.
Granite Cleaning & Sealing
Granite is widely used in both home and commercial rooms. Granite is incredibly hard.Granite is often chosen for the stone's hard wearing characteristics. Granite tile requires less professional routine maintenance when compared with other natural stones.
Granite is so hard, that many companies don't have the equipment or experience to restore it. We offer the full array of Granite restoration and polishing services. to the highest standard.
Terracotta Floors
Terracotta features a distinctive colour and a rustic appearance in the home, but must have careful maintenance to keep it looking its best.
Coarse cleaning chemicals including conventional floor cleaning solutions and bathroom tile cleaners could damage and mark Terracotta.
Cleaning and restoring terracotta tiles begins with taking off the existing polish, sealers and embedded dirt with specialist sealer removers and cleaning chemicals.
We use a long lasting sealer for terracotta, and that means you get the maximum benefit and value from your cleaning.
Slate Floor Cleaning And Sealing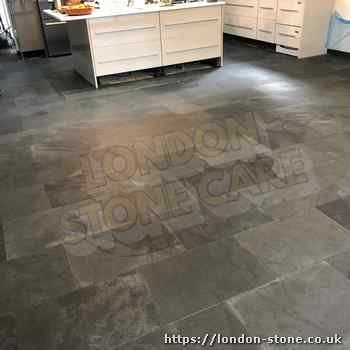 Slate floors look fantastic along with their distinctive appearance and vibrant colour. Slate needs regular sealing to stop soil and spills marking the finish.
We use industrial-grade sealer removers and scrubbing appliances to remove the layers of old coatings. After professional cleaning we apply hard-wearing sealers.
If you have got the right slate, it may be ground smooth, rendering it easier to clean.
Victorian Tiles Floor Restoration
Victoran clay geometric tiles are laid in Victorian and Edwardian Hallways.
The principal properties of Victorian tiles include natural clay colours and a matt finish.
With the changes in home design, these floors come with carpet underlay, lino adhesive, bitumen and different sticky remains.
Old waxes, polishes, paint spills and sealer remains makes cleaning these types of floors a challenge.
After cleaning an impregnating sealer is put on to enhance the colours and protect the floor tiles. If you like a sheen or gloss finish a surface sealer or wax may be used.
Quarry Tiles Floors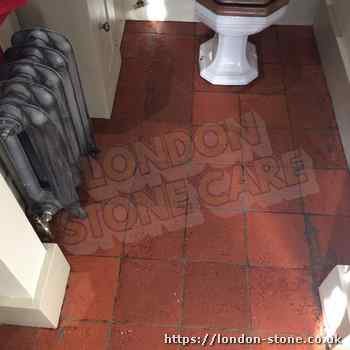 Quarry tiles have been a common fixture in kitchen areas and for interior flooring for decades.
One common problem is previous coatings of sealer that need to be removed.
While the tiles may appear soiled and discoloured, they are surprisingly tough and could look just like new after an effective clean. After cleaning, the tiles should be sealed with a enduring sealer.
Cleaning Of Porcelain Floors.
Porcelain is now an extremely popular option to ordinary ceramic tiles and natural stone.
High quality Porcelain has very low porosity, this means less stains, less water damage and mold, and less need for sealing.
There are some substandard porcelains that will absorb surface soil and spills just like natural stone floors. The microscopic surface pits insure that it is tough to remove this soil.
We have the experience and equipment to remove this difficult to reach soil.
Our Porcelain sealers will help stop further soil problems.
Solid colour Porcelain Tiles can also be ground and polished, just like Granite or Marble.
Cleaning Ceramic Tile Floors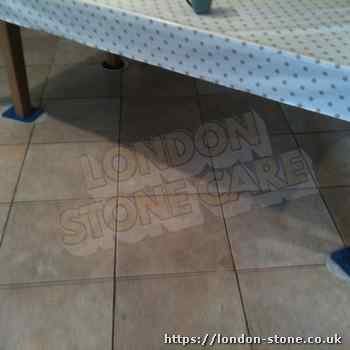 Professional cleaning of Ceramic tile floors can often take less time than natural stone floors or clay tiles..
This happens as the tile surface is commonly glazed.
Nevertheless, you will definitely still achieve better results with specialist equipment and materials.
Immediately after cleaning and restoration we put on a specialist tile sealer. A sealed tile is a lot easier to maintain and it helps stop stains.
A Number Of The Stone And Tile Restoration And Cleaning Services We Give
Stone and tile cleaning is rarely just cleaning, there exists regularly more restoration required. Stone floor restoration covers a variety of services. At the least, all stone floors suffer some type of generic wear and tear. More often than not, soil, stains and traffic marks ruin floor's finish. Highly polished marble and granite floors show up wear quickly, as minute foot traffic scuff marks into the stone surface affect the luster and hold dirt. A surface sealer will not prevent porous natural stone and tiles like Sandstone, Limestone and Terracotta gradually struggling with wear and spill problems. Most tile and stone flooring has cement grout. Cement grout is usually softer in comparison to stone and a lot more at risk of abrasive and chemical damage. Holes could possibly be filled and cracks repaired included in a restoration. Tile and stone gets the appeal that a grubby, porous surface could be taken away, exposing an attractive new surface. Grinding and honing removes surface damage from etching and surface scratching.
Natural stone sealing is crucial to help keep a unique natural stone finish looking stunning. Stone sealers should really be put on new stone floor and tile floors and immediately after any floor tile cleaning, stone polishing or tile restoration work. Impregnating or penetrating sealers are employed following diamond floor polishing. Hybrid sealers or Surface sealers are best put on coarse stone floor or tiles.
The original shine on a stone and tile will gradually go dull. The loss in shine is attributable to foot traffic scratches and surface damage. The only way to replace the original finish is by polishing the stone floor. On marble, Granite, Terrazzo, Polished Limestone and Polished Travertine floors, diamonds are utilized to get rid of the top wear and recover the original sparkle. The shine on Honed Travertine, Honed Limestone, Sandstone, Slate and Clay tiles is established by applying a higher gloss sealer. Sealer removing products are applied to take away all traces for the existing sealer, after which a fresh gloss sealer is applied.
Is there unsightly chips on your tile and floor?
You don't have to change the tile and. Coloured resin fillers can fill chips and damage on a tile. When the resin cures, it offers to be sanded and polished. Chip repairs are less costly than laying new tiles.
Contact the Industry Professionals for Natural Stone Repairs London - Call the Specialists.
Repairing Cracked Tiles
A slight movement within the subfloor could make a crack in a marble tile. Cracks tend to be present in doorways and in between rooms. Also, a crack can appear due to a deficiency or weak spot within the tile. Crack repaircosts never as much as replacing the tile.
If you have got a deep crack in your floor, vanity unit, tabletop or counter top, they've been filled with coloured epoxy fillers. Hairline cracks are too fine to just accept a filler and in addition they should be widened with diamond tools before these are typically filled.
Other areas near Fulham we help include:
FulhamHelpful Information
Fulham is an area of the London Borough of Hammersmith and Fulham in southwest London, England, 3.6 miles 5.8 km southwest of Charing Cross. It lies on the north bank of the River Thames, between Hammersmith and Kensington and Chelsea, facing Wandsworth, Putney and Barn Elms, with the London Wetland Centre in Barnes. Fulham has a history of industry and enterprise dating back to the 15th century, with pottery, tapestry-weaving, paper-making and brewing in the 17th and 18th centuries in present-day Fulham High Street, and later involvement in the automotive industry, early aviation, food production, and laundries. In the 19th-century there was glass-blowing and this resurged in the 21st century with the Aronson-Noon studio and Zest gallery in Rickett Street that fell victim to the so-called €œEarl Court Regeneration€ scheme in 2012. Lillie Bridge Depot, a railway engineering depot opened in 1872, is associated with the building and extension of the London Underground, the electrification of Tube lines from the nearby Lots Road Power Station, and for well over a century has been the maintenance hub for rolling stock and track. Two football clubs, Fulham and Chelsea, play in Fulham. There are two exclusive sporting clubs, the Hurlingham Club, known for polo, and the Queen tennis club, known for its annual pre-Wimbledon tennis tournament. In the 1800s, Lillie Bridge Grounds hosted the first meetings of the Amateur Athletic Association of England, the second FA Cup Final, and the first amateur boxing matches. The Lillie Bridge area was the home ground of the Middlesex County Cricket Club, before it moved to Marylebone. Since the late 20th century Fulham has a reputation as one of the most sought-after locations in London and has the highest capital values per square foot of prime South West London. Fulham is considered a prime London area by estate agents.