Stone Floor Cleaning Hampton Court
Introducing Wonderful Stone Floor Cleaning Hampton Court.
Inform Us About Your Floor
A handful of photos showing the floors plus the sizes usually are all we want.
We shall email a detailed quote once we have clarified your needs.
You Will Get A Quick Reply
In many cases we shall propose other treatments to match most budgets.
We will also send a document featuring photos of comparable work.
We visit on time.
We shall do an incredible job
Exactly Why You Can Count On London Stone Care
Our professionals are geared up to work on any stone floor cleaning Hampton Court task that that you need.
Utilizing time-honored skills with contemporary innovations and products to give the best results.
Get a completely free consultation, to restore your marble, grout and tile and back to its original beauty.
Free of cost stone cleaning and maintenance guidance
Following restoring a tile and stone floor, we supply a thorough maintenance program.
Contact Us Now!
It's straight forward to book a quotation for your stone floor cleaning .
Our Specialised Stone Floor Cleaning And Polishing Services In Hampton Court Outlined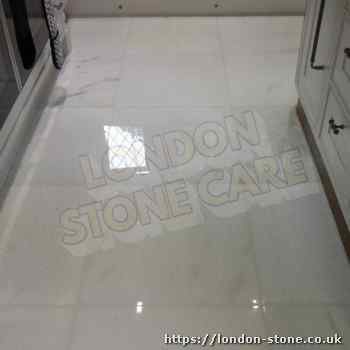 The original polish on marble tiles will slowly go dull. Scratches and etch damage build and take off the original shine. Gradually, the marble will need to be repolished.
We use industrial diamond polishing machines to revive the original luster.
It really is practically unachievable to lay a marble floor really flat. We can grind away the jagged tile edges, making a floor surface perfectly flat. Grinding marble really should be done by specialists.
Following grinding, the grout sits is level with the marble tiles. The marble will get the look of becoming just one slab of marble.
After grinding and polishing mopping is a breeze, as the mop slides over the floor. There will be no grout channels to hold dirt. If your marble floor has cracks and chips, we are able to repair them with resin fillers, closely colour matched with the marble. The particular restoration needed is going to be based on the current condition of your floor.
Travertine Floor Restoration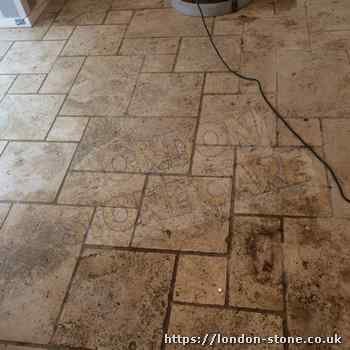 A Travertine floor is characterised by a honeycomb structure, with a lot of holes. Travertine floor tiles qre available in many different finishes, smooth honed, tumbled and polished. As the travertine wears, the hole filler comes out, and the holes get filled with unsightly soil, dirt and mopping water.
Working to the highest standard, restoration businesses have specialist equipment and chemicals to remove soil and old sealer residues on a Travertine floor.
After cleaning, any holes on a Travertine floor may be filled up with coloured grout. After cleaning and re-grouting the Travertine floor we apply a durable, easy to clean sealer.
Limestone Floor Cleaning
Limestone ultimately looses the original shine. Scratching and etching build up and take off the original finish. Limestone Polishing is your only way to restore the original polish. We use industrial diamonds to remove the damage and restore the initial shine.
In the event that tiles are not really, even this disorder is called "lippage". A Limestone floor is leveled by grinding off the lippage and uneven edges of the tiles. Grinding Limestone floor tiles really should be performed by specialists. The Limestone will get a monolithic appearance as a single area of stone.
Following grinding, the Limestone and the grout will be at the same level. It is a lot easier to maintain a smooth, sleek floor than a bumpy floor. Also, soil does not get stuck within the grout lines. If your Limestone has chips and cracks, we are able to repair the damage with resin fillers, colour matched with the Limestone. Once we assess your Limestone floor, we will suggest he optimum restoration process.
Terrazzo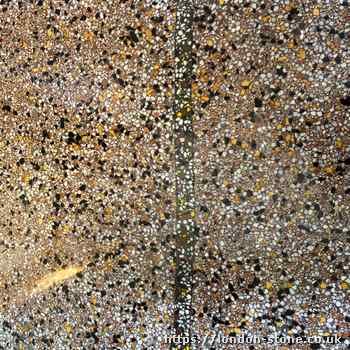 Terrazzo has been used for many thousands of years as a decorative flooring The original finish on a Terrazzo floor will eventually go dull. The dullness is brought on by microscopic scratches on top where it has been walked over.
The only way to revive the original finish is by polishing the Terrazzo to the highest standard. Diamonds get rid of the surface damage and restore the original Terrazzo shine. After cleaning and polishing, we use specialist Terrazzo sealers.
Sandstone Cleaning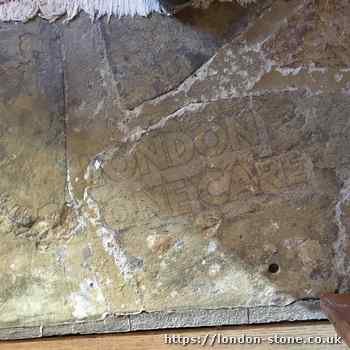 Sandstone is formulated primarily of quartz, iron oxide, silica and calcium based deposits that makes it a very long-lasting stone. Sandstone can end up getting ingrained soil making it look dull and tough to clean.
We use a combination of machine scrubbing, hand scrubbing and pressurised rinsing to eliminate all traces of old soiled coatings and clean a floor to the highest standard. Following cleaning we apply hard-wearing sealers. We shall advise the appropriate restoration service.
Granite
Granite is a well known stone for domestic and commercial rooms. Granite is a very hard stone flooring and extremely resistant to damage from scratches and stains compared to other stone like limestone and marble. Granite flooring resists wear longer than alternative stone, like limestone or marble.
Very few stone restoration companies will restore Granite, because it is so very hard and difficult to restore. Our Company will restore all forms of granite flooring. to the highest standard.
Terracotta Floor Cleaning And Sealing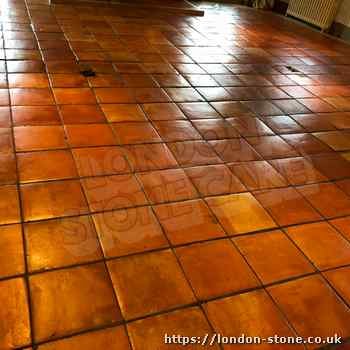 Terracotta is made of natural clay and historically has been used for roof tiles, sculptures, bricks and floor tiles.
Conventional Terracotta sealers should have frequent maintenance and re-sealing, if they're not taken care of, the finish will start to get dirty and porous.
Industrial grade sealer removal treatments and cleaners help to remove old sealers and soil, while protecting the attractive surface.
Whilst we can seal Terracotta with Boiled linseed oil and wax, we advise a durable synthetic sealer which will last for years, with minimal maintenance.
Slate Floor Cleaning
Slate flooring is one of the most popular forms of natural stone, since it needs less regular maintenance and mopping. Riven slate will get a build-up of dirt in the crevices this is certainly difficult to get rid of.
We use professional sealer removal treatments and rotary scrubbing machines to remove the layers of old coatings. After the professional cleaning is finished,we then employ a durable sealer which also makes a floor more straightforward to mop.
If you want a smooth finish, we could grind the tiles, but we must assess the slate before grinding.
Victorian Tiles Floors
Victorian Clay or Minton geometric floor tiles are mainly found in Victorian and Edwardian Hallways.
The tiles have a matt finish and get their colour through the clay used in their manufacture.
Because of how old they are, these floors have experienced lots of wear and can have layers of various sealers.
Owing to their age, these types of floors can have a range of coating residues, that have to have expert cleaning
After cleaning an impregnating sealer is applied to improve the colours and protect the floor tiles. If you want a sheen or gloss finish a surface sealer or wax can be used.
Quarry Tiles Floor Cleaning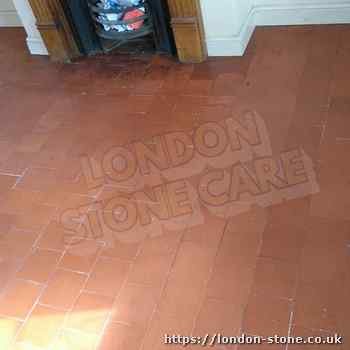 Quarry tiles are a standard fixture in cooking areas and for interior flooring for many years.
Many years of soil and old sealers often leads many people to imagine their tile floor is beyond repair, but that is often not the case.
Professional cleaning will remove the several years of grime and old sealers, exposing a beautiful floor. As soon as the quarry tiles have been cleaned they may be sealed to give many years of life.
Cleaning Of Porcelain Floors.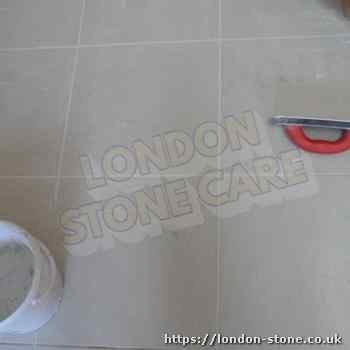 Porcelain is classed as a ceramic, but made with different ingredients than conventional glazed tiles.
This helps make Porcelain a lot more stain resistant and simpler to keep up than traditional ceramic tiles.
If the blend of ceramic is not right, the surface of the tiles may be porous. similar to natural stone floors. This soil may be difficult to remove.
You need specialist equipment and cleaners to get rid of this soil.
When your porcelain floor is clean we can to protect against regular soil and spills.
If you have a trough-colour Porcelain, we can re-surface the tiles by Grinding and re-polishing.
Cleaning Ceramic Tiles Floors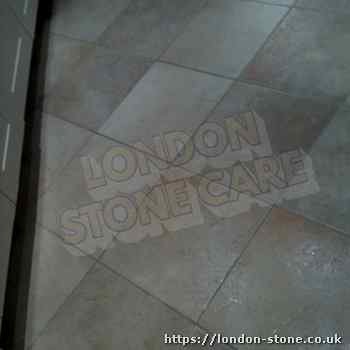 Professional cleaning of Ceramic tiles is typically quicker than cleaning natural stone floors or clay tiles.
This glazed finish accelerates cleaning and restoration.
Specialized tile cleaning will still bring a better finish.
As soon as your ceramic tile has been cleaned we will apply a sealer. Maintenance is much simpler having a sealed tile floor, and also the sealer prevents spills becoming stains.
Some Of The Natural Stone Restoration Solutions Our Technicians Bring
Natural stone cleaning is rarely just cleaning, there exists regularly more restoration required. Stone floor restoration covers a range of services. At the least, all stone floors suffer some sort of generic wear and tear. More often than not, soil, stains and traffic marks ruin floor's finish. Highly polished marble and granite floors show up wear quickly, as minute foot traffic scuff marks into the stone surface alter the luster and hold dirt. A surface sealer does not prevent porous natural stone and tiles like Sandstone, Limestone and Terracotta gradually struggling with wear and spill problems. Most stone and tile flooring has cement grout. Cement grout is usually softer when compared with stone and many other things vulnerable to abrasive and chemical damage. Holes could possibly be filled and cracks repaired included in a restoration. Tile and stone gets the appeal that a grubby, porous surface may be taken away, exposing a pleasant new surface. Grinding and honing removes surface damage from etching and surface scratching.
Tile and sealing is crucial to keep a new natural stone finish looking stunning. Stone sealers must certanly be put on new natural stone and tile floors and just after any floor tile cleaning, stone polishing or tile restoration work. Impregnating or penetrating sealers are employed following diamond floor polishing. Hybrid sealers or Surface sealers are best placed on coarse natural stone or tiles.
The original shine on a stone floor will gradually go dull. The loss in shine is brought on by foot traffic scratches and surface damage. The only way to replace the original finish is by polishing the tile and stone. On marble, Granite, Terrazzo, Polished Limestone and Polished Travertine floors, diamonds are used to remove the top wear and recover the initial sparkle. The shine on Honed Travertine, Honed Limestone, Sandstone, Slate and Clay tiles is made by making use of a higher gloss sealer. Sealer removing items are applied to take away all traces showing the existing sealer, and then a unique gloss sealer is applied.
Is there unsightly chips on your stone floor floor?
There is no need to improve the tile and stone. Coloured resin fillers can fill chips and damage on a tile. After the resin cures, this has to be sanded and polished. Chip repairs are less costly than laying new tiles.
Contact the Industry Professionals for Natural Stone Repairs London - Call the Specialists.
Repairing Cracked Tiles
A small movement inside the subfloor will likely make a crack in a marble tile. Cracks are often contained in doorways plus in between rooms. Also, a crack can appear as a result of a deficiency or weak spot in the tile. Crack repaircosts never as much as replacing the tile.
When you have got a deep crack in your floor, vanity unit, tabletop or counter top, they've been filled with coloured epoxy fillers. Hairline cracks are way too fine to just accept a filler and so they should be widened with diamond tools before these are typically filled.
Other areas near Hampton Court we help include:
Hampton CourtHelpful Information
Hampton Court Palace is a Grade I listed royal palace in the London Borough of Richmond upon Thames, 12 miles 19.3 kilometres south west and upstream of central London on the River Thames. Building of the palace began in 1514 for Cardinal Thomas Wolsey, the chief minister of King Henry VIII. In 1529, as Wolsey fell from favour, the cardinal gave the palace to the king to check his disgrace. The palace went on to become one of Henry most favoured residences; soon after acquiring the property, he arranged for it to be enlarged so that it might more easily accommodate his sizeable retinue of courtiers. Along with St James Palace, it is one of only two surviving palaces out of the many the king owned. The palace is currently in the possession of Queen Elizabeth II and the Crown. In the following century, King William III massive rebuilding and expansion work, which was intended to rival the Palace of Versailles, destroyed much of the Tudor palace. His work ceased in 1694, leaving the palace in two distinct contrasting architectural styles, domestic Tudor and Baroque. While the palace styles are an accident of fate, a unity exists due to the use of pink bricks and a symmetrical, if vague, balancing of successive low wings. King George II was the last monarch to reside in the palace. Today, the palace is open to the public and a major tourist attraction, easily reached by train from Waterloo station in central London and served by Hampton Court railway station in East Molesey, in Transport for London Zone 6. In addition, London Buses routes 111, 216, 411 and R68 stop outside the palace gates. The structure and grounds are cared for by an independent charity, Historic Royal Palaces, which receives no funding from the Government or the Crown. In addition, the palace displays many works of art from the Royal Collection. Apart from the Palace itself and its gardens, other points of interest for visitors include the celebrated maze, the historic royal tennis court see below, and the huge grape vine, the largest in the world as of 2005. The palace Home Park is the site of the annual Hampton Court Palace Festival and Hampton Court Palace Flower Show.