Stone Floor Cleaning Nags Head
Introducing Spectacular Stone Floor Cleaning Nags Head.
Provide The Size And Variety Of Stone
In most cases the size and type of stone, plus a handful of photographs detailing the appearance of the floors will be all we need.
After we have clarified your needs we shall email a comprehensive written quotation.
Quite often we will offer some other finishes to match most budgets.
Our quotation will be complemented with a document displaying types of comparable work.
We Decide On A Start Date
We arrive on time.
We shall do a wonderful job
Why You Need To Contact London Stone Care
Our stone floor cleaning Nags Head service provides the finishing details to make your stone floors sparkle.
Irrespective of the kind of stone you have, our professionals can make them look new again.
We offer free consultations in Nags Head without any obligation!
Entirely free cleaning and maintenance help
After restoring tile and stone floors to a beautiful condition, we supply a cleaning and maintenance program, so floors will stay stunning for years rather than weeks.
Contact Us Now!
Schedule a quote for your stone floor cleaning
Our Professional Stone Floor Restoration Services In Nags Head Explained
Marble Cleaning & Sealing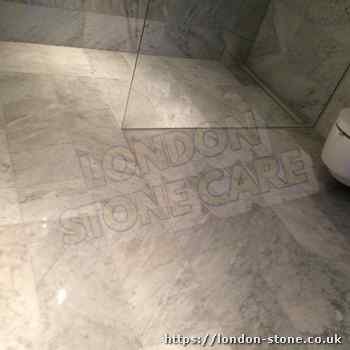 In time, Marble will end up worn and loose its appearance. Surface scratches and etch marks add up and damage the initial finish. Before long, your floor will have to be repolished.
We use industrial diamond polishing equipment to restore the sparkle.
It's practically unachievable to install a marble tile floor absolutely flat. A marble floor should be smoothed by grinding off the lippage and jagged edges of the tiles. Marble floor grinding is a professional procedure, bringing incredible results.
After grinding, the marble tiles will sit at the same level the grout lines. The marble floor will have the appearance of becoming just one area of marble.
An even marble surface is much easier to keep. There will be no uneven grout lines to trap soil. Marble floor restoration typically features some crack and chip repairs, using marble fillers. The restoration needed should be decided by the state of the marble floor.
Travertine Floor Polishing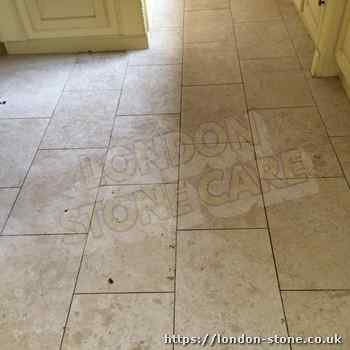 A Travertine floor is a variant of Limestone. Travertine floor tiles will come in a range of finishes, smooth honed, tumbled and polished. As the stone wears, the hole filler comes away, and the holes fill up with ugly dirt, soil and mopping water.
Working to the highest standard, restoration service providers use specialist equipment and chemicals to get rid of the soil and old sealer residues on a Travertine floor.
After cleaning, the Travertine floor can be grouted to refill any open holes. Following cleaning and re-grouting we apply hard wearing sealers.
Limestone Cleaning & Sealing
Progressively a Limestone floor will loose its initial polish. Scratches and etch damage build and take off the original polish. Sooner or later, the floor will have to be polished. We use diamond polishing machinery to revive the original shine.
In the event that tiles are not really, perfectly even this problem is named "lippage". The only method to make a Limestone tile floor perfectly flat is by grinding off the lippage and uneven tile edges. Grinding Limestone floors really should be undertaken by professionals. The Limestone looks "monolithic", appearing to be made from an individual area of stone.
Following grinding, the tiles will be at the same level the grout. After grinding cleaning is a breeze, because the mop slides on the floor. Also, soil does not get stuck into the grout lines. Cracks and chips can be repaired with coloured resin repair fillers. We can advise the appropriate restoration service.
Terrazzo Floor Polishing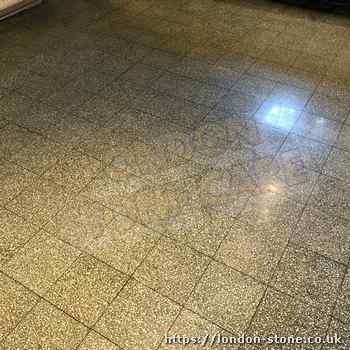 Terrazzo is made by mixing chips produced from marble, granite, quartz, or glass chips into a cement or epoxy base . Sooner or later, Terrazzo will lose the original finish. Surface damage is caused by traffic scratches and surface damage.
Terrazzo Polishing is definitely the only way to restore finish to the highest standard. We use diamond polishingto restore the initial Terrazzo shine. After cleaning and polishing, we use specialised Terrazzo sealers.
Sandstone Floor Cleaning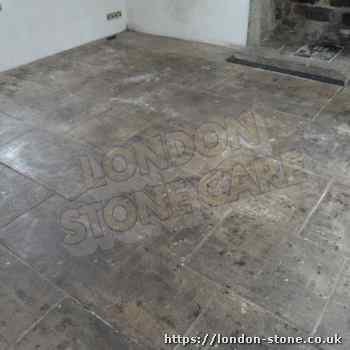 Sandstone is made of compressed sand, as well as a variety of minerals including quartz and feldspar. The voids between the sandstone particles trap dirt that can be hard to remove.
We use a rotary brushing equipment, sealer removers and pressure rinsing to completely clean the sandstone Once the sandstone is clean, we allow it to dry, then use a long-lasting, easy to clean sealer. Once we inspect your floor, we are able to advise you the best restoration process.
Granite Floor Cleaning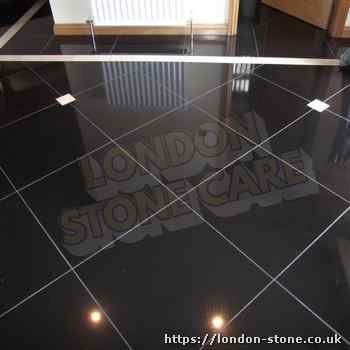 Granite is widely found in both domestic and commercial rooms. Granite is a very hard stone and extremely resistant to surface damage from scratches and stains compared to other stone such as limestone and marble. The finish on a granite floor lasts longer than other natural stones.
Few stone cleaning and restoration companies will restore Granite, since it is so hard and tough to restore. We offer the full range of Granite cleaning and polishing services. to the highest standard.
Terracotta Floor Cleaning And Sealing
Terracotta offers a unique colour and a rustic appearance in the home, but needs careful maintenance in order to keep it looking its best.
Harsh chemical substances including conventional floor cleaners and bathroom tile cleaners can damage and mark Terracotta.
Sealer residues, dirt and markings may be removed with rotary scrubbing and sealer removers.
We use a long lasting sealer for terracotta, so that you get the most value from your cleaning.
Slate Floor Cleaning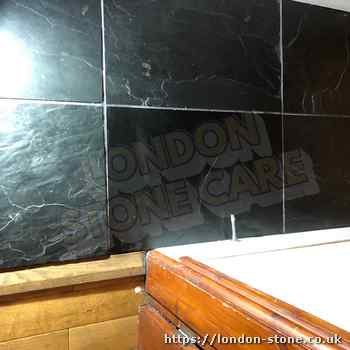 Slate is an incredibly functional material that can be sealed with a range of finishes including rough surface, smooth honed or polished appearance. Slate needs regular sealing to avoid soil and spills marking the surface.
We have specialist machines and products to remove the soil and old sealers, reviving the initial slate finish. After our professional cleaning is finished , we leave the floor to dry, then use a long-lasting, easy to maintain sealer.
Some slate floors can be ground to a smooth finish.
Victorian Tiles Floors
Victorian Clay or Minton geometric floor tiles are mainly found in Victorian and Edwardian Hallways.
Victorian tiles are produced from natural clay and have a natural non-shiny finish.
Because of how old they are, these floors have experienced lots of wear and often have layers of different sealers.
Old waxes, polishes, paint spills and sealer deposits makes cleaning these kinds of floors tricky.
Following cleaning, a colour intensifying sealer is used to revive the oroginal colours in the floor. Topical sealers and waxes will provide a floor a sheen or glossy finish.
Quarry Tiles Floor Restoration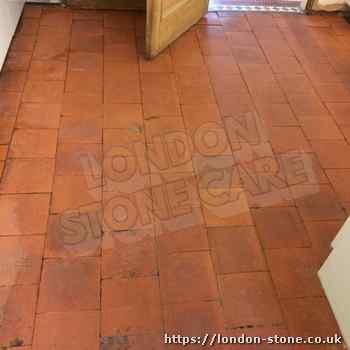 Quarry tile floors were once a major feature in terraces and farmhouses in the country, but some of the floors have since fallen into assorted states of repair.
Many years of soil and old sealers can lead some people to imagine their floor is beyond repair, but that is often not the case.
A professional clean and reseal is frequently just enough to restore a quarry tile floor. Quarry tiles are often laid with no damp proof membrane, so we need to apply just the right sealer to permit the tiles to breathe.
Cleaning Porcelain Tile Floors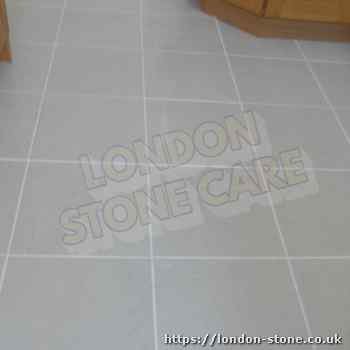 Porcelain is classified as a ceramic, but created with alternative ingredients to traditional ceramic tiles.
This makes Porcelain more stain resistant and easier to keep up than standard ceramic tiles.
There are substandard porcelains that can absorb soil and spills just like natural stone floors. If you have an inferior Porcelain, the surface soil may be hard to remove.
We can remove embedded soil using equipment made to go into the microscopic pits holding the soil.
Our Porcelain sealers can help stop further soil problems.
Solid colour Porcelain Tiles can certainly be ground and polished, just like Granite or Marble.
Cleaning Ceramic Tile Floors
Professional cleaning of Ceramic tiles is typically quicker when compared to cleaning stone floors or clay tiles.
This is as the top of the tile is commonly glazed.
However, you certainly will still get a better finish with professional equipment and materials.
As soon as your floor is cleaned we'll put on a sealer for ceramic tiles. A sealed tile is simpler to maintain and helps reduce stains.
A Few Of The Stone Floor Restoration Work Our Specialists Provide
Natural stone cleaning is rarely just cleaning, there exists regularly more restoration required. Stone floor restoration covers many different services. At the least, all stone floors suffer some sort of generic wear and tear. More often than not, soil, stains and traffic marks ruin floor's finish. Highly polished marble and granite floors show up wear quickly, as minute foot traffic scuff marks into the stone surface alter the luster and hold dirt. A surface sealer will not prevent porous tile and and tiles like Sandstone, Limestone and Terracotta gradually struggling with wear and spill problems. Most tile and stone flooring has cement grout. Cement grout is usually softer compared to stone and much more in danger of abrasive and chemical damage. Holes might be filled and cracks repaired included in a restoration. Tile and stone contains the appeal that a grubby, porous surface could be taken away, exposing a pleasant new surface. Grinding and honing removes surface damage from etching and surface scratching.
Stone and tile sealing is a must to keep a unique tile and stone finish looking stunning. Stone sealers should always be placed on new tile and stone and tile floors and just after any floor tile cleaning, stone polishing or tile restoration work. Impregnating or penetrating sealers are utilized following diamond floor polishing. Hybrid sealers or Surface sealers would be best applied to coarse tile and stone or tiles.
The original shine on a stone floor will gradually go dull. The loss in shine is attributable to foot traffic scratches and surface damage. The only method to replace the original finish is through polishing the tile and. On marble, Granite, Terrazzo, Polished Limestone and Polished Travertine floors, diamonds are used to remove the top wear and recover the original sparkle. The shine on Honed Travertine, Honed Limestone, Sandstone, Slate and Clay tiles is established by applying a higher gloss sealer. Sealer removing items are applied to take away all traces of this existing sealer, after which a unique gloss sealer is applied.
Are there unsightly chips on the tile and stone floor?
You don't have to change the natural stone. Coloured resin fillers can fill chips and damage on a tile. Once the resin cures, it has to be sanded and polished. Chip repairs are less costly than laying new tiles.
Contact the Industry Professionals for Natural Stone Repairs London - Call the Specialists.
Repairing Cracked Tiles
A small movement inside the subfloor can certainly make a crack in a marble tile. Cracks in many cases are present in doorways plus in between rooms. Also, a crack can appear because of a deficiency or weak spot inside the tile. Crack repaircosts not as much as replacing the tile.
If you have got a deep crack in your floor, vanity unit, tabletop or counter top, they've been filled up with coloured epoxy fillers. Hairline cracks are way too fine to just accept a filler and so they should be widened with diamond tools before these are generally filled.
Other areas near Nags Head we work in include:
Nags HeadHelpful Information
Nag Head, Islingtonis a bustling commercial zone situated around the junction of Seven Sisters Road with Holloway Road. For much of the 19th century, the Nag Head marked the edge of Islington northward spread and was the terminus for its first tramway in 1871. The vicinity soon became a focus for retailers serving the expanding middle-class community of Holloway and the pub was rebuilt in Italianate style. Shops, offices and flats of Bathurst Mansions were built in 1891 on the north side of Holloway Road junction with Seven Sisters Road. The building is grade II listed and is particularly notable for the wealth of decorative detailing on the light buff terracotta walls of the upper floors. Despite the neighbourhood demographic transformation during the 20th century the Nag Head remained the borough largest shopping area until the 1990s, when it was overtaken by the Angel, which was more successful in attracting new investment and drawing visitors.