Stone Floor Cleaning Pimlico
Discover Premium Stone Floor Cleaning Pimlico.
Inform Us About The Floor
A handful of photos showing the floors together with sizes are often all we need.
We will email a detailed quotation after we have cleared up your needs.
You Can Expect To Get A Prompt Reply
Most of the time we shall offer some other finishes to match most budgets.
Our quotation will be accompanied with a document featuring samples of similar work.
We arrive prepared for work as well as on time.
Your natural stone floor will look stunning
Our stone floor cleaning Pimlico work gives the finishing touches to make your stone floors sparkle.
Almost thirty years in the stone restoration business, developing a secure reputation.
Fill out our simple contact form for a free natural stone restoration quote.
We are always pleased to help you look after your tile and stone floors.
After restoring a stone floor, we give you a thorough maintenance program.
Contact Us Now!
Get a free of charge stone floor cleaning Pimlico quote now.
Our Expert Stone Floor Cleaning And Restoration Services In Pimlico Explored
Bit by bit a marble floor will lose its original appearance. Scratching and etch damage add up and dull the initial appearance. Marble Polishing is the best way to revive the finish.
We use industrial diamond polishing to hone and polish the tiles and restore the original surface.
It is virtually unachievable to install a marble floor really flat. We can grind off the irregular tile edges, making a floor surface flat. You should have specialist machinery and years of grinding and polishing to successfully grind a marble floor, nevertheless the result is fantastic.
After grinding, the grout sits will be level with the marble. The marble will get a monolithic appearance as an individual piece of stone.
It is much simpler to mop a smooth marble than a bumpy floor. Also, soil doesn't get stuck into the grout lines. Marble floor restoration normally includes a few crack and chip repairs, using marble fillers. The restoration needed will be dependant on the condition of of your marble floor.
Travertine Polishing & Sealing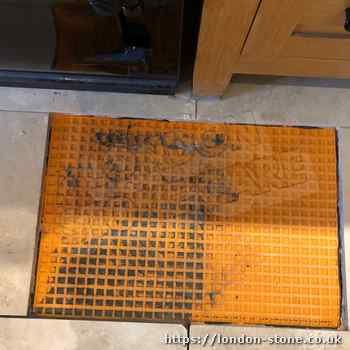 A Travertine floor has a permeable structure, with lots of holes. Travertine floor tiles come in a range of finishes, polished, smooth honed and tumbled. Over time, the initial hole filler comes away, and the holes fill with ugly soil.
Working to the highest standard, restoration service providers use rotary scrubbing equipment and pressure rinsing to clean the Travertine floor.
After cleaning, any open holes on the Travertine floor could be filled with coloured grout. After restoration and grouting we apply hard-wearing sealers.
Limestone Polishing & Sealing
Progressively Limestone tiles will loose the initial shine. Scratches and etch damage pile up and damage the initial appearance. Before long, your floor will have to be re-polished. We use diamonds to eliminate the dmaage and marks and bring back the original appearance.
It really is virtually unachievable to lay a Limestone tile floor really flat. The only way to make a Limestone tile floor perfectly flat is by grinding off the lippage and irregular tile edges. Limestone floor grinding is a specialist procedure, that brings fantastic results. The Limestone floor will have the look of appearing as just one piece of Limestone.
Following grinding, the tiles and grout are at the exact same level. After grinding maintenance is a breeze, because the mop slides over the floor. A smooth surface Limestone floor doesn't have grout lines to hold grime. If your Limestone floor has cracks and chips, we are able to repair the damage using resin fillers, closely colour matched to the Limestone. After inspecting the Limestone floor, we will advise the best Limestone restoration service.
Terrazzo Floor Restoration
Terrazzo is created by mixing chips made of marble, granite, quartz, or glass chips into a cement or epoxy medium . Slowly but surely a Terrazzo floor will loose the initial finish. The change in appearance is brought on by microscopic scratches on the surface where it was walked over.
Terrazzo Polishing is definitely the best way to restore finish to the highest standard. We have diamond polishing machinery to grind the Terrazzo and restore the original finish. We can help prevent this soil with Terrazzo sealers.
Sandstone Floor Cleaning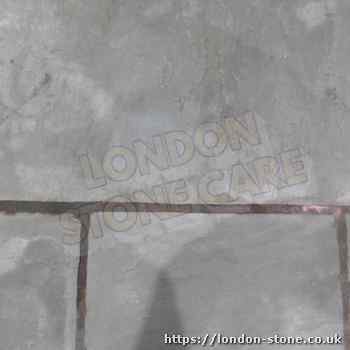 Sandstone is produced principally of quartz, iron oxide, silica and calcium based deposits making it a very sturdy stone. Old sandstone could be covered with a number of old coarings and trapped soil, so ultimately, it will need expert cleaning and sealing.
We use a rotary brushing machines, coating removers and pressurised rinsing to clean the sandstone Then we apply a long-lasting sealer that also makes your sandstone better to clean. Once we look at your floor, we can give you advice from the best restoration process.
Granite Restoration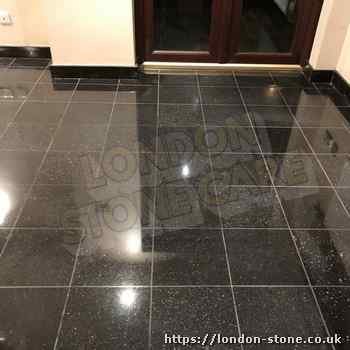 Granite is a really popular flooring. Granite is exceptionally hard.Granite is often chosen for the stone's hard wearing characteristics. A surface on a granite floor lasts much longer than other stones.
As a result of its hardness, granite must have professional cleaning and restoration. We have invested in the experience and equipment to revive your granite floor. to the highest standard.
Terracotta Floor Restoration
Terracotta offers a distinctive colour and a rustic appearance in your home, but really needs careful maintenance in order to keep it looking its best.
Traditional Terracotta sealers need to have frequent maintenance and re-application, if they are not taken care of, the finish will quickly get soiled and porous.
Sealer deposits, dirt and markings could be taken out with scrubbing equipment and sealer removers.
Whilst we are able to seal Terracotta with Linseed oil and wax, we recommend a tough synthetic sealer which will work for years, with minimal maintenance.
Slate Cleaning & Sealing
Slate is a wonderfully versatile material that may be sealed using a range of finishes from rough surface, smooth honed or polished polish. Riven slate will get a build-up of dirt and sealer residues in the crevices this is certainly difficult to get rid of.
There are specialist machines and chemical treatments to eliminate the soil and old coatings, reviving the original slate finish. Then we use durable sealers.
Some slate floors can be ground to a smooth finish.
Victorian Tiles Floor Cleaning & Sealing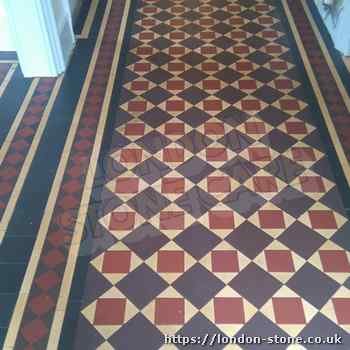 Period Geometric or Encaustic floor tiles are installed in Victorian and Edwardian hallways.
The tiles are unglazed from the natural colours of the clay used to make them.
A good number of these floors were sealed and then covered with carpet or lino.
With their age, many of these floors may have a number of covering residues, that need professional cleaning
After cleaning, a colour intensifying sealer is applied to regenerate the oroginal colours in the floor. Topical sealers and waxes will give a floor a sheen or glossy finish.
Quarry Tiles Cleaning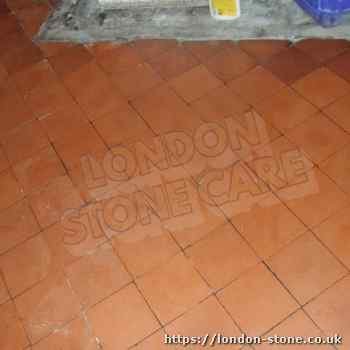 Quarry tiles are very durable however they still suffer from a couple of issues.
Whilst the tiles can take place dirty and discoloured, these floors are incredibly robust and will look as good as new after an effective clean.
While the tiles may seem soiled and discoloured, they are surprisingly resilient and can look just like new after an effective clean. If Quarry tiles are laid on sand, ash or lime, put on sealers that permit the free transfer of moisture.
Cleaning Of Porcelain Floors.
Porcelain is now an progressively sought after option to ordinary ceramic tiles and natural stone.
Porcelain is very resistant to moisture, hence spillages should not seep into the tile and result in stains.
If Porcelain isn't properly produced, the surface can absorb soil just like natural stone floors. It can be tough to remove this soil.
We have the equipment and experience to remove this hard to reach soil.
After your porcelain floor has been cleaned we can which protects against everyday soil and spills.
Solid color Porcelain may be ground and restored like Granite or Marble.
Cleaning Of Ceramic Tile Floors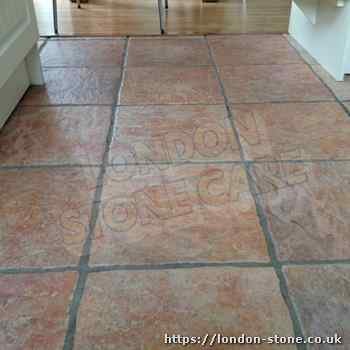 Professional cleaning of Ceramic floor tiles often takes less time in comparison to natural stone floors or clay tiles..
The polish on Ceramic tiles is not permeable.
But, specialized stone and tile cleaning and restoration will provide a cleaner appearance.
A specialist sealer is applied following the cleaning. Tile sealing prevents spills changing into stains, and makes cleaning and restoration more efficient.
A Few Of The Natural Stone Cleaning Work We Supply
Stone and tile cleaning is rarely just cleaning, there may be regularly more restoration required. Stone floor restoration covers a range of services. At least, all stone floors suffer some type of generic wear and tear. In most cases, soil, stains and traffic marks ruin floor's finish. Highly polished marble and granite floors show up wear quickly, as minute foot traffic scuff marks in the stone surface alter the luster and hold dirt. A surface sealer does not prevent porous stone floor and tiles like Sandstone, Limestone and Terracotta gradually struggling with wear and spill problems. Most stone floor flooring has cement grout. Cement grout is normally softer when compared with stone plus much more at risk of abrasive and chemical damage. Holes could be filled and cracks repaired included in a restoration. Natural stone gets the appeal that a grubby, porous surface could be taken away, exposing an attractive new surface. Grinding and honing removes surface damage from etching and surface scratching.
Tile and stone sealing is essential to help keep a new natural stone finish looking stunning. Stone sealers should really be put on new stone floor and tile floors and immediately after any floor tile cleaning, stone polishing or tile restoration work. Impregnating or penetrating sealers are used following diamond floor polishing. Hybrid sealers or Surface sealers would be best put on coarse tile and or tiles.
The first shine on a sandstone floor will gradually go dull. The loss in shine is due to foot traffic scratches and surface damage. The only way to replace the original finish is by polishing the natural stone. On marble, Granite, Terrazzo, Polished Limestone and Polished Travertine floors, diamonds are utilized to get rid of the top wear and recover the first sparkle. The shine on Honed Travertine, Honed Limestone, Sandstone, Slate and Clay tiles is made through the use of a higher gloss sealer. Sealer removing items are applied to take away all traces associated with the existing sealer, after which a brand new gloss sealer is applied.
Are there unsightly chips in your natural stone floor?
There is no need to change the natural stone. Coloured resin fillers can fill chips and damage on a tile. Once the resin cures, this has to be sanded and polished. Chip repairs are less expensive than laying new tiles.
Contact the Industry Professionals for Natural Stone Repairs London - Call the Specialists.
Repairing Cracked Tiles
A slight movement inside the subfloor could make a crack in a marble tile. Cracks are often present in doorways plus in between rooms. Also, a crack can appear because of a deficiency or weak spot in the tile. Crack repaircosts never as much as replacing the tile.
If you have got a deep crack in your floor, vanity unit, tabletop or counter top, they've been filled with coloured epoxy fillers. Hairline cracks are too fine to just accept a filler and so they should be widened with diamond tools before they have been filled.
Other areas near Pimlico we service include:
PimlicoHelpful Information
Pimlico is an area of Central London in the City of Westminster, built as a southern extension to neighbouring Belgravia. It is known for its garden squares and Regency architecture. It is demarcated to the north by Victoria Station, and bounded by the River Thames to the south, Vauxhall Bridge Road to the east and the former Grosvenor Canal to the west. At its heart is a grid of residential streets laid down by the planner Thomas Cubitt, beginning in 1825 and now protected as the Pimlico Conservation Area. Additions have included the pre€"World War II Dolphin Square and the Churchill Gardens and Lillington and Longmoore Gardens estates, now conservation areas in their own right. The area has over 350 Grade II listed buildings and several Grade II listed churches. Residents have included politician Winston Churchill, designer Laura Ashley, philosopher Swami Vivekananda, actor Laurence Olivier, illustrator and author Aubrey Beardsley, Kenyan president Jomo Kenyatta, Australian prime minister Billy Hughes, lawn-tennis inventor Major Walter Wingfield, and world record€"holding pilot Sheila Scott.