Stone Floor Cleaning Strand
See Outstanding Stone Floor Cleaning Strand.
Provide The Size And Form Of Stone
A few photos showing the floors plus the sizes are usually all we need.
We will email an in depth estimate once we have clarified your requirements.
In many cases we shall propose alternative finishes to match most budgets.
We shall also email a document detailing examples of similar work.
We Decide On A Work Schedule
We appear on time.
Your tile and stone floor will appear amazing
Our stone floor cleaning Strand work provides the finishing details to make your stone floors shine.
We take advantage of the most advanced technology, brought to you with a personal touch, so that your stone floors look beautiful and preserve their natural splendor for years to come.
Whether you're likely to restore or revive your natural stone or tile floors, our company is confident that we can help you.
We are always happy to help you care for your stone floors.
After restoring tile and stone floors to a stunning appearance, we supply a maintenance program, so stone floors stay wonderful for years rather than months.
Contact Us Now!
Get your no-cost stone floor cleaning quote today.
A Brief Outline Of Our Specialist Stone Floor Cleaning Services In Strand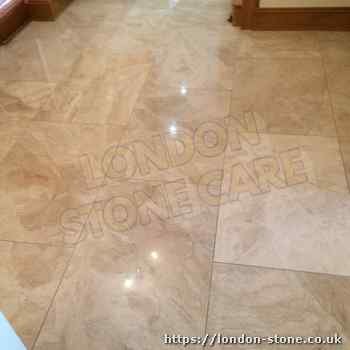 With time, Marble will become matt and loose its surface. The dull appearance is caused by microscopic scratches on the surface of the marble where it is often walked over. Marble Polishing is the only way to reinstate the shine.
We use industrial diamond polishing machines to reinstate the gloss.
If your floor has been laid with jagged tiles, this really is described as lippage. We can grind off the uneven tile edges, making the floor surface smooth. You must have specialist apparatus and several years of grinding and polishing to grind a marble floor, but the final results are stunning.
After grinding, the marble and grout are at the same level. The marble will get a monolithic appearance as a single piece of marble.
It is less of a challenge to clean a smooth marble than an irregular floor. A smooth surface marble floor does not have grout lines to retain grime. Chips and cracks can be repaired with coloured resin fillers. We will recommend the correct marble restoration process.
Travertine Floor Cleaning & Sealing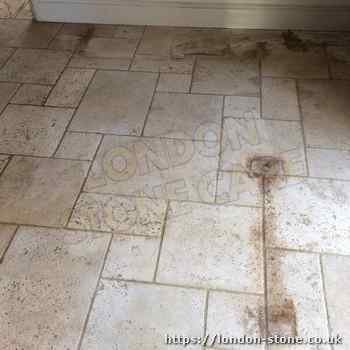 Most of Travertine used in the UK has a honeycomb framework with a large amount of holes. Travertine floor tiles will come in a number of finishes, tumbled, smooth honed and polished. As the stone wears, the hole filler breaks away, and the holes fill with unpleasant dirt and soil.
Working to the highest standard, restoration service providers have specialist machines and chemicals to get rid of soil and old sealers on a Travertine floor.
Once the Travertine floor tiles and any holes are cleaned, any open holes are grout filled using a coloured grout. Following restoration and grout filling we apply hard wearing sealers.
Limestone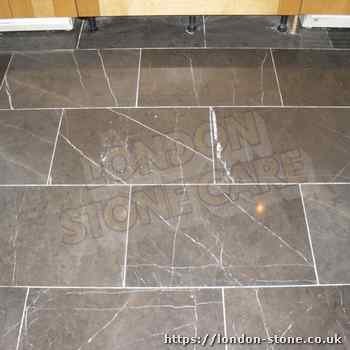 Over time Limestone tiles will loose the initial polish. The dullness is due to microscopic scratching on the surface of the Limestone where it was walked on. Gradually, the floor will need to be repolished. We use diamond polishing machines to revive the original shine.
It's nearly impossible to lay a Limestone tile floor absolutely flat. A Limestone floor should be smoothed by grinding away the lippage and uneven tile edges. You should have specialized machinery and several years of experience to grind and hone a Limestone tile floor, nevertheless the final results are stunning. The floor will appear like a single area of Limestone.
Following grinding, the grout sits at the same level as the the Limestone tiles. It is easier to mop a smooth, sleek Limestone than an irregular floor. Also, soil does not get stuck within the grout lines. Chips, cracks and hole repairs in many cases are part of the Limestone restoration process. After checking the floor, we will advise the very best Limestone restoration program.
Terrazzo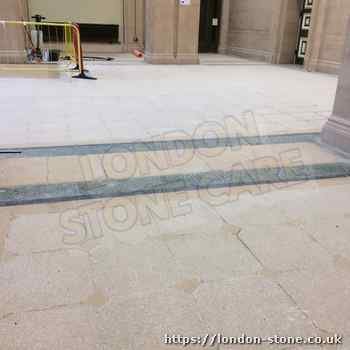 Terrazzo is an attractive yet hard-wearing flooring, hence its use as a flooring in supermarkets, airports, commercial and industrial buildings. The original finish on a Terrazzo floor will slowly go dull. Small scratches and etching builds up and take away the initial polish.
Terrazzo Polishing is the best way to bring back the original finish to the highest standard. Diamonds eliminate the surface damage and restore the initial Terrazzo shine. Once your Terrazzo is cleaned and polished, we can apply a sealer which offers protection against everyday spills.
Sandstone Cleaning And Sealing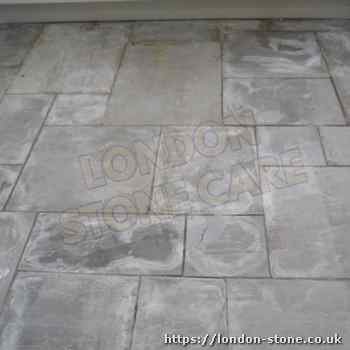 Sandstone is made of compressed sand, together with different minerals such as quartz and feldspar. Whilst sandstone is durable it is porous, so soil gets stuck in the surface and it is hard to remove.
We use a mix of machine scrubbing, hand scrubbing and pressure rinsing to get rid of all traces of old soiled sealers and clean the floor to the highest standard. When the sandstone is clean, we give it time to dry, then apply a durable, easy to clean sealer. After inspecting the tiles, we will advise the best Sandstone restoration service.
Granite Floors
Granite is a very popular stone. Granite is very hard.Granite is typically selected because of its hard-wearing attributes. Professional service is generally needed less often as compared to different stones tile limestone and marble.
Few stone floor cleaning and restoration companies will restore Granite, since it is so difficult and tough to restore. Our Company will restore all forms of granite flooring. to the highest standard.
Terracotta Floor Cleaning & Sealing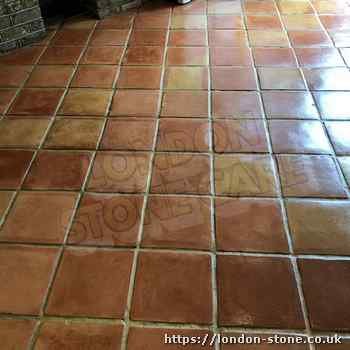 Terracotta has no glaze on the surface, so that it will soak up spills and soil extremely quickly.
Abrasive cleaning chemicals like standard floor cleaners and bathroom tile cleaners can damage and mark Terracotta.
Sealer residues, soil and marks may be removed with rotary scrubbing and sealer removers.
We can seal the Terracotta with an authentic beeswax finish or a hard wearing synthetic sealer.
Slate Floors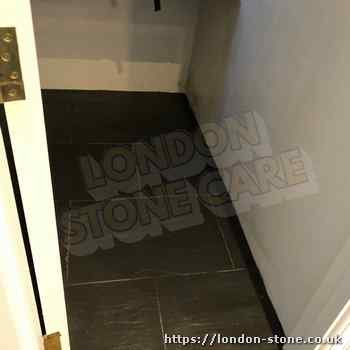 Slate is a remarkably adaptable stone that can be finished with a variety of finishes including rough surface, smooth honed or polished finish. We are commonly called to restore slate when it has layers of old sealer with ingrained soil, so the appearance appears dull and soiled.
We use rotary scrubbing devices and sealer removers clean the slate. When our professional cleaning is completed, then use specialist sealers that last for years not just months.
If you prefer a smooth floor, we are able to grind the ground, subject into the slate being suited to grinding.
Victorian Tiles Floors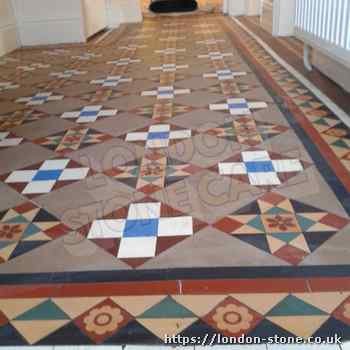 Period Geometric or Encaustic floor tiles are found in Victorian and Edwardian hallways.
The tiles have a matt finish to get their colour through the clay utilized in their manufacture.
With the variations in interior decor, these floors have underlay from carpet, lino adhesive, bitumen and additional adhesive residues.
With their age, these kinds of floors might have a range of coating residues, that really need specialist cleaning
After cleaning an impregnating sealer is put on to enhance the colours and protect the floor tiles. A topical sealer or wax finish will provide the tiles with a low-sheen finish.
Quarry Tiles Floor Restoration
Quarry tile flooring is normally several decades old and frequently needs a complete professional clean and restoration to restore it back into life.
Decades of ingrained soil and old sealers may lead many people to consider their tile floor is past repair, but that is often far from the truth.
As the tiles may appear soiled and discoloured, the tiles are remarkably robust and can look as good as new after a proper clean. After cleaning, the tiles should be protected with a durable sealer.
Porcelain Tile Cleaning
Porcelain is categorised as a ceramic, but created with alternative ingredients to standard ceramic tiles.
This helps make Porcelain much more stain resistant and easier to maintain than traditional ceramic tiles.
If Porcelain isn't properly produced, the top can absorb soil similar to natural stone floors. This soil may be hard to remove.
We are able to remove ingrained dirt using equipment built to go into the microscopic pits holding the soil.
Our Porcelain sealers will help stop further soil problems.
Solid colour Porcelain Tiles could be ground and polished, just like Granite or Marble.
Cleaning Of Ceramic Floors.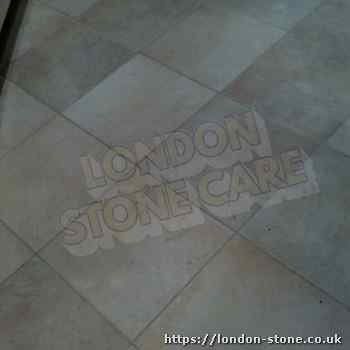 Professional cleaning of Ceramic tiles is commonly quicker as compared to cleaning and restoring natural stone floors or clay tiles.
This happens because the surface of the tile is usually glazed.
Yet, specialized tile cleaning and restoration does give a cleaner finish.
A specialized tile sealer is put on following the cleaning. Sealing helps to make mopping much easier and will help protect against spillages.
Some Of The Natural Stone Restoration Options We Supply
Sandstone tile cleaning is rarely just cleaning, there may be regularly more restoration required. Natural stone restoration covers a variety of services. At least, all stone floors suffer some form of generic wear and tear. In most cases, soil, stains and traffic marks ruin floor's finish. Highly polished marble and granite floors show up wear quickly, as minute foot traffic scuff marks when you look at the stone surface affect the luster and hold dirt. A surface sealer does not prevent porous tile and stone and tiles like Sandstone, Limestone and Terracotta gradually struggling with wear and spill problems. Most tile and stone flooring has cement grout. Cement grout is generally softer compared to stone and more in danger of abrasive and chemical damage. Holes could be filled and cracks repaired included in a restoration. Stone and tile has got the appeal that a grubby, porous surface could be taken away, exposing a lovely new surface. Grinding and honing removes surface damage from etching and surface scratching.
Stone floor sealing is essential to keep an innovative new natural stone finish looking stunning. Stone sealers should really be placed on new stone and tile and tile floors and right after any floor tile cleaning, stone polishing or tile restoration work. Impregnating or penetrating sealers are used following diamond floor polishing. Hybrid sealers or Surface sealers would be best put on coarse tile and or tiles.
The first shine on a stone floor will gradually go dull. The loss in shine is attributable to foot traffic scratches and surface damage. The only way to replace the first finish is by polishing the tile and. On marble, Granite, Terrazzo, Polished Limestone and Polished Travertine floors, diamonds are used to eliminate the area wear and recover the initial sparkle. The shine on Honed Travertine, Honed Limestone, Sandstone, Slate and Clay tiles is established through the use of a higher gloss sealer. Sealer removing items are applied to take away all traces associated with existing sealer, after which a fresh gloss sealer is applied.
Is there unsightly chips on your stone and tile floor?
You do not have to improve the tile and stone. Coloured resin fillers can fill chips and damage on a tile. When the resin cures, it has to be sanded and polished. Chip repairs are less expensive than laying new tiles.
Contact the Industry Professionals for Natural Stone Repairs London - Call the Specialists.
Repairing Cracked Tiles
A slight movement in the subfloor will likely make a crack in a marble tile. Cracks tend to be contained in doorways as well as in between rooms. Also, a crack can appear as a result of a deficiency or weak spot within the tile. Crack repaircosts never as much as replacing the tile.
For those who have got a deep crack in your floor, vanity unit, tabletop or counter top, these are generally filled up with coloured epoxy fillers. Hairline cracks are too fine to just accept a filler and in addition they should be widened with diamond tools before these are generally filled.
Other areas near Strand we service include:
StrandHelpful Information
Strand is a major thoroughfare in the City of Westminster, Central London. It runs just over 3?4 mile 1,200 m from Trafalgar Square eastwards to Temple Bar, where the road becomes Fleet Street inside the City of London, and is part of the A4, a main road running west from inner London. The road's name comes from the Old English strond, meaning the edge of a river, as it historically ran alongside the north bank of the River Thames. The street was much identified with the British upper classes between the 12th and 17th centuries, with many historically important mansions being built between the Strand and the river. These included Essex House, Arundel House, Somerset House, Savoy Palace, Durham House and Cecil House. The aristocracy moved to the West End during the 17th century, and the Strand became known for its coffee shops, restaurants and taverns. The street was a centre point for theatre and music hall during the 19th century, and several venues remain on the Strand. At the east end of the street are two historic churches: St Mary le Strand and St Clement Danes. This easternmost stretch of the Strand is also home to King's College, one of the two founding colleges of the University of London. In addition to the current Somerset House, other important structures include the Royal Courts of Justice and Australia House. Several authors, poets and philosophers have lived on or near the Strand, including Charles Dickens, Ralph Waldo Emerson and Virginia Woolf. The street has been commemorated in the song Let's All Go Down the Strandnow recognised as a typical piece of Cockney music hall.