Stone Floor Cleaning Wormwood Scrubs
See Fantastic Stone Floor Cleaning Wormwood Scrubs.
Give The Size And Type Of Stone
Some photos of the floors and the sizes usually are all we want.
We shall email an in depth price after we have clarified your needs.
We Will Contact You Quickly
Stone floors can often have a number of finishes, so we may include alternatives to accommodate most budgets.
We will also send a document featuring pictures of comparable work.
We Agree A Working Schedule
We arrive punctually.
We are going to do an unforgettable job
Reasons Why You Ought To Contact Us
Our stone floor cleaning Wormwood Scrubs service provides the finishing touches to make your stone floors sparkle.
Applying time honored skills with up-to-date technologies and equipment to provide the very best results.
Fill out our simple contact page for a free of charge stone and tile restoration quote.
If you need cleaning assistance, drop me a line and I will be more than happy to help you.
After restoring a stone floor, we leave a comprehensive maintenance program.
Contact Us Now!
Arrange your stone for cleaning quote today.
A Quick Review Of Our Professional Stone Floor Restoration Services In Wormwood Scrubs
Marble Cleaning & Sealing
Marble eventually looses its original finish. The damage to the surface is due to foot traffic scratches and surface etching Before long, the tiles will have to be repolished.
We operate specialist machines and industrial diamond tooling to grind and polish the stone. to the highest standard
It is very pretty much unachievable to install a marble floor really flat. The only method to make a marble tile floor perfectly flat is by grinding away the lippage and uneven tile edges. Grinding marble really should be performed by experts.
Following grinding, the marble tiles will sit at the same level the grout. The floor will appear like just one slab of stone.
Maintaining a ground and polished marble floor is much like cleaning just one slab of glass. There are no grout lines to capture dirt. Hole cracks and chip repairs tend to be part of the restoration process. Once we assess your floor, we can suggest on the ideal marble restoration processes.
Travertine Floor Restoration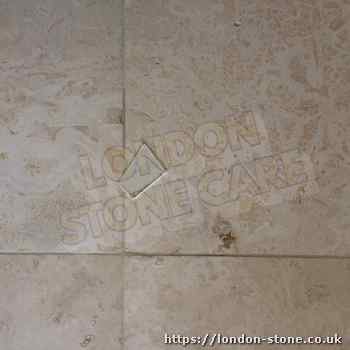 Much of Travertine used in the UK has a honeycomb framework with a great deal of holes. Travertine floor tiles qre available in many different finishes, smooth honed, polished and tumbled. As the travertine wears, the hole filler comes away, and the holes fill up with awful dirt and soil.
Working to the highest standard, restoration firms use rotary scrubbing equipment and pressure rinsing to completely clean the Travertine floor.
After cleaning, the Travertine floor is often re-grouted to fill any exposed holes. After cleaning and re-grouting we apply durable sealers.
Limestone
Limestone ultimately looses its original shine. The dullness is due to microscopic scratches on the surface of the stone where it's been walked over. Limestone Polishing is your only way to reinstate the polish. We use industrial diamond polishing equipment to bring back the original shine.
It's practically unachievable to install a Limestone tile floor perfectly flat. The only way to make a Limestone floor smooth is by grinding away the lippage and jagged tile edges. You require specialized machinery and many years of grinding and polishing to grind a Limestone floor, but the result is fabulous. The Limestone floor will have a monolithic appearance as a single area of stone.
After grinding, the tiles and grout will be at the exact same level. It is faster and easier to clean a smooth, sleek floor than an uneven floor. There are no grout lines to hold dirt. Chips and cracks can be repaired with coloured resin fillers. We will advise the correct restoration process.
Terrazzo Polishing
Terrazzo is an appealing yet hard-wearing flooring, hence its use as flooring in supermarkets, airports, commercial and industrial buildings. In time, Terrazzo will become dull and lose its finish. Minute scratches and etching builds up and damage the initial polish.
Sooner or later, the Terrazzo will have to be polished to the highest standard. We have diamond polishing machinery to grind the Terrazzo and restore the original finish. Once your Terrazzo is cleaned and polished, we are able put on a sealer that offers protection against day to day spills.
Sandstone
Sandstone is formulated primarily of quartz, iron oxide, silica and calcium based deposits therefore it is a very sturdy stone. Sandstone can end up getting ingrained soil which makes it look dull and tough to clean.
There are professional sealer removers, rotary scrubbing machines and pressure rinsing to remove the layers of old sealer Then we use specialist sealers that last for a long time not months. Once we examine your floor, we are able to give you advice regarding the best restoration process.
Granite Polishing
Granite is a very popular stone flooring. Granite is very hard-wearing.Granite is typically chosen for the stone's hard wearing characteristics. A surface on Granite lasts longer than other stones.
Few stone floor restoration companies will restore Granite, since it is so very hard and hard to restore. Our technicians can restore all forms of granite flooring. to the highest standard.
Terracotta
Terracotta doesn't have glaze on the surface, therefore it will absorb spills and soil very quickly.
Conventional Terracotta sealers should have regular upkeep and re-sealing, if they are not looked after, the top will begin to get soiled and become porous.
In spite of its vulnerabilities, Terracotta could be restored back into a delightful finish.
We use a durable sealer for terracotta, so that you get the most value from your own cleaning.
Slate Floors
Slate is a very popular floor and wall tile due to its low porosity and the numerous textures and varieties of Slate available. Riven slate will get an accumulation of dirt inside the crevices this is certainly difficult to get rid of.
There are specialist machinery and products to get rid of the soil and old coatings, restoring the original slate finish. When the professional cleaning is complete,we then use a lasting sealer that also makes the floor more straightforward to clean.
Some slate floors could be ground to a smooth finish.
Victorian Tiles Cleaning
Period Geometric or Encaustic floor tiles are found in Victorian and Edwardian hallways.
The tiles are unglazed utilizing the the natural colours from the clay used in their manufacture.
Along with the variations in residential design, these floors have underlay from carpet, lino, bitumen and different adhesive residues.
The main challenges with victorian floor tiles is to remove the of polished, oils, dirt, waxes and grime while not causing damage to the tiles.
After cleaning an impregnating sealer is put on to enhance the colours and protect the floor tiles. The mat finish may be polished by making use of a wax or topical sealer.
Quarry Tiles Floor Restoration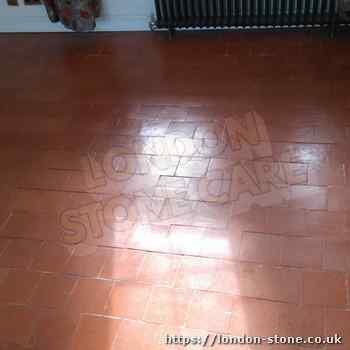 Quarry tiles have been a typical fixture in kitchens and for indoor flooring for decades.
Decades of soil and old sealers may lead some individuals to consider their tile floor is beyond repair, but that's often not the case.
Professional cleaning can remove the years of grime and old coatings, exposing a lovely floor. After cleaning, the tiles should be sealed with a long-lasting sealer.
Porcelain Tile Cleaning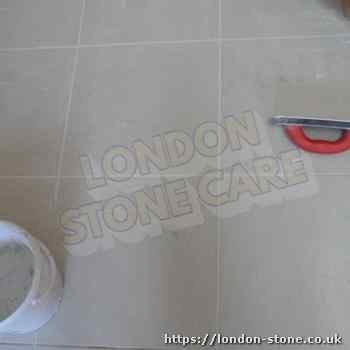 Porcelain is becoming an increasingly fashionable alternative to standard ceramic tiles and natural stone.
Porcelain is extremely moisture-resistant, therefore spillages cannot soak into the tile and result in stains.
There are inferior porcelains that can absorb surface soil and spills just like natural stone floors. This soil can be difficult to remove.
We possess the experience and equipment to eliminate this difficult to reach soil.
Our Porcelain sealers may help stop further soil problems.
Solid colour Porcelain Tiles could be ground and polished, just like Granite or Marble.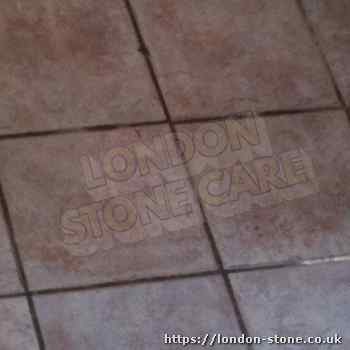 Professional cleaning of Ceramic tiles can often take less time than natural stone floors or clay tiles..
Dirt are often on top of the ceramic tile.
Nevertheless, specialized stone and tile cleaning does give your floor a cleaner finish.
Once your floor is cleaned we'll apply a sealer. A sealed tile is simpler to clean and a sealer helps stop stains.
A Number Of The Stone Floor Cleaning Treatments Our Specialists Give
Natural stone cleaning is rarely just cleaning, there may be regularly more restoration required. Sandstone floor restoration covers a variety of services. At the very least, all stone floors suffer some form of generic wear and tear. In most cases, soil, stains and traffic marks ruin floor's finish. Highly polished marble and granite floors show up wear quickly, as minute foot traffic scuff marks in the stone surface alter the luster and hold dirt. A surface sealer does not prevent porous stone floor and tiles like Sandstone, Limestone and Terracotta gradually struggling with wear and spill problems. Most stone and tile flooring has cement grout. Cement grout is normally softer compared to stone and much more vulnerable to abrasive and chemical damage. Holes could possibly be filled and cracks repaired included in a restoration. Natural stone gets the appeal that a grubby, porous surface can be taken away, exposing an attractive new surface. Grinding and honing removes surface damage from etching and surface scratching.
Stone floor sealing is essential to keep a new tile and stone finish looking stunning. Stone sealers should be placed on new tile and stone and tile floors and right after any floor tile cleaning, stone polishing or tile restoration work. Impregnating or penetrating sealers are utilized following diamond floor polishing. Hybrid sealers or Surface sealers are best put on coarse stone and tile or tiles.
The first shine on a natural stone will gradually go dull. The loss in shine is attributable to foot traffic scratches and surface damage. The only way to replace the original finish is through polishing the tile and stone. On marble, Granite, Terrazzo, Polished Limestone and Polished Travertine floors, diamonds are utilized to remove the outer lining wear and recover the first sparkle. The shine on Honed Travertine, Honed Limestone, Sandstone, Slate and Clay tiles is created by applying a high gloss sealer. Sealer removing products are applied to take away all traces of the existing sealer, after which a brand new gloss sealer is applied.
Are there unsightly chips in your tile and floor?
You don't have to change the natural stone. Coloured resin fillers can fill chips and damage on a tile. Once the resin cures, this has to be sanded and polished. Chip repairs are less expensive than laying new tiles.
Contact the Industry Professionals for Natural Stone Repairs London - Call the Specialists.
Repairing Cracked Tiles
A slight movement in the subfloor will likely make a crack in a marble tile. Cracks tend to be present in doorways plus in between rooms. Also, a crack can appear because of a deficiency or weak spot inside the tile. Crack repaircosts never as much as replacing the tile.
When you yourself have got a deep crack in your floor, vanity unit, tabletop or counter top, these are generally filled with coloured epoxy fillers. Hairline cracks are way too fine to just accept a filler and they also should be widened with diamond tools before they truly are filled.
Other areas near Wormwood Scrubs we work in include:
Wormwood ScrubsHelpful Information
Wormwood Scrubs, known locally as The Scrubs or simply Scrubs, is an open space in Old Oak Common located in the north-eastern corner of the London Borough of Hammersmith and Fulham in west London. It is the largest open space in the Borough, at 80 ha 200 acres, and one of the largest areas of common in London. The eastern part, known as Little Wormwood Scrubs, is cut off by Scrubs Lane and the West London Line railway. It has been an open public space since the Wormwood Scrubs Act of 1879. The southern edge of the Scrubs is the site of two locally important buildings. At the western end is HM Prison Wormwood Scrubs, built between 1875 and 1891 by convict labour. To the east of the prison is the Hammersmith Hospital campus, which includes the relocated Queen Charlotte and Chelsea Hospital. Within the area are several sports facilities, including the Linford Christie stadium, tens of football pitches, and a pony centre. Queens Park Rangers Football Club played on Wormwood Scrubs between 1893 and 1896.