Stone Floor Cleaning Barnes
Experience Top-Quality Stone Floor Cleaning Barnes.
Send Us Information Regarding Your Floor
More often than not the dimensions and sort of stone, plus a few pictures detailing the appearance of the floors will be all we need.
We shall email a detailed estimate after we have clarified your needs.
You Will Have A Quick Reply
Most of the time we will offer other treatments to suit most budgets.
We shall also e-mail a document detailing photos of matching work.
We Agree A Working Schedule
We get there promptly.
When we are done with you're going to be happy
Precisely Why You Can Trust London Stone Care
We deliver complete stone floor cleaning Barnes service for the luxurious stone that help to make a house a perfect home.
We merge traditional time and effort with innovative equipment to restore your stone floors back to a beautiful finish.
When you are prepared to unleash the elegance of your natural stone floors, speak to our restoration department!
If you want cleaning recommendations, contact me and I will be pleased to help you.
After restoring stone floors to a striking appearance, we leave a cleaning and maintenance program, so floors stay breathtaking for years rather than weeks.
Contact Us Now!
Your stone floor cleaning quote is simply one click away.
Our Specialised Stone Floor Restoration Services In Barnes Revealed
Gradually a marble floor will lose the initial appearance. Scratching and stains pile-up and remove the original appearance. Sooner or later, your marble will have to be repolished.
We operate specialised machines and diamond tooling to polish the marble. to the highest standard
Nearly all marble tile floors are uneven due to the fact marble tiles are not installed level. The only method to make a marble floor perfectly flat is by grinding away the lippage and irregular edges of the tiles. Grinding marble floor tiles should be completed by restoration professionals.
Following grinding, the marble and grout are at exactly the same level. The marble looks monolithic, appearing to be made from an individual area of stone.
After grinding mopping is very simple, because the mop slides on the floor. A smooth floor doesn't have grout depessions to retain dirt. Cracks, chips and hole repairs tend to be part of the marble restoration service. The restoration needed is going to be determined by the state of your marble floor.
Travertine Floor Restoration
A Travertine floor is unique with a honeycomb structure, with plenty of holes. Travertine floor tiles qre available in a range of finishes, tumbled, smooth honed and polished. As the travertine wears, the hole filler falls out, and the holes get filled with unattractive dirt and soil.
Working to the highest standard, restoration Companies have rotary scrubbing equipment and pressure rinsing to clean the Travertine floor.
After cleaning, the Travertine floor is often re-grouted to refill any open holes. After restoration and re-grouting the Travertine floor we put on a long-lasting, very easy to clean sealer.
Limestone Floor Restoration
An initial polish on Limestone will bit by bit dull. The dull appearance is due to minute marks on the surface of the stone where it's been walked over. The only way to revive the original polish is through polishing the floor. We use diamond polishing to grind, hone and polish a Limestone floor and repair the initial surface.
In the event that tiles are not really, even this disorder is called "lippage". We can grind away the uneven tile edges, making the tile surface perfectly flat. You should have specialist machines and years of grinding and polishing to grind, hone and polish a Limestone tile floor, but the results are magnificent. The Limestone will have a monolithic appearance as just one piece of Limestone.
After grinding, the grout sits is level with the Limestone. After grinding mopping is a breeze, because the mop slides over the floor. There will be no uneven grout deressions to hold soil. Cracks and chips can be repaired with coloured resin repair fillers. The restoration needed is going to be determined by the current condition of your floor.
Terrazzo Cleaning & Sealing
Terrazzo has been utilized for many thousands of years as a decorative flooring Eventually a Terrazzo floor will loose the original finish. The change in appearance is brought on by microscopic scratches on the surface where it's been walked over.
Terrazzo Polishing is definitely the best way to bring back the original finish to the highest standard. Diamonds eliminate the surface damage and restore the initial Terrazzo shine. Our Terrazzo sealers can help minimize further siol related problems.
Sandstone Floors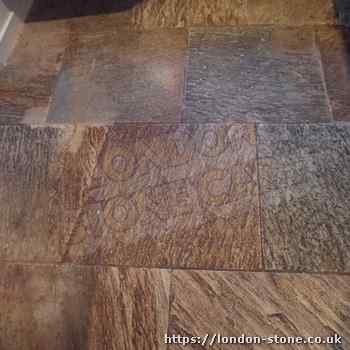 Sandstone floor tiles can be bought in several different shades of brown, red, yellow and cream. Whilst sandstone is durable it is also porous, so dirt gets caught in the surface and is tough to remove.
There is specialist scrubbing and rinsing machinery to get rid of the soil and old sealers, rejuvenating the initial sandstone appearance After cleaning we apply hard-wearing sealers. We shall advise the right restoration service.
Granite Floor Cleaning
You will get granite in lots homes and buildings. Granite is a tremendously hard tile flooring, perfect for heavy-duty foot traffic lanes. Professional maintaining is usually necessary less frequently as compared to alternative stones tile marble and granite.
As a result of the stone's hardness, granite requires specialized restoration. We have the experience and equipment to revive your granite floor. to the highest standard.
Terracotta Restoration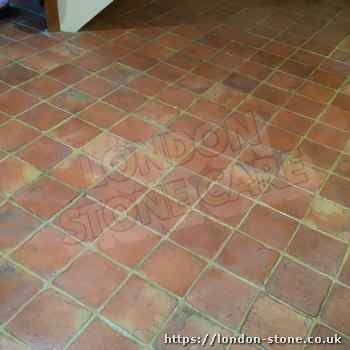 Terracotta is made from natural clay and has been used throughout history for roof tiles, sculptures, bricks and floor tiles.
Terracotta can quickly start to show marks, particularly where the existing sealer has completely worn away.
Heavy duty sealer removal treatments and cleaners help in removing old sealers and dirt, while also protecting the attractive surface.
We use a durable sealer for terracotta, which means you get the maximum benefit and value from your cleaning.
Slate Floor Cleaning & Sealing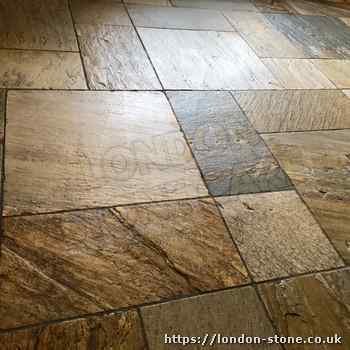 Slate floors look great due to their distinctive appearance and stunning colours. Although slate has a low porosity, it's going to always partially absorb and oil based spills, making frustrating spots.
There are specialist sealer removal treatments and rotary scrubbing devices to remove the layers of old sealer. Once the professional cleaning is complete,finally, we put on a durable sealer that will make a floor much easier to maintain.
If you prefer a smooth finish, we can grind the slate, but we must measure the slate before grinding.
Victorian Tiles Cleaning
Period Geometric or Encaustic floor tiles are found in Victorian and Edwardian hallways.
The tiles are unglazed utilizing the the natural colours of the clay used to make them.
With the changes in interior design, many of these floors come with carpet underlay, lino, bitumen and different glue deposits.
With their age, these types of floors may have a range of coating residues, that really need specialist cleaning
A colour intensifying sealer is put on immediately after cleaning, to revive the initial colours in the tiles. If you prefer a sheen or gloss finish a surface sealer or wax could be used.
Quarry Tiles Floor Cleaning & Sealing
Quarry tiles have been a standard fixture in cooking areas and for interior flooring for many years.
Whilst the tiles may seem dirt, these floors are very tough and will look just like new after a proper clean.
Whilst the tiles may seem dirty and discoloured, they're surprisingly durable and can look just like new after an effective clean. If Quarry tiles are laid on sand, ash or lime, put on sealers that enable the free movement of moisture.
Cleaning Of Porcelain Floors.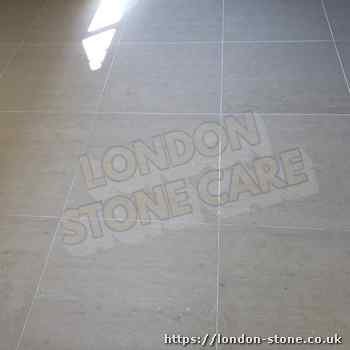 Porcelain is a type of ceramic tile.
Top quality Porcelain has very low porosity, this means less stains, less water damage, much less need to be sealed.
When the blend of ceramic isn't correct, the surface of the tiles can be porous. just like natural stone floors. It could be hard to remove this soil.
You need specialist machines and cleaners to remove this soil.
After cleaning, we use specific Porcelain sealers to prevent this problem.
Solid color Porcelain could be ground and restored like Granite or Marble.
Cleaning Of Ceramic Tile Floors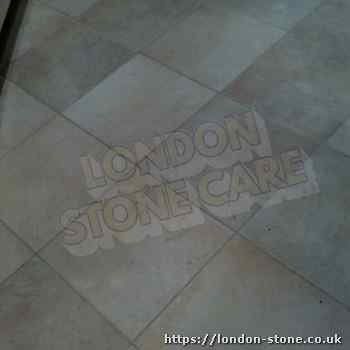 Professional cleaning of Ceramic tiles can often take a shorter time than stone floors or clay tiles..
The finish in Ceramic tiles isn't porous.
But, you will still have a better finish with specialist equipment and materials.
As soon as your tile is cleaned we will use a sealer. Sealing will make mopping much easier and helps to protect against spillages.
Some Of The Natural Stone Restoration Work Our Technicians Bring
Stone floor cleaning is rarely just cleaning, there may be regularly more restoration required. Sandstone floor restoration covers a range of services. At the least, all stone floors suffer some type of generic wear and tear. In most cases, soil, stains and traffic marks ruin floor's finish. Highly polished marble and granite floors show up wear quickly, as minute foot traffic scuff marks into the stone surface alter the luster and hold dirt. A surface sealer does not prevent porous stone floor and tiles like Sandstone, Limestone and Terracotta gradually struggling with wear and spill problems. Most tile and stone flooring has cement grout. Cement grout is typically softer when compared with stone and a lot more at risk of abrasive and chemical damage. Holes could possibly be filled and cracks repaired included in a restoration. Natural stone contains the appeal that a grubby, porous surface could be taken away, exposing an attractive new surface. Grinding and honing removes surface damage from etching and surface scratching.
Tile and sealing is crucial to help keep a brand new tile and stone finish looking stunning. Stone sealers should really be put on new tile and and tile floors and just after any floor tile cleaning, stone polishing or tile restoration work. Impregnating or penetrating sealers are utilized following diamond floor polishing. Hybrid sealers or Surface sealers are best applied to coarse stone and tile or tiles.
The original shine on a natural stone will gradually go dull. The loss in shine is due to foot traffic scratches and surface damage. The only method to replace the initial finish is by polishing the stone and tile. On marble, Granite, Terrazzo, Polished Limestone and Polished Travertine floors, diamonds can be used to get rid of the top wear and recover the initial sparkle. The shine on Honed Travertine, Honed Limestone, Sandstone, Slate and Clay tiles is done by making use of a top gloss sealer. Sealer removing items are applied to take away all traces associated with the existing sealer, after which a fresh gloss sealer is applied.
Are there unsightly chips in your tile and floor?
There is no need to change the natural stone. Coloured resin fillers can fill chips and damage on a tile. Once the resin cures, it offers to be sanded and polished. Chip repairs are less expensive than laying new tiles.
Contact the Industry Professionals for Natural Stone Repairs London - Call the Specialists.
Repairing Cracked Tiles
A slight movement within the subfloor will likely make a crack in a marble tile. Cracks are often contained in doorways as well as in between rooms. Also, a crack can appear due to a deficiency or weak spot inside the tile. Crack repaircosts not as much as replacing the tile.
When you yourself have got a deep crack in your floor, vanity unit, tabletop or counter top, they truly are filled up with coloured epoxy fillers. Hairline cracks are too fine to accept a filler and so they should be widened with diamond tools before they are filled.
Other areas near Barnes we service include:
BarnesHelpful Information
Barnes Its built environment includes a wide variety of convenience and arts shopping on its high street and a high proportion of 18th- and 19th-century buildings in the streets near Barnes Pond. Together they make up the Barnes Village conservation area where, along with its west riverside, pictured, most of the mid-19th-century properties are concentrated. On the east riverside is the WWT London Wetland Centre adjoining Barn Elms playing fields. Barnes has retained woodland on the Barnes Trail which is a short circular walk taking in the riversidecommercial streets and conservation areamarked by silver discs set in the ground and with QR coded information on distinctive oar signs. The Thames Path National Trail provides a public promenade along the entire bend of the river which is on the Championship Course in rowing. Barnes has two railway stations Barnes and Barnes Bridge and is served by bus routes towards central London and Richmond.