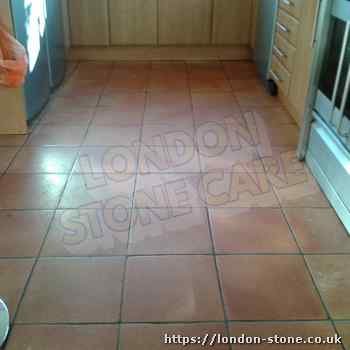 Terracotta Cleaning London
See Superior Terracotta Cleaning London.
Your Terracotta floor cleaning professionals.
We have been cleaning Terracotta floor tile floors within the [location] area for more than two decades.
Drop us a line for your free of charge Terracotta cleaning quote.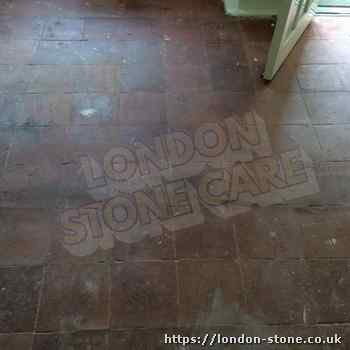 Cleaning dirty Terracotta is often a big headache, particularly when there is lots of ingrained soil on the tiles and the grout. Deciding how to restore your floor can be a big headache. Eventually you will need to a expert Terracotta restoration team to get your floor looking terrific again.
Here is a guide to Terracotta restoration to help you when choosing a Terracotta restoration contractor.

You must have specialist Terracotta cleaning methods to get rid of the old sealer residues and impacted soil.
To start with, use a potent Terracotta cleaner and sealer remover over the floor.
And then we leave the sealer remover and cleaner for about twenty minutes to break down the old sealers and greasy dirt.
Rotary scrbbing equipment lifts the soil off the Terracotta.
Use clean water to wash away the scrubbing solution.
Repeat until the floor looks clean.
Terracotta is a very popular flooring for homes and flats. Though, Terracotta needs to have scheduled cleaning and maintenance to help keep it looking clean. If not, cleaning is less efficient.
Terracotta is oftentimes put down inside high wear kitchens and dining areas. Heavy use of terracotta floors causes an accumulation of grime and dirt.
Terracotta Floors have problems with more than one additional problems.
Dull patches as the original sealer has worn away or bgun to break down.
Terracotta is a soft tile and extremely porous. So a premium Terracotta sealer is essential. Over time Lots of sealers have already been used, from linseed oil to modern impregnating and surface sealers. Each sealer has a particular mopping cleaning chemical to help maintain the sealer. Many general hard-floor cleaning chemicals have chemical substances that break up and weaken sealers. Eventually, the sealer degrades, letting soil to soak into the Terracotta tiles.


Ugly surface scratching from heavy traffic or moving furnishings.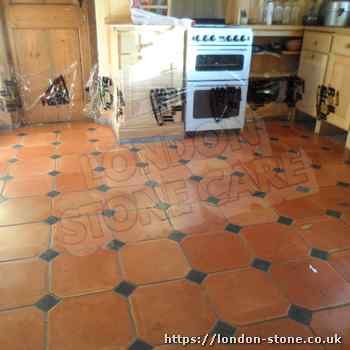 Sealers protect against general foot wear and spillages. They cannot prevent substantial traffic deterioration and scratches. Only frequent terracotta mopping and sealing repairs the damaged areas, recovering the finish. However, the floor should be clean before applying a sealer; of not, a sealer encapsulates the soil and the floor commence to look Annoying.

Unsightly Sealer And Polish Residue.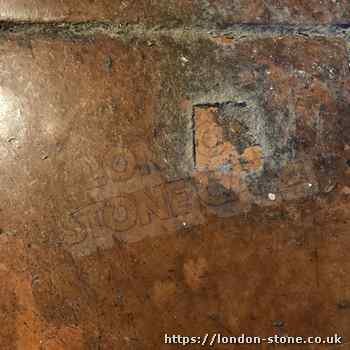 Without any professional tools, it is difficult for a property owner to get rid of all the soil off a floor before sealing. A sealer can encapsulate the residual dirt, dog hairs, dust as well as other detritus. When this keeps going, the sealer starts to look dark-colored and unpleasant.

Old Sealers Peling off From The Floor Tiles
Peeling commonly comes about in areas when the tiles are dirty or contaminated, so the sealer will not adhere to the tile. Eventually, the coating peels off, leaving an ugly spot.

Dark-colored, Stained Grout
Terracotta has wide, sanded grout. The grout is not installed flush with the surface of the Floor Tiles. Dirt as well as other pollutants can easily deposit within the many pores and ridges in the grout. As grout is permeable, liquids, especially cleaning slurry, soaks deep into the grout and stains it.

Professional terracotta tile cleaning is the ideal solution to make your Terracotta sparkling and clean. In order to make your floors look just like new, call us for a 100 percent free Terracotta cleaning and restoration quotation.
Terracotta Sealing - Sealing Terracotta Floors
Dining rooms, bathrooms and kitchens have lots of oil and water-based liquids that will mark a Terracotta tile floor. Spills are able to permeate the top of Terracotta, giving unappealing marks and spots. High-quality Terracotta can easily stain, and imported varieties can differ dramatically in permeability. A sealer helps prevent a spill turning into a stain.
Terracotta is among the most porous floors we run into but has been used for quite some time returning to Roman times. Terracotta can quickly begin to display surface scratches, particularly where layers of sealer or a polished finish has completely or partially worn down.
In spite of its vulnerabilities, Terracotta could be restored back again to a wonderful finish.
We can easily finish the terracotta tiles with a genuine wax finish or a tough synthetic sealer.

Tradidional Approach To Sealing Terracotta
Before the arrival of contemporary sealers, Terracotta was sealed with lots of applications of boiled linseed oil until the tiles became saturated. The Terracotta was re-coated every year to maintain the level of sealer..
Using linseed oil strongly improves the natural colours of the Terracotta, giving it a sunny attractive appearance. Terracotta can still be sealed and properly maintained with Linseed oil. Towels loaded in oil are extremely flammable.
So professionals use the proper safety precautions. A floor wax could be put on to give extra protection following application. A buffing machine can buff the wax finish to a light or high sheen finish.

Modern Approach To Sealing Terracotta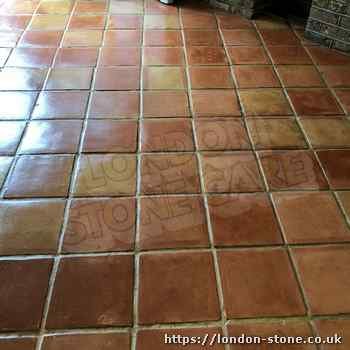 Contemporary sealers require less ongoing maintenance than traditional sealers.
Modern sealers are much less hazardous to utilize.. contemporary
A matt, original Terracotta finish is becoming more popular. If you want a matt, original finish, put on an impregnating sealer.
You have the choice of applying a colour enhancing or neutral impregnating sealer.. However, Terracotta is extremely porous, which means you need certainly to apply a few coats of sealer.
In the last thirty years, Acrylic sealers are becoming popular as they give a longer life than linseed oil and wax. They are available in mid-sheen and high sheen finishes.
Nevertheless, you really need to check the heavy traffic areas and top-up with sealer if needed.. On new tiles, you'll need 3 to 6 coats to obtain a hard-wearing surface.
Water-based acrylic sealers last as much as four years per application dependent on foot wear. In most cases, just the wear areas need to be resealed..
If the floor was not looked after properly, you may have to strip the existing sealer and apply new sealer. In the last few years, more polymer, surface sealers are becoming available, lasting even longer and calling for far fewer applications.
Sealing Terracotta has developed significantly in the last thirty years. So you are able to pick from a wide selection of finishes. What Happens If You Have Chipped, Cracked and Loose Tiles?

Terracotta Tile Restoration
Cleaning and repairing Terracotta is called Terracotta restoration.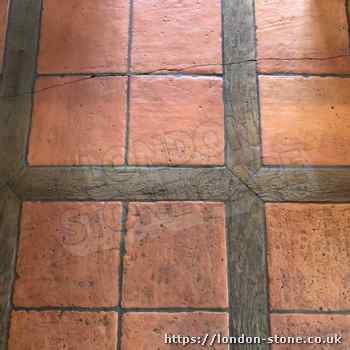 A slight movement in the underlying floor can make a crack in a Terracotta tile.
Cracks are often present in doorways and between rooms. Single tiles on a stable subfloor can still crack. A crack repair will be noticeable, however a repair is less than the cost of replacement. When fixing a cracked Terracotta tile, the cracks need to be opened up to accept a filler. We use fine diamond tools, opening the crack to two to four mm according to the form of the crack.
Then we fill the crack with a colour matched grout. Grout could be left sponged or dry sanded. Terracotta can have a myriad of color tones in a single tile, so a crack correct is still visible.
However a dirty crack is unsightly when compared by using a correct. Traditional Terracotta floors will likely have been grouted with sand and cement, or mortar grout. Sand and cement grout is very porous and sometimes gets stained. If this happens, you can easily change or recolour the grout. Grout colouring takes much less time than replacing the grout and costs less.

Some Of The Areas In Greater London we service: