Stone Floor Cleaning Shepherds Bush
Learn About Excellent Stone Floor Cleaning Shepherds Bush.
Send Us Details About Your Floor
In most cases the dimensions and kind of stone, plus a handful of images detailing the appearance of the floors will be all we require.
After we have defined your needs we will email an extensive written quote.
We Will Contact You Quickly
Quite often we shall present other treatments to suit most budgets.
We shall also email a document featuring examples of matching work.
We arrive promptly.
Once we finish you're going to be thrilled
The Reasons Why You Should Contact Us
We deliver total stone floor cleaning Shepherds Bush services for the expensive stones that make a house a dream home.
Regardless of the sort of stone you have got, our specialists will make them look new again.
We provide free consultations in Shepherds Bush with no obligation!
delighted to guide you with cleaning and maintenance assistance
Following restoring a tile and stone floor, we provide a detailed ongoing maintenance program.
Contact Us Now!
Your very own stone floor cleaning quotation is just a click away.
A Light Review Of Our Specialized Stone Floor Cleaning And Polishing Services In Shepherds Bush
Marble ultimately looses the original polish. The damage to the surface is brought on by foot traffic scratching and etch marks The best way to restore the original appearance is by polishing the marble.
Diamonds are used to get rid of the damage and marks and restore the gloss.
Most marble floors are not even due to the fact tiles are not put down flat. We can grind off the jagged edges of the tiles, making the floor surface perfectly flat. Marble grinding is a professional process, bringing brilliant results.
Following grinding, the marble tiles and grout will be at the exact same level. The marble looks monolithic, appearing to be produced from a single slab of marble.
After grinding marble maintenance is a piece of cake, because the mop slides over the floor. Also, soil doesn't get stuck within the grout lines. Chips, cracks and hole repairs tend to be an element of the marble restoration procedure. We can advise the correct restoration service.
Travertine Polishing And Sealing
A Travertine floor is a type of Limestone. Travertine floor tilescould be supplied in many finishes, including honed, polished and tumbled. In the long run, the initial hole filler falls away, then the holes are quickly filled with unattractive soil.
Working to the highest standard, Travertine floor cleaning and restoration experts have specialist sealer removers and rotary scrubbing equipment to eliminate the coatings of old sealers and embedded soil.
After cleaning, the Travertine floor can be re-grouted to refill any exposed holes. We then apply specialist sealers that last for years to safeguard the Travertine floor.
Limestone Floors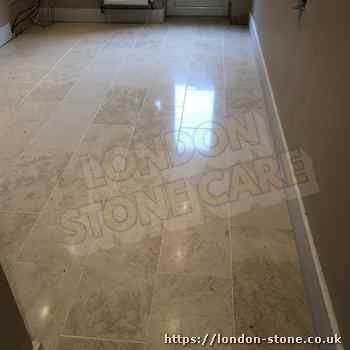 As time passes, Limestone will be worn and loose its finish. The dull appearance is caused by minute marks on the surface of the Limestone where it has been walked over. Before long, your floor will need to be re-polished. We use industrial diamonds to eliminate the surface damage and bring back the shine.
Nearly all Limestone floors are uneven because the tiles are not laid flat. The only method to make a Limestone tile floor flat is by grinding off the lippage and jagged tile edges. Limestone floor grinding is a specialist procedure, bringing incredible results. The Limestone floor will have the look of becoming a single piece of Limestone.
Following grinding, the grout sits will be level with the Limestone tiles. It is much easier to maintain a smooth, sleek floor than an uneven floor. A smooth Limestone floor won't have grout lines to hold grime. Cracks and chips can be repaired with colour matched resin fillers. We can recommend the right Limestone restoration process.
Terrazzo Polishing & Sealing
Terrazzo is manufactured out of natural stone chips set in a cement or epoxy medium which is either poured on site or cast as tiles. Terrazzo eventually loses the original finish. The surface damage is due to traffic scratches and surface damage.
Ultimately, the Terrazzo will need to be polished to the highest standard. We use diamond polishingto bring back the initial Terrazzo shine. Our Terrazzo sealers can help reduce further siol related issues.
Sandstone Cleaning
Sandstone is formulated primarily from quartz, iron oxide, silica and calcium based deposits so it's a very resilient stone. The voids between the sandstone grains trap soil that can be tough to remove.
There is specialist scrubbing and rinsing machinery to get rid of the soil and old sealers, refurbishing the initial sandstone appearance Then we apply a long-lasting sealer which also makes your floor much easier to clean. We shall advise the right restoration service.
Granite Floor Restoration
You will get granite in lots of domestic homes and buildings. Granite is exceptionally hard wearing.Granite is typically picked for the stone's hard wearing characteristics. Granite flooring requires less professional service in comparison to other stone.
Few stone cleaning and restoration companies restore Granite, since it is so difficult and tough to restore. We offer a complete selection of granite restoration, cleaning polishing and sealing services. to the highest standard.
Terracotta Restoration
Terracotta provides a distinctive coloring and a rustic appearance in your home, but must have careful maintenance to keep it looking its best.
Terracotta is extremely porous therefore it is important to protect it with a protective seal.
Sealer deposits, dirt and markings can be removed with rotary scrubbing and sealer removers.
We can wax the Terracotta or employ a hard-wearing synthetic sealer that is much easier to take care of.
Slate Cleaning & Sealing
Slate flooring is just one of the most popular forms of natural stone, since it calls for less regular maintenance and mopping. Slate needs regular sealing to prevent soil and spills marking the finish.
We use rotary cleaning devices and sealer removal treatments clean the slate. Then we use hard wearing sealers.
If you want a smooth finish, we can grind the slate, but we need to gauge the slate before grinding.
Victorian Tiles Floor Cleaning And Sealing
Period Geometric or Encaustic floor tiles are installed in Victorian and Edwardian hallways.
The foremost features of Victorian tiles are the natural clay colours and a matt finish.
Along with the changes in home design, many of these floors come with carpet underlay, lino adhesive, bitumen and other adhesive residues.
Cleaning these floors can be challenging owing to the range of old sealers and covering residues.
A colour intensifying sealer is used after cleaning, to revive the initial colours into the tiles. Topical sealers and waxes can give the floor a sheen or glossy finish.
Quarry Tiles Floor Restoration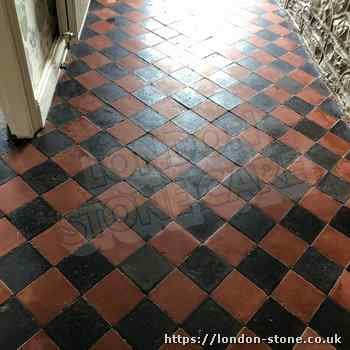 Quarry tile flooring is generally many years old and frequently needs a complete professional clean and restoration to bring it back into life.
One universal problem is existing films of sealer that must be taken off.
A professional clean and reseal is frequently just enough to restore a quarry tile floor. After cleaning, the tiles should be sealed with a long lasting sealer.
Cleaning Porcelain Tiles Floors
Porcelain is actually a ceramic mixture with sand and feldspar added to create a more compact tile.
High quality Porcelain has very low porosity, this means less stains, less water damage and mold, and less need for sealing.
Some inferior porcelain has microscopic holes that will absorb soil similar to natural stone floors. It may be tough to remove this soil.
You need specialist equipment and cleaning solutions to remove this soil.
After cleaning, we apply specific Porcelain sealers to prevent this problem.
Solid color Porcelain may be ground and restored like Granite or Marble.
Professional cleaning of Ceramic tiles is generally easier as compared to cleaning stone floors or clay tiles.
The polish in Ceramic tiles is not porous.
Specialist stone and tile cleaning services will still give your floor a better finish.
Once your floor is cleaned we can use a sealer. Cleaning is much simpler with a sealed floor, additionally the sealer helps stop spills transforming into stains.
Some Of The Stone And Tile Restoration Treatments Our Technicians Bring
Sandstone tile cleaning is rarely just cleaning, there is certainly regularly more restoration required. Sandstone floor restoration covers many different services. At least, all stone floors suffer some sort of generic wear and tear. In most cases, soil, stains and traffic marks ruin floor's finish. Highly polished marble and granite floors show up wear quickly, as minute foot traffic scuff marks into the stone surface alter the luster and hold dirt. A surface sealer will not prevent porous tile and and tiles like Sandstone, Limestone and Terracotta gradually struggling with wear and spill problems. Most stone and tile flooring has cement grout. Cement grout is normally softer compared to stone plus much more in danger of abrasive and chemical damage. Holes might be filled and cracks repaired included in a restoration. Stone floor gets the appeal that a grubby, porous surface could be taken away, exposing an attractive new surface. Grinding and honing removes surface damage from etching and surface scratching.
Natural stone sealing is a must to keep a fresh stone and tile finish looking stunning. Stone sealers should always be placed on new tile and and tile floors and immediately after any floor tile cleaning, stone polishing or tile restoration work. Impregnating or penetrating sealers are used following diamond floor polishing. Hybrid sealers or Surface sealers are best placed on coarse stone floor or tiles.
The initial shine on a natural stone will gradually go dull. The loss in shine is brought on by foot traffic scratches and surface damage. The only method to replace the initial finish is through polishing the stone floor. On marble, Granite, Terrazzo, Polished Limestone and Polished Travertine floors, diamonds can be used to remove the area wear and recover the initial sparkle. The shine on Honed Travertine, Honed Limestone, Sandstone, Slate and Clay tiles is established by applying a top gloss sealer. Sealer removing items are applied to take away all traces associated with the existing sealer, after which a new gloss sealer is applied.
Are there unsightly chips on your own tile and stone floor?
There is no need to alter the natural stone. Coloured resin fillers can fill chips and damage on a tile. After the resin cures, it has to be sanded and polished. Chip repairs are less expensive than laying new tiles.
Contact the Industry Professionals for Natural Stone Repairs London - Call the Specialists.
Repairing Cracked Tiles
A small movement within the subfloor could make a crack in a marble tile. Cracks in many cases are contained in doorways as well as in between rooms. Also, a crack can appear because of a deficiency or weak spot inside the tile. Crack repaircosts not as much as replacing the tile.
When you yourself have got a deep crack in your floor, vanity unit, tabletop or counter top, they are filled up with coloured epoxy fillers. Hairline cracks are too fine to just accept a filler and they also should be widened with diamond tools before these are generally filled.
Other areas near Shepherds Bush we work in include:
Shepherds BushHelpful Information
Shepherd Bush is a district of West London, England, within the London Borough of Hammersmith and Fulham 4.9 miles 7.9 km west of Charing Cross, and identified as a major metropolitan centre in the London Plan. Although primarily residential in character, its focus is the shopping area of Shepherd Bush Green, with the Westfield London shopping centre a short distance to the north. The main thoroughfares are Uxbridge Road, Goldhawk Road and Askew Road, all with small and mostly independent shops, pubs and restaurants. The Loftus Road football stadium in Shepherd Bush is home to Queens Park Rangers. In 2011, the population of the area was 39,724. The district is bounded by Hammersmith to the south, Holland Park and Notting Hill to the east, Harlesden and Kensal Green to the north and by Acton and Chiswick to the west. White City forms the northern part of Shepherd Bush. Shepherd Bush comprises the Shepherd Bush Green, Askew, College Park & Old Oak, and Wormholt and White City wards of the borough.