Stone Floor Cleaning London
Discover The Number One Stone Floor Cleaning London.
Give The Size And Sort Of Stone
More often than not the dimensions and sort of stone, plus a few photos displaying the condition of the floors will be all we need.
We will email an in depth estimate after we have clarified your preferences.
You Will Have A Prompt Reply
In many cases we will offer other treatments to match most budgets.
We shall also send a document featuring instances of matching work.
We Decide On A Work Schedule
We arrive prepared for work as well as on time.
Your tile and stone floor will appear fantastic
The Reasons Why You Can Trust Us
We recognise your financial investment in stone floors and our stone floor cleaning London services will help you to preserve its natural charm as time goes by.
Utilizing time-honored methods with up-to-date technologies and maerials to offer the most effective results.
We provide free estimates in London with no obligation!
Entirely free stone cleaning and maintenance advice
After restoring a stone floor, we provide you with a detailed ongoing maintenance program.
Contact Us Now!
It is simple to organise a quotation for your stone floor cleaning London.
A Simple Description Of Our Expert Stone Floor Cleaning Services In London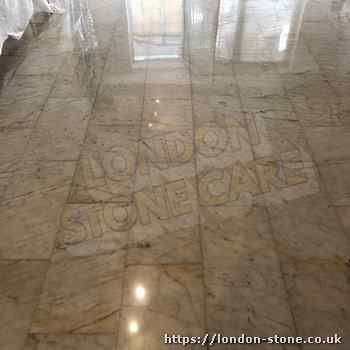 Marble ultimately looses the initial shine. Scratching and etching build and damage the initial polish. Marble Polishing is the only way to bring back the initial polish.
We use diamond polishing machinery to restore the original gloss.
Most marble floors are uneven since the marble tiles are not set flat. A marble floor can be leveled by grinding away the lippage and jagged edges of the tiles. It is an involved process however the the finished results are spectacular.
Following grinding, the grout sits is level with the marble tiles. The floor will appear like just one slab of stone.
Mopping a ground and polished marble floor is a lot like cleaning an individual bit of glass. There are no uneven grout deressions to hold soil. Chips, cracks and hole repairs in many cases are part of the restoration procedure. The type of restoration needed will be based on the state of your floor.
Travertine Polishing And Sealing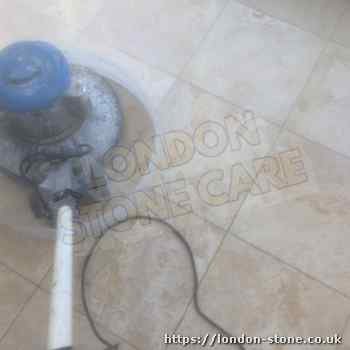 Most of the Travertine in the UK has a honeycomb structure with a large amount of holes. There are very different types of Travertine floor tiles, including polished, honed and tumbled. The initial hole filler often comes out, letting the holes fill with dirt and soil.
Working to the highest standard, restoration firms have specialist machinery and cleaners to get rid of soil and old sealer residues on a Travertine floor.
After cleaning, any open holes in the Travertine floor could be filled with coloured grout. After cleaning and re-grouting the Travertine floor we use a resilient, simple to clean sealer.
Limestone Floors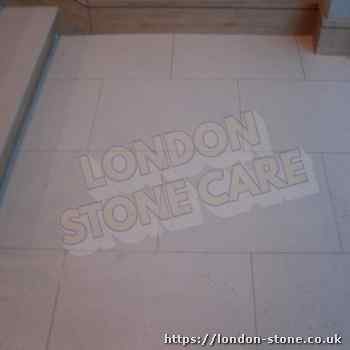 Over time Limestone will loose the original surface. The dullness is due to microscopic scratches on the surface of the tile where it's been walked on. Before long, your Limestone will have to be re-polished. We use industrial diamond polishing machines to revive the original gloss.
It's virtually unachievable to lay a Limestone tile floor absolutely flat. We can grind away the jagged edges of the tiles, making a floor surface smooth. Grinding Limestone floors must be completed by experts. The floor will appear like just one slab of Limestone.
After grinding, the Limestone tiles be flush with the grout lines. After grinding maintenance is a piece of cake, as the mop slides on the floor. There are no grout channels to hold soil. Limestone restoration generally features some crack and chip repairs, using Limestone resin fillers. Once we assess your floor, we can recommend he best restoration processes.
Terrazzo Polishing & Sealing
Terrazzo has been utilized for thousands of years as a flooring Slowly a Terrazzo floor will loose the original finish. The change in the finish is due to microscopic scratches on top where it was walked over.
Terrazzo Polishing is the only way to revive finish to the highest standard. Diamonds get rid of the surface damage and restore the original Terrazzo shine. Our Terrazzo sealers can help prevent further siol related issues.
Sandstone Floor Restoration
Sandstone floor tiles also come in several different shades of brown, red, yellow and cream. The voids between the sandstone grains trap soil that may be tough to get rid of.
We use a rotary brushing machines, sealer removers and pressure rinsing to completely clean the sandstone Right after cleaning we use hard wearing sealers. We will advise the correct restoration service.
Granite Polishing And Sealing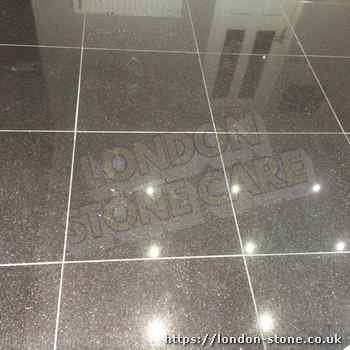 Granite is an extremely popular tile flooring. Granite is extremely hard wearing.Granite is frequently picked for the product's hard-wearing properties. A surface on Granite lasts longer than other stones or tiles.
Few stone floor cleaning and restoration companies will restore Granite, since it is so hard and hard to restore. We offer a complete variety of granite restoration, cleaning polishing and sealing services. to the highest standard.
Terracotta Cleaning
Terracotta is made from natural clay and has been used throughout history for roof tiles, sculptures, bricks and floor tiles.
Terracotta is very porous so it's essential to protect it with some protective sealer.
Despite its vulnerabilities, Terracotta could be restored back into a delightful look.
Whilst we are able to seal Terracotta with Boiled linseed oil and wax, we advise a tough synthetic sealer that will work for years, with minimum maintenance.
Slate Floor Cleaning And Sealing
Slate flooring is one of the most widely used kinds of natural stone, because it needs less maintenance and mopping. We are commonly called to clean slate when it has layers of old sealer with embedded dirt, and so the finish appears dull and soiled.
We use rotary scrubbing equipments and sealer removers clean the slate. Then we use hard-wearing sealers.
If you like a smooth floor, we can grind the ground, subject to the slate being suitable for grinding.
Victorian Tiles Cleaning And Sealing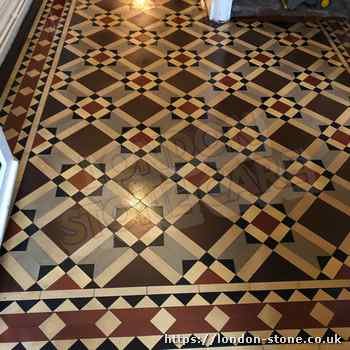 Many Victorian and Edwardian hallways will have floors made from Geometric Encaustic tiles.
The tiles are unglazed from the natural colours from the clay used to make them.
Lots of these floors have been sealed and then covered with carpet or lino.
The main challenges with victorian floor tiles is removing the of polished, oils, dirt, waxes and grime whilst not damaging the floor.
After cleaning, the initial colours in the floor can look dull, so we apply a colour intensifying impregnating sealer to restore the initial depth of colour. A topical sealer or wax finish will provide the floor with a sheen finish.
Quarry Tiles Cleaning & Sealing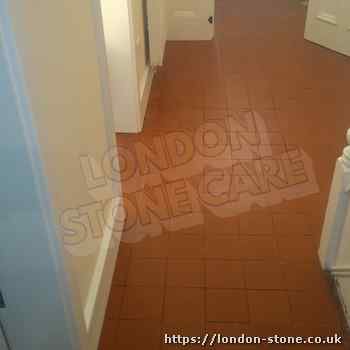 Quarry tile flooring is usually several decades old and frequently needs a full professional clean and restoration to bring it back again to life.
Surface damage like scratches and other abrasions can occur in the event that tiles haven't been properly sealed or perhaps the existing slealer has worn out.
Whilst the tiles may seem soiled and discoloured, they're very durable and could look just like new after a suitable clean. After cleaning, the tiles should be protected with a lasting sealer.
Cleaning Of Porcelain Tiles Floors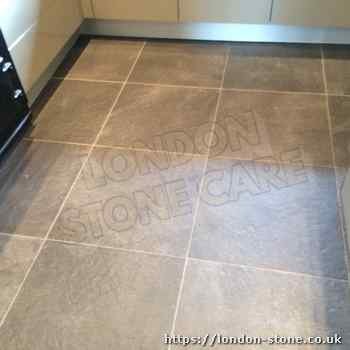 Porcelain is a type of ceramic tile.
This helps make Porcelain a lot more resistant to stains and simpler to keep up than standard ceramic tiles.
If Porcelain is not correctly produced, the surface can absorb soil similar to natural stone floors. It may be difficult to remove this soil.
We have the equipment and experience to remove this difficult to reach soil.
When your porcelain floor has been cleaned we are able to use a sealer which protects against regular spillages.
If you have got a solid colour Porcelain, we are able to re-surface the tiles by Grinding and re-polishing.
Cleaning Ceramic Tile Floors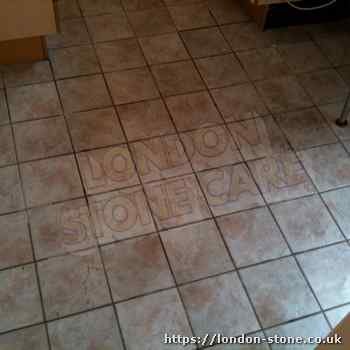 Professional cleaning of Ceramic floor tiles usually takes a shorter time compared to stone floors or clay tiles..
Normally, the glassy polish liberates dirt a lot more easily.
Nevertheless, professional cleaning, specialized cleaners and equipment can give the very best results.
Immediately after cleaning and restoration we use a professional tile sealer. Care is much easier having a sealed floor, in addition the sealer prevents spills transforming into stains.
Get more information about our Ceramic Tile And Grout Cleaning London cleaning method in addition to our wide-ranging professional stone floor cleaning options or Book a Quote with the help of a company that will work at the highest standard in natural stone.
A Few Of The Stone Floor Restoration And Cleaning Treatments We Bring
Stone and tile cleaning is rarely just cleaning, there may be regularly more restoration required. Sandstone floor restoration covers many different services. At least, all stone floors suffer some form of generic wear and tear. In most cases, soil, stains and traffic marks ruin floor's finish. Highly polished marble and granite floors show up wear quickly, as minute foot traffic scuff marks into the stone surface affect the luster and hold dirt. A surface sealer will not prevent porous tile and and tiles like Sandstone, Limestone and Terracotta gradually struggling with wear and spill problems. Most stone and tile flooring has cement grout. Cement grout is usually softer in comparison to stone and many other things at risk of abrasive and chemical damage. Holes could be filled and cracks repaired included in a restoration. Stone floor has got the appeal that a grubby, porous surface may be taken away, exposing a pleasant new surface. Grinding and honing removes surface damage from etching and surface scratching.
Tile and stone sealing is essential to keep a unique stone floor finish looking stunning. Stone sealers ought to be put on new stone and tile and tile floors and just after any floor tile cleaning, stone polishing or tile restoration work. Impregnating or penetrating sealers are employed following diamond floor polishing. Hybrid sealers or Surface sealers would be best placed on coarse tile and or tiles.
The original shine on a stone floor will gradually go dull. The loss in shine is attributable to foot traffic scratches and surface damage. The only way to replace the original finish is through polishing the stone and tile. On marble, Granite, Terrazzo, Polished Limestone and Polished Travertine floors, diamonds are used to eliminate the outer lining wear and recover the original sparkle. The shine on Honed Travertine, Honed Limestone, Sandstone, Slate and Clay tiles is made by applying a top gloss sealer. Sealer removing products are applied to take away all traces of the existing sealer, after which a new gloss sealer is applied.
Is there unsightly chips in your tile and stone floor?
There is no need to improve the natural stone. Coloured resin fillers can fill chips and damage on a tile. Once the resin cures, this has to be sanded and polished. Chip repairs are less costly than laying new tiles.
Contact the Industry Professionals for Natural Stone Repairs London - Call the Specialists.
Repairing Cracked Tiles
A slight movement inside the subfloor could make a crack in a marble tile. Cracks in many cases are contained in doorways as well as in between rooms. Also, a crack can appear because of a deficiency or weak spot inside the tile. Crack repaircosts not as much as replacing the tile.
When you yourself have got a deep crack in your floor, vanity unit, tabletop or counter top, these are typically filled with coloured epoxy fillers. Hairline cracks are way too fine to accept a filler and so they should be widened with diamond tools before these are generally filled.
Other areas near London we work in include:
LondonHelpful Information
London is the capital and largest city of the United Kingdom and of England. The city stands on the River Thames in the south-east of England, at the head of its 50-mile 80 km estuary leading to the North Sea. London has been a major settlement for two millennia, and was originally called Londinium, which was founded by the Romans. The City of London, London ancient core and financial centre€"an area of just 1.12 square miles 2.9 km2 and colloquially known as the Square Mile€"retains boundaries that closely follow its medieval limits.[note 1] The adjacent City of Westminster has for centuries been the location of much of the national government. Thirty-one additional boroughs north and south of the river also comprise modern London. The London region is governed by the mayor of London and the London Assembly.[note 2] London is one of the world most important global cities. It exerts a considerable impact upon the arts, commerce, education, entertainment, fashion, finance, healthcare, media, professional services, research and development, tourism and transportation. It is one of the largest financial centres in the world and in 2019, London had the second highest number of ultra high-net-worth individuals in Europe, after Paris. And in 2020, London had the second-highest number of billionaires of any city in Europe, after Moscow. London universities form the largest concentration of higher education institutes in Europe, and London is home to highly ranked institutions such as Imperial College London in natural and applied sciences, the London School of Economics in social sciences, and the comprehensive University College London. In 2012, London became the first city to have hosted three modern Summer Olympic Games. London has a diverse range of people and cultures, and more than 300 languages are spoken in the region. Its estimated mid-2018 municipal population corresponding to Greater London was roughly 9 million, which made it the third-most populous city in Europe. London accounts for 13.4% of the U.K. population. Greater London Built-up Area is the fourth-most populous in Europe, after Istanbul, Moscow, and Paris, with 9,787,426 inhabitants at the 2011 census. The London metropolitan area is the third-most populous in Europe, after Istanbul and the Moscow Metropolitan Area, with 14,040,163 inhabitants in 2016. London contains four World Heritage Sites: the Tower of London; Kew Gardens; the site comprising the Palace of Westminster, Westminster Abbey, and St Margaret Church; and the historic settlement in Greenwich where the Royal Observatory, Greenwich defines the Prime Meridian 0° longitude and Greenwich Mean Time. Other landmarks include Buckingham Palace, the London Eye, Piccadilly Circus, St Paul Cathedral, Tower Bridge, Trafalgar Square and The Shard. London has numerous museums, galleries, libraries and sporting events. These include the British Museum, National Gallery, Natural History Museum, Tate Modern, British Library and West End theatres. The London Underground is the oldest underground railway network in the world.