Stone Floor Cleaning Parliament Hill
Experience Outstanding Stone Floor Cleaning Parliament Hill.
Provide The Size And Variety Of Stone
Some photos of the floors and the sizes are usually all we require.
We shall email an in depth quotation once we have cleared up your needs.
Quite often we shall offer other treatments to suit most budgets.
We shall also send a document displaying photos of equivalent work.
We Decide On A Start Date
We get there on time.
Your tile and stone floor will appear beautiful
Your natural stone and tile floors polished and restored to like-new - or better!
A firm awareness on the demands of patrons, giving high quality natural stone cleaning, repair, and restoration work with competitive prices.
We offer free estimates in Parliament Hill without any obligation!
Specialized cleaning and maintenance assistance
Following restoring tile and stone floors to a lovely finish, we supply a cleaning and maintenance program, so floors stay attractive for years rather than months.
Contact Us Now!
Your very own stone floor cleaning Parliament Hill quote is simply a click away.
Our Specialized Stone Floor Cleaning And Restoration Services In Parliament Hill Outlined
In the long run, Marble will end up matt and loose its appearance. Scratching and etching build up and remove the initial polish. Marble Polishing is your only way to reinstate the finish.
We use industrial diamond polishing machines to bring back the initial appearance.
It is very almost unachievable to lay a marble floor absolutely flat. The only way to make a marble floor smooth is by grinding off the lippage and uneven edges of the tiles. You must have specialist equipment and many years of hands on experience to successfully grind a marble tile floor, nevertheless the results are beautiful.
After grinding, the marble tiles and the grout will be at exactly the same level. The floor will appear like an individual piece of marble.
It is easier to clean a smooth floor than an irregular floor. A smooth surface marble floor doesn't have grout depessions to hold soil. Cracks, chips and hole repairs tend to be part of the restoration work. After inspecting the floor, we can advise the very best marble restoration service.
Travertine Floor Polishing
A Travertine floor is a variant of Limestone. Travertine floor tiles will come in a variety of finishes, polished, smooth honed and tumbled. The initial hole filler often comes away, permitting the holes to fill with soil, dirt and mopping water.
Working to the highest standard, restoration Companies have specialist equipment and chemicals to remove the soil and old sealers on a Travertine floor.
After cleaning, any open holes in a Travertine floor can be filled up with coloured grout. We then apply a long-lasting sealer that also helps make the Travertine floorless difficult to clean.
Limestone Floor Cleaning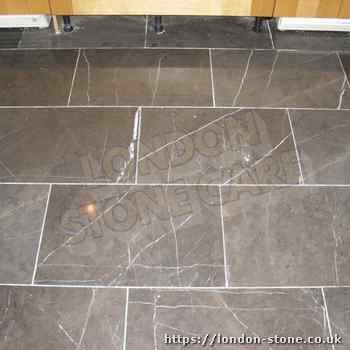 Progressively Limestone tiles will loose the original appearance. The surface damage is due to traffic scratching and surface etching Gradually, the tiles will have to be repolished. We use industrial diamond polishing equipment to restore the original appearance.
If your floor has been put down with not level tiles, this is known as "lippage". A Limestone tile floor can be leveled by grinding off the lippage and irregular tile edges. You require dedicated machines and many years of Limestone grinding and polishing to grind a Limestone floor, however the result is fabulous. The Limestone will have the look of being an individual piece of stone.
Following grinding, the tiles will be flush with the grout. After grinding maintenance is a breeze, as the mop slides on the floor. Also, soil doesn't get stuck in the grout lines. Cracks and chips can be filled with colour matched resin repair fillers. Once we assess your Limestone floor, we will recommend on the ideal restoration processes.
Terrazzo Cleaning
Terrazzo is created by mixing chips produced from marble, granite, quartz, or glass chips into a cement or epoxy binder . The initial finish on a Terrazzo floor will gradually go dull. The change in the finish is due to microscopic scratches on top where it was walked on.
Terrazzo Polishing is definitely the best way to restore finish to the highest standard. Diamonds are used to eliminate the surface damage and restore the initial Terrazzo shine. We can help reduce this soil with Terrazzo sealers.
Sandstone Restoration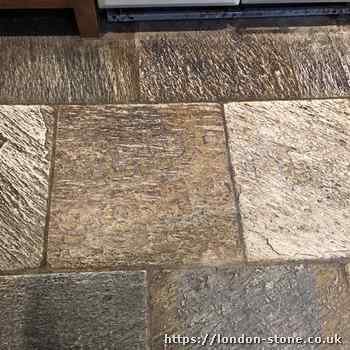 Sandstone is made of highly compressed sand, together with assorted minerals such as quartz and feldspar. Whilst sandstone is durable it is also porous, so soil gets stuck in the surface and it is difficult to remove.
There are industrial-grade coating removers, rotary scrubbing apparatus and pressurised rinsing to get rid of the layers of old sealer We then use specialist sealers that last for a long time not months. The specific restoration needed should be determined by the healthiness of your floor.
Granite Polishing And Sealing
Granite is a popular tile for home and commercial installations. Granite is a tremendously hard wearing tile flooring, well suited for heavy duty foot traffic lanes. Specialized maintaining is usually called for less often as compared to other stones tile limestone and marble.
Few stone cleaning and restoration companies actually restore Granite, since it is so difficult and difficult to restore. We offer a full variety of granite restoration, cleaning polishing and sealing services. to the highest standard.
Terracotta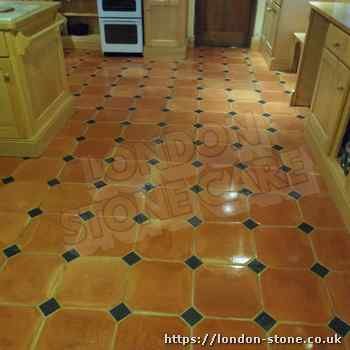 Terracotta is made from natural clay and has been used throughout history for roof tiles, sculptures, bricks and floor tiles.
Terracotta is extremely porous it is therefore necessary to protect it with some protective seal.
Cleaning and restoring terracotta tiles starts off with stripping the existing polish, sealers and ingrained soil with industrial-grade sealer removers and cleaning solutions.
We use a durable sealer for terracotta, and that means you get the maximum benefit and value from your cleaning.
Slate Restoration
Slate is an incredibly functional material which can be finished with a range of finishes from rough surface, smooth honed or polished finish. Riven slate will get an accumulation of soil inside the crevices this is certainly difficult to remove.
We use rotary brushing equipments and sealer removers clean the slate. Once the professional cleaning is completed , the floor is left to dry, then use a durable, easy to maintain sealer.
Some slate floors could be ground to a smooth finish.
Victorian Tiles Floor Cleaning & Sealing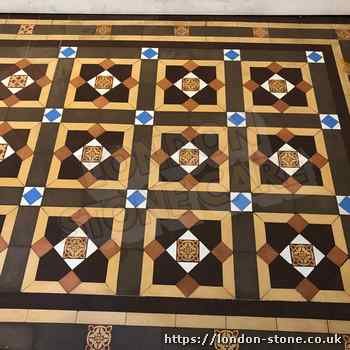 Victorian Clay Tiles are installed in many Victorian and Edwardian hallways.
Victorian tiles are produced from natural clay with a natural non-shiny finish.
Due to how old they are, these floors have experienced a lot of wear and often have layers of different sealers.
The primary concerns with victorian floor tiles is removing decades of polished, oils, dirt, waxes and grime while not harming the floor tiles.
After cleaning, a colour intensifying sealer is put on to regenerate the oroginal colours in the floor. Topical sealers and waxes will provide a floor a sheen or glossy finish.
Quarry Tiles Floor Cleaning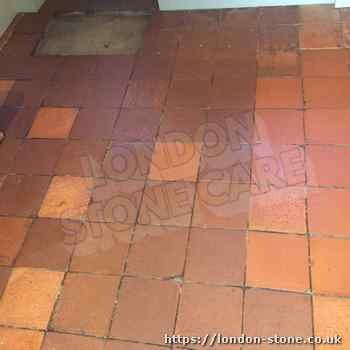 Quarry tiles are extremely are particularly durable however they still suffer with a number of issues.
One common issue is old layers of sealer that should be removed.
As the tiles may appear dirty and discoloured, they are remarkably durable and can look just like new after a suitable clean. After cleaning, the tiles should be finished with a long lasting sealer.
Porcelain Tile Cleaning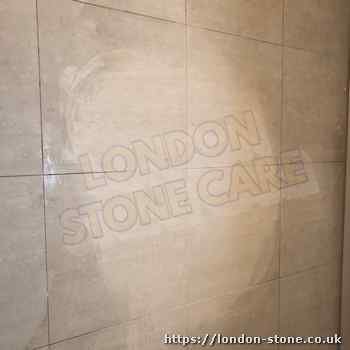 Porcelain is a form of ceramic tile.
Porcelain is very moisture-resistant, and so spillages can not seep into the tile and cause stains.
If Porcelain isn't manufactured properly, the surface can be absorbent similar to natural stone floors. This soil may be tough to remove.
We possess the equipment and experience to get rid of this hard to reach soil.
Once your porcelain floor is clean we are able to use a sealer which protects against everyday spillages.
Solid colour Porcelain Tiles can certainly be ground and polished, similar to Granite or Marble.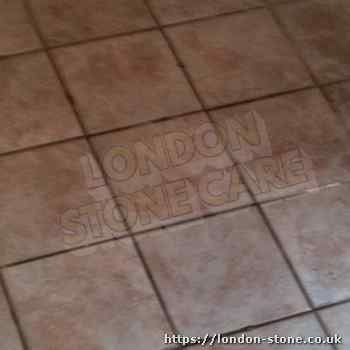 Professional cleaning of Ceramic floor tiles is typically easier when compared to cleaning and restoring natural stone floors or clay tiles.
Grime are often on the surface of the ceramic tile.
None the less, professional cleaning, professional cleaners and equipment can give the best results.
Once your tile has been cleaned we can apply a tile sealer. A sealed ceramic tile is simpler to mop and it helps stop stains.
A Number Of The Natural Stone Restoration Options Our Specialists Deliver
Sandstone tile cleaning is rarely just cleaning, there is certainly regularly more restoration required. Stone and tile restoration covers many different services. At least, all stone floors suffer some type of generic wear and tear. In most cases, soil, stains and traffic marks ruin floor's finish. Highly polished marble and granite floors show up wear quickly, as minute foot traffic scuff marks into the stone surface alter the luster and hold dirt. A surface sealer will not prevent porous natural stone and tiles like Sandstone, Limestone and Terracotta gradually struggling with wear and spill problems. Most tile and stone flooring has cement grout. Cement grout is normally softer compared to stone and more at risk of abrasive and chemical damage. Holes could be filled and cracks repaired included in a restoration. Tile and stone contains the appeal that a grubby, porous surface could be taken away, exposing an attractive new surface. Grinding and honing removes surface damage from etching and surface scratching.
Stone floor sealing is crucial to keep a brand new tile and stone finish looking stunning. Stone sealers ought to be placed on new stone floor and tile floors and just after any floor tile cleaning, stone polishing or tile restoration work. Impregnating or penetrating sealers are employed following diamond floor polishing. Hybrid sealers or Surface sealers are best put on coarse tile and stone or tiles.
The initial shine on a natural stone will gradually go dull. The loss in shine is attributable to foot traffic scratches and surface damage. The only method to replace the first finish is through polishing the stone floor. On marble, Granite, Terrazzo, Polished Limestone and Polished Travertine floors, diamonds are used to eliminate the surface wear and recover the original sparkle. The shine on Honed Travertine, Honed Limestone, Sandstone, Slate and Clay tiles is done by applying a higher gloss sealer. Sealer removing items are applied to take away all traces associated with the existing sealer, after which a new gloss sealer is applied.
Are there unsightly chips in your stone floor floor?
You do not have to alter the tile and. Coloured resin fillers can fill chips and damage on a tile. When the resin cures, it offers to be sanded and polished. Chip repairs are less costly than laying new tiles.
Contact the Industry Professionals for Natural Stone Repairs London - Call the Specialists.
Repairing Cracked Tiles
A slight movement in the subfloor can certainly make a crack in a marble tile. Cracks tend to be contained in doorways plus in between rooms. Also, a crack can appear as a result of a deficiency or weak spot in the tile. Crack repaircosts never as much as replacing the tile.
When you have got a deep crack in your floor, vanity unit, tabletop or counter top, they've been filled up with coloured epoxy fillers. Hairline cracks are way too fine to accept a filler and in addition they should be widened with diamond tools before they truly are filled.
Other areas near Parliament Hill we work in include:
Parliament HillHelpful Information
Parliament Hill French: Colline du Parlement, colloquially known as The Hill, is an area of Crown land on the southern banks of the Ottawa River in downtown Ottawa, Ontario, Canada. Its Gothic revival suite of buildings is the home of the Parliament of Canada and has architectural elements of national symbolic importance. Parliament Hill attracts approximately 3 million visitors each year. Law enforcement on Parliament Hill and in the parliamentary precinct is the responsibility of the Parliamentary Protective Service PPS. Originally the site of a military base in the 18th and early 19th centuries, development of the area into a governmental precinct began in 1859, after Queen Victoria chose Ottawa as the capital of the Province of Canada. Following a number of extensions to the parliament and departmental buildings and a fire in 1916 that destroyed the Centre Block, Parliament Hill took on its present form with the completion of the Peace Tower in 1927. Since 2002, an extensive $1 billion renovation and rehabilitation project has been underway throughout all of the precinct buildings; work is not expected to be complete until after 2028.