Stone Floor Cleaning Denmark Hill
Find Out About Extraordinary Stone Floor Cleaning Denmark Hill.
The Simple Steps To Follow
Send Us Details About Your Floor
A handful of photos showing the floors and the sizes usually are all we require.
We shall email a detailed price once we have clarified your needs.
Quite often we shall propose alternative treatments to match most budgets.
We shall also send a document detailing pictures of comparable work.
We Decide On A Start Date
We get there on time.
When we finish you will be thrilled
We recognise your financial investment in stone floors and our stone floor cleaning Denmark Hill services can help you maintain its natural beauty over time.
We have been serving home owners with stone floor cleaning and restoration for well over 20 years.
When you are ready to unleash the beauty of your natural stone floors, make contact with our restoration department!
Totally free of charge cleaning and maintenance advice
After restoring a tile and stone floor, we provide you with a detailed ongoing maintenance program.
Contact Us Now!
Get a free stone floor cleaning Denmark Hill quotation today.
Our Specialised Stone Floor Cleaning And Restoration Services In Denmark Hill Revealed
Progressively a marble floor will lose its initial polish. Scratching and etch marks pile-up and take off the original surface. Ultimately, the marble will have to be repolished.
We use diamond polishing machines to restore the initial finish.
Most marble tile floors are not even because the marble tiles are not laid flat. We can grind off the uneven tile edges, making the floor surface perfectly flat. Grinding marble really should only be undertaken by experts.
Following grinding, the grout sits will sit at the same level as the marble. The marble floor will have the look of looking like an individual area of marble.
After grinding mopping is a piece of cake, because the mop slides over the floor. A smooth surface marble floor won't have grout depessions to trap soil. Hole cracks and chip repairs are often part of the marble restoration procedure. The type of restoration needed is going to be decided by the current condition of the marble floor.
Travertine Polishing
Almost all of Travertine used in the United Kingdom has a honeycomb structure with lots of holes. Travertine floor tilesmay be supplied in a number of finishes, including tumbled, honed and polished. The initial hole filler often comes away, letting the holes fill with dirt, soil and mopping water.
Working to the highest standard, Travertine floor cleaning and restoration experts have industrial-grade sealer removers and rotary scrubbing machines to get rid of the coatings of old sealers and embedded soil.
After cleaning, the Travertine floor is often grouted to fill any open holes. We then use a long-lasting sealer that can helps make the Travertine floormuch easier to look after.
Limestone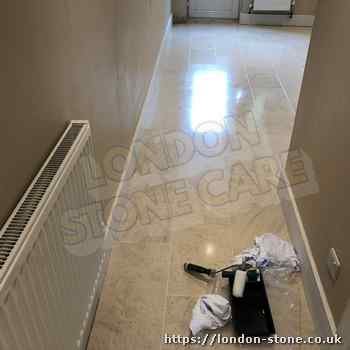 Little by little Limestone tiles will loose its original polish. Surface scratches and etch damage build and dull the initial appearance. Limestone Polishing is your only way to restore the original shine. We use industrial diamonds to eliminate the scratches anddamage and restore the original appearance.
It's pretty much impossible to install a Limestone floor perfectly flat. A Limestone tile floor can be leveled by grinding off the lippage and jagged tile edges. Limestone tile grinding is a specialist service, giving brilliant results. The floor will look like an individual area of Limestone.
After grinding, the Limestone will be at the same level the grout. Cleaning a ground and polished Limestone floor is like cleaning a single slab of glass. There will be no uneven grout lines to trap soil. Limestone restoration generally includes a few chip and crack repairs, using Limestone resin fillers. After assessing the Limestone, we will advise the best Limestone restoration process.
Terrazzo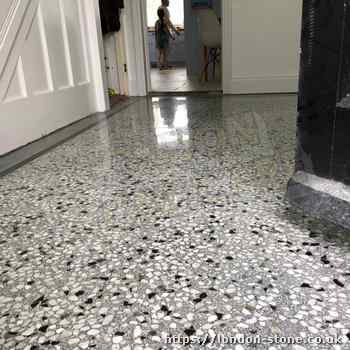 Terrazzo is an appealing and durable flooring, thus its popularity as flooring in supermarkets, airports, commercial and industrial buildings. The original finish on a Terrazzo floor will gradually go dull. Surface damage is due to wear scratches and surface damage.
The only way to restore the initial finish is by polishing the Terrazzo to the highest standard. We use specialised Terrazzo polishing machines and diamond tooling to grind and polish the Terrazzo. After cleaning and polishing, we use specialised Terrazzo sealers.
Sandstone Floors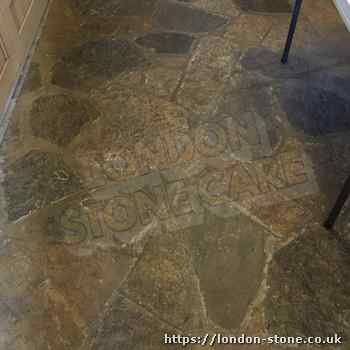 Sandstone floor tiles are available several different shades of brown, red, yellow and cream. Whilst sandstone is sturdy it's also porous, so soil gets caught in the surface and it is hard to remove.
We use a rotary brushing equipment, coating removers and pressurised rinsing to clean the sandstone Once the sandstone is clean, we permit it to dry, then use a long-lasting, easy to clean sealer. Once we look at your floor, we are able to advise you on the best restoration process.
Granite Floor Cleaning And Sealing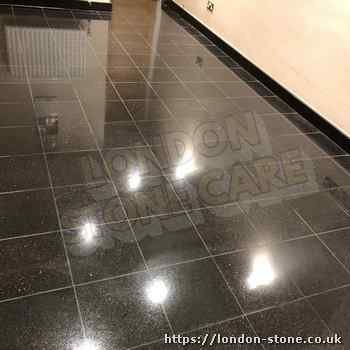 Granite is widely utilized in both commercial and domestic rooms. Granite is a rather hard flooring and extremely resistant to damage from scratching and staining compared to other stone like marble and limestone. The finish on a granite floor lasts much longer than other stones.
Granite is so hard, that lots of companies do not have the apparatus or experience to restore it. We provide the full range of Granite polishing and restoration services. to the highest standard.
Terracotta Floor Restoration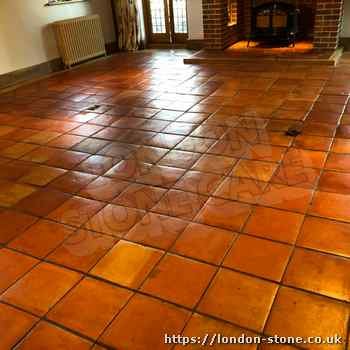 Terracotta provides a unique coloring and a rustic feel in the home, but must have careful maintenance to keep it looking its best.
Aggressive chemicals such as conventional floor cleaners and bathroom tile cleaners can easily damage and mark Terracotta.
Heavy-duty sealer removal treatments and cleansing agent help in removing old sealers and dirt, while keeping the appealing surface.
We can seal the Terracotta with a genuine beeswax finish or a tough synthetic sealer.
Slate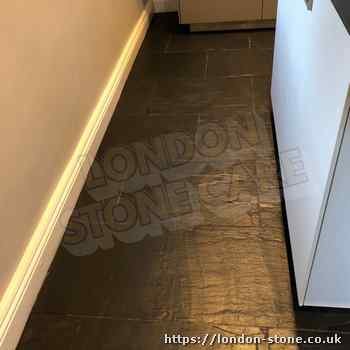 Slate flooring is amongst the most popular types of natural stone, since it needs less maintenance and mopping. Whilst slate has a minimal porosity, it's going to always to some extent absorb and oil based spills, making irritating spots.
We use a mixture of machine and hand scrubbing to eliminate all traces of older soiled sealers and clean the tiles. Once our professional cleaning is completed, use professional sealers that will last for many years not months.
If you want a smooth finish, we could grind the floor, but we have to measure the slate before grinding.
Victorian Tiles
Many Victorian and Edwardian hallways may have floors made of Geometric Encaustic tiles.
The main qualities of Victorian tiles include natural clay colours and a matt finish.
Quite a lot of these floors were initially sealed and then covered up with carpet and lino.
The main challenges with victorian floor tiles is removing decades of oils, polishes, waxes, dirt and grime whilst not harming the tiles.
A colour intensifying sealer is used following cleaning, to revive the initial colours within the tiles. If you prefer a sheen or gloss finish a surface sealer or wax can be applied.
Quarry Tiles Floors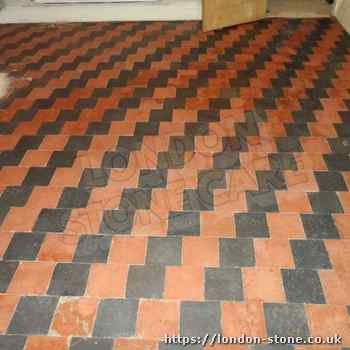 Quarry tiles are very durable however they still have problems with a number of issues.
One common problem is former layers of sealer that have to be taken off.
A specialist clean and reseal is usually enough to restore a quarry tile floor. If Quarry tiles are laid on sand, ash or lime, put on sealers that enable the free movement of moisture.
Porcelain Tile Cleaning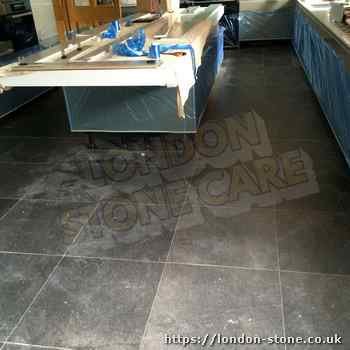 Porcelain is classified as a ceramic, but manufactured with different materials to conventional ceramic tiles.
The additional minerals makes Porcelain stronger than traditional ceramic tiles.
Some inferior porcelain has tiny holes which will absorb soil just like natural stone floors. It may be difficult to remove this soil.
We can remove ingrained soil using equipment made to go into the microscopic pits holding the soil.
We will help minimize the dirt using Porcelain sealers.
If you've got a solid colour Porcelain, we are able to re-surface the tiles by Grinding and re-polishing.
Cleaning Of Ceramic Tile Floors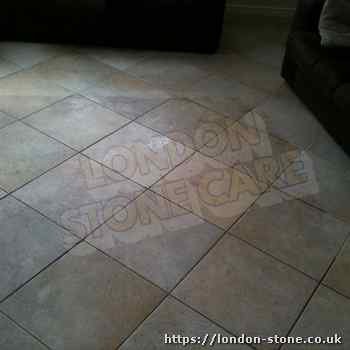 Professional cleaning of Ceramic floor tiles is normally less complicated than stone floors cleaning..
A glazed finish is easier to clean and restore.
But, professional cleaning, professional cleaning solutions and equipment will give the most effective results.
After cleaning we use a professional sealer. A sealed floor is easier to clean and a sealer helps avoid stains.
A Number Of The Natural Stone Restoration And Cleaning Work Our Technicians Bring
Stone floor cleaning is rarely just cleaning, there is certainly regularly more restoration required. Natural stone restoration covers many different services. At least, all stone floors suffer some type of generic wear and tear. More often than not, soil, stains and traffic marks ruin floor's finish. Highly polished marble and granite floors show up wear quickly, as minute foot traffic scuff marks when you look at the stone surface affect the luster and hold dirt. A surface sealer will not prevent porous stone and tile and tiles like Sandstone, Limestone and Terracotta gradually struggling with wear and spill problems. Most natural stone flooring has cement grout. Cement grout is normally softer compared to stone and many other things at risk of abrasive and chemical damage. Holes might be filled and cracks repaired included in a restoration. Natural stone has got the appeal that a grubby, porous surface may be taken away, exposing an attractive new surface. Grinding and honing removes surface damage from etching and surface scratching.
Stone and tile sealing is essential to help keep an innovative new stone and tile finish looking stunning. Stone sealers must certanly be put on new natural stone and tile floors and right after any floor tile cleaning, stone polishing or tile restoration work. Impregnating or penetrating sealers are used following diamond floor polishing. Hybrid sealers or Surface sealers are best applied to coarse natural stone or tiles.
The first shine on a stone floor will gradually go dull. The loss in shine is attributable to foot traffic scratches and surface damage. The only method to replace the initial finish is through polishing the stone and tile. On marble, Granite, Terrazzo, Polished Limestone and Polished Travertine floors, diamonds are utilized to remove the surface wear and recover the initial sparkle. The shine on Honed Travertine, Honed Limestone, Sandstone, Slate and Clay tiles is created by making use of a top gloss sealer. Sealer removing products are applied to take away all traces associated with the existing sealer, after which a fresh gloss sealer is applied.
Are there unsightly chips on the stone floor floor?
You don't have to change the tile and. Coloured resin fillers can fill chips and damage on a tile. When the resin cures, it offers to be sanded and polished. Chip repairs are less expensive than laying new tiles.
Contact the Industry Professionals for Natural Stone Repairs London - Call the Specialists.
Repairing Cracked Tiles
A slight movement in the subfloor could make a crack in a marble tile. Cracks in many cases are contained in doorways and in between rooms. Also, a crack can appear due to a deficiency or weak spot within the tile. Crack repaircosts not as much as replacing the tile.
When you have got a deep crack in your floor, vanity unit, tabletop or counter top, these are generally filled with coloured epoxy fillers. Hairline cracks are too fine to just accept a filler and so they should be widened with diamond tools before they have been filled.
Other areas near Denmark Hill we cover include:
Denmark HillHelpful Information
Denmark Hill is an area and road in Camberwell, in the London Borough of Southwark. It is a sub-section of the western flank of the Norwood Ridge, centred on the long, curved Ruskin Park slope of the ridge. The area and road is said to have acquired its name from Queen Anne husband, Prince George of Denmark, who hunted there. It is part of the A215 which north of its main foot, Camberwell Green, becomes Camberwell Road and south of Red Post Hill becomes named Herne Hill, another district. Its postcode is SE5. North-east and south-easterly slopes of the same eminence are named Grove Hill and Dog Kennel Hill, on top of which the summit is shared with Champion Hill, the only divide being proximity to the respective two affluent streets which intersection on Camberwell descent. From Camberwell Green northwards the land is much lower and very gently sloped as in northern Brixton at its other foot, in the west. There are good views across central London from vantage points e.g. top-storey windows. On a clear day some viewers can read the time on the Big Ben clockface.