Stone Floor Cleaning Edmonton
Find Out About Superior Stone Floor Cleaning Edmonton.
Give The Size And Type Of Stone
More often than not the size and type of stone, plus a few photos showing the appearance of the floors will be all we require.
Once we have defined your needs we will email a comprehensive written estimate.
In many cases we will present some other finishes to match most budgets.
We will also send a document detailing examples of equivalent work.
We come well prepared for work as well as on time.
As soon as we get done you're going to be delighted
Reasons Why You Ought To Choose Us
Our professionals are trained to provide you with anything from a straight forward clean and polish, or special stone floor cleaning Edmonton projects.
With quality results, affordable prices and professional staff, we are proud to become your number one choice for cleaning and restoration of natural stone.
Whether you are intending to restore or revive your natural stone or tile floors, our company is confident that we can help you.
Free of charge stone cleaning and maintenance guidance
Following restoring a stone floor, we give you a detailed maintenance program.
Contact Us Now!
Get a free stone floor cleaning quotation today.
Our Specialised Stone Floor Cleaning Services In Edmonton Revealed
Over time, Marble will end up worn and loose its appearance. Scratching and etching build up and take off the original polish. Marble Polishing is the best way to bring back the original finish.
We utilize specialist machines and diamond tooling to polish the marble. to the highest standard
If the tiles are not even, even this problem is named "lippage". We can grind off the uneven tile edges, making a floor surface smooth. Marble grinding is a specialist procedure, that gives outstanding results.
Following grinding, the marble tiles and grout are at the exact same level. The marble floor will get the appearance of looking like just one slab of stone.
After grinding honing and polishing mopping is a breeze, because the mop slides over the floor. There are no depressed grout lines to capture soil. If your marble has chips or cracks, we are able to repair them using resin fillers, closely colour matched to the marble. Once we have assessed your floor, we will suggest on the best marble restoration process.
Travertine Polishing & Sealing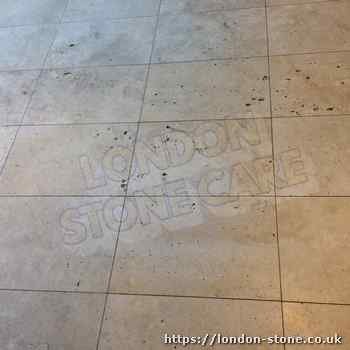 A Travertine floor has a porous structure, with plenty of holes. Travertine floor tilesmay be supplied in many different finishes, including tumbled, honed and polished. Over time, the original hole filler falls away, thereafter the holes fill with ugly soil.
Working to the highest standard, restoration firms use rotary scrubbing machines and pressure rinsing to clean the Travertine floor.
Once the Travertine floor tiles and the holes are cleaned, any holes are grouted with a colour matched grout. After cleaning and grouting the Travertine floor we use a resilient, simple to clean sealer.
Limestone Floor Polishing
With time, Limestone will become worn and loose its finish. This damage to the surface is due to foot traffic scratches and surface etching The only way to revive the initial finish is by polishing the floor. Diamonds are used to get rid of the scratches anddamage and recover the finish.
If your floor happens to be installed with uneven tiles, this is certainly known as lippage. The only way to make a Limestone floor perfectly smooth is by grinding away the lippage and irregular edges of the tiles. You must have specialized equipment and several years of grinding and polishing to successfully grind a Limestone floor, however the result is amazing. The Limestone floor looks "monolithic", appearing to be produced from just one slab of Limestone.
Following grinding, the grout sits will sit at the same level as the Limestone. After grinding honing and polishing mopping is very simple, as the mop slides on the floor. There are no depressed grout lines to retain soil. Chips and cracks can be filled with coloured resin fillers. After checking the floor, we can advise the very best Limestone restoration service.
Terrazzo Floor Cleaning
Terrazzo is an appealing and hard wearing flooring, hence its popularity as a flooring in supermarkets, airports, commercial and industrial buildings. The initial finish on a Terrazzo floor will steadily go dull. The change in the finish is caused by microscopic scratches on the surface where it was walked over.
Terrazzo Polishing is definitely the only way to bring back the original finish to the highest standard. We have diamond polishing machinery to re-surface the Terrazzo and restore the original finish. Once your Terrazzo has been cleaned and polished, we are able apply a sealer which shields against regular spills.
Sandstone Restoration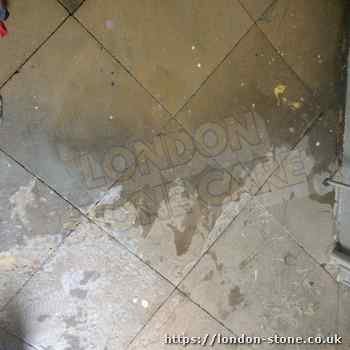 Sandstone is made from highly compressed sand, which includes different minerals such as quartz and feldspar. Whilst sandstone is sturdy it's also porous, so dirt gets stuck in the surface and is difficult to remove.
There is specialist scrubbing and rinsing equipment to remove the soil and old coatings, restoring the initial sandstone surface Right after cleaning we apply hard wearing sealers. After inspecting the floor, we are going to advise the best Sandstone restoration service.
Granite Cleaning And Sealing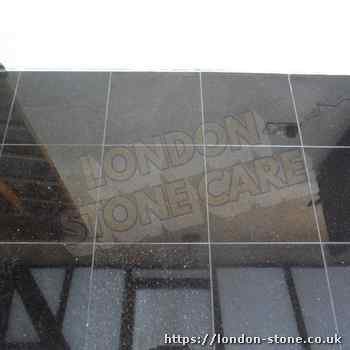 Granite is a very popular stone. Granite is a really hard wearing tile flooring, well suited for heavy traffic lanes. Specialized service is normally called for less often compared to different stones tile marble and granite.
Few stone floor cleaning and restoration companies actually restore Granite, because it is so difficult and hard to restore. We can restore all forms of granite flooring. to the highest standard.
Terracotta Cleaning
Terracotta is manufactured out of natural clay and historically has been used for roof tiles, sculptures, bricks and floor tiles.
Terracotta is very porous so it's essential to protect it with some protective sealer.
Industrial grade sealer removers and cleansing agent help to remove old sealers and dirt, whilst preserving the attractive finish.
We use a durable sealer for terracotta, which means you get the maximum benefit and value from your cleaning.
Slate Cleaning And Sealing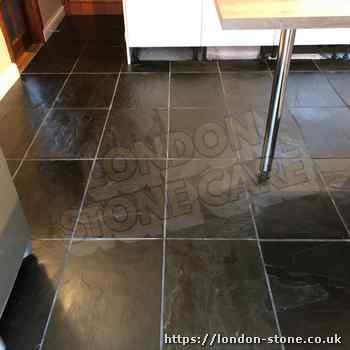 Slate is a wonderfully functional material which can be protected using a range of finishes from rough texture, smooth honed or polished surface. While slate has a minimal porosity, it will probably still partially absorb and oil based spills, leaving frustrating marks.
There are specialist machines and chemical treatments to remove the soil and old coatings, rejuvenating the initial slate finish. Once the professional cleaning is finished,finally we apply a lasting sealer that will make the floor much easier to clean.
If you like a smooth floor, we can grind a floor, subject to your slate being suitable for grinding.
Victorian Tiles
Victorian Clay Tiles are installed in lots of Victorian and Edwardian hallways.
The tiles have a matt finish and acquire their colour from the clay found in their manufacture.
With the changes in residential decor, many of these floors come with underlay from carpet, lino adhesive, bitumen and different adhesive deposits.
Owing to their age, many of these floors may have a range of covering residues, that have to have specialist cleaning
After cleaning an impregnating sealer is applied to boost the colours and protect the tiles. Topical sealers and waxes will give the floor a sheen or glossy finish.
Quarry Tiles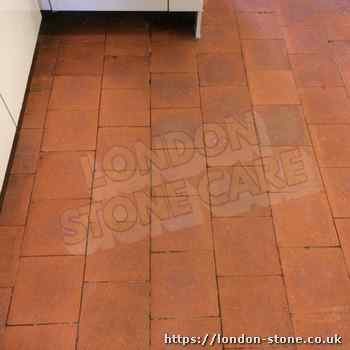 Quarry tile floors were once a proud feature in terraced houses and farmhouses in the country, however, many of those floors have since fallen into different states of repair.
Many years of ground in dirt and old sealers can lead some people to believe their floor is past repair, but that is often far from the truth.
A specialist clean and reseal is usually just enough to restore a quarry tile floor. If Quarry tiles are laid on sand, ash or lime, apply sealers that enable the free movement of moisture.
Cleaning Porcelain Tile Floors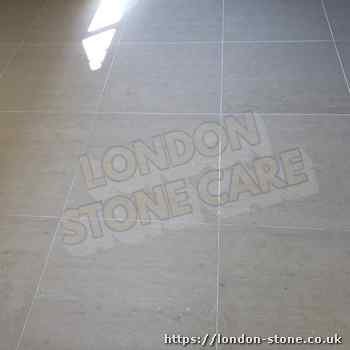 Porcelain has become an extremely desirable option to ordinary ceramic tiles and natural stone.
This helps make Porcelain a lot more resistant to stains and easier to keep up than traditional ceramic tiles.
If the blend of ceramics isn't correct, the top of tiles may be porous. just like natural stone floors. The minute surface pits insure that it is hard to remove this soil.
You need professional equipment and cleaners to remove this soil.
After cleaning, we apply specialist Porcelain sealers to avoid this problem.
If you've got a solid colour Porcelain, we could re-surface the tiles by Grinding and re-polishing.
Cleaning Ceramic Tile Floors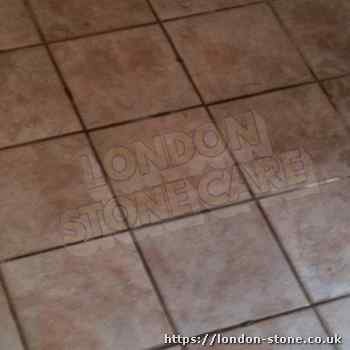 Professional cleaning of Ceramic floor tiles is usually easier than cleaning natural stone floors or clay tiles.
The glazed finishing speeds up cleaning and restoration.
However, specialist stone and tile cleaning will certainly provide a cleaner appearance.
Once your ceramic tile has been cleaned we'll use a sealer. Cleaning is much simpler with a sealed tile floor, and also the sealer helps stop spills transforming into stains.
A Few Of The Natural Stone Cleaning Solutions We Give
Stone and tile cleaning is rarely just cleaning, there may be regularly more restoration required. Natural stone restoration covers a number of services. At the least, all stone floors suffer some type of generic wear and tear. In most cases, soil, stains and traffic marks ruin floor's finish. Highly polished marble and granite floors show up wear quickly, as minute foot traffic scuff marks when you look at the stone surface affect the luster and hold dirt. A surface sealer does not prevent porous tile and and tiles like Sandstone, Limestone and Terracotta gradually struggling with wear and spill problems. Most stone floor flooring has cement grout. Cement grout is generally softer when compared with stone and even more in danger of abrasive and chemical damage. Holes could be filled and cracks repaired included in a restoration. Natural stone gets the appeal that a grubby, porous surface can be taken away, exposing a pleasant new surface. Grinding and honing removes surface damage from etching and surface scratching.
Tile and stone sealing is vital to help keep a new natural stone finish looking stunning. Stone sealers should really be put on new natural stone and tile floors and just after any floor tile cleaning, stone polishing or tile restoration work. Impregnating or penetrating sealers are employed following diamond floor polishing. Hybrid sealers or Surface sealers are best placed on coarse natural stone or tiles.
The original shine on a natural stone will gradually go dull. The loss in shine is due to foot traffic scratches and surface damage. The only way to replace the original finish is through polishing the tile and. On marble, Granite, Terrazzo, Polished Limestone and Polished Travertine floors, diamonds are utilized to get rid of the outer lining wear and recover the initial sparkle. The shine on Honed Travertine, Honed Limestone, Sandstone, Slate and Clay tiles is established by applying a higher gloss sealer. Sealer removing items are applied to take away all traces of the existing sealer, and then an innovative new gloss sealer is applied.
Is there unsightly chips in your stone and tile floor?
There is no need to improve the tile and stone. Coloured resin fillers can fill chips and damage on a tile. Once the resin cures, it offers to be sanded and polished. Chip repairs are less expensive than laying new tiles.
Contact the Industry Professionals for Natural Stone Repairs London - Call the Specialists.
Repairing Cracked Tiles
A small movement within the subfloor could make a crack in a marble tile. Cracks in many cases are present in doorways and in between rooms. Also, a crack can appear due to a deficiency or weak spot inside the tile. Crack repaircosts not as much as replacing the tile.
When you yourself have got a deep crack in your floor, vanity unit, tabletop or counter top, they truly are filled with coloured epoxy fillers. Hairline cracks are way too fine to accept a filler and so they should be widened with diamond tools before these are generally filled.
Other areas near Edmonton we cover include:
EdmontonHelpful Information
Edmonton is where the vibrant energy of the city meets the laid-back cool of the suburbs. And if you're looking for a place that's both hip and happening, then look no further. From the trendy cafes to the stylish boutiques, it is a place where culture and cool collide. And if you're looking for some inspiration, then you're in luck. Because this is a place where creativity thrives. But it's not just about the culture. Edmonton is also a place where you can relax and unwind. Whether you're strolling through one of the many parks or enjoying a pint at a local pub, there's always something to do. And if you're looking for something a little more exciting, then you're in luck. Because Edmonton is also home to some of the most thrilling attractions in the city. From the adrenaline-pumping rides at the amusement park to the heart-stopping action at the sports stadium, there's never a dull moment. But what really sets Edmonton London apart is the people. They're friendly, they're welcoming, and they're always up for a good time. So whether you're a local or a visitor, you'll always feel right at home. So if you're looking for a place that's both cool and cultured, then Edmonton London is the place to be. It's a city that's full of surprises, and you never know what you might discover around the next corner.