Stone Floor Cleaning South Kensington
Discover The Finest Stone Floor Cleaning South Kensington.
Send Us Details About Your Floor
In most cases the size and kind of stone, plus a handful of images displaying the condition of the floors will be all we need.
After we have clarified your requirements we will email a thorough written quotation.
We Shall Respond Promptly
Most of the time we shall present alternative finishes to match most budgets.
We shall also e-mail a document displaying images of similar work.
We arrive punctually.
As soon as we finish you're going to be thrilled
Your stone and tile floors restored and polished to like-new - or better!
We use proven techniques to clean, polish, and restore your tile and stone floors to a vibrant, stylish look.
Whether you are likely to restore or refinish your stone or tile floors, our company is confident that we can help you.
We are always happy to help you care for your tile and stone floors.
After restoring a tile and stone floor, we provide a detailed ongoing maintenance program.
Contact Us Now!
Arrange a quotation for your stone floor cleaning
Our Professional Stone Floor Cleaning Services In South Kensington Explained
Marble Floor Cleaning & Sealing
Marble ultimately looses its initial shine. Surface scratches and etching strengthen and remove the original finish. Ultimately, your marble will have to be re-polished.
We use industrial diamonds to eliminate the damage and recover the initial shine.
It is very nearly unachievable to lay a marble tile floor perfectly flat. We can grind off the jagged edges of the tiles, making the tile surface smooth. Grinding marble really should only be carried out by experts.
After grinding, the marble tiles and the grout will be at the same level. The marble looks "monolithic", appearing to be manufactured from just one area of marble.
An even marble finish is much easier to keep. There will be no uneven grout deressions to trap soil. Cracks and chips can be filled with colour matched resin repair fillers. The restoration needed will be based on the condition of of the marble floor.
Travertine Floors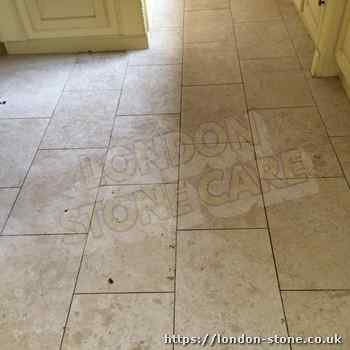 A Travertine floor is a type of Limestone. Travertine floor tiles come in many different finishes, polished, smooth honed and tumbled. The original hole filler often falls away, letting the holes fill with dirt and soil.
Working to the highest standard, restoration businesses have rotary scrubbing equipment and pressure rinsing to clean the Travertine floor.
After cleaning, the Travertine floor could be grouted to refill any exposed holes. After cleaning and grouting the Travertine floor we use a durable, simple to clean sealer.
Limestone Floor Cleaning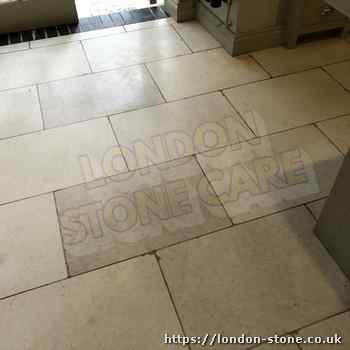 In the long run, Limestone will end up dull and loose its surface. The surface damage is brought on by foot traffic scratching and etch marks Limestone Polishing is the best way to revive the initial appearance. We use diamond polishing equipment to bring back the initial appearance.
If your floor happens to be installed leaving jagged tiles, that is described as "lippage". We can grind away the jagged edges of the tiles, making a floor surface level. You need dedicated equipment and years of hands on experience to successfully grind a Limestone tile floor, but the final results are fabulous. The Limestone floor will have the look of looking like an individual piece of Limestone.
Following grinding, the tiles will be the same level the grout. It is much simpler to maintain a smooth, sleek Limestone than a bumpy floor. A smooth floor does not have grout depessions to hold dirt. Chips, cracks and hole repairs in many cases are an element of the restoration procedure. The type of restoration needed is going to be determined by the state of your Limestone floor.
Terrazzo Cleaning
Terrazzo is a nice-looking yet durable flooring, hence its use as a flooring in supermarkets, airports, commercial and industrial buildings. In the long run, Terrazzo will end up dull and lose its finish. The change in appearance is due to microscopic scratches on the surface where it's been walked over.
Ultimately, the Terrazzo will need to be polished to the highest standard. Diamonds are used to eliminate the surface damage and restore the original Terrazzo shine. Our Terrazzo sealers will help avoid further soil problems.
Sandstone Cleaning & Sealing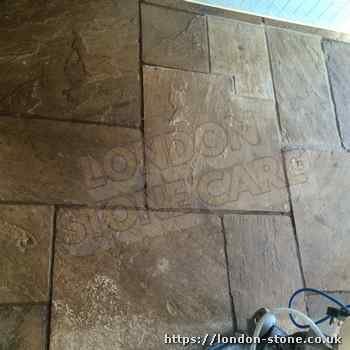 Sandstone is made from compressed sand, as well as various minerals such as quartz and feldspar. Old sandstone could be covered with many different old coarings and trapped soil, so preferably, it needs professional cleaning and sealing.
There are professional wax removers, rotary scrubbing apparatus and pressurised rinsing to get rid of the layers of old sealer When the sandstone is clean, we permit it to dry, then use a durable, easy to clean sealer. Once we look at your floor, we can help you regarding the best restoration process.
Granite Floor Cleaning & Sealing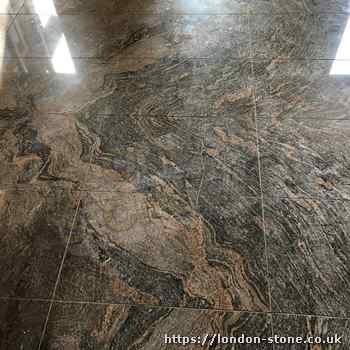 You are able to find granite in lots of domestic homes and buildings. Granite is a very hard stone and is extremely resistant to surface damage from scratches and stains compared to other stone such as limestone and marble. Granite wears longer when compared with other natural stones, like limestone or marble.
As a result of the stone's hardness, granite really needs specialized renovation. We provide the full selection of Granite cleaning and polishing services. to the highest standard.
Terracotta Restoration
Terracotta doesn't have glaze on the surface, therefore it will absorb spills and soil extremely quickly.
Traditional Terracotta sealers should have regular upkeep and re-application, if they are not looked after, the surface will start to get soiled and become porous.
Despite its vulnerabilities, Terracotta could be restored back to an excellent look.
Whilst we are able to seal Terracotta with Linseed oil and wax, we recommend a durable synthetic sealer which will work for years, with minimal maintenance.
Slate Cleaning & Sealing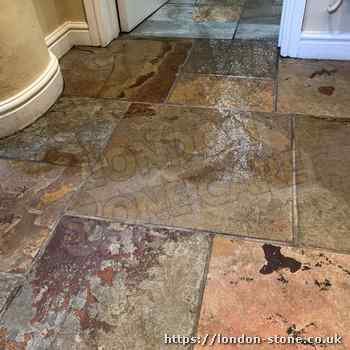 Slate floors look great with their distinctive surface and stunning colours. Slate needs regular sealing to stop soil and spills marking the surface.
We have specialist equipment and products to remove the soil and old coatings, reviving the initial slate finish. After professional cleaning we use hard-wearing sealers.
Some slate floors can be ground to a smooth finish.
Victorian Tiles Cleaning & Sealing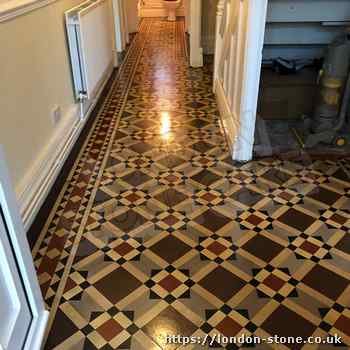 Victoran clay geometric tiles are mainly found in Victorian and Edwardian Hallways.
The tiles are unglazed from the natural colours of the clay used to make them.
Along with the variations in interior decoration, many of these floors come with carpet underlay, lino, bitumen and different sticky deposits.
The key challenges with victorian floor tiles is removing the of oils, polishes, waxes, dirt and grime while not damaging the floor.
A colour intensifying sealer is put on following cleaning, to replace the initial colours into the tiles. Topical sealers and waxes will provide the floor a sheen or glossy finish.
Quarry Tiles Floor Restoration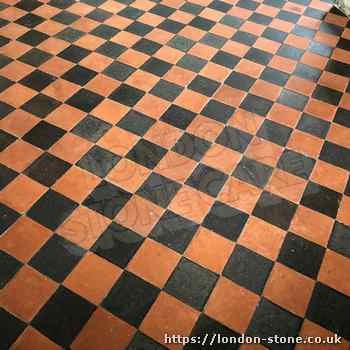 Quarry tile floors were at one time a major feature in terraces and farmhouses in the country, but some of those floors have fallen into assorted states of repair.
One universal problem is worn out coatings of sealer which must be taken off.
A specialist clean and reseal can be just enough to restore a quarry tile floor. Quarry tiles are often laid with no damp proof membrane, so we need to apply the proper sealer to permit the tiles to breathe.
Cleaning Porcelain Tile Floors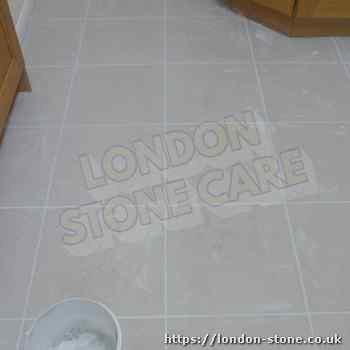 Porcelain is a type of ceramic tile.
Quality Porcelain has really low porosity, this means less stains, less water damage and mold, and less need to be sealed.
There are some inferior porcelains that can absorb surface soil and spills similar to natural stone floors. This soil could be difficult to remove.
We possess the equipment and experience to eliminate this hard to reach soil.
After cleaning, we apply specific Porcelain sealers to stop this problem.
In the event that porcelain is a through-colour, we can resurface the porcelain, exactly like granite or marble restoration.
Cleaning Of Ceramic Tile Floors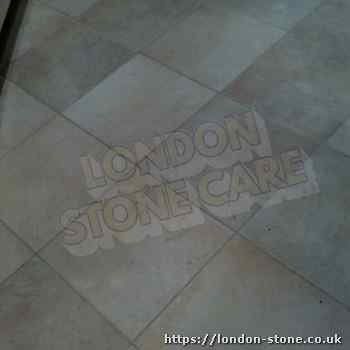 Professional cleaning of Ceramic floor tiles usually takes a shorter time in comparison to natural stone floors or clay tiles..
The glazed finish is a lot easier to clean.
Nonetheless, professional cleaning, specialized products and machinery will provide the best results.
Immediately after cleaning we will put on a specialist tile sealer. Maintenance is much simpler having a sealed floor, and also the sealer stops spills transforming into stains.
A Number Of The Natural Stone Restoration Options We Deliver
Stone and tile cleaning is rarely just cleaning, there may be regularly more restoration required. Stone and tile restoration covers many different services. At least, all stone floors suffer some type of generic wear and tear. More often than not, soil, stains and traffic marks ruin floor's finish. Highly polished marble and granite floors show up wear quickly, as minute foot traffic scuff marks within the stone surface affect the luster and hold dirt. A surface sealer will not prevent porous stone and tile and tiles like Sandstone, Limestone and Terracotta gradually struggling with wear and spill problems. Most stone and tile flooring has cement grout. Cement grout is generally softer when compared with stone and much more at risk of abrasive and chemical damage. Holes could be filled and cracks repaired included in a restoration. Natural stone contains the appeal that a grubby, porous surface could be taken away, exposing a pleasant new surface. Grinding and honing removes surface damage from etching and surface scratching.
Stone and tile sealing is crucial to help keep a unique stone and tile finish looking stunning. Stone sealers should really be put on new stone and tile and tile floors and soon after any floor tile cleaning, stone polishing or tile restoration work. Impregnating or penetrating sealers are used following diamond floor polishing. Hybrid sealers or Surface sealers would be best applied to coarse tile and or tiles.
The first shine on a sandstone floor will gradually go dull. The loss in shine is brought on by foot traffic scratches and surface damage. The only way to replace the original finish is by polishing the tile and stone. On marble, Granite, Terrazzo, Polished Limestone and Polished Travertine floors, diamonds can be used to eliminate the top wear and recover the initial sparkle. The shine on Honed Travertine, Honed Limestone, Sandstone, Slate and Clay tiles is established by making use of a higher gloss sealer. Sealer removing items are applied to take away all traces of the existing sealer, after which a unique gloss sealer is applied.
Is there unsightly chips in your stone and tile floor?
You don't have to alter the tile and stone. Coloured resin fillers can fill chips and damage on a tile. When the resin cures, it has to be sanded and polished. Chip repairs are less costly than laying new tiles.
Contact the Industry Professionals for Natural Stone Repairs London - Call the Specialists.
Repairing Cracked Tiles
A small movement inside the subfloor is going to make a crack in a marble tile. Cracks tend to be present in doorways and in between rooms. Also, a crack can appear due to a deficiency or weak spot in the tile. Crack repaircosts never as much as replacing the tile.
When you yourself have got a deep crack in your floor, vanity unit, tabletop or counter top, these are generally filled with coloured epoxy fillers. Hairline cracks are way too fine to just accept a filler and so they should be widened with diamond tools before these are typically filled.
Other areas near South Kensington we help include:
South KensingtonHelpful Information
South Kensington is a district just west of Central London in the Royal Borough of Kensington and Chelsea. Historically it settled on part of the scattered Middlesex village of Brompton. Its name was supplanted with the advent of the railways in the late 19th century and the opening and shutting and naming of local tube stations. The area is known as a popular tourist destination owing to the density of museums and cultural landmarks. Adjacent affluent centres such as Knightsbridge, Chelsea and Kensington, have been considered as some of the most exclusive real estate in the world. Since World War I it has become a cosmopolitan area attracting Belgian and French refugees, but also Poles during World War II and after, and latterly Spanish, Italian, American, and Middle-Eastern expatriates. The French presence is emphasised by the Lycée Français Charles de Gaulle, the French Institute, hosting the Ciné Lumière a window on French cinema and the Alliance française and the French consulate, among other diplomatic residences. With a French bookshop and many international cafés in the area, it has been called Paris 21st arrondissement.