Stone Floor Cleaning New Southgate
Find Out About Outstanding Stone Floor Cleaning New Southgate.
Send Us Details About Your Floor
A handful of photos showing the floors and the sizes are often all we need.
We shall email a detailed price once we have cleared up your needs.
Stone floors can frequently have many different finishes, therefore we may include alternatives to suit most budgets.
We will also e-mail a document displaying examples of matching work.
We Agree A Working Schedule
We show up well prepared for work and on time.
Your tile and stone floor will look incredible
Our stone floor cleaning New Southgate & restoration specialists will breathe new life into your stone floors.
We combine old fashioned hard work with new equipment to restore your stone floors back to life.
We offer free estimates in New Southgate without any obligation!
If you'd like cleaning help, drop me a line and I will be pleased to assit.
After restoring a tile and stone floor, we supply a detailed maintenance program.
Contact Us Now!
Schedule your stone for cleaning New Southgate quotation today.
Our Professional Stone Floor Cleaning And Restoration Services In New Southgate Outlined
An initial shine on marble tiles will slowly loose its shine. Scratches and etching strengthen and take off the initial appearance. Before long, the marble will have to be repolished.
We use industrial diamond polishing machinery to revive the luster.
In the event that tiles are not even, perfectly even this problem is called "lippage". A marble floor can be leveled by grinding away the lippage and uneven tile edges. You require specialized machinery and many years of marble grinding and polishing to grind, hone and polish a marble tile floor, however the final results are spectacular.
Following grinding, the tiles will be the same level the grout lines. The marble will get a monolithic appearance as a single piece of marble.
Cleaning a ground and polished marble floor is much like cleaning an individual slab of glass. Also, soil doesn't get stuck in the grout lines. Marble floor restoration generally features a few crack and chip repairs, using marble resin fillers. The restoration needed is going to be decided by the current condition of your marble floor.
Travertine Floor Cleaning And Sealing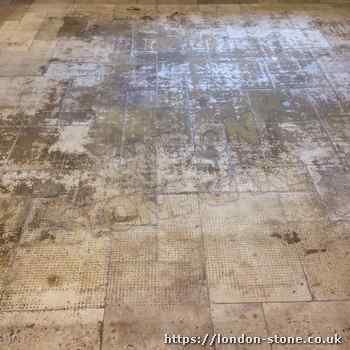 A Travertine floor has a permeable structure, with lots of holes. Travertine floor tiles qre available in a range of finishes, polished, smooth honed and tumbled. As the travertine wears, the hole filler falls out, and the holes fill with dreadful dirt and soil.
Working to the highest standard, restoration Companies use rotary scrubbing machinery and pressure rinsing to completely clean the Travertine floor.
As soon as the Travertine floor tiles and the holes are clean, any open holes are grout filled with a colour matched grout. After cleaning and re-grouting the Travertine floor we put on a long-lasting, very easy to clean sealer.
Limestone Floors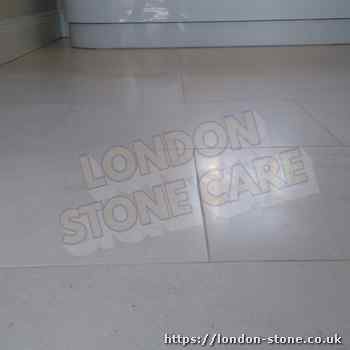 Little by little Limestone tiles will loose the initial finish. Scratches and etch marks strengthen and dull the original shine. The only way to revive the original finish is by polishing the tiles. We use industrial diamonds to remove the surface damage and bring back the original finish.
Nearly all Limestone tile floors are not even because the Limestone tiles are not installed level. The only method to make a Limestone tile floor perfectly smooth is by grinding away the lippage and jagged edges of the tiles. Grinding Limestone floor tiles should be completed by experts. The Limestone floor looks "monolithic", appearing to be manufactured from just one area of Limestone.
After grinding, the tiles and the grout will be at the exact same level. It is faster and easier to clean a smooth Limestone than a jagged floor. A smooth surface Limestone floor won't have grout depessions to retain grime. Chips and cracks can be repaired with colour matched resin repair fillers. We can advise the right Limestone restoration service.
Terrazzo Cleaning
Terrazzo is manufactured out of natural stone pieces set in a cement or epoxy base which is either poured on site or cast as tiles. The original finish on a Terrazzo floor will progressively go dull. Scratches and etch marks build up and take away the original surface.
Terrazzo Polishing is definitely the best way to revive finish to the highest standard. We use specialist Terrazzo polishing equipment and diamond tools to grind and polish the stone. Our Terrazzo sealers can help minimize further siol related issues.
Sandstone Restoration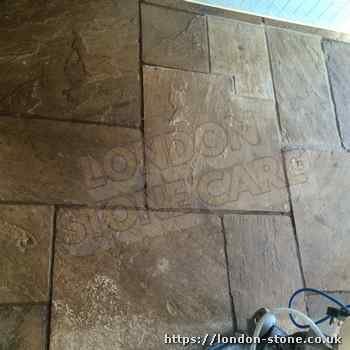 Sandstone is made from highly compressed sand, including assorted minerals such as quartz and feldspar. The voids between the sandstone fragments trap soil that can be difficult to remove.
We use a combination of machine scrubbing, hand scrubbing and pressurised rinsing to eliminate all traces of old soiled coatings and clean the floor to the highest standard. After cleaning we apply hard-wearing sealers. The particular restoration needed will be determined by the condition of your floor.
Granite Floor Restoration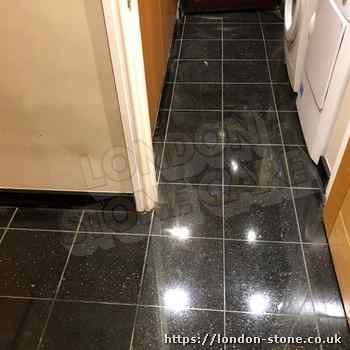 Granite is a favorite tile for commercial and domestic rooms. Granite is a really hard tile, perfect for heavy-duty traffic lanes. Granite needs less specialized service when compared with other natural stones.
As a result of the stone's hardness, granite needs specialized restoration. Our technicians can restore all forms of granite flooring. to the highest standard.
Terracotta Floor Cleaning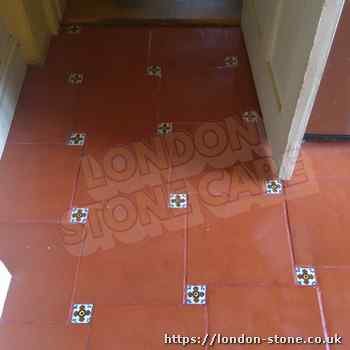 Terracotta is made from natural clay and has been used throughout history for roof tiles, sculptures, bricks and floor tiles.
Aggressive cleaners including regular floor cleaning solutions and bathroom tile cleaners can mark and damage Terracotta.
Cleaning terracotta tiles starts with taking away the existing polish, sealers and ingrained dirt with specialised sealer removers and cleaning chemicals.
Whilst we can seal Terracotta with Boiled linseed oil and wax, we advise a tough synthetic sealer which will last for years, with minimum maintenance.
Slate Floors
Slate is an incredibly flexible stone that may be protected with many different finishes from rough texture, smooth honed or polished appearance. Slate needs regular sealing to stop spills and soil marking the finish.
We have specialist equipment and chemical treatments to eliminate the soil and old sealers, reviving the initial slate finish. Once our professional cleaning is completed,we then apply a lasting sealer which also makes a floor better to maintain.
If you prefer a smooth finish, we are able to grind the tiles, but we need to gauge the slate before grinding.
Victorian Tiles Cleaning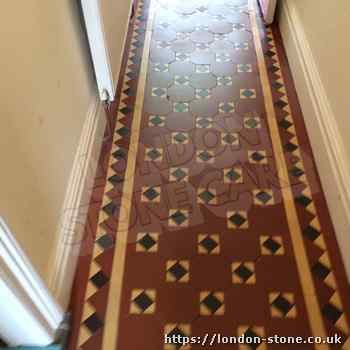 Victorian Clay Tiles are installed in a lot of Victorian and Edwardian hallways.
The principal qualities of Victorian tiles include natural clay colours and a matt finish.
Owing to how old they are, these floors have experienced lots of wear and can have layers of various sealers.
Old paint spills, polishes, waxes and sealer remains makes cleaning these kinds of floors challenging.
After cleaning an impregnating sealer is put on to improve the colours and protect the floor. A topical sealer or wax finish can give the floor with a high-sheen finish.
Quarry Tiles Floors
Quarry tiles are extremely are particularly durable but they still suffer with a number of issues.
Many years of dirt and old sealers often leads many people to think their tile floor is beyond repair, but that is often not the case.
An expert clean and reseal is usually enough to restore a quarry tile floor. Once the quarry tiles have been cleaned they should be sealed to give years of life.
Cleaning Porcelain Tile Floors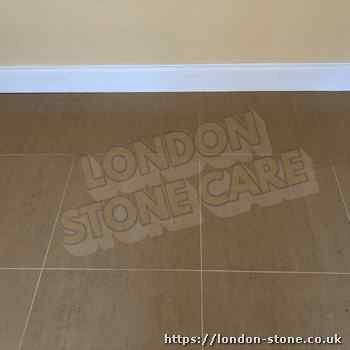 Porcelain is categorised as a ceramic, but created with different materials than conventional ceramic tiles.
Porcelain is very resistant to moisture, so spillages are unable to soak into the tile and result in stains.
If the blend of ceramic isn't right, the top of tiles may be porous. just like natural stone floors. The minute surface pits insure that it is difficult to remove this soil.
We are able to get rid of ingrained soil with equipment made to get into the microscopic pits where the soil is held.
Our Porcelain sealers can help stop further soil problems.
In the event that porcelain is a solid colour, we could resurface the porcelain, the same as granite or marble restoration.
Cleaning Ceramic Tiles Floors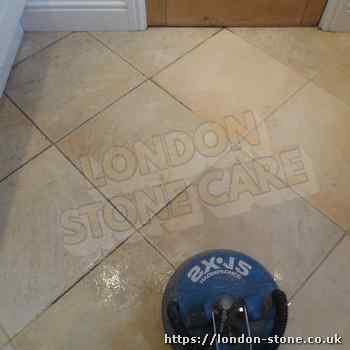 Professional cleaning of Ceramic tile floors is usually less complicated compared with stone floors cleaning and restoration..
A glassy finish is a lot easier to clean and restore.
But, specialist tile and stone cleaning does give your floor a cleaner appearance.
We always use an expert sealer after cleaning. Care is much easier with a sealed floor, plus the sealer helps stop spills transforming into stains.
Some Of The Stone Floor Restoration Solutions Our Technicians Bring
Stone floor cleaning is rarely just cleaning, there is certainly regularly more restoration required. Stone floor restoration covers many different services. At the very least, all stone floors suffer some sort of generic wear and tear. In most cases, soil, stains and traffic marks ruin floor's finish. Highly polished marble and granite floors show up wear quickly, as minute foot traffic scuff marks into the stone surface alter the luster and hold dirt. A surface sealer does not prevent porous stone and tile and tiles like Sandstone, Limestone and Terracotta gradually struggling with wear and spill problems. Most stone floor flooring has cement grout. Cement grout is generally softer in comparison to stone and more in danger of abrasive and chemical damage. Holes might be filled and cracks repaired included in a restoration. Natural stone gets the appeal that a grubby, porous surface may be taken away, exposing an attractive new surface. Grinding and honing removes surface damage from etching and surface scratching.
Stone floor sealing is essential to help keep a fresh stone and tile finish looking stunning. Stone sealers must be placed on new tile and stone and tile floors and immediately after any floor tile cleaning, stone polishing or tile restoration work. Impregnating or penetrating sealers are employed following diamond floor polishing. Hybrid sealers or Surface sealers would be best applied to coarse stone and tile or tiles.
The initial shine on a natural stone will gradually go dull. The loss in shine is due to foot traffic scratches and surface damage. The only method to replace the first finish is through polishing the tile and. On marble, Granite, Terrazzo, Polished Limestone and Polished Travertine floors, diamonds are utilized to get rid of the top wear and recover the first sparkle. The shine on Honed Travertine, Honed Limestone, Sandstone, Slate and Clay tiles is done by applying a top gloss sealer. Sealer removing products are applied to take away all traces associated with the existing sealer, and then a unique gloss sealer is applied.
Is there unsightly chips in your stone floor floor?
You do not have to improve the natural stone. Coloured resin fillers can fill chips and damage on a tile. When the resin cures, it has to be sanded and polished. Chip repairs are less costly than laying new tiles.
Contact the Industry Professionals for Natural Stone Repairs London - Call the Specialists.
Repairing Cracked Tiles
A slight movement in the subfloor can certainly make a crack in a marble tile. Cracks in many cases are contained in doorways and in between rooms. Also, a crack can appear as a result of a deficiency or weak spot in the tile. Crack repaircosts never as much as replacing the tile.
When you have got a deep crack in your floor, vanity unit, tabletop or counter top, these are typically filled with coloured epoxy fillers. Hairline cracks are way too fine to simply accept a filler and they also should be widened with diamond tools before these are typically filled.
Other areas near New Southgate we help include:
New SouthgateHelpful Information
New Southgate is a residential suburb straddling three Outer London Boroughs: a small part of the east of Barnet, a south-west corner of Enfield and in loosest definitions, based on nearest railway stations, a small northern corner of Haringey in North London, England where estates merge into Bounds Green. Its first church, founded in 1873, was among organisations opting for the newer name, New Southgate, rather than the older hamlet name Colney Hatch which from 1851 became more use-specific. The gradual demise of the former place name use is shown by New Southgate railway station, renamed five times. Changes in this terminology reflect social stigma to a large residential institution, in this case the Colney Hatch Lunatic Asylum, built in 1851, which co-provided for Middlesex and as such continued to serve much of London after London County Council was founded in 1889. The later mental health hospital closed in 1993 and has been redeveloped into two housing estates, Princess Park Manor and Friern Village in New Southgate.