Stone Floor Cleaning Vale of Health
Discover Excellent Stone Floor Cleaning Vale of Health.
The Way We Work With Each Other
Give The Size And Types Of Stone
Some photos of the floors and the sizes are usually all we require.
We shall email a detailed estimate once we have clarified your preferences.
We Shall Contact You Quickly
Quite often we shall present other treatments to match most budgets.
Our quotation will be accompanied with a document demonstrating types of similar work.
We arrive punctually and equipped for work.
We're going to do an extraordinary job
Reasons Why You Should Choose London Stone Care
A reputable service provider of stone floor cleaningVale of Health.
An unwavering awareness on the requirements of customers, providing top quality natural stone cleaning, repair, and restoration work at competitive prices.
Fill in our simple contact form for a totally free natural stone restoration quotation.
If you'd like cleaning recommendations, make contact and I will be pleased to help.
After restoring tile and stone floors to a striking appearance, we leave a cleaning and maintenance program, so stone floors stay stunning for years instead of months.
Contact Us Now!
Get a totally free stone floor cleaning quotation today.
A Short Explanation Of Our Expert Stone Floor Cleaning And Polishing Services In Vale of Health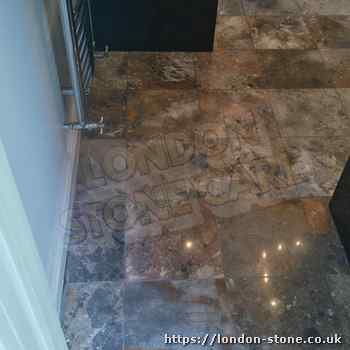 Over time a marble floor will lose the initial surface. The surface damage is due to foot traffic scores and etch marks Eventually, your marble will need to be re-polished.
We operate specialized equipment and diamond tooling to grind, hone and polish the stone. to the highest standard
It is very virtually impossible to install a marble tile floor perfectly flat. A marble tile floor should be smoothed by grinding away the lippage and jagged edges of the tiles. It is an involved process however the results are gorgeous.
After grinding, the marble tiles and grout are at exactly the same level. The marble will have the look of looking like a single piece of marble.
Maintaining a ground, honed and polished marble floor is like cleaning just one bit of glass. Also, soil doesn't get stuck into the grout lines. If your marble has cracks or chips, we can repair the damage using resin fillers, colour matched with the marble. After we have inspected the marble, we will advise the best marble restoration program.
Travertine Polishing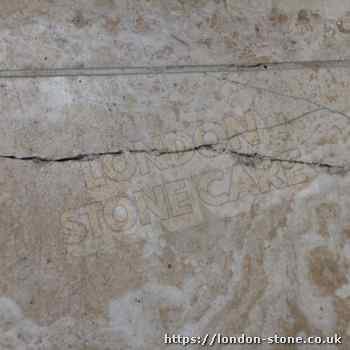 Almost all of the Travertine installed in the United Kingdom has a honeycomb framework with lots of holes. Travertine floor tiles qre available in a range of finishes, tumbled, smooth honed and polished. As time passes, the original hole filler falls out, then the holes are quickly filled with unsightly soil.
Working to the highest standard, Travertine floor restoration experts use industrial-grade sealer removers and rotary scrubbing machines to eliminate the layers of old sealers and embedded soil.
After cleaning, the Travertine floor can be re-grouted to fill any open holes. Finally, we put on specialist sealers that keep working for years to safeguard the Travertine floor.
Limestone Floor Restoration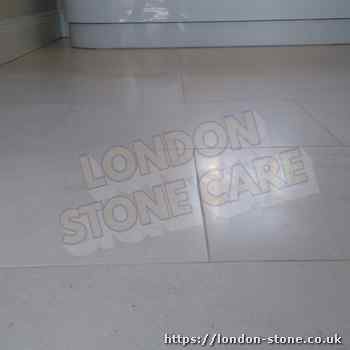 In the long run, Limestone will become worn and loose its surface. The surface damage is caused by foot traffic scratching and etch marks Limestone Polishing is the only way to reinstate the shine. We use industrial diamond polishing equipment to restore the original surface.
Almost all Limestone surfaces are not even due to the fact tiles are not put down level. A Limestone tile floor should be smoothed by grinding off the lippage and irregular tile edges. Limestone tile grinding is a specialist service, providing superb results. The Limestone looks monolithic, appearing to be produced from an individual piece of Limestone.
Following grinding, the Limestone be at the same level the grout lines. After grinding honing and polishing cleaning is very simple, as the mop slides on the floor. There are no uneven grout lines to hold soil. Cracks and chips can be filled with coloured resin fillers. We can advise the correct Limestone restoration service.
Terrazzo Floor Polishing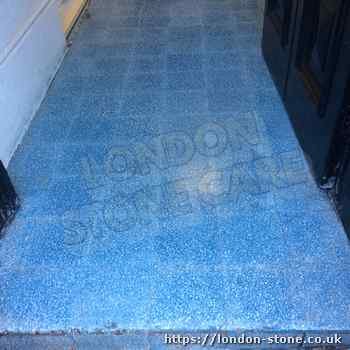 Terrazzo is created by mixing chips made of marble, granite, quartz, or glass chips into a cement or epoxy base . With time, Terrazzo will end up dull and lose its finish. The dullness is brought on by microscopic scratches on top where it's been walked on.
Eventually, the Terrazzo will need to be polished to the highest standard. We use specialist Terrazzo polishing equipment and diamond tooling to grind and polish the Terrazzo. Our Terrazzo sealers will help avoid further soil problems.
Sandstone Floor Cleaning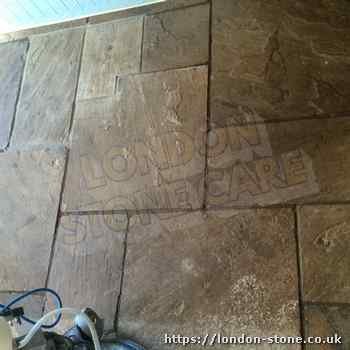 Sandstone is made from highly compressed sand, together with assorted minerals including quartz and feldspar. The voids amongst the sandstone particles trap dirt which can be hard to get rid of.
We use a combination of machine scrubbing, hand scrubbing and pressure rinsing to get rid of all traces of old soiled coatings and clean a floor to the highest standard. Once the sandstone is clean, we give it time to dry, then use a durable, easy to clean sealer. Once we examine your floor, we can give you advice from the best restoration process.
Granite Floors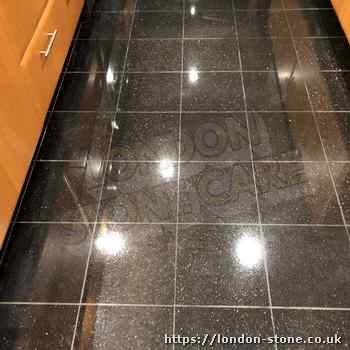 You can find granite in a lot of homes and commercial buildings. Granite is extremely hard.Granite is typically selected for the stone's hard-wearing properties. Granite resists wear longer as compared to alternative natural stones, like marble or limestone.
Few stone floor restoration companies restore Granite, because it is so difficult and hard to restore. We have the experience and equipment to restore granite floors. to the highest standard.
Terracotta Floors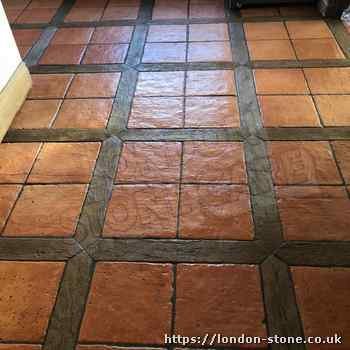 Terracotta is among the most porous floors which we run into but has been utilized for floor tiles for millenia.
Coarse chemical substances such as regular floor cleaners and bathroom tile cleaners can damage and mark Terracotta.
Cleaning and restoring terracotta tiles begins with taking away the previous polish, sealers and ingrained dirt with specialised sealer removers and cleaning solutions.
We can seal the Terracotta with a genuine beeswax finish or a hard wearing synthetic sealer.
Slate Cleaning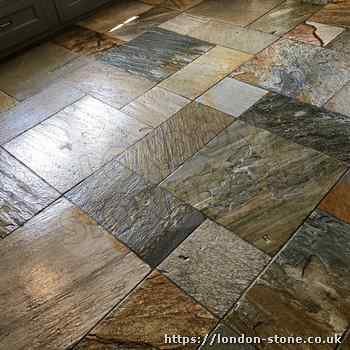 Slate is a very popular floor and wall tile because of its low porosity and the many textures and varieties of Slate available. While slate has a low porosity, it will always partly absorb and oil based spills, causing annoying marks.
We use professional sealer removers and rotary scrubbing machines to get rid of the layers of old sealer. Then we put on hard wearing sealers.
Some slate floors can be ground to a smooth finish.
Victorian Tiles Floor Cleaning And Sealing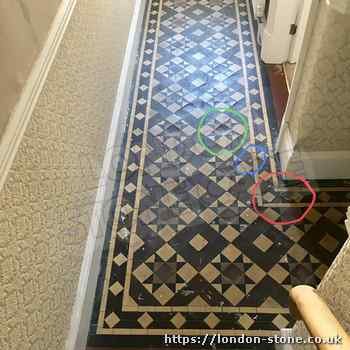 Victorian Clay Tiles are installed in many Victorian and Edwardian hallways.
The tiles are unglazed resulting from the natural colours from the clay used to make them.
Due to how old they are, these floors have experienced lots of wear and can have layers of different sealers.
The main concerns with victorian floor tiles is removing several of polished, oils, dirt, waxes and grime while not causing damage to the tiles.
After cleaning, the original colours of the tiles can look dull, therefore we apply a colour intensifying sealer to replace the initial . Topical sealers and waxes can give the floor a sheen or glossy finish.
Quarry Tiles Cleaning & Sealing
Quarry tile flooring is normally several decades old and sometimes needs a complete professional clean and restoration to bring it back to life.
Surface damage like scratches and other abrasions can occur if the tiles have not been correctly sealed or the existing slealer has worn out.
Professional cleaning will get rid of the many years of grime and old sealers, exposing a lovely floor. When the quarry tiles are cleaned they should be sealed to give years of life.
Cleaning Of Porcelain Tile Floors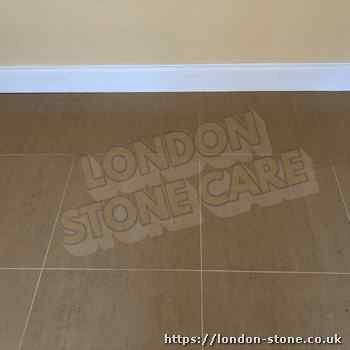 Porcelain is actually a ceramic mixture with sand and feldspar added to create a more compact tile.
This makes Porcelain more stain resistant and simpler to keep up than standard ceramic tiles.
There are substandard porcelains that will absorb surface soil and spills just like natural stone floors. If you have a substandard Porcelain, the surface soil may be hard to remove.
You need professional equipment and cleaners to remove this soil.
We can help minimize this soil with Porcelain sealers.
Solid color Porcelain can be ground and restored just like Granite or Marble.
Cleaning Of Ceramic Floors.
Professional cleaning of Ceramic tiles is usually quicker when compared to cleaning and restoring stone floors or clay tiles.
The finish in Ceramic floor tiles is not porous.
However, professional cleaning, professional chemicals and equipment can give the very best results.
Once your floor is cleaned we will put on a sealer. Tile sealing makes maintenance much easier and helps protect from spillages.
Some Of The Stone And Tile Cleaning Services We Bring
Stone floor cleaning is rarely just cleaning, there exists regularly more restoration required. Natural stone restoration covers many different services. At least, all stone floors suffer some type of generic wear and tear. In most cases, soil, stains and traffic marks ruin floor's finish. Highly polished marble and granite floors show up wear quickly, as minute foot traffic scuff marks during the stone surface affect the luster and hold dirt. A surface sealer will not prevent porous tile and and tiles like Sandstone, Limestone and Terracotta gradually struggling with wear and spill problems. Most stone floor flooring has cement grout. Cement grout is normally softer compared to stone and more vulnerable to abrasive and chemical damage. Holes might be filled and cracks repaired included in a restoration. Stone floor contains the appeal that a grubby, porous surface could be taken away, exposing a pleasant new surface. Grinding and honing removes surface damage from etching and surface scratching.
Tile and sealing is vital to help keep a new stone floor finish looking stunning. Stone sealers must be put on new tile and stone and tile floors and right after any floor tile cleaning, stone polishing or tile restoration work. Impregnating or penetrating sealers are used following diamond floor polishing. Hybrid sealers or Surface sealers would be best applied to coarse tile and stone or tiles.
The initial shine on a sandstone floor will gradually go dull. The loss in shine is attributable to foot traffic scratches and surface damage. The only method to replace the initial finish is by polishing the stone and tile. On marble, Granite, Terrazzo, Polished Limestone and Polished Travertine floors, diamonds are used to get rid of the outer lining wear and recover the first sparkle. The shine on Honed Travertine, Honed Limestone, Sandstone, Slate and Clay tiles is done by making use of a top gloss sealer. Sealer removing items are applied to take away all traces showing the existing sealer, after which a unique gloss sealer is applied.
Are there unsightly chips on your own tile and stone floor?
You don't have to improve the tile and stone. Coloured resin fillers can fill chips and damage on a tile. When the resin cures, it offers to be sanded and polished. Chip repairs are less costly than laying new tiles.
Contact the Industry Professionals for Natural Stone Repairs London - Call the Specialists.
Repairing Cracked Tiles
A slight movement in the subfloor can make a crack in a marble tile. Cracks are often contained in doorways plus in between rooms. Also, a crack can appear due to a deficiency or weak spot inside the tile. Crack repaircosts not as much as replacing the tile.
For those who have got a deep crack in your floor, vanity unit, tabletop or counter top, they've been filled with coloured epoxy fillers. Hairline cracks are way too fine to simply accept a filler and in addition they should be widened with diamond tools before these are typically filled.
Other areas near Vale of Health we cover include:
Vale of HealthHelpful Information
Hampstead Heath locally known simply as the Heath is a large, ancient London heath, covering 320 hectares 790 acres. This grassy public space sits astride a sandy ridge, one of the highest points in London, running from Hampstead to Highgate, which rests on a band of London Clay. The heath is rambling and hilly, embracing ponds, recent and ancient woodlands, a lido, playgrounds, and a training track, and it adjoins the former stately home of Kenwood House and its estate. The south-east part of the heath is Parliament Hill, from which the view over London is protected by law. Running along its eastern perimeter is a chain of ponds €" including three open-air public swimming pools €" which were originally reservoirs for drinking water from the River Fleet. The heath is a Site of Metropolitan Importance for Nature Conservation, and part of Kenwood is a Site of Special Scientific Interest. Lakeside concerts are held there in summer. The heath is managed by the City of London Corporation, and lies mostly within the London Borough of Camden with the adjoining Hampstead Heath Extension and Golders Hill Park in the London Borough of Barnet.