Stone Floor Cleaning Holland Park
See Spectacular Stone Floor Cleaning Holland Park.
How We Work With Each Other
Send Us Information Regarding Your Floor
In most cases the dimensions and sort of stone, plus a number of images detailing the appearance of the floors is all we need.
We will email a detailed quotation once we have clarified your preferences.
You Will Receive A Prompt Reply
Stone floors can often have many different finishes, therefore we may include alternatives to accommodate most budgets.
We will also send a document showing photos of matching work.
We come punctually and equipped for work.
We will do an unforgettable job
Reasons Why You Ought To Choose London Stone Care
A respected service provider of stone floor cleaningHolland Park.
Extremely knowledgeable and professional craftsmen, practiced with state of the art practices.
Our experienced specialists are here to give you a free of charge quotation.
happy to assist you you with cleaning and maintenance advice
Following restoring a stone floor, we supply a thorough ongoing maintenance program.
Contact Us Now!
Arrange a quote for your stone floor cleaning
A Quick Explanation Of Our Specialist Stone Floor Cleaning Services In Holland Park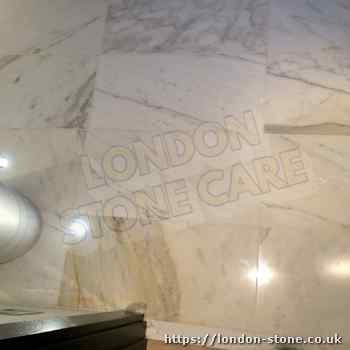 Over time, Marble will be dull and loose its appearance. The surface damage is due to foot traffic scratching and etch marks Marble Polishing is the best way to bring back the initial appearance.
We use industrial diamond polishing to grind, hone and polish a marble floor and repair the original polish.
Almost all marble tile floors are not even because the tiles are not installed flat. The only method to make a marble floor perfectly flat is by grinding away the lippage and irregular edges of the tiles. You require dedicated equipment and years of experience to grind and hone a marble tile floor, but the result is fabulous.
Following grinding, the grout sits will sit at the same level as the marble tiles. The marble floor will have the look of looking like just one slab of stone.
After grinding honing and polishing mopping is a breeze, because the mop slides on the floor. A smooth surface floor won't have grout lines to retain soil. If your marble floor has chips or cracks, we could repair them with resin fillers, colour matched with the marble. We can recommend the correct restoration process.
Travertine Polishing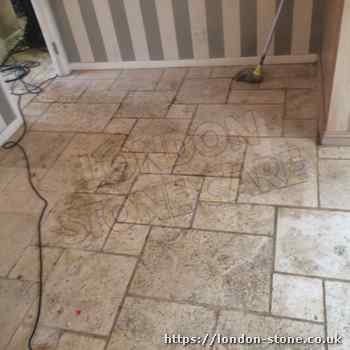 A Travertine floor has a permeable structure, with plenty of holes. Travertine floor tilescan be supplied in a number of finishes, including tumbled, honed and polished. With time, the original hole filler falls out, thereafter the holes are quickly filled with unappealing soil.
Working to the highest standard, Travertine floor cleaning and restoration specialists have industrial-grade sealer removers and rotary scrubbing machines to get rid of the layers of old sealers and ingrained soil.
After cleaning, the Travertine floor could be grouted to fill any open holes. We then put on a durable sealer that can helps make the Travertine floora lot easier to look after.
Limestone Floor Restoration
Little by little Limestone will loose its original shine. The dull appearance is due to minute scratches on the surface where it was walked over. Limestone Polishing is the only way to bring back the polish. We use specialized machines and diamond tooling to polish the stone.
The majority of Limestone floors are not even because the Limestone tiles are not laid level. A Limestone tile floor should be leveled by grinding off the lippage and irregular edges of the tiles. You should have specialized machines and years of Limestone grinding and polishing to grind, hone and polish a Limestone tile floor, but the results are spectacular. The Limestone will have the look of appearing as an individual piece of stone.
After grinding, the grout sits at the same level as the the Limestone. It is a lot easier to clean a smooth floor than a bumpy floor. A smooth surface Limestone floor does not have grout lines to hold grime. If your Limestone floor has chips or cracks, we can repair them with resin fillers, colour matched with the Limestone. The restoration needed will be based on the state of your Limestone floor.
Terrazzo Restoration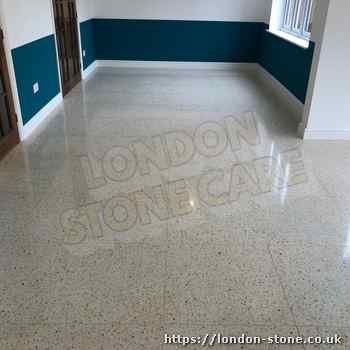 Terrazzo is made by mixing chips produced from marble, granite, quartz, or glass chips into a cement or epoxy binder . The initial finish on a Terrazzo floor will slowly go dull. Scratches and etch marks build up and remove the initial surface.
Sooner or later, the Terrazzo will need to be polished to the highest standard. We use diamond polishing equipment to re-surface the Terrazzo and restore the original finish. Once the Terrazzo has been cleaned and polished, we could apply a sealer that offers protection against daily spills.
Sandstone Floor Cleaning & Sealing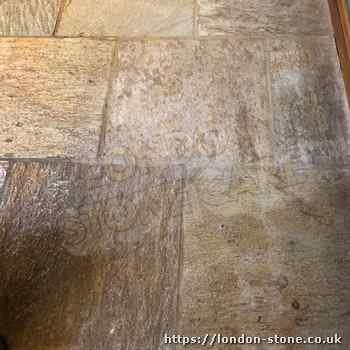 Sandstone is made of compressed sand, which includes different minerals including quartz and feldspar. Sandstone can end up getting ingrained soil which makes it look dull and tough to clean.
We use dedicated sealer removers, rotary scrubbing machines and pressurised rinsing to eliminate the layers of old sealer Once the sandstone is clean, we give it time to dry, then apply a durable, easy to clean sealer. The particular restoration needed should be determined by the health of your floor.
Granite Floor Cleaning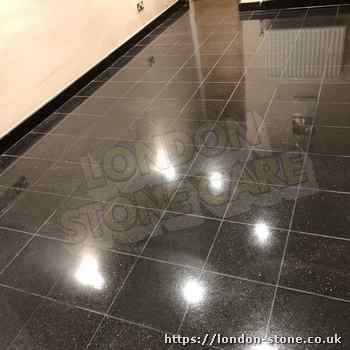 You will get granite in lots of homes and buildings. Granite is extremely hard-wearing.Granite is typically chosen for its hard-wearing characteristics. A finish on a granite floor lasts much longer than other natural stones.
Granite is so hard, that many companies do not have the equipment or experience to restore granite. We provide the full array of Granite cleaning and restoration services. to the highest standard.
Terracotta Floor Cleaning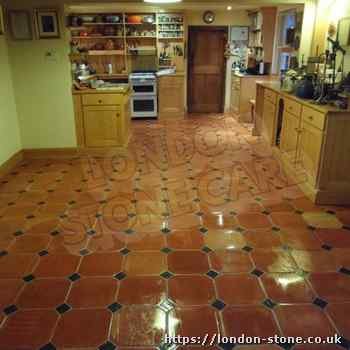 Terracotta features a unique colour and a rustic appearance in the house, but needs careful maintenance in order to keep it looking its best.
Terracotta can easily start to show surface marks, particularly if the current sealer has completely worn away.
Sealer remains, dirt and marks can be removed with scrubbing equipment and sealer removers.
Whilst we can seal Terracotta with Linseed oil and wax, we recommend a tough synthetic sealer which will work for years, with minimum maintenance.
Slate Floor Cleaning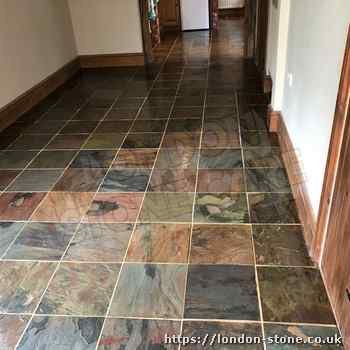 Slate is an incredibly functional flooring that may be finished using a number of finishes from rough surface, smooth honed or polished surface. Riven slate will get a build-up of dirt inside the crevices that is hard to get rid of.
There are specialist sealer removers and rotary scrubbing appliances to get rid of the layers of old coatings. Then we put on durable sealers.
If you have got a suitable slate, it may be ground smooth, making it easier to clean.
Victorian Tiles Floors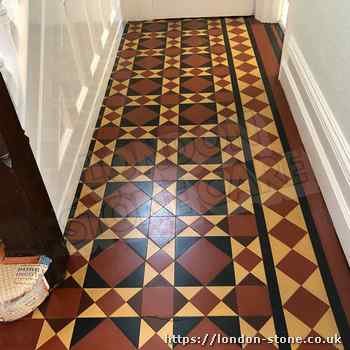 Many Victorian and Edwardian hallways will have floors made from Geometric Encaustic tiles.
The primary attributes of Victorian tiles include natural clay colours and a matt finish.
Because of how old they are, these floors have experienced lots of wear and can have layers of various sealers.
Old paint spills, waxes, polishes and sealer residues can make cleaning many of these floors challenging.
Following cleaning, a colour intensifying sealer is applied to regenerate the natural colours in the tiles. A topical sealer or wax finish will give the tiles with a low-sheen finish.
Quarry Tiles Floors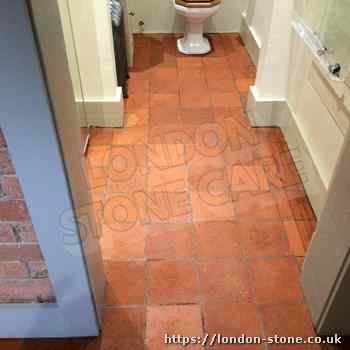 Quarry tiles were a standard fixture in kitchen areas and for indoor flooring for decades.
One universal problem is previous layers of sealer which need to be taken off.
We can remove the layers of old coatings and dirt, giving you an attractive new finish. After cleaning, the tiles can be sealed with a durable sealer.
Cleaning Of Porcelain Tile Floors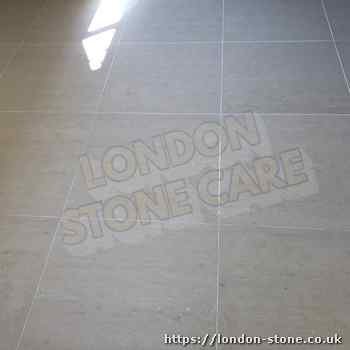 Porcelain is classed as a ceramic, but created with alternative materials to standard glazed tiles.
The added minerals helps to make Porcelain more robust than traditional ceramic tiles.
When the blend of ceramic is not correct, the top of tiles may be porous. just like natural stone floors. If you have an inferior Porcelain, surface soil could be hard to remove.
We are able to remove embedded soil with equipment made to enter into the microscopic pits where the soil is held.
After cleaning, we apply specialist Porcelain sealers to prevent this problem.
If you have a solid colour Porcelain, we can re-surface the tiles by Grinding and re-polishing.
Cleaning Of Ceramic Tiles Floors
Professional cleaning of Ceramic floor tiles is typically less involved when compared with natural stone floors cleaning..
Soil and dirt are often on top of the ceramic tile.
Still, specialist tile and stone cleaning will render a better appearance.
Once your tile is cleaned we'll apply a tile sealer. Cleaning is much simpler by having a sealed floor, and also a sealer helps stop spills becoming stains.
Some Of The Natural Stone Restoration And Cleaning Options We Give
Stone and tile cleaning is rarely just cleaning, there may be regularly more restoration required. Stone and tile restoration covers a number of services. At least, all stone floors suffer some sort of generic wear and tear. More often than not, soil, stains and traffic marks ruin floor's finish. Highly polished marble and granite floors show up wear quickly, as minute foot traffic scuff marks when you look at the stone surface affect the luster and hold dirt. A surface sealer does not prevent porous tile and and tiles like Sandstone, Limestone and Terracotta gradually struggling with wear and spill problems. Most tile and stone flooring has cement grout. Cement grout is generally softer compared to stone plus much more at risk of abrasive and chemical damage. Holes could possibly be filled and cracks repaired included in a restoration. Stone and tile gets the appeal that a grubby, porous surface may be taken away, exposing an attractive new surface. Grinding and honing removes surface damage from etching and surface scratching.
Stone floor sealing is vital to keep a unique natural stone finish looking stunning. Stone sealers should always be put on new tile and stone and tile floors and just after any floor tile cleaning, stone polishing or tile restoration work. Impregnating or penetrating sealers are used following diamond floor polishing. Hybrid sealers or Surface sealers are best applied to coarse tile and or tiles.
The initial shine on a stone floor will gradually go dull. The loss in shine is brought on by foot traffic scratches and surface damage. The only way to replace the original finish is by polishing the natural stone. On marble, Granite, Terrazzo, Polished Limestone and Polished Travertine floors, diamonds can be used to get rid of the surface wear and recover the first sparkle. The shine on Honed Travertine, Honed Limestone, Sandstone, Slate and Clay tiles is made by applying a higher gloss sealer. Sealer removing items are applied to take away all traces of this existing sealer, and then a brand new gloss sealer is applied.
Is there unsightly chips in your tile and stone floor?
You don't have to improve the stone and tile. Coloured resin fillers can fill chips and damage on a tile. When the resin cures, it has to be sanded and polished. Chip repairs are less expensive than laying new tiles.
Contact the Industry Professionals for Natural Stone Repairs London - Call the Specialists.
Repairing Cracked Tiles
A small movement within the subfloor is going to make a crack in a marble tile. Cracks are often present in doorways plus in between rooms. Also, a crack can appear because of a deficiency or weak spot inside the tile. Crack repaircosts not as much as replacing the tile.
If you have got a deep crack in your floor, vanity unit, tabletop or counter top, they truly are filled with coloured epoxy fillers. Hairline cracks are too fine to accept a filler and in addition they should be widened with diamond tools before they have been filled.
Other areas near Holland Park we service include:
Holland ParkHelpful Information
Holland Park is an area of Kensington, on the western edge of Central London, that contains a street and public park of the same name. It has no official boundaries but is roughly bounded by Kensington High Street to the south, Holland Road to the west, Holland Park Avenue to the north, and Kensington Church Street to the east. Adjacent districts are Notting Hill to the north, Earl Court to the south, and Shepherd Bush to the northwest. The area is principally composed of tree-lined streets with large Victorian townhouses, and contains many shops, cultural tourist attractions such as the Design Museum, luxury spas, hotels, and restaurants, as well as the embassies of several countries. The street of Holland Park is formed from three linked roads constructed between 1860 and 1880 in projects of master builders William and Francis Radford, who were contracted to build and built over 200 houses in the area. Notable nineteenth-century residential developments in the area include the Royal Crescent and Aubrey House.