Stone Floor Cleaning Soho
Presenting Top-Quality Stone Floor Cleaning Soho.
Provide The Size And Form Of Stone
Some photos of the floors together with sizes usually are all we need.
We shall email an in depth estimate once we have cleared up your needs.
You Can Expect To Get A Quick Reply
Stone floors can frequently have a variety of finishes, so we will include alternatives to suit most budgets.
Our quotation should be accompanied with a document showing examples of similar work.
We come equipped for work and on time.
We will do a brilliant job
Reasons To Select London Stone care
A reputable service provider of stone floor cleaningSoho.
We've been supplying home owners with stone floor cleaning and restoration for well over twenty years.
If you are prepared to unleash the elegance of your stone and tile floors, get in touch with our restoration team!
delighted to help you with stone cleaning and maintenance assistance
After restoring tile and stone floors to a beautiful appearance, we provide a cleaning and maintenance program, so floors stay gorgeous for years instead of weeks.
Contact Us Now!
Arrange a quote for your stone floor cleaning
Our Expert Stone Floor Cleaning Services In Soho Described
Marble Polishing & Sealing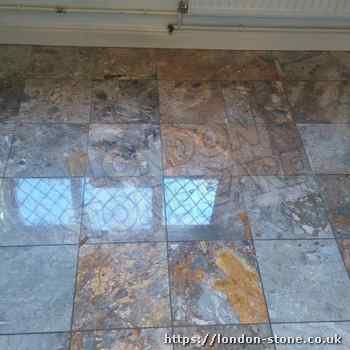 An original polish on a marble floor will bit by bit loose its finish. The dull appearance is brought on by microscopic scratching on the surface of the stone where it's been walked on. The best way to revive the finish is by polishing the floor.
Diamonds are used to get rid of the damage and marks and restore the original appearance.
In the event that tiles are not even, even this disorder is referred to as "lippage". We can grind away the jagged edges of the tiles, making the floor surface flat. Grinding marble must only be completed by restoration professionals.
After grinding, the marble will be flush with the grout lines. The floor will look like just one slab of marble.
It is a lot easier to maintain a smooth, sleek floor than a bumpy floor. A smooth floor does not have grout lines to retain grime. Marble restoration commonly includes some chip and crack repairs, using resin fillers. We can recommend the right restoration process.
Travertine Floor Cleaning And Sealing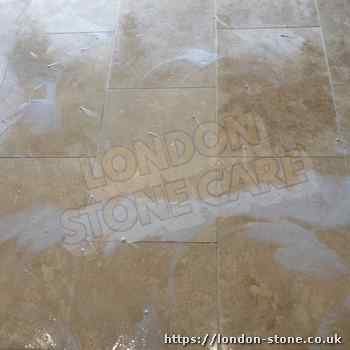 Most of the Travertine installed in the UK has a honeycomb framework with a great deal of holes. Travertine floor tilesmay be supplied in many finishes, including polished, honed and tumbled. As the stone wears, the hole filler breaks away, and the holes fill with unappealing soil, dirt and mopping water.
Working to the highest standard, restoration businesses have rotary scrubbing machinery and pressurised rinsing to clean the Travertine floor.
After cleaning, any open holes on the Travertine floor may be filled up with colour matched grout. We then put on a long-lasting sealer that also makes the Travertine floormuch simpler to clean.
Limestone Polishing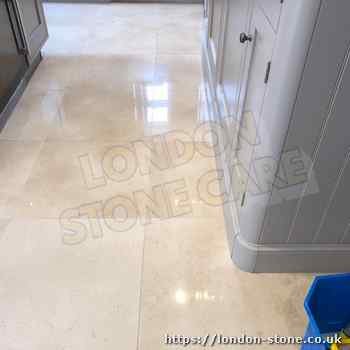 Little by little Limestone tiles will loose the initial finish. The damage to the surface is brought on by foot traffic scores and etch marks Sooner or later, the floor will need to be polished. We use diamond polishing to re-surface a Limestone floor and repair the original shine.
The majority of Limestone tile surfaces are uneven due to the fact Limestone tiles are not laid level. We can grind off the irregular tile edges, making the tile surface smooth. You should have specialized equipment and several years of grinding and polishing to successfully grind a Limestone floor, however the results are beautiful. The Limestone floor will get the appearance of appearing as an individual slab of Limestone.
Following grinding, the tiles and the grout will be at the exact same level. It is less of a challenge to clean a smooth floor than an irregular floor. A smooth Limestone floor does not have grout depessions to retain grime. Chips and cracks can be filled with coloured resin fillers. The restoration needed will be decided by the current state of your floor.
Terrazzo Floors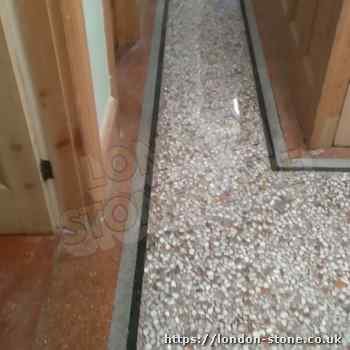 Terrazzo is made by mixing chips made of marble, granite, quartz, or glass chips into a cement or epoxy binder . Eventually, Terrazzo will lose the original finish. The change in the finish is due to microscopic scratches on the surface where it's been walked over.
Ultimately, the Terrazzo will need to be polished to the highest standard. We use dedicated Terrazzo polishing machines and diamond tooling to grind and polish the Terrazzo. Once the Terrazzo is cleaned and polished, we can put on a sealer that shields against regular spillages.
Sandstone Floor Restoration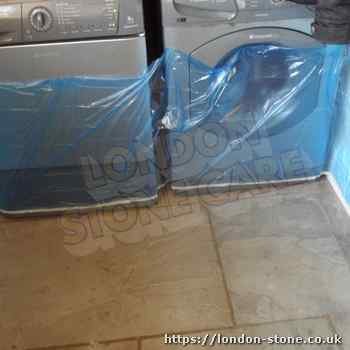 Sandstone floor tiles may be found in several different shades of brown, red, yellow and cream. Whilst sandstone is durable it is porous, so soil gets stuck within the surface and it is difficult to remove.
We use professional sealer removers, rotary scrubbing apparatus and pressurised rinsing to get rid of the layers of old sealer Following cleaning we use hard wearing sealers. Once we examine your floor, we are able to advise you on the best restoration process.
Granite Restoration
Granite is a popular tile. Granite is exceptionally hard.Granite is typically chosen because of its hard wearing attributes. Granite requires less specialized routine maintenance in comparison to other stone.
Few stone floor cleaning and restoration companies actually restore Granite, since it is so difficult and hard to restore. We have invested in the experience and equipment to restore your granite floor. to the highest standard.
Terracotta Floors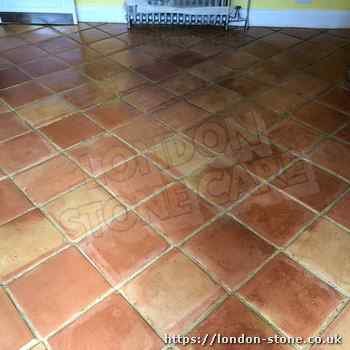 Terracotta provides a distinctive colour and a rustic feel in the home, but really needs careful maintenance to keep it looking its best.
Conventional Terracotta sealers should have frequent maintenance and re-sealing, if they are not taken care of, the top will begin to get soiled and porous.
Commercial grade sealer removal treatments and cleaning solutions help in removing old sealers and soil, while conserving the attractive surface.
We use a durable sealer for terracotta, so that you get the maximum benefit and value from your own cleaning.
Slate Floor Cleaning & Sealing
Slate flooring is one of the most well known forms of natural stone, as it calls for less maintenance and cleaning. Cleft slate can get a build-up of dirt and sealer residues inside the crevices this is certainly difficult to remove.
We use a combination of machine scrubbing and hand scrubbing to eliminate all traces of older dirty sealers and clean the slate. Once the professional cleaning is completed,finally, we employ a durable sealer that will make your floor better to look after.
If you prefer a smooth floor, we are able to grind the floor, subject into the slate being suited to grinding.
Victorian Tiles Floor Cleaning
Victorian Clay Tiles are found in lots of Victorian and Edwardian hallways.
The tiles have a matt finish to get their colour through the clay found in their manufacture.
Due to their age, these floors have experienced plenty of wear and often have layers of various sealers.
Cleaning these floors can be challenging due to the variety of old sealers and covering residues.
After cleaning, a colour intensifying sealer is put on to revive the oroginal colours in the floor. A topical sealer or wax finish will give the floor tiles with a sheen finish.
Quarry Tiles Cleaning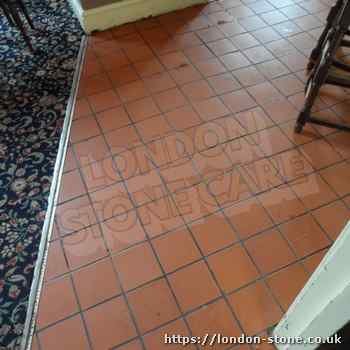 Quarry tile flooring is usually several decades old and frequently needs the full professional clean and restoration to restore it back into life.
Whilst the tiles can take place dirt, these floors are remarkably resilient and can look as good as new after a proper clean.
A professional clean and reseal can be enough to restore a quarry tile floor. After the quarry tiles have been cleaned they may be sealed to give years of life.
Cleaning Of Porcelain Floors.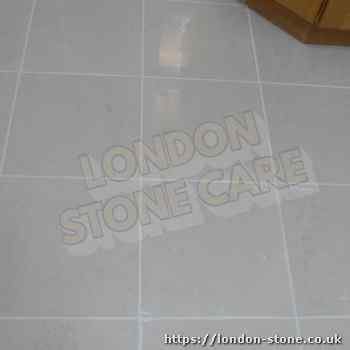 Porcelain is starting to become an increasingly popular alternative to standard ceramic tiles and natural stone.
Porcelain is extremely moisture-resistant, so spills can not soak into the tile and cause stains.
If the blend of ceramic isn't correct, the top of tiles may be porous. just like natural stone floors. If you have got a substandard Porcelain, the surface soil can be difficult to remove.
We have the equipment and experience to remove this difficult to reach soil.
We will help minimize the dirt using Porcelain sealers.
Solid color Porcelain could be ground and restored like Granite or Marble.
Cleaning Of Ceramic Tiles Floors
Professional cleaning of Ceramic tiles is generally easier when compared to cleaning and restoring natural stone floors or clay tiles.
The surface on Ceramic tiles isn't permeable.
Nonetheless, professional cleaning, specialized cleaning solutions and equipment can give the best results.
We always apply a professional sealer after cleaning and restoraiton. Tile sealing helps make maintenance much easier and helps protect from spills.
A Number Of The Stone Floor Cleaning Solutions Our Technicians Bring
Stone and tile cleaning is rarely just cleaning, there exists regularly more restoration required. Natural stone restoration covers many different services. At least, all stone floors suffer some sort of generic wear and tear. In most cases, soil, stains and traffic marks ruin floor's finish. Highly polished marble and granite floors show up wear quickly, as minute foot traffic scuff marks during the stone surface alter the luster and hold dirt. A surface sealer does not prevent porous natural stone and tiles like Sandstone, Limestone and Terracotta gradually struggling with wear and spill problems. Most tile and stone flooring has cement grout. Cement grout is typically softer when compared with stone and even more vulnerable to abrasive and chemical damage. Holes could be filled and cracks repaired included in a restoration. Stone floor has got the appeal that a grubby, porous surface could be taken away, exposing a lovely new surface. Grinding and honing removes surface damage from etching and surface scratching.
Natural stone sealing is a must to help keep an innovative new stone floor finish looking stunning. Stone sealers ought to be placed on new tile and stone and tile floors and immediately after any floor tile cleaning, stone polishing or tile restoration work. Impregnating or penetrating sealers are utilized following diamond floor polishing. Hybrid sealers or Surface sealers are best applied to coarse stone floor or tiles.
The original shine on a stone and tile will gradually go dull. The loss in shine is attributable to foot traffic scratches and surface damage. The only method to replace the initial finish is by polishing the tile and stone. On marble, Granite, Terrazzo, Polished Limestone and Polished Travertine floors, diamonds are used to eliminate the area wear and recover the initial sparkle. The shine on Honed Travertine, Honed Limestone, Sandstone, Slate and Clay tiles is created through the use of a top gloss sealer. Sealer removing products are applied to take away all traces associated with existing sealer, after which a brand new gloss sealer is applied.
Is there unsightly chips on your stone floor floor?
You don't have to change the tile and. Coloured resin fillers can fill chips and damage on a tile. When the resin cures, it offers to be sanded and polished. Chip repairs are less costly than laying new tiles.
Contact the Industry Professionals for Natural Stone Repairs London - Call the Specialists.
Repairing Cracked Tiles
A small movement within the subfloor can make a crack in a marble tile. Cracks are often contained in doorways plus in between rooms. Also, a crack can appear because of a deficiency or weak spot inside the tile. Crack repaircosts never as much as replacing the tile.
If you have got a deep crack in your floor, vanity unit, tabletop or counter top, they truly are filled with coloured epoxy fillers. Hairline cracks are too fine to accept a filler and in addition they should be widened with diamond tools before they are filled.
Other areas near Soho we help include:
Soho is an area of the City of Westminster, part of the West End of London. Originally a fashionable district for the aristocracy, it has been one of the main entertainment districts in the capital since the 19th century. The area was developed from farmland by Henry VIII in 1536, when it became a royal park. It became a parish in its own right in the late 17th century, when buildings started to be developed for the upper class, including the laying out of Soho Square in the 1680s. St Anne Church was established during the late 17th century, and remains a significant local landmark; other churches are the Church of Our Lady of the Assumption and St Gregory and St Patrick Church in Soho Square. The aristocracy had mostly moved away by the mid-19th century, when Soho was particularly badly hit by an outbreak of cholera in 1854. For much of the 20th century Soho had a reputation as a base for the sex industry in addition to its night life and its location for the headquarters of leading film companies. Since the 1980s, the area has undergone considerable gentrification. It is now predominantly a fashionable district of upmarket restaurants and media offices, with only a small remnant of sex industry venues. London gay community is centred on Old Compton Street in Soho. Soho reputation as a major entertainment district of London stems from theatres such as the Windmill Theatre on Great Windmill Street and the Raymond Revuebar owned by entrepreneur Paul Raymond, and music clubs such as the 2i Coffee Bar and the Marquee Club. Trident Studios was based in Soho, and the nearby Denmark Street has hosted numerous music publishing houses and instrument shops from the 20th century onwards. The independent British film industry is centred around Soho, including the British headquarters of Twentieth Century Fox and the British Board of Film Classification offices. The area has been popular for restaurants since the 19th century, including the long-standing Kettner which was visited by numerous celebrities. Near to Soho is London Chinatown, centred on Gerrard Street and containing several restaurants.