Experience Extraordinary Stone Floor Cleaning Kew.
Provide The Size And Form Of Stone
In most cases the size and type of stone, plus a few pictures showing the appearance of the floors is all we need.
We shall email an in depth price once we have clarified your needs.
Stone floors can often have a number of finishes, therefore we may include alternatives to suit most budgets.
We will also email a document displaying photos of comparable work.
We Agree A Working Schedule
We appear on time.
We are going to do an excellent job
Why You Need To Contact London Stone Care
Our professionals can deal with virtually any stone floor cleaning Kew or restoration project that you're looking for for your building.
Hugely knowledgeable and professional craftsmen, trained with up to date procedures.
When you have a stone and tile restoraiton project in Kew, call for a free estimate.
If you want cleaning recommendations, make contact and I will be more than happy to assit.
Following restoring tile and stone floors to a beautiful appearance, we supply a maintenance program, so stone floors will stay beautiful for years rather than months.
Contact Us Now!
Your very own stone floor cleaning quote is merely a click away.
Our Professional Stone Floor Cleaning And Polishing Services In Kew Explored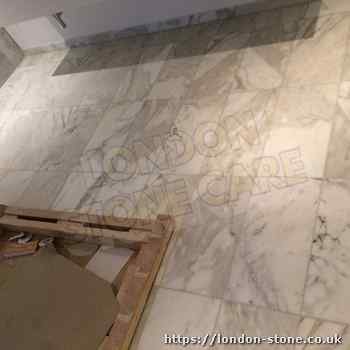 The original appearance on marble will bit by bit go dull. This damage to the surface is caused by traffic scratches and surface etching The best way to restore the original appearance is by polishing the tiles.
Diamonds are used to remove the damage and marks and recover the initial finish.
If your floor has been installed with uneven tiles, this is certainly referred to as "lippage". The only way to make a marble floor smooth is by grinding away the lippage and irregular tile edges. That is an involved process nevertheless the results are beautiful.
Following grinding, the tiles will be flush with the grout. The marble looks "monolithic", appearing to be made from just one slab of marble.
After grinding and polishing cleaning is a piece of cake, as the mop slides on the floor. Also, soil doesn't get stuck within the grout lines. Cracks and chips can be filled with colour matched resin repair fillers. We will advise the correct marble restoration process.
Travertine Floor Polishing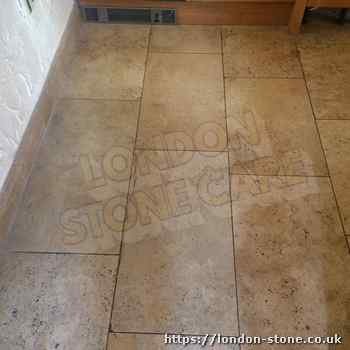 A Travertine floor is a type of Limestone. There are different types of Travertine floor tiles, including tumbled, honed and polished. The original hole filler often falls away, allowing the holes to fill with dirt and soil.
Working to the highest standard, restoration firms use specialist machines and cleaners to remove soil and old sealers on a Travertine floor.
As soon as the Travertine floor tiles and any holes are clean, any open holes are grout filled using a coloured grout. Finally, we put on specialist sealers that keep working for decades to guard the Travertine floor.
Limestone Cleaning & Sealing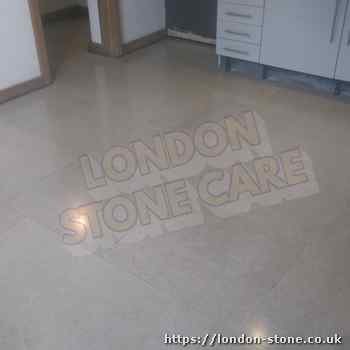 Limestone eventually looses the initial polish. This surface damage is brought on by traffic scores and surface etching Sooner or later, the Limestone will need to be polished. We utilize industrial-grade machines and industrial diamond tooling to grind, hone and polish the Limestone.
It's virtually unachievable to install a Limestone tile floor really flat. A Limestone floor is leveled by grinding away the lippage and uneven tile edges. Grinding Limestone floors must only be undertaken by specialists. The Limestone floor looks monolithic, appearing to be made from just one piece of stone.
After grinding, the grout sits is level with the Limestone. After grinding honing and polishing cleaning is very simple, because the mop slides on the floor. Also, soil does not get stuck within the grout lines. Chips and cracks can be filled with colour matched resin repair fillers. Once we assess your Limestone floor, we will recommend he ideal restoration processes.
Terrazzo Floor Cleaning And Sealing
Terrazzo has been used for thousands of years as a flooring In time, Terrazzo will end up dull and lose its finish. Small scratches and etching builds up and damage the initial polish.
Terrazzo Polishing is definitely the best way to bring back the original finish to the highest standard. Diamonds get rid of the surface damage and restore the initial Terrazzo shine. We can help to prevent this soil with Terrazzo sealers.
Sandstone Floor Cleaning And Sealing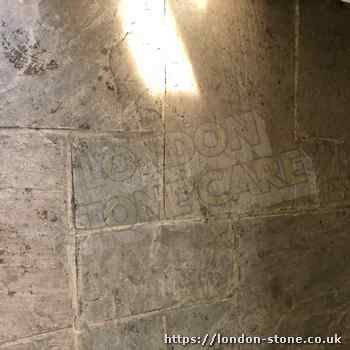 Sandstone floor tiles may be found in several different shades of brown, red, yellow and cream. The voids amongst the sandstone grains trap dirt that may be hard to remove.
We use a rotary brushing machines, coating removers and pressure rinsing to completely clean the sandstone We then apply a long-lasting sealer which also makes your sandstone much easier to clean. The specific restoration needed will be based on the condition of your floor.
Granite Floor Cleaning & Sealing
Granite is a tremendously popular flooring. Granite is a really hard-wearing tile, ideal for heavy-duty traffic lanes. Granite Tile is harder wearing when compared to alternative stone, like marble or limestone.
Few stone restoration companies will restore Granite, since it is so difficult and difficult to restore. We offer the full array of Granite cleaning and restoration services. to the highest standard.
Terracotta Floor Cleaning And Sealing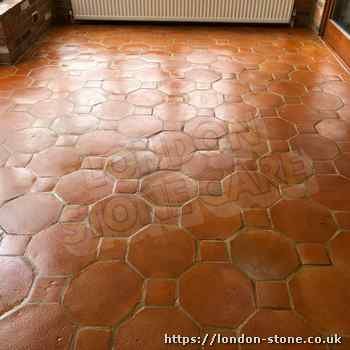 Terracotta offers a unique coloring and a rustic appearance in the house, but needs careful maintenance to keep it looking its best.
Abrasive chemicals such as popular floor cleaning solutions and bathroom tile cleaners could permanently damage and mark Terracotta.
Industrial grade sealer removal treatments and cleaners help to remove old sealers and soil, although conserving the attractive surface.
We use a long lasting sealer for terracotta, so that you get the maximum benefit and value from your own cleaning.
Slate Floor Cleaning And Sealing
Slate is a really popular floor and wall tile because of its low porosity and the numerous varieties and textures of Slate available. Slate floors need regular sealing to prevent soil and spills marking the surface.
We use rotary scrubbing equipments and sealer removers clean the slate. After our professional cleaning is finished,we then use a long-lasting sealer that also makes your floor better to maintain.
If you want a smooth finish, we are able to grind the slate, but we must measure the slate before grinding.
Victorian Tiles Cleaning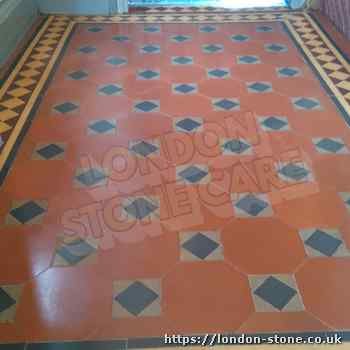 Victorian Clay Tiles are found in lots of Victorian and Edwardian hallways.
The main properties of Victorian tiles include natural clay colours and a matt finish.
A good number of these floors have been sealed and then covered up with carpet and lino.
Old paint spills, waxes, polishes and sealer deposits makes cleaning many of these floors tricky.
A colour intensifying sealer is applied after cleaning, to bring back the first colours within the tiles. Topical sealers and waxes will provide a floor a sheen or glossy finish.
Quarry Tiles Floors
Quarry tile floors were at one time a major feature in terraces and farmhouses in the country, however, many of these floors have since fallen into various states of repair.
Years of soil and old sealers often leads some people to imagine their tile floor is beyond repair, but that's often far from the truth.
Professional cleaning will get rid of the several years of grime and old coatings, revealing a beautiful floor. After cleaning, the tiles can be finished with a lasting sealer.
Cleaning Of Porcelain Floors.
Porcelain is actually a ceramic blend with additional sand and feldspar added to develop a denser tile.
High quality Porcelain has very low porosity, this means less stains, less water damage, much less need for sealing.
If Porcelain isn't manufactured correctly, the top can be absorbent just like natural stone floors. This soil can be tough to remove.
We can remove embedded soil using equipment made to get into the microscopic pits holding the soil.
We can help minimize the dirt using Porcelain sealers.
If you've got a solid colour Porcelain, we could re-surface the tiles by Grinding and re-polishing.
Cleaning Of Ceramic Tile Floors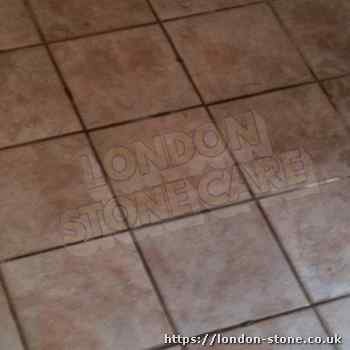 Professional cleaning of Ceramic floor tiles can often take a shorter time than natural stone floors or clay tiles..
Ingrained soil are usually on top of the ceramic tiles.
Still, professional tile cleaning and restoration will certainly give a cleaner finish.
After cleaning and restoration we use a professional tile sealer. Maintenance is much easier having a sealed floor, additionally a sealer prevents spills becoming stains.
Get more information about our Ceramic Tile And Grout Cleaning Kew cleaning method plus our substantial professional stone floor cleaning options or Book a Quote utilizing a business that operates to the highest standard in stone restoration.
A Few Of The Natural Stone Restoration And Cleaning Work We Give
Sandstone tile cleaning is rarely just cleaning, there exists regularly more restoration required. Stone and tile restoration covers a variety of services. At least, all stone floors suffer some form of generic wear and tear. More often than not, soil, stains and traffic marks ruin floor's finish. Highly polished marble and granite floors show up wear quickly, as minute foot traffic scuff marks into the stone surface alter the luster and hold dirt. A surface sealer will not prevent porous stone and tile and tiles like Sandstone, Limestone and Terracotta gradually struggling with wear and spill problems. Most stone floor flooring has cement grout. Cement grout is typically softer when compared with stone and a lot more vulnerable to abrasive and chemical damage. Holes might be filled and cracks repaired included in a restoration. Natural stone contains the appeal that a grubby, porous surface can be taken away, exposing a pleasant new surface. Grinding and honing removes surface damage from etching and surface scratching.
Tile and sealing is vital to keep a brand new stone and tile finish looking stunning. Stone sealers should really be placed on new stone and tile and tile floors and soon after any floor tile cleaning, stone polishing or tile restoration work. Impregnating or penetrating sealers are used following diamond floor polishing. Hybrid sealers or Surface sealers would be best applied to coarse stone and tile or tiles.
The first shine on a sandstone floor will gradually go dull. The loss in shine is brought on by foot traffic scratches and surface damage. The only way to replace the original finish is by polishing the tile and. On marble, Granite, Terrazzo, Polished Limestone and Polished Travertine floors, diamonds are used to eliminate the outer lining wear and recover the initial sparkle. The shine on Honed Travertine, Honed Limestone, Sandstone, Slate and Clay tiles is done through the use of a top gloss sealer. Sealer removing items are applied to take away all traces of the existing sealer, after which an innovative new gloss sealer is applied.
Is there unsightly chips on your stone and tile floor?
You do not have to change the stone and tile. Coloured resin fillers can fill chips and damage on a tile. Once the resin cures, it offers to be sanded and polished. Chip repairs are less costly than laying new tiles.
Contact the Industry Professionals for Natural Stone Repairs London - Call the Specialists.
Repairing Cracked Tiles
A small movement within the subfloor will likely make a crack in a marble tile. Cracks tend to be present in doorways as well as in between rooms. Also, a crack can appear due to a deficiency or weak spot inside the tile. Crack repaircosts not as much as replacing the tile.
When you yourself have got a deep crack in your floor, vanity unit, tabletop or counter top, these are typically filled up with coloured epoxy fillers. Hairline cracks are too fine to just accept a filler and in addition they need to be widened with diamond tools before they are filled.
Other areas near Kew we cover include:
Kew is a district in the London Borough of Richmond upon Thames, 1.5 miles 2.4 km north-east of Richmond and 7.1 miles 11.4 km west by south-west of Charing Cross; its population at the 2011 census was 11,436. Kew is the location of the Royal Botanic Gardens €œKew Gardens€, now a World Heritage Site, which includes Kew Palace. Kew is also the home of important historical documents such as Domesday Book, which is held at The National Archives. Julius Caesar may have forded the Thames at Kew in 54 BC during the Gallic Wars. Successive Tudor, Stuart and Georgian monarchs maintained links with Kew. During the French Revolution, many refugees established themselves there and it was the home of several artists in the 18th and 19th centuries. Since 1965 Kew has incorporated the former area of North Sheen which includes St Philip and All Saints, the first barn church consecrated in England. It is now in a combined Church of England parish with St Luke Church, Kew. Today, Kew is an expensive residential area because of its suburban hallmarks. Among these are sports-and-leisure open spaces, schools, transport links, architecture, restaurants, no high-rise buildings, modest road sizes, trees and gardens. Most of Kew developed in the late 19th century, following the arrival of the District line of the London Underground. Further development took place in the 1920s and 1930s when new houses were built on the market gardens of North Sheen and in the first decade of the 21st century when considerably more river-fronting flats and houses were constructed by the Thames on land formerly owned by Thames Water.