Stone Floor Cleaning Whetstone
Presenting Extraordinary Stone Floor Cleaning Whetstone.
The Way We Work With Each Other
Inform Us About Your Floor
More often than not the dimensions and kind of stone, plus a few pictures showing the appearance of the floors is all we need.
We will email a detailed price once we have cleared up your preferences.
You Will Have A Prompt Reply
Most of the time we will propose alternative treatments to match most budgets.
We shall also e-mail a document showing instances of similar work.
We Decide On A Start Date
We arrive ready for work as well as on time.
Your stone floor will look awesome
Why You Need To Contact London Stone Care
Our specialists are trained to help you with anything from a straightforward clean and polish, or tailor-made stone floor cleaning Whetstone work.
With exceptional results, competitive pricing and intelligent staff, our company is excited to become your number 1 choice for cleaning and restoration of natural stone.
Whether you are likely to restore or refinish your stone or tile floors, we are certain that we can help.
If you like cleaning assistance, drop me a line and I will be happy to help.
After restoring a tile and stone floor, we supply a thorough ongoing maintenance program.
Contact Us Now!
Get your very own stone for cleaning quotation now.
Our Professional Stone Floor Restoration Services In Whetstone Outlined
Over time, Marble will end up matt and loose its shine. Surface scratches and etch marks build and remove the original appearance. Marble Polishing is the best way to revive the appearance.
We employ specialized equipment and industrial diamond tooling to hone and polish the stone. to the highest standard
If the tiles are not even, even this problem is called "lippage". The only method to make a marble floor perfectly smooth is by grinding away the lippage and uneven tile edges. This is a complicated process nevertheless the results are stunning.
After grinding, the marble will be flush with the grout lines. The marble will have a monolithic appearance as just one area of stone.
After grinding honing and polishing marble maintenance is very simple, because the mop slides over the floor. There are no uneven grout lines to trap soil. Cracks and chips can be filled with coloured resin repair fillers. After we have assessed the floor, we will advise the very best marble restoration service.
Travertine Restoration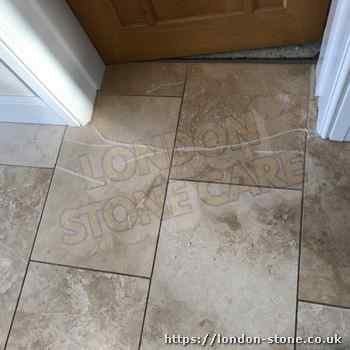 A Travertine floor has a permeable structure, with lots of holes. Travertine floor tilesmay be supplied in several finishes, including honed, polished and tumbled. With time, the initial hole filler comes away, then the holes fill with unattractive soil.
Working to the highest standard, Travertine floor restoration Companies use use a variety of machine scrubbing, hand scrubbing and pressurised rinsing to eliminate old sealers and ingrained soil.
When the Travertine floor tiles and the holes are cleaned, any holes are grout filled with a colour matched grout. After restoration and re-grouting the Travertine floor we apply a resilient, easy to clean sealer.
Limestone Floors
Limestone ultimately looses the initial finish. Scratches and spill damage build up and damage the original polish. Gradually, your Limestone will need to be repolished. Diamonds are used to remove the dmaage and marks and restore the original shine.
In the event that tiles are not really, even this condition is named "lippage". A Limestone floor is smoothed by grinding away the lippage and uneven edges of the tiles. Grinding Limestone floors should really be done by specialists. The Limestone floor will get a monolithic appearance as just one piece of Limestone.
After grinding, the grout sits at the same level as the the Limestone tiles. It is less of a challenge to clean a smooth, sleek floor than an uneven floor. There will be no uneven grout deressions to hold soil. Chips, cracks and hole repairs are often part of the Limestone restoration procedure. The particular restoration needed should be based on the current state of your floor.
Terrazzo Floor Restoration
Terrazzo is created by mixing chips made of marble, granite, quartz, or glass chips into a cement or epoxy base . The original finish on a Terrazzo floor will steadily go dull. Small scratches and etch marks build up and damage the original polish.
The best way to restore the initial finish is by polishing the Terrazzo to the highest standard. We use diamond polishingto restore the initial Terrazzo shine. After cleaning and polishing, we use specialist Terrazzo sealers.
Sandstone Cleaning And Sealing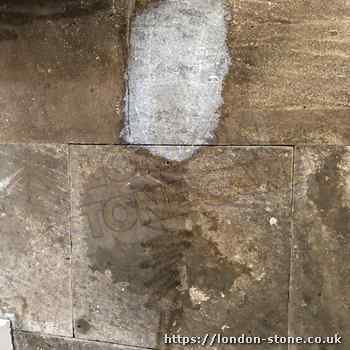 Sandstone is produced principally of quartz, iron oxide, silica and calcium based deposits that makes it a very sturdy stone. The voids between the sandstone fragments trap dirt which can be tough to remove.
We have dedicated scrubbing and rinsing machinery to eliminate the soil and old coatings, refurbishing the initial sandstone appearance Then we apply a long-lasting sealer that also makes your floor better to clean. Once we look over your floor, we can advise you on the best restoration process.
Granite Floor Cleaning And Sealing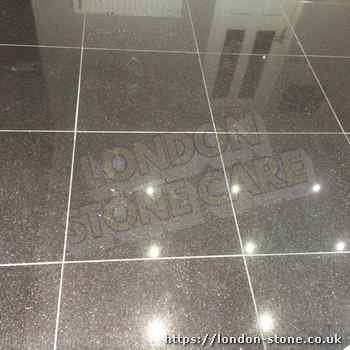 You are able to find granite in a lot of homes and buildings. Granite is an extremely hard-wearing flooring, perfect for heavy-duty foot traffic areas. Granite resists wear longer than other stone flooring, like marble or limestone.
Granite is so hard, that many companies do not have the equipment or experience to revive the stone. We have the experience and equipment to restore granite floors. to the highest standard.
Terracotta Floor Cleaning And Sealing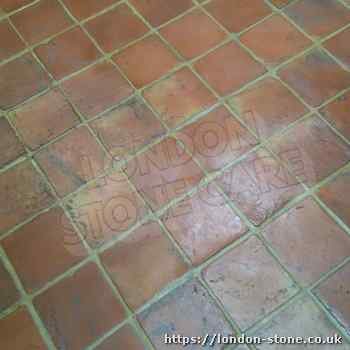 Terracotta is made from natural clay and historically has been used for roof tiles, sculptures, bricks and floor tiles.
Classic Terracotta sealers will need frequent upkeep and re-application, if they're not taken care of, the surface will begin to get soiled and become porous.
Heavy duty sealer removal treatments and cleaning solutions help in removing old coatings and dirt, whilst also protecting the appealing surface.
We use a long lasting sealer for terracotta, and that means you get the most value from your cleaning.
Slate Floor Restoration
Slate is an extremely popular floor and wall tile due to its low porosity and the numerous varieties and textures of Slate available. Riven slate can get a build-up of soil in the crevices that is difficult to remove.
We use rotary cleaning devices and sealer removal treatments clean the slate. When the professional cleaning is finished , we leave the floor to dry, then put on a durable, easy to maintain sealer.
If you prefer a smooth finish, we can grind the slate, but we have to gauge the slate before grinding.
Victorian Tiles Floor Cleaning
Victorian Clay Tiles are found in a lot of Victorian and Edwardian hallways.
The principal characteristics of Victorian tiles include natural clay colours and a matt finish.
With the variations in home decoration, these floors come with underlay from carpet, lino, bitumen and different adhesive deposits.
Cleaning these floors could be challenging owing to the range of old sealers and residues.
After cleaning, the original colours in the floor tiles can look dull, so we use a colour intensifying sealer to replace the original depth of colour. Topical sealers and waxes will give the floor a sheen or glossy finish.
Quarry Tiles Floor Cleaning And Sealing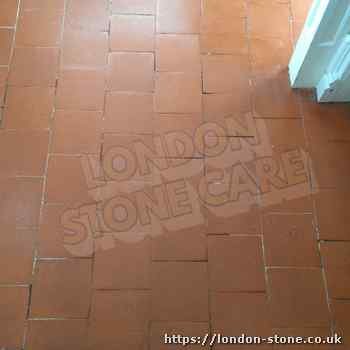 Quarry tile floors were once a major feature in terraced houses and farmhouses across the country, but some of those floors have since fallen into different states of disrepair.
Decades of ingrained soil and old sealers may lead some people to think their tile floor is past repair, but that's often far from the truth.
Whilst the tiles may appear soiled and discoloured, the tiles are surprisingly resilient and can look just like new after a suitable clean. After cleaning, the tiles can be sealed with a enduring sealer.
Cleaning Of Porcelain Tiles Floors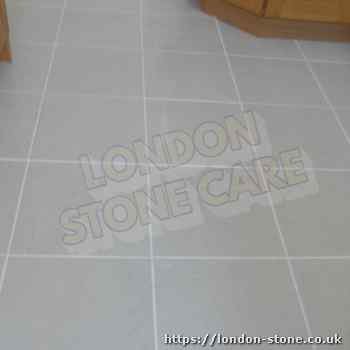 Porcelain is a kind of ceramic tile.
The extra minerals helps to make Porcelain stronger than traditional ceramic tiles.
There are substandard porcelains that can absorb surface soil and spills similar to natural stone floors. It may be difficult to remove this soil.
We can get rid of ingrained dirt using equipment built to go into the microscopic pits where the soil is held.
We will help minimize this soil using Porcelain sealers.
If you have a trough-colour Porcelain, we can re-surface the tiles by Grinding and re-polishing.
Cleaning Ceramic Tiles Floors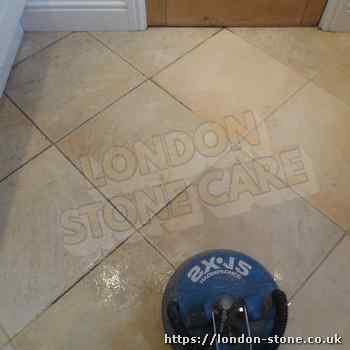 Professional cleaning of Ceramic tiles often takes a shorter time in comparison to natural stone floors or clay tiles..
Grime are usually on the surface of ceramic tile.
Professional tile and stone cleaning and restoration services will still bring better results.
A specialist sealer will be applied after the the cleaning process. Sealing helps make mopping much easier and helps to protect against spills.
Some Of The Natural Stone Restoration And Cleaning Options We Supply
Natural stone cleaning is rarely just cleaning, there exists regularly more restoration required. Natural stone restoration covers many different services. At least, all stone floors suffer some form of generic wear and tear. In most cases, soil, stains and traffic marks ruin floor's finish. Highly polished marble and granite floors show up wear quickly, as minute foot traffic scuff marks within the stone surface alter the luster and hold dirt. A surface sealer does not prevent porous stone floor and tiles like Sandstone, Limestone and Terracotta gradually struggling with wear and spill problems. Most stone floor flooring has cement grout. Cement grout is normally softer compared to stone and much more vulnerable to abrasive and chemical damage. Holes could possibly be filled and cracks repaired included in a restoration. Tile and stone contains the appeal that a grubby, porous surface may be taken away, exposing a pleasant new surface. Grinding and honing removes surface damage from etching and surface scratching.
Tile and stone sealing is essential to help keep an innovative new natural stone finish looking stunning. Stone sealers should really be placed on new stone floor and tile floors and immediately after any floor tile cleaning, stone polishing or tile restoration work. Impregnating or penetrating sealers are employed following diamond floor polishing. Hybrid sealers or Surface sealers are best applied to coarse stone floor or tiles.
The initial shine on a sandstone floor will gradually go dull. The loss in shine is attributable to foot traffic scratches and surface damage. The only method to replace the first finish is by polishing the tile and stone. On marble, Granite, Terrazzo, Polished Limestone and Polished Travertine floors, diamonds can be used to get rid of the area wear and recover the initial sparkle. The shine on Honed Travertine, Honed Limestone, Sandstone, Slate and Clay tiles is done through the use of a top gloss sealer. Sealer removing items are applied to take away all traces of the existing sealer, after which a brand new gloss sealer is applied.
Are there unsightly chips in your stone and tile floor?
You do not have to improve the stone floor. Coloured resin fillers can fill chips and damage on a tile. Once the resin cures, this has to be sanded and polished. Chip repairs are less costly than laying new tiles.
Contact the Industry Professionals for Natural Stone Repairs London - Call the Specialists.
Repairing Cracked Tiles
A small movement in the subfloor is going to make a crack in a marble tile. Cracks are often present in doorways as well as in between rooms. Also, a crack can appear because of a deficiency or weak spot within the tile. Crack repaircosts never as much as replacing the tile.
If you have got a deep crack in your floor, vanity unit, tabletop or counter top, they have been filled with coloured epoxy fillers. Hairline cracks are way too fine to accept a filler and in addition they should be widened with diamond tools before these are generally filled.
Other areas near Whetstone we cover include:
WhetstoneHelpful Information
Whetstone is a place in the London Borough of Barnet, bearing the postcode N20. It is to the east of Totteridge, and these areas are known together as Totteridge and Whetstone. Whetstone is around 8.5 miles North of Charing Cross. The combined areas of Totteridge and Whetstone was, at the outset of the 21st century, found to be the 63rd-richest of the more than 9,000 wards of the United Kingdom. The High Road, the main road in the area, is the A1000 and part of the traditional Great North Road from London to Edinburgh. Until the late 19th century its tiny developed area was one of two main settlements in the ancient parish of Friern Barnet, the other being Colney Hatch. It was thus the northernmost settlement in the Ossulstone hundred. In medieval times the Hospitallers had a settlement nearby in Friern Barnet probably where Friary Park is now and alongside the old road to London. In 1340 the Bishop of London opened a gate into his park the Highgate which enabled a straight road across Finchley Common along the ridge there. The Hospitallers' settlement moved further west and became known as West Town, also known variously as le Weston 1398Wheston 1417and Whetstonestret 1439. It the northernmost settlement in the Ossulstone hundred. Until the late 19th century its tiny developed area was one of two main settlements in the ancient parish of Friern Barnetthe other being Colney Hatch. Friern Barnet remained its ecclesiastical parish and its civil form was at that time giving way to urban and rural districtsin this case Friern Barnet Urban District.