Stone Floor Cleaning East Acton
Presenting Outstanding Stone Floor Cleaning East Acton.
How We Work With Each Other
Send Us Information Regarding Your Floor
In most cases the size and variety of stone, plus a few photos showing the condition of the floors is all we need.
After we have clarified your requirements we will email an extensive written estimate.
You Will Receive A Punctual Reply
Most of the time we shall present some other treatments to accommodate most budgets.
Our quotation is going to be complemented with a document showing samples of comparable work.
We arrive punctually.
As we get done you'll be happy
The Reasons Why You Should Contact Us
Our professionals are trained to deliver anything from a basic clean and polish, or special stone floor cleaning East Acton work.
We use tried and tested ways to clean, polish, and restore your tile and stone floors to a vibrant, fashionable look.
Fill out our simple contact form for a free of charge stone floor restoration quotation.
Expert stone cleaning and maintenance advice
Following restoring tile and stone floors to a gorgeous finish, we provide a cleaning and maintenance program, so stone floors stay breathtaking for years rather than months.
Contact Us Now!
Schedule a quotation for your stone floor cleaning East Acton
Our Professional Stone Floor Cleaning And Polishing Services In East Acton Revealed
Marble Floor Cleaning & Sealing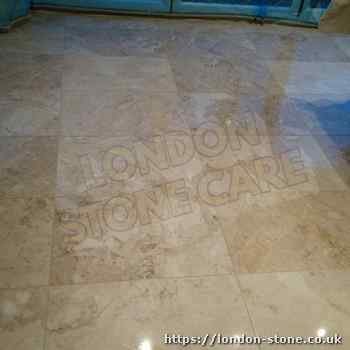 An original surface on a marble floor will slowly loose its finish. The dull appearance is due to tiny scratching on the surface of the marble where it is often walked over. The only way to reinstate the original finish is through polishing the marble.
We use diamonds to eliminate the surface damage and bring back the surface.
It's virtually impossible to lay a marble tile floor completely flat. We can grind off the irregular tile edges, making the floor surface flat. Marble floor grinding is a professional service, providing outstanding results.
Following grinding, the grout sits at the same level as the the marble. The floor will appear like just one area of marble.
It is much simpler to clean a smooth, sleek marble than a bumpy floor. Also, soil does not get stuck into the grout lines. Cracks and chips can be filled with colour matched resin repair fillers. Once we assess your floor, we can recommend on the optimum marble restoration service.
Travertine Restoration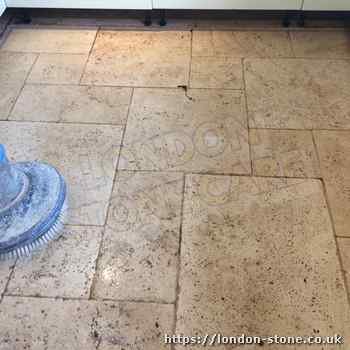 A Travertine floor is distinct with a honeycomb structure, with lots of holes. There will various types of Travertine floor tiles, including honed, polished and tumbled. As the travertine wears, the hole filler comes out, and the holes fill up with dreadful soil, dirt and mopping water.
Working to the highest standard, Travertine floor cleaning and restoration professionals have industrial-grade sealer removers and rotary scrubbing machines to eliminate the coatings of old sealers and embedded soil.
After cleaning, any open holes on a Travertine floor can be filled with coloured grout. After restoration and grout filling we apply hard wearing sealers.
Limestone Floor Cleaning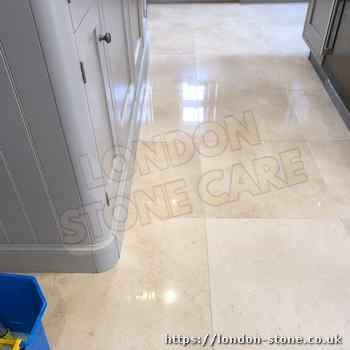 With time, Limestone will end up worn and loose its shine. The dull appearance is due to minute scratching on the surface of the Limestone where it has been walked over. Limestone Polishing is the only way to revive the shine. We use industrial diamond polishing to grind, hone and polish the floor and restore the finish.
If your floor has been laid leaving jagged tiles, it is known as "lippage". The only method to make a Limestone floor perfectly flat is by grinding away the lippage and uneven tile edges. Grinding Limestone floors must only be undertaken by restoration professionals. The Limestone will have a monolithic appearance as a single area of Limestone.
After grinding, the tiles will be flush with the grout lines. It is less of a challenge to clean a smooth, sleek Limestone than an irregular floor. There will be no uneven grout deressions to hold soil. Limestone floor restoration normally features some crack and chip repairs, using resin fillers. Once we have inspected your Limestone floor, we can recommend he best Limestone restoration process.
Terrazzo
Terrazzo is an appealing and hard-wearing flooring, hence its use as a flooring in supermarkets, airports, commercial and industrial buildings. As time passes, Terrazzo will end up dull and lose its finish. The change in appearance is brought on by microscopic scratches on the surface where it has been walked over.
Terrazzo Polishing is the only way to bring back the original finish to the highest standard. We use diamond polishingto bring back the original Terrazzo shine. Our Terrazzo sealers can help minimize further soil problems.
Sandstone Restoration
Sandstone is made from compressed sand, including a variety of minerals including quartz and feldspar. Sandstone can end up getting ingrained soil which makes it look dull and difficult to clean.
We use industrial-grade coating removers, rotary scrubbing machinery and pressurised rinsing to get rid of the layers of old sealer Then we apply a long-lasting sealer which also makes your floor much easier to clean. Once we look over your floor, we can advise you regarding the best restoration process.
Granite Restoration
Granite is a popular stone. Granite is very hard.Granite is frequently chosen because of its hard-wearing attributes. A surface on Granite lasts longer than other natural stones.
Few stone restoration companies will restore Granite, since it is so difficult and tough to restore. We have invested in the experience and equipment to restore granite floors. to the highest standard.
Terracotta Floor Cleaning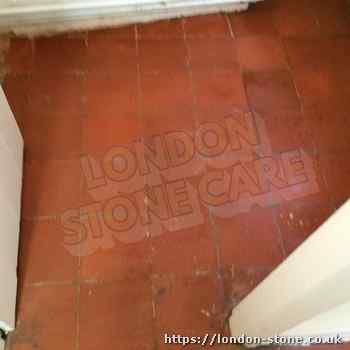 Terracotta is one of the most permeable floors which we come across but has been utilized for floor tiles for many thousands of years.
Terracotta is very porous so it's important to protect it with a protective seal.
Heavy duty sealer removal treatments and cleaning solutions help to remove old coatings and dirt, although keeping the attractive finish.
We use a long lasting sealer for terracotta, and that means you get the maximum benefit and value from your own cleaning.
Slate Floor Cleaning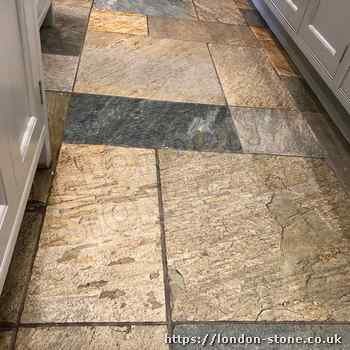 Slate flooring is one of the most popular forms of natural stone, as it calls for less maintenance and cleaning. Even though slate has a minimal porosity, it will probably nevertheless partially absorb and oil based spills, causing irritating spots.
We use a mixture of machine scrubbing and hand scrubbing to get rid of all traces of previous dirty sealers and clean the tiles. Then we use hard-wearing sealers.
If you have got an appropriate slate, it could be ground smooth, rendering it much easier to clean.
Victorian Tiles Restoration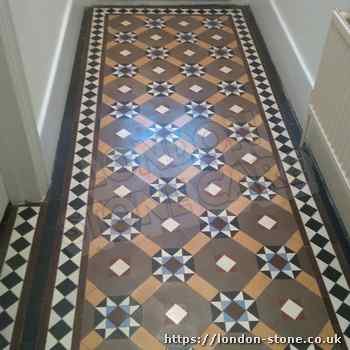 Victorian Clay Tiles are installed in many Victorian and Edwardian hallways.
The tiles have a matt finish to get their colour through the clay utilized in their manufacture.
Along with the changes in residential decoration, these floors get carpet underlay, lino, bitumen and different glue residues.
Old paint spills, polishes, waxes and sealer deposits tends to make cleaning many of these floors challenging.
After cleaning, the original colours of the tiles can look washed out, therefore we apply a colour intensifying impregnating sealer to replace the initial depth of colour. The mat finish can be polished by applying a wax or topical sealer.
Quarry Tiles Floor Cleaning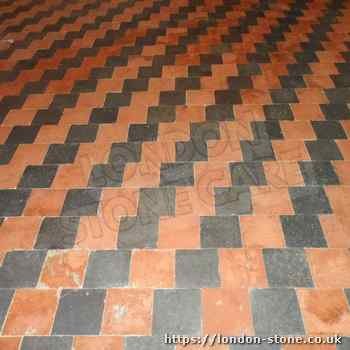 Quarry tile floors were once a major feature in terraces and farmhouses across the country, however, many of those floors have fallen into assorted states of disrepair.
One common problem is old layers of sealer which need to be taken off.
We can eliminate the layers of old coatings and soil, providing you with a lovely new finish. If the tiles are laid on sand, ash or lime, use sealers that allow the free transfer of moisture.
Porcelain Tile Cleaning
Porcelain is classed as a ceramic, but manufactured with different ingredients to standard ceramic tiles.
This makes Porcelain much more stain resistant and easier to keep up than traditional ceramic tiles.
Some inferior porcelains have microscopic holes that will absorb soil similar to natural stone floors. If you have got a substandard Porcelain, surface soil can be difficult to remove.
We possess the experience and equipment to remove this difficult to reach soil.
When your porcelain floor has been cleaned we are able to use a sealer to protect against regular spillages.
In the event that porcelain is a solid colour, we could resurface the porcelain, exactly like granite or marble restoration.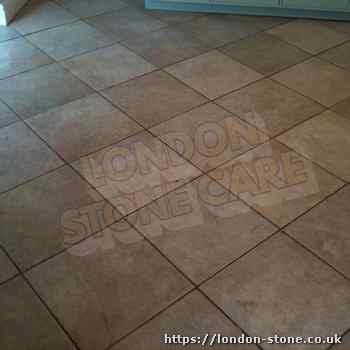 Professional cleaning of Ceramic tiles is frequently less involved when compared to natural stone floors cleaning..
The glazed surface hastens restoration.
However, specialist tile and stone cleaning will certainly give a cleaner finish.
Once your tile is cleaned we'll use a tile sealer. A sealed ceramic tile is easier to mop and it helps reduce staining.
A Few Of The Stone And Tile Restoration Work Our Specialists Bring
Sandstone tile cleaning is rarely just cleaning, there exists regularly more restoration required. Sandstone floor restoration covers many different services. At the least, all stone floors suffer some form of generic wear and tear. In most cases, soil, stains and traffic marks ruin floor's finish. Highly polished marble and granite floors show up wear quickly, as minute foot traffic scuff marks during the stone surface affect the luster and hold dirt. A surface sealer does not prevent porous stone floor and tiles like Sandstone, Limestone and Terracotta gradually struggling with wear and spill problems. Most stone floor flooring has cement grout. Cement grout is usually softer in comparison to stone and many other things in danger of abrasive and chemical damage. Holes could be filled and cracks repaired included in a restoration. Tile and stone gets the appeal that a grubby, porous surface could be taken away, exposing a lovely new surface. Grinding and honing removes surface damage from etching and surface scratching.
Tile and stone sealing is a must to keep an innovative new stone and tile finish looking stunning. Stone sealers should always be placed on new natural stone and tile floors and just after any floor tile cleaning, stone polishing or tile restoration work. Impregnating or penetrating sealers are used following diamond floor polishing. Hybrid sealers or Surface sealers would be best placed on coarse tile and or tiles.
The first shine on a stone and tile will gradually go dull. The loss in shine is attributable to foot traffic scratches and surface damage. The only way to replace the original finish is through polishing the stone and tile. On marble, Granite, Terrazzo, Polished Limestone and Polished Travertine floors, diamonds are used to eliminate the outer lining wear and recover the initial sparkle. The shine on Honed Travertine, Honed Limestone, Sandstone, Slate and Clay tiles is established by making use of a high gloss sealer. Sealer removing products are applied to take away all traces for the existing sealer, and then a new gloss sealer is applied.
Is there unsightly chips in your tile and stone floor?
There is no need to change the tile and stone. Coloured resin fillers can fill chips and damage on a tile. Once the resin cures, this has to be sanded and polished. Chip repairs are less expensive than laying new tiles.
Contact the Industry Professionals for Natural Stone Repairs London - Call the Specialists.
Repairing Cracked Tiles
A small movement inside the subfloor can make a crack in a marble tile. Cracks are often present in doorways as well as in between rooms. Also, a crack can appear because of a deficiency or weak spot in the tile. Crack repaircosts never as much as replacing the tile.
When you yourself have got a deep crack in your floor, vanity unit, tabletop or counter top, these are typically filled with coloured epoxy fillers. Hairline cracks are too fine to accept a filler and so they need to be widened with diamond tools before they truly are filled.
Other areas near East Acton we service include:
East ActonHelpful Information
East Acton is an area in Acton in West London, England. It is partly in the London Borough of Hammersmith and Fulham and partly in the London Borough of Ealing. It is served by East Acton Underground station, on the Central line in Travelcard Zone 2. Historically, East Acton and Acton developed as separate settlements and the nearby districts of North Acton, West Acton and South Acton were developed in the late nineteenth century. Since 3 July 2012, East Acton has been home to the cathedral of the Syriac Orthodox Church in the United Kingdom. The cathedral, dedicated to Saint Thomas, was formally consecrated on 17 November 2016, in the presence of Prince Charles.