Stone Floor Cleaning Hendon
Discover Premium Stone Floor Cleaning Hendon.
Provide The Size And Variety Of Stone
A handful of photos showing the floors plus the sizes usually are all we need.
Once we have clarified your requirements we shall email a thorough written quote.
Most of the time we shall present some other finishes to accommodate most budgets.
We shall also e-mail a document detailing instances of comparable work.
We appear on time.
Your stone floor will look delightful
Our stone floor cleaning Hendon & restoration experts will bring a new life to your stone floors.
With brilliant results, economical rates and seasoned staff, we're excited to become your number 1 choice for cleaning and restoration of natural stone.
Our knowledgeable experts are here to offer a free quotation.
Specialist stone cleaning and maintenance assistance
Following restoring stone floors to a striking appearance, we provide a maintenance program, so stone floors will stay wonderful for years instead of weeks.
Contact Us Now!
It is quick to schedule a quote for your stone floor cleaning .
A Quick Account Of Our Expert Stone Floor Cleaning And Restoration Services In Hendon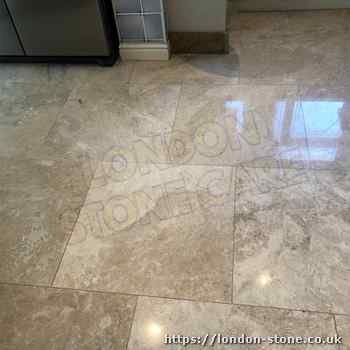 The original polish on marble tiles will gradually loose its gloss. This surface damage is due to foot traffic scratching and surface etching Eventually, your marble floor will need to be repolished.
We use industrial diamond polishing machines to restore the finish.
Nearly all marble tile floors are not even because the tiles are not installed level. A marble floor should be smoothed by grinding off the lippage and uneven tile edges. You must have dedicated apparatus and several years of hands on experience to grind, hone and polish a marble tile floor, however the results are beautiful.
Following grinding, the grout sits at the same level as the the marble tiles. The marble floor will get the look of being a single slab of stone.
An even marble surface is much simpler clean. There will be no uneven grout lines to hold soil. Hole cracks and chip repairs are often an element of the marble restoration work. After checking out the marble, we can advise the best marble restoration program.
Travertine Floor Polishing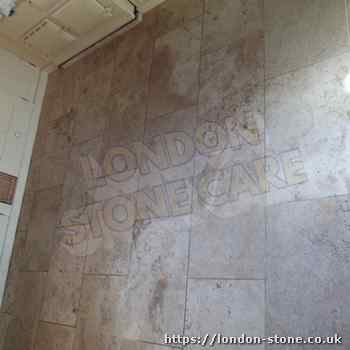 A lot of Travertine used in the UK has a honeycomb framework with a large amount of holes. There are different forms of Travertine floor tiles, including tumbled, honed and polished. As the travertine wears, the hole filler falls out, and the holes get filled with dreadful soil, dirt and mopping water.
Working to the highest standard, Travertine floor restoration Companies have use a variety of machine scrubbing, hand scrubbing and pressurised rinsing to remove old sealers and ingrained soil.
After cleaning, the Travertine floor could be grouted to fill any open holes. After restoration and grouting the Travertine floor we use a durable, very easy to clean sealer.
Limestone Polishing And Sealing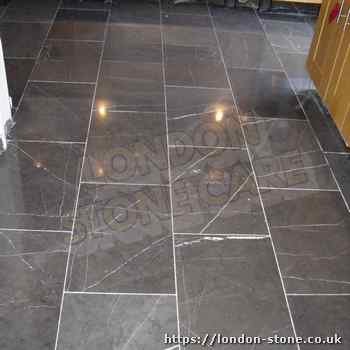 Limestone eventually looses its initial appearance. This damage to the surface is brought on by traffic scores and etch marks Limestone Polishing is the best way to bring back the appearance. We use industrial diamonds to remove the marks and scratches and repair the original gloss.
It is very virtually impossible to lay a Limestone tile floor absolutely flat. We can grind off the jagged edges of the tiles, making the tile surface smooth. You need dedicated machines and several years of experience to grind and hone a Limestone tile floor, nevertheless the results are beautiful. The floor will appear like a single area of Limestone.
After grinding, the tiles and grout will be at the same level. An even Limestone floor is much easier mop. There will be no depressed grout lines to hold soil. Chips and cracks can be filled with colour matched resin repair fillers. After assessing the floor, we will advise the very best Limestone restoration process.
Terrazzo Polishing
Terrazzo is an attractive yet hard wearing flooring, thus its popularity as a flooring in supermarkets, airports, commercial and industrial buildings. Terrazzo ultimately loses the original finish. Minute scratches and etching builds up and damage the initial appearance.
Ultimately, the Terrazzo will have to be polished to the highest standard. We use specialised Terrazzo polishing machines and diamond tooling to grind and polish the stone. Once the Terrazzo has been cleaned and polished, we could apply a sealer which provides protection against day to day spills.
Sandstone Floors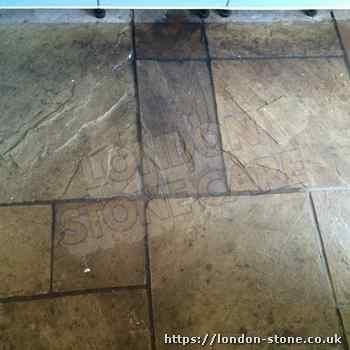 Sandstone floor tiles are offered in several different shades of brown, red, yellow and cream. Whilst sandstone is durable it's also porous, so dirt gets caught within the surface and it is hard to remove.
We have dedicated scrubbing and rinsing machinery to eliminate the soil and old sealers, restoring the original sandstone finish When the sandstone is clean, we permit it to dry, then use a long-lasting, easy to clean sealer. After inspecting a floor, we will advise the most appropriate Sandstone restoration service.
Granite Floor Cleaning And Sealing
You will find granite in lots domestic homes and commercial buildings. Granite is an extremely hard tile flooring and is very resistant to surface damage from scratches and staining compared to other stone like limestone and marble. Expert maintenance is normally required less when compared with alternative stones tile limestone and marble.
Due to the stone's hardness, granite must have professional renovation. We offer a full variety of granite cleaning, polishing, restoration and sealing services. to the highest standard.
Terracotta Cleaning
Terracotta has no glaze on top, so it will soak up spills and soil very quickly.
Terracotta is quite porous so it's important to protect it with some protective seal.
In spite of its vulnerabilities, Terracotta can be restored returning to a great finish.
Whilst we are able to seal Terracotta with Linseed oil and wax, we recommend a tough synthetic sealer which will work for years, with minimal maintenance.
Slate Floors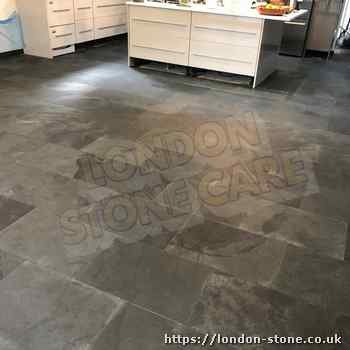 Slate is an incredibly versatile flooring that can be sealed with many different finishes from rough surface, smooth honed or polished appearance. Slate floors need regular sealing to prevent soil and spills marking the finish.
We have specialist machinery and products to remove the soil and old sealers, restoring the original slate finish. After professional cleaning we put on durable sealers.
Some slate floors can be ground to a smooth finish.
Victorian Tiles Restoration
Period Geometric or Encaustic floor tiles are installed in Victorian and Edwardian hallways.
The foremost characteristics of Victorian tiles are the natural clay colours and a matt finish.
Due to their age, these floors have had plenty of wear and can have layers of different sealers.
Owing to their age, these floors might have a range of coating residues, that need to have specialist cleaning
After cleaning, the original colours in the tiles can look dull, so we use a colour intensifying impregnating sealer to bring back the original . The mat finish can be polished by applying a wax or topical sealer.
Quarry Tiles Restoration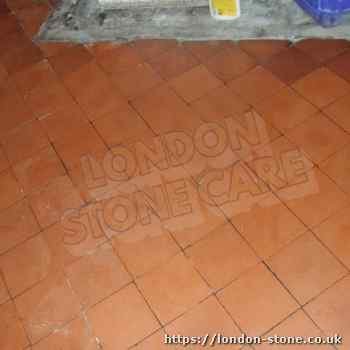 Quarry tile floors were once a proud feature in terraced houses and farmhouses across the country, but some of those floors have since fallen into assorted states of disrepair.
One universal problem is worn out coatings of sealer that should be removed.
A professional clean and reseal is frequently just enough to restore a quarry tile floor. After cleaning, the tiles can be sealed with a durable sealer.
Cleaning Porcelain Tile Floors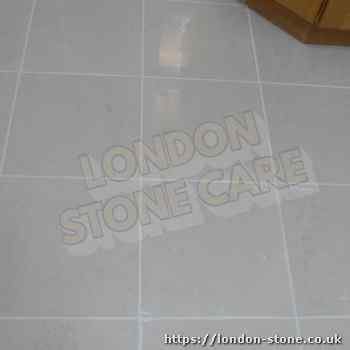 Porcelain is categorised as a ceramic, but manufactured with alternative materials than traditional glazes and clay tiles.
Porcelain is very resistant to moisture, therefore spillages can't soak into the tile and result in stains.
If Porcelain isn't properly produced, the top can absorb soil similar to natural stone floors. If you've got an inferior Porcelain, surface soil may be difficult to remove.
We have the experience and equipment to get rid of this hard to reach soil.
When your porcelain floor has been cleaned we can to protect against regular spillages.
Solid color Porcelain may be ground and restored just like Granite or Marble.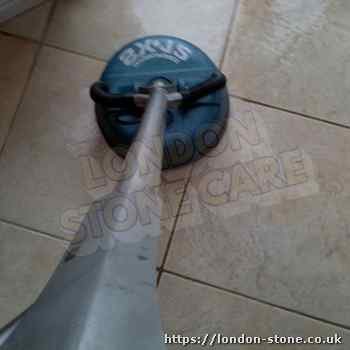 Professional cleaning of Ceramic tiles is usually a bit less involved when compared to natural stone floors cleaning and restoration..
Dirt are often on the surface of ceramic tile.
Nevertheless, you can expect to still achieve better results using specialized materials and equipment.
A professional tile sealer is applied following the cleaning. Tile sealing avoids spills turning out to be permanent stains, making cleaning more effective.
A Few Of The Natural Stone Restoration Work We Provide
Natural stone cleaning is rarely just cleaning, there may be regularly more restoration required. Sandstone floor restoration covers a variety of services. At the least, all stone floors suffer some sort of generic wear and tear. In most cases, soil, stains and traffic marks ruin floor's finish. Highly polished marble and granite floors show up wear quickly, as minute foot traffic scuff marks during the stone surface affect the luster and hold dirt. A surface sealer will not prevent porous natural stone and tiles like Sandstone, Limestone and Terracotta gradually struggling with wear and spill problems. Most tile and stone flooring has cement grout. Cement grout is usually softer compared to stone and much more vulnerable to abrasive and chemical damage. Holes could be filled and cracks repaired included in a restoration. Natural stone contains the appeal that a grubby, porous surface can be taken away, exposing an attractive new surface. Grinding and honing removes surface damage from etching and surface scratching.
Stone floor sealing is crucial to keep a unique stone and tile finish looking stunning. Stone sealers must certanly be placed on new tile and and tile floors and immediately after any floor tile cleaning, stone polishing or tile restoration work. Impregnating or penetrating sealers are employed following diamond floor polishing. Hybrid sealers or Surface sealers would be best applied to coarse stone floor or tiles.
The original shine on a stone and tile will gradually go dull. The loss in shine is attributable to foot traffic scratches and surface damage. The only way to replace the first finish is through polishing the tile and stone. On marble, Granite, Terrazzo, Polished Limestone and Polished Travertine floors, diamonds can be used to eliminate the top wear and recover the initial sparkle. The shine on Honed Travertine, Honed Limestone, Sandstone, Slate and Clay tiles is done by making use of a higher gloss sealer. Sealer removing products are applied to take away all traces associated with existing sealer, after which a unique gloss sealer is applied.
Is there unsightly chips on your own natural stone floor?
There is no need to alter the natural stone. Coloured resin fillers can fill chips and damage on a tile. Once the resin cures, it has to be sanded and polished. Chip repairs are less costly than laying new tiles.
Contact the Industry Professionals for Natural Stone Repairs London - Call the Specialists.
Repairing Cracked Tiles
A slight movement in the subfloor is going to make a crack in a marble tile. Cracks in many cases are present in doorways as well as in between rooms. Also, a crack can appear as a result of a deficiency or weak spot in the tile. Crack repaircosts not as much as replacing the tile.
If you have got a deep crack in your floor, vanity unit, tabletop or counter top, they've been filled with coloured epoxy fillers. Hairline cracks are way too fine to accept a filler and they also should be widened with diamond tools before these are typically filled.
Other areas near Hendon we work in include:
HendonHelpful Information
Hendon is a London urban area in the Borough of Barnet, 7 miles 11 km northwest of Charing Cross. Hendon was an ancient manor and parish in the county of Middlesex and a former borough, the Municipal Borough of Hendon; it has been part of Greater London since 1965. Hendon falls almost entirely within the NW4 postcode, while the West Hendon part falls in NW9. Colindale to the north-west was once considered part of Hendon but is today separated by the M1 motorway. The district is most famous for the London Aerodrome which later became RAF Hendon; from 1972 the site of the RAF station was gradually handed over to the RAF Museum. The railways reached Hendon in 1868 with Hendon station on the Midland Main Line, followed by London Underground further east under the name Hendon Central in 1923. Brent Street emerged as its commercial centre by the 1890s. A social polarity was developed between the uphill areas of Hendon and the lowlands around the railway station. The source of the River Brent starts in Hendon and marks the local boundaries with Golders Green and Cricklewood. Hendon is located by numerous arbitrary roads, namely the A41, A406 North Circular, the A1 and the M1 motorway. Today Hendon is home to rugby union club Saracens F.C. based at Copthall, and is also home to Middlesex University. It is represented in parliament by its namesake constituency which also includes Edgware and Mill Hill.