Experience The Highest Quality Stone Floor Cleaning Ham.
Send Us Information Regarding Your Floor
In most cases the size and kind of stone, plus a few photos displaying the condition of the floors is all we need.
We will email a detailed estimate after we have cleared up your needs.
Most of the time we will present alternative treatments to accommodate most budgets.
We shall also email a document featuring instances of equivalent work.
We arrive promptly.
As we finish you'll be happy
Reasons Why You May Want To Choose Us
Our specialists can take care of any kind of stone floor cleaning Ham or restoration project that you may want for your home.
We utilize the most advanced technology, delivered with a personal touch, so your stone floors look stunning and preserve their pure beauty for a long time to come.
We offer free estimates in Ham with no obligation!
Our company is always very happy to assist you to care for your stone floors.
Following restoring stone floors to a gorgeous finish, we supply a maintenance program, so stone floors will stay gorgeous for years rather than months.
Contact Us Now!
It is straight forward to organise a quotation for your stone floor cleaning Ham.
A Short Explanation Of Our Specialised Stone Floor Cleaning And Restoration Services In Ham
Marble Floor Cleaning And Sealing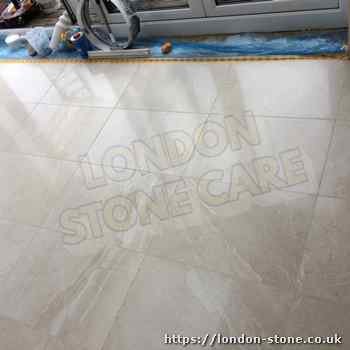 In time, Marble will become matt and loose its polish. The dull appearance is caused by small scratching on the surface of the stone where it was walked on. The best way to bring back the original shine is through polishing the marble.
Diamonds are used to eliminate the surface damage and repair the initial surface.
Almost all marble tile surfaces are uneven because the tiles are not set flat. We can grind off the jagged tile edges, making the floor surface flat. This is a complicated process but the results are stunning.
Following grinding, the marble tiles be at the same level the grout lines. The marble looks "monolithic", appearing to be manufactured from a single area of marble.
It is less of a challenge to clean a smooth floor than an irregular floor. There are no depressed grout lines to capture soil. If your marble floor has chips or cracks, we could repair the damage with resin fillers, closely colour matched to the marble. Once we have assessed your marble floor, we will suggest he optimum restoration process.
Travertine Polishing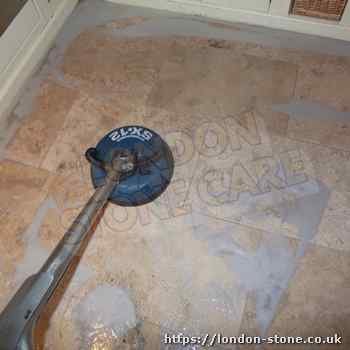 A Travertine floor is a variant of Limestone. Travertine floor tilescould be supplied in many different finishes, including tumbled, honed and polished. With time, the original hole filler falls out, thereafter the holes are quickly filled with unappealing soil.
Working to the highest standard, restoration businesses have rotary scrubbing machinery and pressure rinsing to clean the Travertine floor.
After cleaning, the Travertine floor is often re-grouted to refill any exposed holes. After restoration and grouting we apply hard-wearing sealers.
Limestone Floors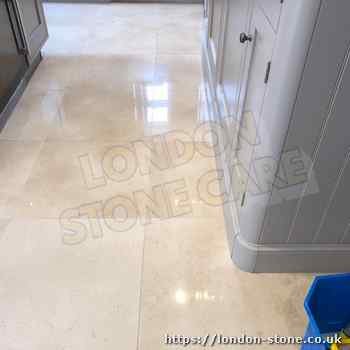 Limestone eventually looses the initial appearance. The surface damage is brought on by foot traffic scratching and etch marks The only way to revive the finish is by polishing the floor. We use diamond polishing to hone and polish a Limestone floor and bring back the original appearance.
If your floor happens to be put down leaving jagged tiles, this will be described as lippage. A Limestone tile floor is leveled by grinding away the lippage and uneven tile edges. Grinding Limestone floor tiles must only be undertaken by restoration professionals. The Limestone will have the appearance of becoming just one piece of Limestone.
Following grinding, the Limestone be at the same level the grout lines. It is much easier to clean a smooth floor than a jagged floor. There will be no grout lines to retain soil. Holes, chips and crack repairs in many cases are part of the Limestone restoration work. The restoration needed is going to be dependant on the current state of your Limestone floor.
Terrazzo Floor Cleaning
Terrazzo is created by mixing chips produced from marble, granite, quartz, or glass chips into a cement or epoxy base . In time, Terrazzo will become dull and lose its finish. Scratches and etch marks build up and remove the initial finish.
Terrazzo Polishing is definitely the best way to bring back the original finish to the highest standard. We use dedicated Terrazzo polishing machines and diamond tools to grind and polish the Terrazzo. After cleaning and polishing, we use specialised Terrazzo sealers.
Sandstone Floor Restoration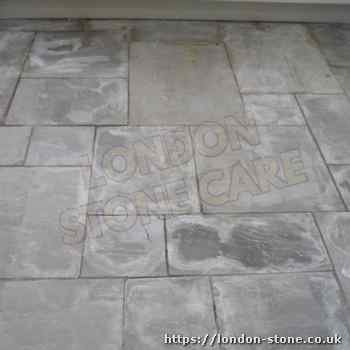 Sandstone floor tiles appear in several different shades of brown, red, yellow and cream. Whilst sandstone is sturdy it's also porous, so cleaning slurry gets stuck in the surface and it is hard to remove.
We use a rotary brushing equipment, coating removers and pressure rinsing to completely clean the sandstone Then we use specialist sealers that last for years not just months. The specific restoration needed will be based on the health of your floor.
Granite Cleaning And Sealing
Granite is a favorite tile flooring for commercial and home installations. Granite is exceptionally hard.Granite is frequently picked because of the product's hard wearing characteristics. Granite needs less specialized service in comparison to other stone.
Granite is so hard, that many companies don't have the gear or knowledge to restore granite. We can restore all forms of granite. to the highest standard.
Terracotta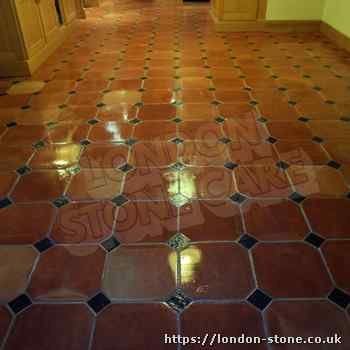 Terracotta is amongst the most permeable floors which we come across but has been utilized for floor tiles for thousands of years.
Abrasive cleaning chemicals including regular floor cleaning solutions and bathroom tile cleaners could permanently damage and mark Terracotta.
Sealer residues, dirt and marks may be taken out with scrubbing equipment and sealer removers.
We can wax the Terracotta or apply a hard-wearing synthetic sealer that is much simpler to maintain.
Slate Restoration
Slate floors look great due to their distinctive appearance and vibrant colour. Whilst slate has a minimal porosity, it will probably always partially absorb and oil based spills, making irritating marks.
We now have specialist machines and products to get rid of the soil and old coatings, restoring the original slate finish. After professional cleaning we use hard-wearing sealers.
Some slate floors could be ground to a smooth finish.
Victorian Tiles Floor Restoration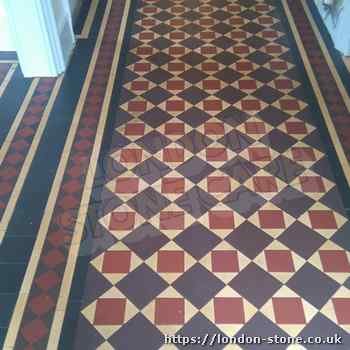 Minton geometric tiles are laid in Victorian and Edwardian Hallways.
The tiles are unglazed utilizing the the natural colours of the clay used to make them.
With the changes in home design, these floors have underlay from carpet, lino adhesive, bitumen and different adhesive deposits.
Cleaning these floors could be challenging due to all of the old sealers and covering residues.
Following cleaning, a colour intensifying sealer is put on to revive the oroginal colours in the tiles. If you prefer a sheen or gloss finish a surface sealer or wax may be used.
Quarry Tiles Floor Restoration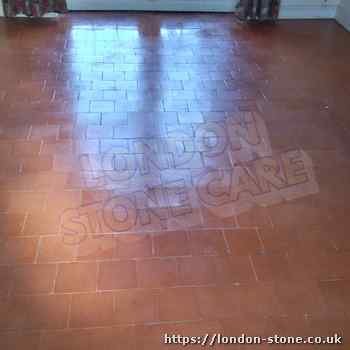 Quarry tiles were a common fixture in kitchen areas and for indoor flooring for many years.
Whilst the tiles can happen dirt, these floors are surprisingly tough and will look just like new after a proper clean.
We can take away the layers of old coatings and soil, leaving an attractive new finish. If Quarry tiles are laid on sand, ash or lime, use sealers that permit the free transfer of moisture.
Cleaning Of Porcelain Floors.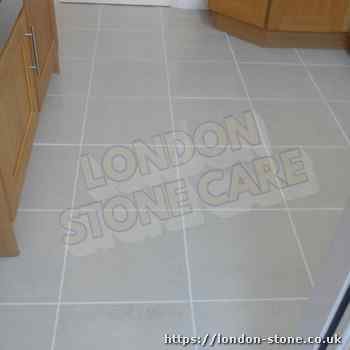 Porcelain is actually a ceramic mix with additional sand and feldspar added to create a denser tile.
Premium Porcelain has really low porosity, which means less stains, less water damage, much less need for sealing.
Inferior porcelain has microscopic holes that may absorb soil similar to natural stone floors. If you have a substandard Porcelain, surface soil can be hard to remove.
You need professional machines and cleaning solutions to remove this soil.
Our Porcelain sealers may help stop further soil problems.
In the event that porcelain is a solid colour, we can resurface the porcelain, the same as granite or marble restoration.
Cleaning Ceramic Tile Floors
Professional cleaning of Ceramic tile floors is usually easier compared to cleaning natural stone floors or clay tiles.
The glazed finish is easier to clean and restore.
However, you will still achieve better results with specialist materials and equipment.
We always use an expert sealer after cleaning. Tile sealing avoids liquid spills turning into stains, and makes cleaning and restoration more efficient.
Discover more about our Ceramic Tile And Grout Cleaning Ham cleaning method as well as our comprehensive professional stone floor cleaning solutions or Book a Quote utilizing a company that works to the highest standard in natural stone.
Some Of The Stone Floor Restoration And Cleaning Services Our Specialists Give
Stone floor cleaning is rarely just cleaning, there may be regularly more restoration required. Natural stone restoration covers a number of services. At least, all stone floors suffer some form of generic wear and tear. More often than not, soil, stains and traffic marks ruin floor's finish. Highly polished marble and granite floors show up wear quickly, as minute foot traffic scuff marks when you look at the stone surface alter the luster and hold dirt. A surface sealer will not prevent porous tile and stone and tiles like Sandstone, Limestone and Terracotta gradually struggling with wear and spill problems. Most tile and stone flooring has cement grout. Cement grout is normally softer when compared with stone and many other things in danger of abrasive and chemical damage. Holes could be filled and cracks repaired included in a restoration. Stone and tile gets the appeal that a grubby, porous surface can be taken away, exposing a pleasant new surface. Grinding and honing removes surface damage from etching and surface scratching.
Stone floor sealing is a must to help keep a fresh stone floor finish looking stunning. Stone sealers should be put on new natural stone and tile floors and immediately after any floor tile cleaning, stone polishing or tile restoration work. Impregnating or penetrating sealers are used following diamond floor polishing. Hybrid sealers or Surface sealers are best put on coarse natural stone or tiles.
The original shine on a sandstone floor will gradually go dull. The loss in shine is attributable to foot traffic scratches and surface damage. The only way to replace the original finish is by polishing the tile and. On marble, Granite, Terrazzo, Polished Limestone and Polished Travertine floors, diamonds are used to remove the surface wear and recover the original sparkle. The shine on Honed Travertine, Honed Limestone, Sandstone, Slate and Clay tiles is established by making use of a higher gloss sealer. Sealer removing products are applied to take away all traces associated with existing sealer, and then a brand new gloss sealer is applied.
Are there unsightly chips on your stone floor floor?
You don't have to alter the tile and stone. Coloured resin fillers can fill chips and damage on a tile. After the resin cures, this has to be sanded and polished. Chip repairs are less expensive than laying new tiles.
Contact the Industry Professionals for Natural Stone Repairs London - Call the Specialists.
Repairing Cracked Tiles
A slight movement inside the subfloor will make a crack in a marble tile. Cracks tend to be contained in doorways plus in between rooms. Also, a crack can appear as a result of a deficiency or weak spot in the tile. Crack repaircosts not as much as replacing the tile.
For those who have got a deep crack in your floor, vanity unit, tabletop or counter top, these are generally filled up with coloured epoxy fillers. Hairline cracks are too fine to accept a filler and in addition they should be widened with diamond tools before they've been filled.
Other areas near Ham we service include:
Ham,is a village situated to the west of Richmond Park, across the Thames from Twickenham. Ham existence was first recorded around 1150 and the name derives from the Old English hamm, which here meant land in a river bend. Henry V acquired the manor of Hamme Upkyngeston in 1415, bringing the village into a closer relationship with the royal estate at Richmond upon Thames. The council built some homes for heroes after the First World War, and gravel and grit extraction created large pits, which have since been filled. In 1922€"3 the extraction company constructed a lock and a dock, where the Thames Young Mariners are now based. There has been no further development of the meadows known as Ham riverside lands since the Locksmeade estate was controversially approved in 1979 and completed in 1983. Elsewhere, infilling and redevelopment continue to occur.