Stone Floor Cleaning Notting Hill
Introducing Great Stone Floor Cleaning Notting Hill.
A few photos showing the floors plus the sizes are usually all we need.
Once we have defined your requirements we shall email an extensive written estimate.
We Will Contact You Promptly
Quite often we will offer some other treatments to suit most budgets.
Our quotation is going to be complemented with a document demonstrating examples of equivalent work.
We arrive equipped for work and on time.
We are going to do a wonderful job
Reasons To Consider London Stone care
Our professionals are trained to deliver anything from a straight forward clean and polish, or special stone floor cleaning Notting Hill projects.
With top-notch results, competitive pricing and trained staff, we are excited to become your first choice for cleaning and restoration of natural stone.
Regardless if you are about to restore or refinish your stone or tile floors, we are certain that we can help.
Totally free of charge cleaning and maintenance help
After restoring a tile and stone floor, we share a detailed ongoing maintenance program.
Contact Us Now!
Arrange a stone for cleaning quotation now.
Our Specialist Stone Floor Cleaning And Polishing Services In Notting Hill Outlined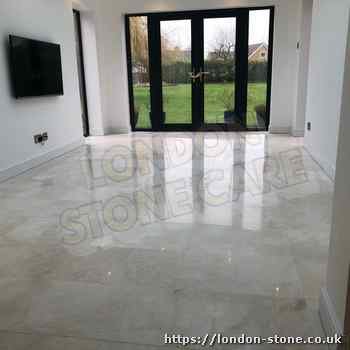 Marble ultimately looses the original finish. The dullness is caused by microscopic scratches on the surface of the tile where it's been walked over. Eventually, the marble will have to be re-polished.
We use industrial diamond polishing equipment to reinstate the initial finish.
If the tiles are not really, perfectly even this condition is named "lippage". We can grind off the jagged edges of the tiles, making a floor surface perfectly flat. Marble tile grinding is a professional procedure, that provides great results.
After grinding, the grout sits is level with the marble. The floor will appear like just one slab of marble.
After grinding and polishing mopping is a piece of cake, as the mop slides over the floor. A smooth marble floor doesn't have grout depessions to trap soil. Marble floor restoration normally includes a few chip and crack repairs, using resin fillers. We can recommend the right restoration service.
Travertine Floor Polishing
A Travertine floor is characterised by its honeycomb structure, with lots of holes. Travertine floor tiles will come in a number of finishes, smooth honed, polished and tumbled. As the stone wears, the hole filler comes away, and the holes fill with unattractive dirt and soil.
Working to the highest standard, Travertine floor restoration businesses use use a variety of machine scrubbing, hand scrubbing and pressure rinsing to get rid of old sealers and ingrained soil.
After cleaning, any open holes in the Travertine floor can be filled up with coloured grout. We then use a long-lasting sealer which also makes the Travertine floormuch easier to clean.
Limestone Floor Polishing
In the long run, Limestone will become dull and loose its surface. The dull appearance is brought on by small scratches on the surface of the Limestone where it was walked over. Limestone Polishing is the best way to restore the polish. We utilise professional machines and industrial diamond tooling to grind and polish the stone.
The majority of Limestone tile surfaces are not even since the Limestone tiles are not installed flat. The only way to make a Limestone tile floor flat is by grinding away the lippage and uneven tile edges. Grinding Limestone floor tiles should really only be carried out by restoration professionals. The Limestone looks "monolithic", appearing to be manufactured from just one area of Limestone.
After grinding, the Limestone tiles will sit at the same level the grout. After grinding and polishing Limestone maintenance is very simple, because the mop slides over the floor. There are no grout lines to retain soil. If your Limestone has cracks or chips, we can repair the damage with resin fillers, closely colour matched with the Limestone. The particular restoration needed should be dependant on the condition of of the floor.
Terrazzo Restoration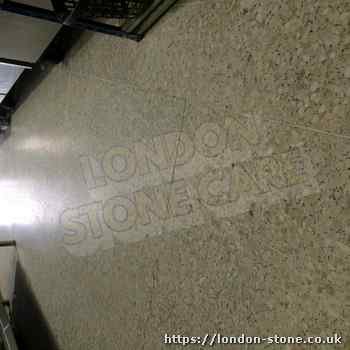 Terrazzo has been utilized for many thousands of years as a flooring The original finish on a Terrazzo floor will progressively go dull. Small scratches and etch marks build up and take away the initial appearance.
Terrazzo Polishing is definitely the best way to revive finish to the highest standard. Diamonds are used to take away the surface damage and restore the initial Terrazzo shine. After cleaning and polishing, we apply specialised Terrazzo sealers.
Sandstone Restoration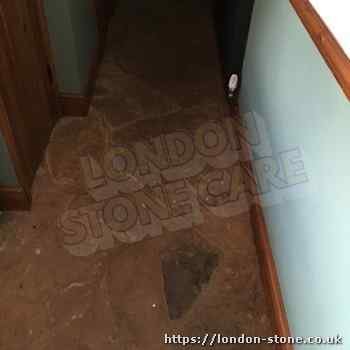 Sandstone is produced mostly from quartz, iron oxide, silica and calcium based deposits therefore it is a very stable stone. Old sandstone could be covered with a range of old sealers and trapped dirt, so ultimately, it needs expert cleaning and sealing.
We have specialist scrubbing and rinsing equipment to eliminate the soil and old coatings, rejuvenating the original sandstone finish Then we use specialist sealers that will last for a long time not months. The specific restoration needed should be based on the health of your floor.
Granite Cleaning & Sealing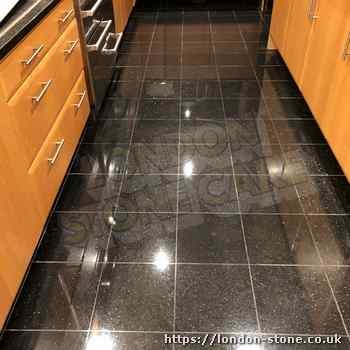 You are able to find granite in many domestic homes and buildings. Granite is a really hard-wearing flooring, perfect for heavy duty traffic areas. Granite tile requires less specialized service in comparison to other stone flooring.
As a result of the stone's hardness, granite requires specialist renovation. We offer a full range of granite restoration, cleaning polishing and sealing services. to the highest standard.
Terracotta Cleaning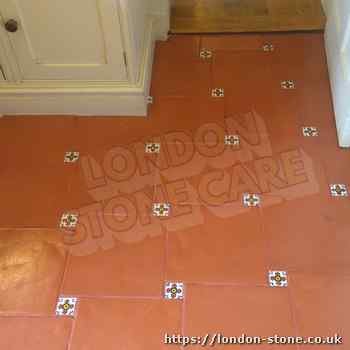 Terracotta does not have any glaze on the surface, so that it will soak up spills and soil extremely quickly.
Terracotta can easily begin to show surface marks, particularly where the current sealer has worn down.
Heavy-duty sealer removal treatments and cleaning solutions help in removing old coatings and soil, while also saving the appealing surface.
Whilst we are able to seal Terracotta with Linseed oil and wax, we advise a tough synthetic sealer which will work for years, with minimum maintenance.
Slate Cleaning & Sealing
Slate flooring is one of the most well known kinds of natural stone, since it requires less routine maintenance and mopping. Slate needs regular sealing to stop spills and soil marking the appearance.
We have specialist equipment and chemical treatments to get rid of the soil and old sealers, rejuvenating the initial slate finish. Then we apply hard wearing sealers.
If you like a smooth floor, we can grind the ground, subject into the slate being suited to grinding.
Victorian Tiles Cleaning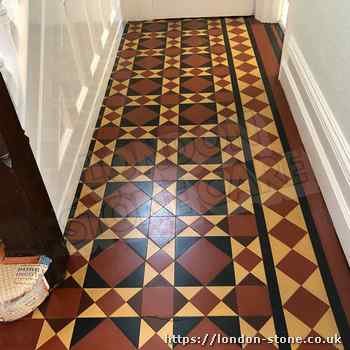 Many Victorian and Edwardian hallways may have floors made from Geometric Encaustic tiles.
The tiles are unglazed utilizing the the natural colours of the clay used in their manufacture.
Along with the variations in residential design, many of these floors get carpet underlay, lino, bitumen and different glue remains.
Cleaning these floors can be challenging owing to all of the old sealers and covering residues.
A colour intensifying sealer is used after cleaning, to restore the first colours into the tiles. Topical sealers and waxes will provide a floor a sheen or glossy finish.
Quarry Tiles Cleaning And Sealing
Quarry tile flooring is normally many years old and often needs a full professional clean and restoration to bring it back into life.
Whilst the tiles can take place dirt, these floors are incredibly durable and can look just like new after an effective clean.
A professional clean and reseal can be enough to restore a quarry tile floor. After cleaning, the tiles can be finished with a durable sealer.
Cleaning Of Porcelain Tiles Floors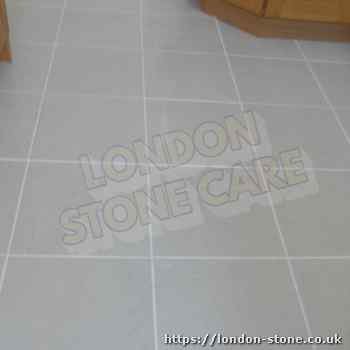 Porcelain is becoming an extremely fashionable alternative to standard ceramic tiles and natural stone.
The extra minerals makes Porcelain tougher than standard ceramic tiles.
There are some substandard porcelains that can absorb soil and spills similar to natural stone floors. This soil can be tough to remove.
We have the equipment and experience to remove this hard to reach soil.
After cleaning, we use specialist Porcelain sealers to avoid this problem.
Solid colour Porcelain Tiles can be ground and polished, just like Granite or Marble.
Cleaning Ceramic Tiles Floors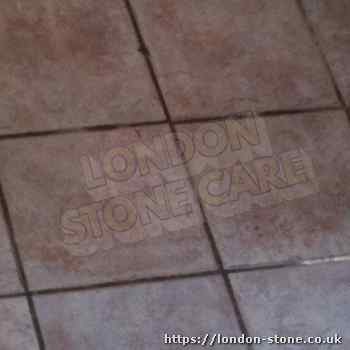 Professional cleaning of Ceramic tiles is generally quicker as compared to cleaning natural stone floors or clay tiles.
The glazed finish is easier to clean and restore.
Professional tile cleaning services will still bring better results.
Once your tile has been cleaned we will apply a tile sealer. Tile sealing will make mopping much easier and will help protect from spillages.
A Few Of The Stone Floor Restoration And Cleaning Services Our Technicians Provide
Sandstone tile cleaning is rarely just cleaning, there is certainly regularly more restoration required. Stone floor restoration covers a range of services. At the least, all stone floors suffer some sort of generic wear and tear. More often than not, soil, stains and traffic marks ruin floor's finish. Highly polished marble and granite floors show up wear quickly, as minute foot traffic scuff marks into the stone surface alter the luster and hold dirt. A surface sealer will not prevent porous tile and stone and tiles like Sandstone, Limestone and Terracotta gradually struggling with wear and spill problems. Most tile and stone flooring has cement grout. Cement grout is generally softer when compared with stone plus much more vulnerable to abrasive and chemical damage. Holes could possibly be filled and cracks repaired included in a restoration. Stone floor has got the appeal that a grubby, porous surface could be taken away, exposing a lovely new surface. Grinding and honing removes surface damage from etching and surface scratching.
Stone and tile sealing is a must to help keep an innovative new natural stone finish looking stunning. Stone sealers should always be placed on new natural stone and tile floors and right after any floor tile cleaning, stone polishing or tile restoration work. Impregnating or penetrating sealers are utilized following diamond floor polishing. Hybrid sealers or Surface sealers would be best put on coarse stone and tile or tiles.
The initial shine on a stone floor will gradually go dull. The loss in shine is due to foot traffic scratches and surface damage. The only method to replace the initial finish is by polishing the stone floor. On marble, Granite, Terrazzo, Polished Limestone and Polished Travertine floors, diamonds are used to remove the outer lining wear and recover the initial sparkle. The shine on Honed Travertine, Honed Limestone, Sandstone, Slate and Clay tiles is made by making use of a higher gloss sealer. Sealer removing products are applied to take away all traces regarding the existing sealer, after which a brand new gloss sealer is applied.
Are there unsightly chips on your own stone and tile floor?
There is no need to change the natural stone. Coloured resin fillers can fill chips and damage on a tile. Once the resin cures, this has to be sanded and polished. Chip repairs are less expensive than laying new tiles.
Contact the Industry Professionals for Natural Stone Repairs London - Call the Specialists.
Repairing Cracked Tiles
A slight movement inside the subfloor is going to make a crack in a marble tile. Cracks are often present in doorways as well as in between rooms. Also, a crack can appear because of a deficiency or weak spot inside the tile. Crack repaircosts never as much as replacing the tile.
For those who have got a deep crack in your floor, vanity unit, tabletop or counter top, these are typically filled up with coloured epoxy fillers. Hairline cracks are too fine to just accept a filler and so they need to be widened with diamond tools before they are filled.
Other areas near Notting Hill we work in include:
Notting HillHelpful Information
Notting Hill is an affluent district of West London, England, in the Royal Borough of Kensington and Chelsea. Notting Hill is known for being a cosmopolitan and multicultural neighbourhood, hosting the annual Notting Hill Carnival and Portobello Road Market. From around 1870, Notting Hill had an association with artists. For much of the 20th century, the large houses were subdivided into multi-occupancy rentals. Caribbean immigrants were drawn to the area in the 1950s, partly because of the cheap rents, but were exploited by slum landlords like Peter Rachman and also became the target of white Teddy Boys in the 1958 Notting Hill race riots. Then known for its slum housing, in the early 21st century, after decades of gentrification, Notting Hill has a reputation as an affluent and fashionable area, known for attractive terraces of large Victorian townhouses and high-end shopping and restaurants particularly around Westbourne Grove and Clarendon Cross. A Daily Telegraph article in 2004 used the phrase €œthe Notting Hill Set€ to refer to a group of emerging Conservative politicians, such as David Cameron and George Osborne, who would become respectively Prime Minister and Chancellor of the Exchequer and were once based in Notting Hill. North Kensington is also home to the Grenfell Tower, which burnt down in 2017.