Stone Floor Cleaning Potters Bar
Experience Incredible Stone Floor Cleaning Potters Bar.
Inform Us About The Floor
Some photos showing the floors plus the sizes are usually all we want.
Once we have defined your requirements we shall email an extensive written quotation.
You Can Expect To Get A Quick Reply
Stone floors can frequently have a range of finishes, therefore we may include alternatives to match most budgets.
We will also e-mail a document featuring photos of matching work.
We get there promptly and prepared for work.
We shall do an unforgettable job
Why You Really Should Choose London Stone Care
Our professionals are quailfied to help you with every aspect from a straightforward clean and polish, or tailor-made stone floor cleaning Potters Bar projects.
An unwavering focus on the needs of customers, providing top-notch natural stone cleaning, repair, and restoration work with competitive charges.
Fill in our simple contact form for a totally free natural stone restoration quotation.
Specialized cleaning and maintenance assistance
After restoring stone floors to a lovely finish, we provide a maintenance program, so floors stay attractive for years instead of weeks.
Contact Us Now!
Get your stone for cleaning quote today.
Our Specialised Stone Floor Cleaning Services In Potters Bar Outlined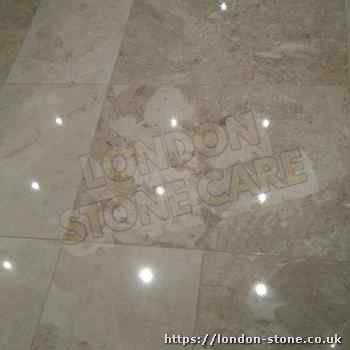 Over time, Marble will be matt and loose its polish. This surface damage is caused by traffic scratches and etch marks Marble Polishing is the only way to restore the finish.
Diamonds are used to take away the marks and scratches and recover the original gloss.
If the tiles are not really, perfectly even this condition is referred to as "lippage". A marble floor is leveled by grinding off the lippage and jagged tile edges. Grinding marble floors really should only be done by experts.
Following grinding, the marble and grout are at exactly the same level. The floor will look like a single piece of stone.
An even marble surface is much easier to keep up. There will be no uneven grout lines to trap soil. Marble floor restoration typically features some crack and chip repairs, using marble fillers. After we have inspected the floor, we can advise the very best marble restoration service.
Travertine Floors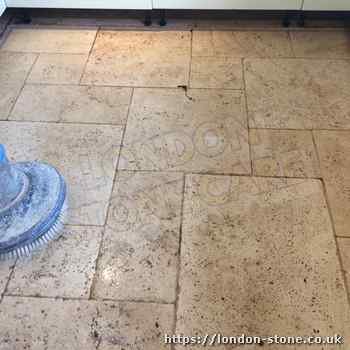 A Travertine floor is a type of Limestone. Travertine floor tiles come in many different finishes, smooth honed, tumbled and polished. The original hole filler often falls away, permitting the holes to fill with dirt, soil and mopping water.
Working to the highest standard, Travertine floor cleaning and restoration professionals use industrial-grade sealer removers and rotary scrubbing machines to remove the coatings of old sealers and ingrained soil.
When the Travertine floor tiles and the holes are cleaned, any open holes are grouted using a coloured grout. We then put on a durable sealer that also makes the Travertine floormuch simpler to look after.
Limestone Floor Restoration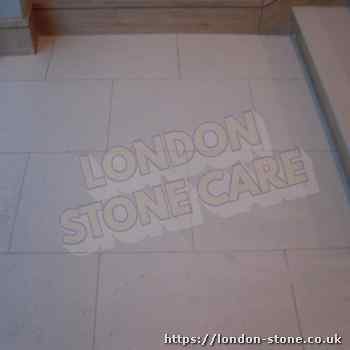 Eventually a Limestone floor will loose its original appearance. The dull appearance is brought on by microscopic marks on the surface where it is often walked on. Gradually, your Limestone will need to be repolished. We use diamond polishing machines to restore the original surface.
In the event that tiles are not really, perfectly even this problem is referred to as "lippage". A Limestone tile floor is smoothed by grinding off the lippage and jagged edges of the tiles. Limestone tile grinding is an expert procedure, giving fantastic results. The Limestone floor looks "monolithic", appearing to be manufactured from just one slab of Limestone.
Following grinding, the Limestone will be the same level the grout lines. It is much simpler to mop a smooth, sleek floor than a bumpy floor. Also, soil doesn't get stuck into the grout lines. Chips and cracks can be repaired with coloured resin repair fillers. We will advise the right restoration service.
Terrazzo Restoration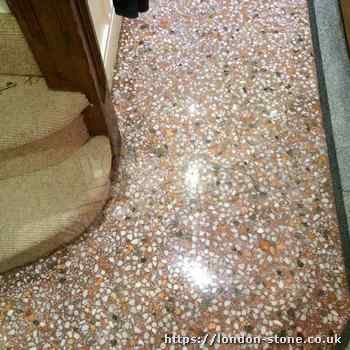 Terrazzo is created by mixing chips produced from marble, granite, quartz, or glass chips into a cement or epoxy medium . The initial finish on a Terrazzo floor will steadily go dull. The change in appearance is caused by microscopic scratches on the surface where it was walked over.
The best way to revive the initial finish is by polishing the Terrazzo to the highest standard. We use diamond polishing machinery to re-surface the Terrazzo and restore the initial finish. Our Terrazzo sealers will help minimize further soil issues.
Sandstone Floor Cleaning & Sealing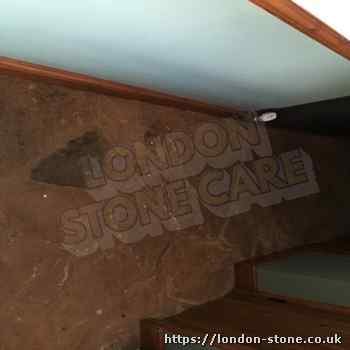 Sandstone floor tiles are available a number of different shades of brown, red, yellow and cream. Old sandstone could be covered with a number of old sealers and trapped dirt, so ultimately, it really needs expert cleaning and sealing.
There is dedicated scrubbing and rinsing machinery to remove the soil and old coatings, rejuvenating the initial sandstone surface We then apply a long-lasting sealer that makes your floor more straightforward to clean. We shall advise the right restoration service.
Granite Restoration
Granite is a favorite tile flooring for commercial and domestic installations. Granite is incredibly hard.Granite is typically chosen for the product's hard wearing attributes. The surface on a granite floor lasts longer than other stones.
Due to its hardness, granite really needs professional restoration. We offer a complete range of granite cleaning, polishing, restoration and sealing services. to the highest standard.
Terracotta Restoration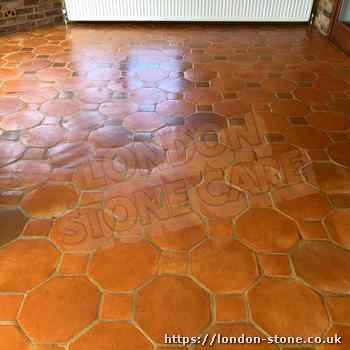 Terracotta is made of natural clay and has been used throughout history for roof tiles, sculptures, bricks and floor tiles.
Conventional Terracotta sealers should have regular upkeep and re-sealing, if they are not looked after, the finish will quickly get soiled and become porous.
Cleaning terracotta tiles commences with getting rid of the old polish, sealers and embedded dirt with industrial-grade coating removers and cleaning chemicals.
We use a resilient sealer for terracotta, and that means you get the maximum benefit and value from your cleaning.
Slate Floors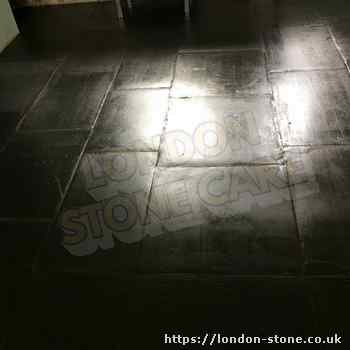 Slate flooring is just one of the most popular types of natural stone, as it requires less routine maintenance and mopping. We have been commonly called to restore slate when it suffers form layers of old sealer with ingrained dirt, so that the appearance appears worn and dirty.
We use specialist sealer removal treatments and rotary scrubbing machines to get rid of the layers of old sealer. After the professional cleaning is complete,finally we use a long-lasting sealer that will make a floor easier to look after.
If you want a smooth finish, we are able to grind the tiles, but we must gauge the slate before grinding.
Victorian Tiles Floor Cleaning
Period Geometric or Encaustic floor tiles are found in Victorian and Edwardian hallways.
Victorian tiles are made from natural clay with a natural matt finish.
Quite a lot of these floors were sealed and then covered up with carpet and lino.
The primary challenges with victorian floor tiles is removing years of polished, oils, dirt, waxes and grime whilst not harming the floor.
A colour intensifying sealer is used following cleaning, to replace the first colours when you look at the tiles. The mat finish may be polished through the use of a wax or topical sealer.
Quarry Tiles Cleaning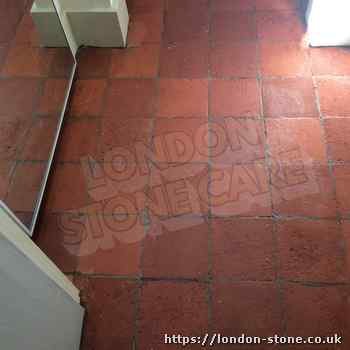 Quarry tiles have been a common fixture in kitchen areas and for indoor flooring for decades.
Surface damage like scratches along with other abrasions may appear in the event that tiles haven't been properly sealed or perhaps the seal has worn out.
A specialist clean and reseal is usually just enough to restore a quarry tile floor. After cleaning, the tiles can be finished with a long-lasting sealer.
Cleaning Of Porcelain Floors.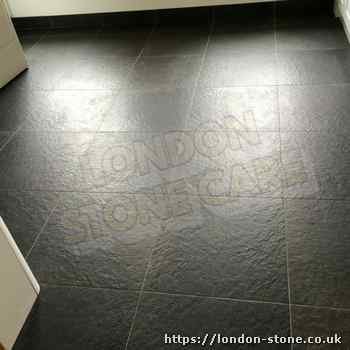 Porcelain has started to become an extremely fashionable option to standard ceramic tiles and natural stone.
This makes Porcelain more stain resistant and easier to maintain than standard ceramic tiles.
If Porcelain isn't correctly processed, the surface can be absorbent similar to natural stone floors. The tiny surface pits make it difficult to remove this soil.
We possess the equipment and experience to eliminate this hard to reach soil.
After cleaning, we apply specific Porcelain sealers to prevent this problem.
Solid colour Porcelain Tiles could be ground and polished, the same as Granite or Marble.
Cleaning Ceramic Tile Floors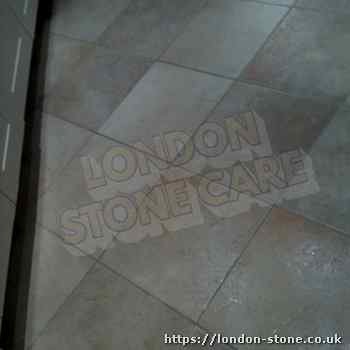 Professional cleaning of Ceramic floor tiles often takes a shorter time in comparison to natural stone floors or clay tiles..
The polish on Ceramic tiles is not porous.
However, professional cleaning, specialized cleaning solutions and equipment will provide the very best results.
A professional sealer is applied after the cleaning. Ceramic tile sealing helps to make mopping much simpler and helps to protect from spills.
A Number Of The Stone And Tile Restoration And Cleaning Options We Give
Stone floor cleaning is rarely just cleaning, there is certainly regularly more restoration required. Stone floor restoration covers a range of services. At least, all stone floors suffer some sort of generic wear and tear. In most cases, soil, stains and traffic marks ruin floor's finish. Highly polished marble and granite floors show up wear quickly, as minute foot traffic scuff marks in the stone surface alter the luster and hold dirt. A surface sealer does not prevent porous natural stone and tiles like Sandstone, Limestone and Terracotta gradually struggling with wear and spill problems. Most tile and stone flooring has cement grout. Cement grout is usually softer compared to stone and more in danger of abrasive and chemical damage. Holes could be filled and cracks repaired included in a restoration. Stone and tile gets the appeal that a grubby, porous surface may be taken away, exposing an attractive new surface. Grinding and honing removes surface damage from etching and surface scratching.
Stone and tile sealing is vital to help keep a brand new tile and stone finish looking stunning. Stone sealers should always be put on new tile and stone and tile floors and just after any floor tile cleaning, stone polishing or tile restoration work. Impregnating or penetrating sealers are utilized following diamond floor polishing. Hybrid sealers or Surface sealers are best put on coarse natural stone or tiles.
The original shine on a sandstone floor will gradually go dull. The loss in shine is due to foot traffic scratches and surface damage. The only method to replace the initial finish is by polishing the stone and tile. On marble, Granite, Terrazzo, Polished Limestone and Polished Travertine floors, diamonds are used to get rid of the surface wear and recover the initial sparkle. The shine on Honed Travertine, Honed Limestone, Sandstone, Slate and Clay tiles is created by applying a high gloss sealer. Sealer removing items are applied to take away all traces regarding the existing sealer, and then a fresh gloss sealer is applied.
Is there unsightly chips in your stone and tile floor?
You don't have to improve the natural stone. Coloured resin fillers can fill chips and damage on a tile. After the resin cures, this has to be sanded and polished. Chip repairs are less costly than laying new tiles.
Contact the Industry Professionals for Natural Stone Repairs London - Call the Specialists.
Repairing Cracked Tiles
A small movement in the subfloor will make a crack in a marble tile. Cracks are often present in doorways as well as in between rooms. Also, a crack can appear because of a deficiency or weak spot in the tile. Crack repaircosts never as much as replacing the tile.
If you have got a deep crack in your floor, vanity unit, tabletop or counter top, they truly are filled with coloured epoxy fillers. Hairline cracks are too fine to just accept a filler and they also need to be widened with diamond tools before these are generally filled.
Other areas near Potters Bar we cover include:
Potters BarHelpful Information
Discover the hidden gem of Hertfordshire - Potters Bar. This charming town is a fusion of old-world charm and modern conveniences, making it the perfect place to call home.
Nestled in the heart of Hertfordshire, Potters Bar is a commuter's dream with easy access to London and other major cities. But don't let the proximity to the city fool you - Potters Bar has its own unique character that sets it apart from the rest.Explore the town's rich history with a visit to the Potters Bar Museum, where you can learn about the town's past and see artifacts from times gone by. Or take a stroll through the picturesque Oakmere Park, where you can relax and enjoy the tranquil surroundings.But Potters Bar isn't just about history and nature - it's also a hub for shopping and dining. The town boasts a variety of independent shops, as well as popular high street brands. And when it comes to dining, you'll be spoilt for choice with a range of restaurants and cafes serving up delicious cuisine from around the world.Potters Bar is also a great place to raise a family, with excellent schools and plenty of green spaces for children to play. The town has a strong sense of community, with regular events and activities bringing people together.And for those looking for a bit of excitement, Potters Bar has its own ice rink and leisure centre, offering a range of activities for all ages.In short, Potters Bar is the perfect blend of history, nature, convenience, and community. It's a town that truly has it all, and once you experience it for yourself, you'll never want to leave.