Stone Floor Cleaning Belgravia
See Wonderful Stone Floor Cleaning Belgravia.
Send Us Details About Your Floor
Some photos showing the floors and the sizes are usually all we need.
After we have defined your needs we will email a comprehensive written quote.
We Shall Contact You Promptly
Stone floors can frequently have a number of finishes, therefore we may include alternatives to match most budgets.
Our quotation will be supported with a document featuring examples of comparable work.
We show up organized for work as well as on time.
As we are done with you'll be happy
Exactly Why You Should Contact London Stone Care
Our industry experts can handle any sort of stone floor cleaning Belgravia or restoration job that you may require for your home.
Stone Restoration is a specialist skill that we have honed over many years.
Enjoy a free assessment, to restore your marble, grout and stone and tile to its original beauty.
Free of charge stone cleaning and maintenance advice
After restoring tile and stone floors to a gorgeous finish, we leave a maintenance program, so stone floors will stay attractive for years instead of months.
Contact Us Now!
Book a quotation for your stone floor cleaning
A Brief Description Of Our Expert Stone Floor Cleaning Services In Belgravia
As time passes, Marble will end up worn and loose its appearance. This damage to the surface is caused by foot traffic scores and surface etching Marble Polishing is the best way to restore the original polish.
We use industrial diamond polishing to grind and polish a floor and rejuvenate the polish.
In the event that tiles are not really, even this problem is referred to as "lippage". A marble tile floor should be leveled by grinding off the lippage and irregular edges of the tiles. It is a complicated process however the results are stunning.
Following grinding, the marble tiles will sit at the same level the grout. The marble floor will get the look of being an individual area of stone.
It is incredibly easier to maintain a smooth, sleek marble than an irregular floor. A smooth floor won't have grout lines to retain dirt. Chips and cracks can be repaired with coloured resin fillers. After assessing the marble floor, we can advise the best marble restoration process.
Travertine Polishing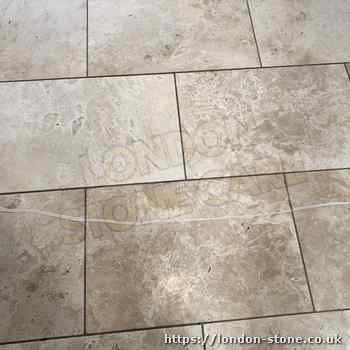 A Travertine floor is unique with a honeycomb structure, with lots of holes. Travertine floor tiles come in a range of finishes, smooth honed, polished and tumbled. With time, the initial hole filler falls away, then the holes get filled with dreadful soil.
Working to the highest standard, Travertine floor cleaning and restoration professionals have specialist sealer removers and rotary scrubbing machinery to get rid of the layers of old sealers and embedded soil.
After cleaning, any open holes in the Travertine floor could be filled with colour matched grout. We then use a durable sealer that also makes the Travertine floora lot easier to clean.
Limestone Floors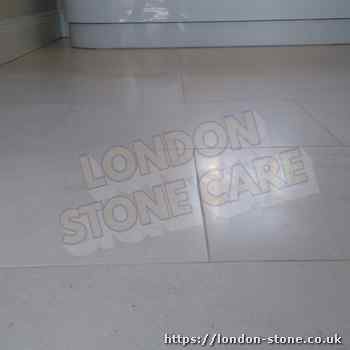 Over time Limestone tiles will loose the initial finish. The dullness is caused by microscopic scratching on the surface where it has been walked on. Sooner or later, the tiles will have to be repolished. We use industrial diamonds to get rid of the damage and bring back the initial appearance.
In the event that tiles are not really, even this problem is referred to as "lippage". We can grind away the irregular edges of the tiles, making the tile surface perfectly flat. You must have specialist equipment and years of experience to grind and hone a Limestone tile floor, nevertheless the result is magnificent. The Limestone floor looks monolithic, appearing to be produced from a single area of stone.
After grinding, the tiles and grout are at exactly the same level. It is much simpler to mop a smooth Limestone than a bumpy floor. A smooth surface Limestone floor doesn't have grout lines to capture dirt. Limestone floor restoration typically features a few crack and chip repairs, using Limestone fillers. Once we inspect your Limestone floor, we will suggest on the optimum Limestone restoration service.
Terrazzo Floor Polishing
Terrazzo is created by mixing chips made from marble, granite, quartz, or glass chips into a cement or epoxy medium . Sooner or later, Terrazzo will lose the original finish. Scratches and etching builds up and remove the initial appearance.
Terrazzo Polishing is definitely the only way to revive finish to the highest standard. We use diamond polishingequipment to bring back the initial Terrazzo shine. Our Terrazzo sealers can help stop further soil issues.
Sandstone Restoration
Sandstone floor tiles are available in several different shades of brown, red, yellow and cream. Whilst sandstone is sturdy it is also porous, so cleaning slurry gets stuck within the surface and it is hard to remove.
We use specialist sealer removers, rotary scrubbing equipment and pressurised rinsing to remove the layers of old sealer We then apply a long-lasting sealer that makes your sandstone floor easier to clean. We shall advise the appropriate restoration service.
Granite Restoration
You are able to find granite in a lot of homes and buildings. Granite is a tremendously hard wearing tile, ideal for heavy-duty traffic areas. A finish on a granite floor lasts much longer than other natural stones.
Granite is so hard, that lots of companies don't have the gear or experience to restore granite floors. We have the experience and equipment to revive granite floors. to the highest standard.
Terracotta Floor Cleaning And Sealing
Terracotta offers a unique colour and a rustic appearance in the home, but really needs careful maintenance in order to keep it looking its best.
Aggressive chemical substances such as conventional floor cleaners and bathroom tile cleaners could damage and mark Terracotta.
Commercial grade sealer removers and cleaners help to remove old sealers and soil, while at the same time conserving the appealing surface.
We use a long lasting sealer for terracotta, so you get the most value from your own cleaning.
Slate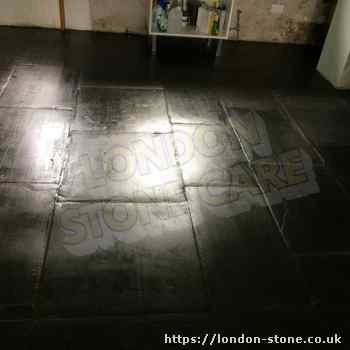 Slate flooring is among the most popular forms of natural stone, since it requires less routine maintenance and cleaning. We are mostly called to restore slate when it suffers form layers of old coating with ingrained dirt, so that the surface looks worn and dirty.
We use rotary scrubbing equipments and sealer removers clean the slate. After our professional cleaning is completed, use specialist sealers that will last for a long time not just months.
If you've got an appropriate slate, it may be ground smooth, making it better to clean.
Victorian Tiles Floor Restoration
Victorian Clay Tiles are found in a lot of Victorian and Edwardian hallways.
The main qualities of Victorian tiles are the natural clay colours and a matt finish.
A lot of these floors have been sealed and then covered up with carpet or lino.
Owing to their age, these floors might have a range of coating residues, that need expert cleaning
After cleaning, the initial colours of the floor tiles can appear washed-out, therefore we apply a colour intensifying impregnating sealer to bring back the original depth of colour. If you prefer a sheen or gloss finish a topical sealer or wax can be applied.
Quarry Tiles Floor Restoration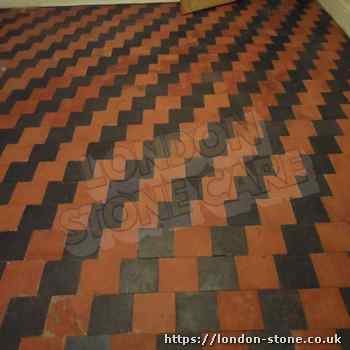 Quarry tiles were a typical fixture in cooking areas and for indoor flooring for decades.
One universal problem is existing films of sealer that should be taken off.
As the tiles may seem soiled and discoloured, the tiles are remarkably tough and could look as good as new after an effective clean. If the tiles are laid on sand, ash or lime, use sealers that enable the free transfer of moisture.
Porcelain Tiles Cleaning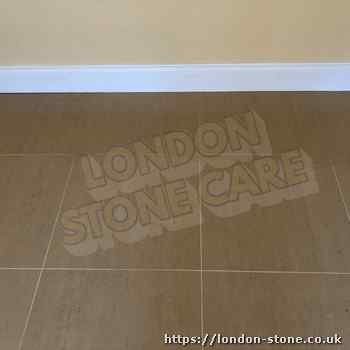 Porcelain is classified as a ceramic, but created with alternative materials to conventional ceramic tiles.
This makes Porcelain much more resistant to stains and simpler to maintain than standard ceramic tiles.
If the blend of ceramic isn't correct, the surface of the tiles can be porous. similar to natural stone floors. It could be difficult to remove this soil.
We can remove ingrained soil using equipment built to go into the microscopic pits where the soil is held.
After cleaning, we use specific Porcelain sealers to stop this problem.
Solid color Porcelain may be ground and restored just like Granite or Marble.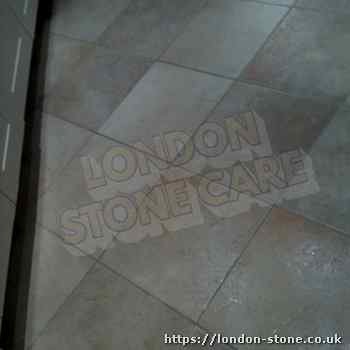 Professional cleaning of Ceramic floor tiles is generally a bit less involved as compared to stone floors cleaning and restoration..
This glazed finishing hastens restoration.
Specialist stone and tile cleaning and restoration services will still give a better finish.
Immediately after cleaning and restoration we apply a specialist sealer. Ceramic tile sealing helps to make mopping much easier and helps to protect against spills.
Some Of The Stone Floor Cleaning Services Our Specialists Give
Sandstone tile cleaning is rarely just cleaning, there exists regularly more restoration required. Natural stone restoration covers a variety of services. At the very least, all stone floors suffer some form of generic wear and tear. In most cases, soil, stains and traffic marks ruin floor's finish. Highly polished marble and granite floors show up wear quickly, as minute foot traffic scuff marks within the stone surface affect the luster and hold dirt. A surface sealer does not prevent porous stone floor and tiles like Sandstone, Limestone and Terracotta gradually struggling with wear and spill problems. Most natural stone flooring has cement grout. Cement grout is generally softer compared to stone and more vulnerable to abrasive and chemical damage. Holes could be filled and cracks repaired included in a restoration. Stone and tile gets the appeal that a grubby, porous surface may be taken away, exposing a lovely new surface. Grinding and honing removes surface damage from etching and surface scratching.
Stone floor sealing is crucial to keep a new stone and tile finish looking stunning. Stone sealers ought to be placed on new stone and tile and tile floors and just after any floor tile cleaning, stone polishing or tile restoration work. Impregnating or penetrating sealers are employed following diamond floor polishing. Hybrid sealers or Surface sealers would be best applied to coarse natural stone or tiles.
The initial shine on a stone and tile will gradually go dull. The loss in shine is attributable to foot traffic scratches and surface damage. The only way to replace the initial finish is through polishing the stone and tile. On marble, Granite, Terrazzo, Polished Limestone and Polished Travertine floors, diamonds can be used to remove the surface wear and recover the first sparkle. The shine on Honed Travertine, Honed Limestone, Sandstone, Slate and Clay tiles is done by making use of a higher gloss sealer. Sealer removing items are applied to take away all traces of this existing sealer, and then an innovative new gloss sealer is applied.
Is there unsightly chips on your stone floor floor?
You do not have to change the tile and. Coloured resin fillers can fill chips and damage on a tile. After the resin cures, this has to be sanded and polished. Chip repairs are less expensive than laying new tiles.
Contact the Industry Professionals for Natural Stone Repairs London - Call the Specialists.
Repairing Cracked Tiles
A small movement within the subfloor will likely make a crack in a marble tile. Cracks in many cases are contained in doorways plus in between rooms. Also, a crack can appear due to a deficiency or weak spot inside the tile. Crack repaircosts never as much as replacing the tile.
If you have got a deep crack in your floor, vanity unit, tabletop or counter top, they are filled with coloured epoxy fillers. Hairline cracks are too fine to just accept a filler and so they need to be widened with diamond tools before these are generally filled.
Other areas near Belgravia we cover include:
BelgraviaHelpful Information
Belgravia is an affluent district in Central London, covering parts of the areas of both the City of Westminster and the Royal Borough of Kensington and Chelsea. Belgravia was known as the Five Fields during the Tudor Period, and became a dangerous place due to highwaymen and robberies. It was developed in the early 19th century by Richard Grosvenor, 2nd Marquess of Westminster under the direction of Thomas Cubitt, focusing on numerous grand terraces centred on Belgrave Square and Eaton Square. Much of Belgravia, known as the Grosvenor Estate, is still owned by a family property company, the Duke of Westminster Grosvenor Group, although owing to the Leasehold Reform Act 1967, the estate has been forced to sell many freeholds to its former tenants.