Stone Floor Cleaning Covent Garden
Presenting The Best Possible Stone Floor Cleaning Covent Garden.
More often than not the dimensions and type of stone, plus a number of photos detailing the condition of the floors is all we need.
Once we have defined your needs we will email a comprehensive written quotation.
Quite often we will offer alternative finishes to suit most budgets.
We will also send a document featuring instances of similar work.
We get there on time.
As we are done with you're going to be happy
Exactly Why You Can Count On Us
We give you comprehensive stone floor cleaning Covent Garden service for the luxurious stones that help to make a house a dream home.
Competitive charges tailor-made to make stone floor cleaning budget friendly on virtually any budget.
Fill in our simple contact page for a totally free stone floor restoration quote.
Stone cleaning and maintenance advice from the professionals
After restoring a tile and stone floor, we share a comprehensive ongoing maintenance program.
Contact Us Now!
Your very own stone floor cleaning Covent Garden quote is merely a click away.
Our Specialist Stone Floor Cleaning And Restoration Services In Covent Garden Revealed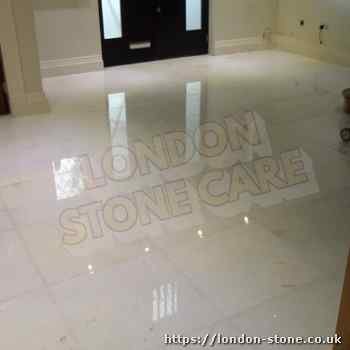 Steadily marble tiles will lose its original polish. The dull appearance is due to microscopic marks on the surface where it is often walked over. Marble Polishing is the best way to restore the original finish.
We use diamonds to remove the damage and rebuild the original gloss.
If the tiles are not really, perfectly even this condition is called "lippage". We can grind off the jagged tile edges, making a floor surface flat. That is an involved process nevertheless the results are beautiful.
Following grinding, the grout sits will be level with the marble tiles. The marble floor will have the appearance of being a single slab of stone.
It is incredibly easier to maintain a smooth, sleek marble than a bumpy floor. Also, soil does not get stuck in the grout lines. Holes, chips and crack repairs are often part of the restoration service. Once we have assessed your floor, we will suggest he optimum marble restoration service.
Travertine Floor Polishing
Much of Travertine in the UK has a honeycomb framework with a great deal of holes. Travertine floor tilescan be supplied in a number of finishes, including tumbled, honed and polished. As the travertine wears, the hole filler falls out, and the holes fill with unattractive soil, dirt and mopping water.
Working to the highest standard, Travertine floor restoration Companies have use a variety of machine scrubbing, hand scrubbing and pressurised rinsing to eliminate old sealers and ingrained soil.
After cleaning, the Travertine floor is often grouted to refill any exposed holes. We then use a long lasting sealer that also makes the Travertine floormuch easier to look after.
Limestone Floor Cleaning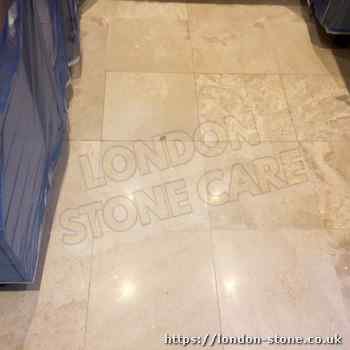 The initial polish on a Limestone floor will slowly dull. Scratching and etch marks pile-up and dull the original shine. Ultimately, your floor will have to be repolished. We use industrial diamonds to get rid of the marks and scratches and bring back the initial finish.
The majority of Limestone floors are not even due to the fact tiles are not installed level. The only way to make a Limestone floor perfectly flat is by grinding off the lippage and irregular edges of the tiles. This really is an involved process nevertheless the the finished results are breathtaking. The floor will look like a single piece of stone.
Following grinding, the grout sits will be level with the Limestone tiles. It is a lot easier to maintain a smooth, sleek Limestone than a jagged floor. There are no grout lines to trap dirt. If your Limestone floor has cracks and chips, we could repair the damage with resin fillers, closely colour matched with the Limestone. We can advise the right Limestone restoration service.
Terrazzo Restoration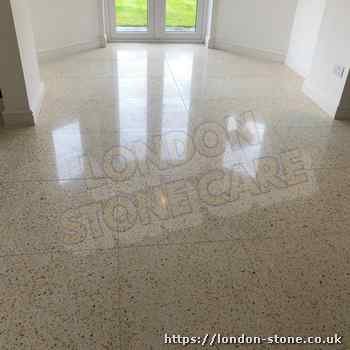 Terrazzo is made of natural stone chips set in a cement or epoxy medium which is either poured on location or precast as tiles. Ultimately a Terrazzo floor will loose the initial finish. The surface damage is caused by wear scratches and surface damage.
The only way to revive the original finish is through polishing the Terrazzo to the highest standard. Diamonds take away the surface damage and restore the initial Terrazzo shine. Once the Terrazzo is cleaned and polished, we are able apply a sealer which shields against day-to-day spillages.
Sandstone Cleaning And Sealing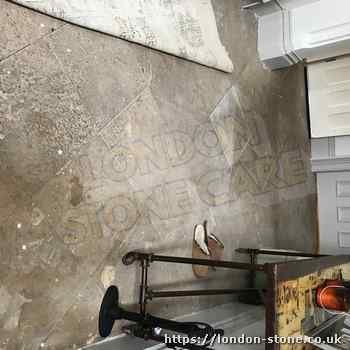 Sandstone is created mostly from quartz, iron oxide, silica and calcium based deposits that makes it a very long-lasting stone. Old sandstone can be covered with a number of old sealers and trapped soil, so preferably, it will need expert cleaning and re-sealing.
Professionals use rotary brushing equipment, sealer removers and pressurised rinsing to clean the sandstone Once the sandstone is clean, we allow it to dry, then apply a long-lasting, easy to clean sealer. Once we examine your floor, we are able to advise you on the best restoration process.
Granite Restoration
Granite is a tremendously popular stone flooring. Granite is a very hard flooring, perfect for heavy-duty traffic areas. Granite resists wear longer when compared to other stone, like marble or limestone.
Because of the stone's hardness, granite requires expert restoration. We offer the full range of Granite cleaning and restoration services. to the highest standard.
Terracotta Floor Cleaning
Terracotta is made from natural clay and historically has been used for roof tiles, sculptures, bricks and floor tiles.
Abrasive cleaning chemicals like conventional floor cleaning solutions and bathroom tile cleaners can easily mark and damage Terracotta.
In spite of its vulnerabilities, Terracotta could be restored back into a great finish.
We can seal the Terracotta with an original beeswax finish or a durable synthetic sealer.
Slate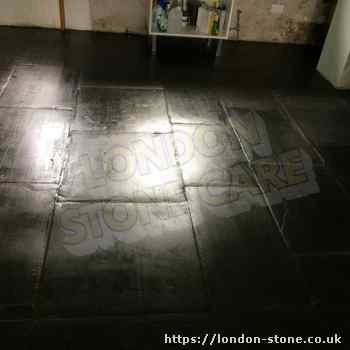 Slate flooring is just one of the most popular forms of natural stone, since it requires less maintenance and mopping. Slate floors need regular sealing to avoid spills and soil marking the finish.
We use a mixture of machine scrubbing and hand scrubbing to get rid of all traces of previous dirty sealers and clean the slate. Then we put on hard-wearing sealers.
If you like a smooth finish, we could grind the floor, but we need to assess the slate before grinding.
Victorian Tiles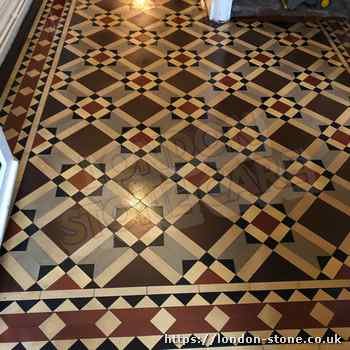 Period Geometric or Encaustic floor tiles are installed in Victorian and Edwardian hallways.
The tiles are unglazed resulting from the natural colours from the clay used to make them.
Because of their age, these floors have had plenty of wear and can have layers of various sealers.
Cleaning these floors can be challenging owing to the variety of old sealers and residues.
After cleaning, the original colours in the floor tiles can appear dull, therefore we use a colour intensifying sealer to revive the original . A topical sealer or wax finish will give the floor tiles with a sheen finish.
Quarry Tiles Cleaning
Quarry tile floors were once a major feature in terraces and farmhouses in the country, but some of those floors have fallen into various states of repair.
One universal problem is old layers of sealer that need to be removed.
Professional cleaning can remove the many years of grime and older coatings, exposing a beautiful floor. Quarry tiles in many cases are laid without a damp proof membrane layer, so we need to apply the right sealer to allow the tiles to breathe.
Cleaning Of Porcelain Tiles Floors
Porcelain is classed as a ceramic, but created with different materials than traditional glazed tiles.
The additional minerals helps make Porcelain much stronger than traditional ceramic tiles.
If the blend of ceramic isn't right, the top of tiles could be porous. similar to natural stone floors. If you've got a substandard Porcelain, surface soil may be hard to remove.
You need specialist equipment and cleaning solutions to eliminate this soil.
We will help stop this soil using Porcelain sealers.
Solid colour Porcelain Tiles can be ground and polished, just like Granite or Marble.
Cleaning Of Ceramic Floors.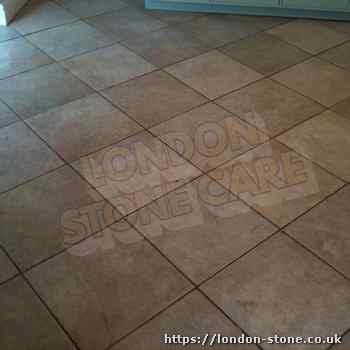 Professional cleaning of Ceramic tiles is normally a bit less complicated compared with stone floors cleaning and restoration..
Ingrained soil and dirt are often on top of the ceramic tile.
Yet, specialist stone and tile cleaning and restoration will certainly give your floor a better finish.
Immediately after cleaning and restoration we apply a specialist sealer. A sealed tile is simpler to keep clean and a sealer helps reduce stains.
A Number Of The Stone And Tile Restoration Treatments We Deliver
Sandstone tile cleaning is rarely just cleaning, there exists regularly more restoration required. Sandstone floor restoration covers many different services. At the least, all stone floors suffer some sort of generic wear and tear. In most cases, soil, stains and traffic marks ruin floor's finish. Highly polished marble and granite floors show up wear quickly, as minute foot traffic scuff marks into the stone surface alter the luster and hold dirt. A surface sealer will not prevent porous stone and tile and tiles like Sandstone, Limestone and Terracotta gradually struggling with wear and spill problems. Most stone floor flooring has cement grout. Cement grout is normally softer when compared with stone and a lot more at risk of abrasive and chemical damage. Holes could be filled and cracks repaired included in a restoration. Stone and tile contains the appeal that a grubby, porous surface may be taken away, exposing a pleasant new surface. Grinding and honing removes surface damage from etching and surface scratching.
Tile and stone sealing is essential to help keep a brand new stone floor finish looking stunning. Stone sealers ought to be placed on new tile and stone and tile floors and just after any floor tile cleaning, stone polishing or tile restoration work. Impregnating or penetrating sealers are employed following diamond floor polishing. Hybrid sealers or Surface sealers would be best placed on coarse tile and stone or tiles.
The original shine on a stone and tile will gradually go dull. The loss in shine is due to foot traffic scratches and surface damage. The only method to replace the first finish is through polishing the stone floor. On marble, Granite, Terrazzo, Polished Limestone and Polished Travertine floors, diamonds can be used to eliminate the area wear and recover the first sparkle. The shine on Honed Travertine, Honed Limestone, Sandstone, Slate and Clay tiles is made through the use of a higher gloss sealer. Sealer removing items are applied to take away all traces associated with the existing sealer, and then a fresh gloss sealer is applied.
Are there unsightly chips on the stone and tile floor?
There is no need to alter the natural stone. Coloured resin fillers can fill chips and damage on a tile. Once the resin cures, this has to be sanded and polished. Chip repairs are less expensive than laying new tiles.
Contact the Industry Professionals for Natural Stone Repairs London - Call the Specialists.
Repairing Cracked Tiles
A slight movement inside the subfloor could make a crack in a marble tile. Cracks in many cases are present in doorways and in between rooms. Also, a crack can appear because of a deficiency or weak spot inside the tile. Crack repaircosts never as much as replacing the tile.
When you have got a deep crack in your floor, vanity unit, tabletop or counter top, they've been filled with coloured epoxy fillers. Hairline cracks are way too fine to simply accept a filler and they also should be widened with diamond tools before they truly are filled.
Other areas near Covent Garden we help include:
Covent GardenHelpful Information
Covent Garden is a district in London, on the eastern fringes of the West End, between St Martin Lane and Drury Lane. It is associated with the former fruit-and-vegetable market in the central square, now a popular shopping and tourist site, and with the Royal Opera House, itself known as €œCovent Garden€. The district is divided by the main thoroughfare of Long Acre, north of which is given over to independent shops centred on Neal Yard and Seven Dials, while the south contains the central square with its street performers and most of the historical buildings, theatres and entertainment facilities, including the London Transport Museum and the Theatre Royal, Drury Lane. The area was fields until briefly settled in the 7th century when it became the heart of the Anglo-Saxon trading town of Lundenwic, then abandoned at the end of the 9th century after which it returned to fields. By 1200 part of it had been walled off by the Abbot of Westminster Abbey for use as arable land and orchards, later referred to as €œthe garden of the Abbey and Convent€, and later €œthe Convent Garden€. Following the Dissolution of the Monasteries it was granted in 1552 by the young King Edward VI to John Russell, 1st Earl of Bedford c.1485€"1555, the trusted adviser to his father King Henry VIII. The 4th Earl commissioned Inigo Jones to build some fine houses to attract wealthy tenants. Jones designed the Italianate arcaded square along with the church of St Paul. The design of the square was new to London and had a significant influence on modern town planning, acting as the prototype for new estates as London grew. By 1654 a small open-air fruit-and-vegetable market had developed on the south side of the fashionable square. Gradually, both the market and the surrounding area fell into disrepute, as taverns, theatres, coffee-houses and brothels opened up. By the 18th century it had become notorious for its abundance of brothels. An Act of Parliament was drawn up to control the area, and Charles Fowler neo-classical building was erected in 1830 to cover and help organise the market. The market grew and further buildings were added: the Floral Hall, Charter Market, and in 1904 the Jubilee Market. By the end of the 1960s traffic congestion was causing problems, and in 1974 the market relocated to the New Covent Garden Market about three miles 5 km south-west at Nine Elms. The central building re-opened as a shopping centre in 1980 and is now a tourist location containing cafes, pubs, small shops, and a craft market called the Apple Market, along with another market held in the Jubilee Hall. Covent Garden falls within the London boroughs of Westminster and Camden and the parliamentary constituencies of Cities of London and Westminster and Holborn and St Pancras. The area has been served by the Piccadilly line at Covent Garden tube station since 1907; the 300 yard journey from Leicester Square tube station is the shortest in London.