Stone Floor Cleaning Lisson Grove
Experience Outstanding Stone Floor Cleaning Lisson Grove.
Inform Us About Your Floor
Some photos showing the floors together with sizes usually are all we need.
We shall email an in depth estimate once we have clarified your preferences.
Most of the time we will present other treatments to accommodate most budgets.
Our quotation should be associated with a document detailing examples of comparable work.
We show up ready for work and on time.
When we are done with you will be thrilled
Reasons To Pick London Stone care
Your natural stone and tile floors polished and restored to like-new - or possibly better!
We have been providing house owners with stone floor cleaning and restoration for well over 20 years.
If you have a stone and tile restoraiton project in Lisson Grove, call for a free estimate.
delighted to guide you with cleaning and maintenance assistance
Following restoring a tile and stone floor, we provide you with a thorough maintenance program.
Contact Us Now!
Get a completely free stone floor cleaning Lisson Grove quote today.
A Quick Explanation Of Our Specialized Stone Floor Restoration Services In Lisson Grove
Marble Polishing & Sealing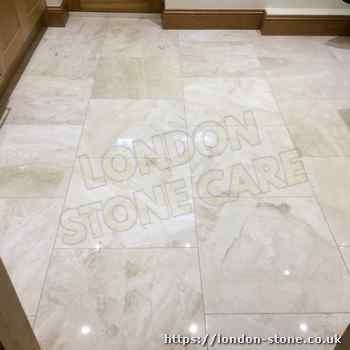 Marble ultimately looses its original polish. The dull appearance is caused by small marks on the surface of the stone where it's been walked over. Before long, the tiles will have to be polished.
We use industrial diamond polishing machines to reinstate the original finish.
In the event that tiles are not even, perfectly even this condition is referred to as "lippage". A marble tile floor should be smoothed by grinding off the lippage and irregular tile edges. Grinding marble floors must be done by experts.
Following grinding, the marble tiles and the grout will be at the same level. The marble will get the appearance of becoming a single area of stone.
It is incredibly easier to mop a smooth floor than a jagged floor. Also, soil doesn't get stuck in the grout lines. Marble floor restoration usually features a few chip and crack repairs, using marble resin fillers. The type of restoration needed is going to be determined by the current state of the floor.
Travertine Floor Cleaning & Sealing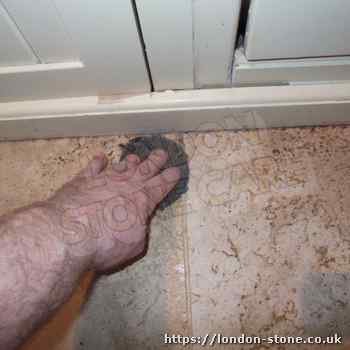 Almost all of Travertine installed in the UK has a honeycomb framework with a large amount of holes. There are different types of Travertine floor tiles, including honed, polished and tumbled. As the stone wears, the hole filler breaks away, and the holes get filled with unappealing dirt, soil and mopping water.
Working to the highest standard, restoration businesses have rotary scrubbing equipment and pressurised rinsing to wash the Travertine floor.
After cleaning, any open holes on a Travertine floor may be filled up with colour matched grout. After cleaning and grout filling we apply hard wearing sealers.
Limestone Cleaning And Sealing
In time, Limestone will become dull and loose its polish. The surface damage is due to traffic scratching and etch marks Limestone Polishing is the best way to bring back the original finish. We utilise specialist machines and diamond tooling to grind, hone and polish the stone.
If the tiles are not really, perfectly even this condition is called "lippage". We can grind away the uneven tile edges, making the tile surface level. You require specialist equipment and many years of Limestone grinding and polishing to grind a Limestone floor, nevertheless the result is breathtaking. The Limestone floor will get the look of being a single piece of stone.
After grinding, the tiles will be at the same level the grout lines. Mopping a ground and polished Limestone floor is like cleaning an individual piece of glass. A smooth floor does not have grout depessions to trap dirt. Limestone restoration normally includes a few crack and chip repairs, using resin fillers. The particular restoration needed will be determined by the state of the Limestone floor.
Terrazzo Restoration
Terrazzo is made from natural stone segments set in a cement or epoxy base and it is either poured on location or precast as tiles. As time passes, Terrazzo will end up dull and lose its finish. The change in appearance is brought on by microscopic scratches on top where it was walked on.
Terrazzo Polishing is the best way to bring back the original finish to the highest standard. We have diamond polishing machinery to grind the Terrazzo and restore the initial finish. We can help to reduce this soil using Terrazzo sealers.
Sandstone Cleaning & Sealing
Sandstone floor tiles also come in a number of different shades of brown, red, yellow and cream. The voids amongst the sandstone fragments trap soil that can be hard to get rid of.
We have dedicated scrubbing and rinsing equipment to remove the soil and old sealers, refurbishing the original sandstone surface When the sandstone is clean, we allow it to dry, then apply a long-lasting, easy to clean sealer. We shall advise the appropriate restoration service.
Granite Cleaning & Sealing
Granite is widely utilized in commercial and domestic rooms. Granite is a very hard wearing tile, perfect for heavy-duty foot traffic areas. Specialist service is generally called for less compared to other stones tile limestone or marble.
Because of its hardness, granite needs specialist restoration. We have the experience and equipment to restore granite floors. to the highest standard.
Terracotta Floor Restoration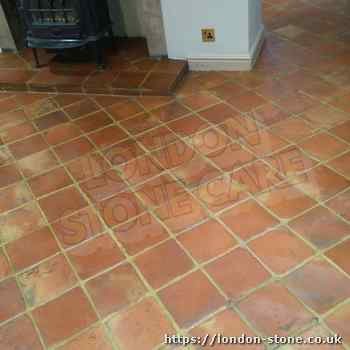 Terracotta doesn't have glaze on top, therefore it will absorb spills and soil extremely quickly.
Terracotta can easily begin to show surface marks, particularly if the current sealer has worn down.
Cleaning terracotta tiles commences with removing the previous polish, sealers and embedded soil with professional coating removers and cleaning chemicals.
We use a long lasting sealer for terracotta, which means you get the maximum benefit and value from your own cleaning.
Slate Cleaning & Sealing
Slate flooring is amongst the most well known kinds of natural stone, given that it requires less routine maintenance and mopping. Slate floors need regular sealing to avoid soil and spills marking the appearance.
There are industrial-grade sealer removers and scrubbing machines to remove the layers of old coatings. Then we apply hard-wearing sealers.
Some slate floors can be ground to a smooth finish.
Victorian Tiles Floors
Victorian Clay Tiles are found in lots of Victorian and Edwardian hallways.
The tiles are unglazed utilizing the the natural colours of the clay used to make them.
Quite a lot of these floors were sealed and then covered with carpet and lino.
The key concerns with victorian floor tiles is removing decades of oils, polishes, dirt, waxes and grime without doing damage to the tiles.
After cleaning an impregnating sealer is applied to boost the colours and protect the tiles. If you prefer a sheen or gloss finish a surface sealer or wax can be put on.
Quarry Tiles Floors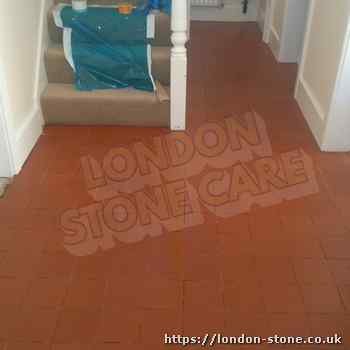 Quarry tile flooring is normally many years old and frequently needs a complete professional clean and restoration to restore it back to life.
Damage to the surface of the tiles like scratches and other abrasions can occur if the tiles haven't been properly sealed or even the existing slealer has worn away.
We can remove the layers of old selaers and soil, giving you a pleasant new finish. If Quarry tiles are laid on sand, ash or lime, use sealers that permit the free movement of moisture.
Cleaning Porcelain Tile Floors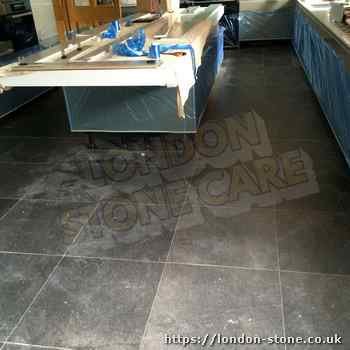 Porcelain is actually a ceramic blend with sand and feldspar included to make a denser tile.
This helps make Porcelain a lot more resistant to stains and simpler to keep up than standard ceramic tiles.
Inferior porcelain has surface pores that will absorb soil just like natural stone floors. This soil could be hard to remove.
We know how to remove embedded soil with equipment built to get into the microscopic pits holding the soil.
We can help minimize this soil with Porcelain sealers.
Solid colour Porcelain Tiles can be ground and polished, just like Granite or Marble.
Cleaning Of Ceramic Floors.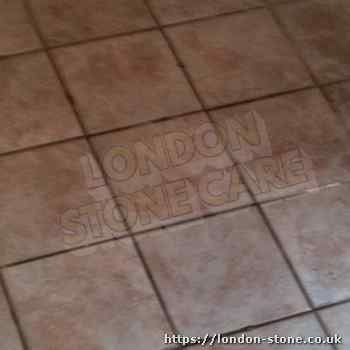 Professional cleaning of Ceramic tile floors often takes a shorter time compared to natural stone floors or clay tiles..
This glazed polish speeds up cleaning and restoring.
However, you can expect to still have better results with specialist equipment.
A professional tile sealer will be put on after the the cleaning process. Cleaning is much simpler with a sealed floor, and also the sealer prevents spills becoming stains.
A Few Of The Stone And Tile Restoration And Cleaning Treatments Our Specialists Provide
Stone and tile cleaning is rarely just cleaning, there exists regularly more restoration required. Natural stone restoration covers a range of services. At the least, all stone floors suffer some type of generic wear and tear. In most cases, soil, stains and traffic marks ruin floor's finish. Highly polished marble and granite floors show up wear quickly, as minute foot traffic scuff marks into the stone surface affect the luster and hold dirt. A surface sealer will not prevent porous natural stone and tiles like Sandstone, Limestone and Terracotta gradually struggling with wear and spill problems. Most natural stone flooring has cement grout. Cement grout is usually softer in comparison to stone and a lot more at risk of abrasive and chemical damage. Holes might be filled and cracks repaired included in a restoration. Stone floor has got the appeal that a grubby, porous surface could be taken away, exposing a lovely new surface. Grinding and honing removes surface damage from etching and surface scratching.
Stone and tile sealing is a must to help keep an innovative new natural stone finish looking stunning. Stone sealers should really be put on new natural stone and tile floors and immediately after any floor tile cleaning, stone polishing or tile restoration work. Impregnating or penetrating sealers are used following diamond floor polishing. Hybrid sealers or Surface sealers are best put on coarse tile and stone or tiles.
The first shine on a stone and tile will gradually go dull. The loss in shine is due to foot traffic scratches and surface damage. The only method to replace the initial finish is by polishing the tile and stone. On marble, Granite, Terrazzo, Polished Limestone and Polished Travertine floors, diamonds are utilized to eliminate the top wear and recover the original sparkle. The shine on Honed Travertine, Honed Limestone, Sandstone, Slate and Clay tiles is done by applying a high gloss sealer. Sealer removing items are applied to take away all traces regarding the existing sealer, after which an innovative new gloss sealer is applied.
Is there unsightly chips on your own stone floor floor?
There is no need to improve the tile and. Coloured resin fillers can fill chips and damage on a tile. Once the resin cures, it has to be sanded and polished. Chip repairs are less costly than laying new tiles.
Contact the Industry Professionals for Natural Stone Repairs London - Call the Specialists.
Repairing Cracked Tiles
A slight movement inside the subfloor is likely to make a crack in a marble tile. Cracks tend to be present in doorways as well as in between rooms. Also, a crack can appear as a result of a deficiency or weak spot inside the tile. Crack repaircosts never as much as replacing the tile.
When you yourself have got a deep crack in your floor, vanity unit, tabletop or counter top, they've been filled with coloured epoxy fillers. Hairline cracks are way too fine to simply accept a filler and they also should be widened with diamond tools before these are typically filled.
Other areas near Lisson Grove we help include:
Lisson GroveHelpful Information
Lisson Grove is a street and district in Marylebone, City of Westminster, London. It contains a number of important cultural landmarks, including the world-famous Lisson Gallery, Alfies Antique Market, Red Bus Recording Studios, the former Christ Church, now the Greenhouse Centre, and the Seashell of Lisson Grove. The heart of the community is Church Street market, which runs between Lisson Grove itself and Edgware Road. The area was initially built on the edge of London in the late 18th century, and some fine Georgian terraces remain. Early residents included artists such as Benjamin Haydon and Charles Rossi, whose former cottage still stands at 116 Lisson Grove. Lord Cricket Club was located on Lisson Grove in the early nineteenth century before moving to its current location a short distance away. The area is bounded by St John Wood Road to the north, Regent Park to the east, Edgware Road to the west and Marylebone Road to the south. Church Street ward covers approximately the same area. Lisson Grove is predominantly residential, with a high population density.