Stone Floor Cleaning Hammersmith and Fulham
Introducing Spectacular Stone Floor Cleaning Hammersmith and Fulham.
The Way We Work With Each Other
In most cases the dimensions and variety of stone, plus a few photographs detailing the condition of the floors is all we need.
After we have defined your needs we shall email a comprehensive written quote.
We Will Contact You Quickly
In many cases we shall offer other treatments to accommodate most budgets.
Our quotation will be accompanied with a document displaying examples of equivalent work.
We Decide On A Start Date
We show up prepared for work as well as on time.
We're going to do an extraordinary job
Why You Ought To Select London Stone Care
Our experts are trained to provide you with anything from a straightforward clean and polish, to tailor-made stone floor cleaning Hammersmith and Fulham work.
With quality results, economical rates and qualified staff, our company is excited to be your number one choice for cleaning and restoration of natural stone.
If you have a stone restoration project in Hammersmith and Fulham, call for a totally free quotation.
We are always happy to assist you to look after your tile and stone floors.
Following restoring a tile and stone floor, we share a detailed ongoing maintenance program.
Contact Us Now!
Your stone floor cleaning Hammersmith and Fulham quotation is only one click away.
A Short Explanation Of Our Specialized Stone Floor Restoration Services In Hammersmith and Fulham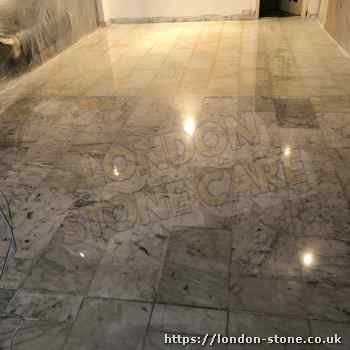 As time passes, Marble will become worn and loose its polish. Scratches and spill damage build and dull the initial polish. The only way to restore the polish is through polishing the tiles.
We utilise specialized equipment and diamond tooling to grind and polish the stone. to the highest standard
If your floor happens to be put down with uneven tiles, this is known as lippage. We can grind off the irregular tile edges, making a floor surface smooth. You need dedicated apparatus and years of grinding and polishing to grind and hone a marble tile floor, nevertheless the results are amazing.
Following grinding, the marble tiles and grout will be at the same level. The marble floor will have the appearance of looking like a single slab of marble.
An even marble finish is much simpler clean. A smooth surface floor doesn't have grout depessions to hold soil. Chips and cracks can be repaired with coloured resin fillers. After assessing the marble, we can advise the best marble restoration program.
Travertine Floor Cleaning And Sealing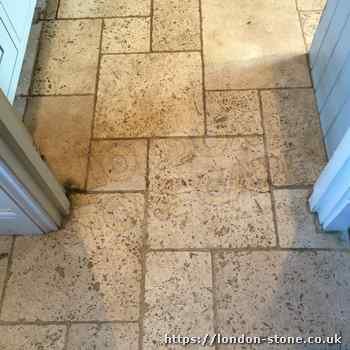 A Travertine floor is distinct with its honeycomb structure, with plenty of holes. There are different kinds of Travertine floor tiles, including honed, polished and tumbled. The original hole filler often comes away, permitting the holes to fill with dirt and soil.
Working to the highest standard, Travertine floor restoration service providers use use a mix of machine scrubbing, hand scrubbing and pressure rinsing to remove old sealers and ingrained soil.
After the Travertine floor tiles and the holes are cleaned, any open holes are grout filled using a coloured grout. Following cleaning and grouting we apply hard wearing sealers.
Limestone Floor Cleaning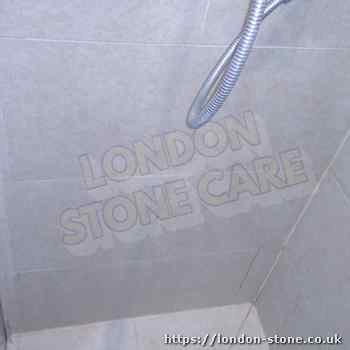 Eventually Limestone will loose the initial appearance. The surface damage is caused by traffic scratching and surface etching Limestone Polishing is the best way to restore the original appearance. We use industrial diamond polishing to hone and polish the floor and bring back the finish.
If your floor has been laid leaving uneven tiles, this is certainly described as lippage. The only method to make a Limestone tile floor smooth is by grinding off the lippage and uneven edges of the tiles. You require dedicated machines and years of hands on experience to grind and hone a Limestone tile floor, however the final result is incredible. The Limestone floor looks "monolithic", appearing to be made from just one slab of stone.
After grinding, the grout sits at the same level as the the Limestone. After grinding cleaning is a piece of cake, because the mop slides on the floor. A smooth surface floor does not have grout depessions to trap soil. Chips and cracks can be repaired with coloured resin repair fillers. The particular restoration needed will be based on the current condition of your floor.
Terrazzo Polishing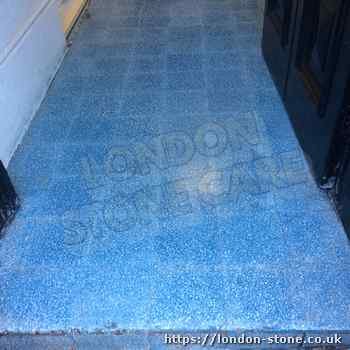 Terrazzo has been used for thousands of years as a decorative flooring Eventually, Terrazzo will lose the original finish. The change in the finish is brought on by microscopic scratches on top where it has been walked on.
The only way to revive the initial finish is through polishing the Terrazzo to the highest standard. Diamonds are used to eliminate the surface damage and restore the original Terrazzo shine. After cleaning and polishing, we use specialised Terrazzo sealers.
Sandstone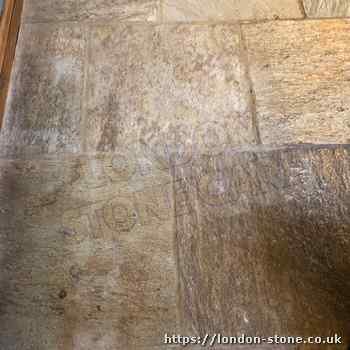 Sandstone is formulated principally of quartz, iron oxide, silica and calcium based deposits so it is a very long-lasting stone. Sandstone can end up with ingrained soil which makes it look dull and tough to clean.
We use a variety of machine scrubbing, hand scrubbing and pressurised rinsing to get rid of all traces of old soiled sealers and clean a floor to the highest standard. We then use specialist sealers that will last for a long time not months. We shall advise the appropriate restoration service.
Granite Polishing And Sealing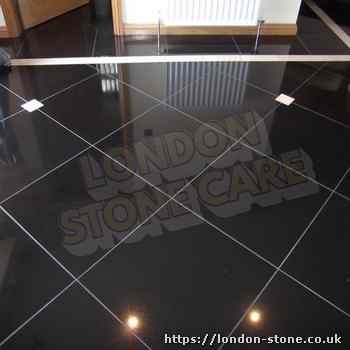 You are able to find granite in many homes and commercial buildings. Granite is a really hard-wearing flooring, perfect for heavy duty traffic areas. Specialized maintenance is usually required less often as compared to other stones tile marble or limestone.
Granite is so hard, that lots of companies don't have the gear or experience to revive granite. We provide the full range of Granite restoration and polishing services. to the highest standard.
Terracotta Floor Cleaning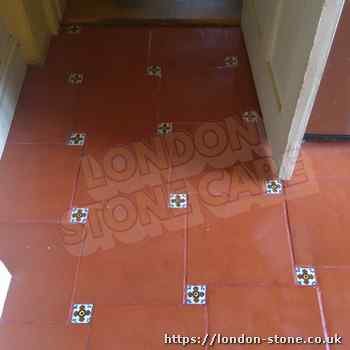 Terracotta doesn't have glaze on the surface, so that it will soak up spills and soil extremely quickly.
Terracotta is extremely porous so it's necessary to protect it with a protective seal.
Industrial grade sealer removers and cleansing agent help in removing old sealers and dirt, while simultaneously protecting the appealing finish.
We can re-seal the Terracotta with an authentic beeswax finish or a hard wearing synthetic sealer.
Slate Floors
Slate floors look great with regards to distinctive appearance and stunning colours. We are mostly called to restore slate when it suffers form layers of old coating with ingrained soil, and so the surface appears dull and soiled.
We use rotary cleaning equipments and sealer removers clean the slate. Then we apply durable sealers.
Some slate floors could be ground to a smooth finish.
Victorian Tiles Floor Restoration
Victoran clay geometric tiles are laid in Victorian and Edwardian Hallways.
The tiles are unglazed resulting from the natural colours from the clay used in their manufacture.
With the changes in interior design, these floors come with underlay from carpet, lino adhesive, bitumen and additional sticky residues.
With their age, these types of floors may have a variety of covering residues, that need specialist cleaning
After cleaning an impregnating sealer is put on to boost the colours and protect the tiles. A topical sealer or wax finish will give the floor tiles with a sheen finish.
Quarry Tiles Cleaning
Quarry tiles are very durable although they do suffer from a number of issues.
Whilst the tiles can happen beyond restoration, they're surprisingly robust and will look just like new after a proper clean.
We can take away the layers of old coatings and dirt, leaving a lovely new finish. If the tiles are laid on sand, ash or lime, apply sealers that allow the free movement of moisture.
Cleaning Porcelain Tiles Floors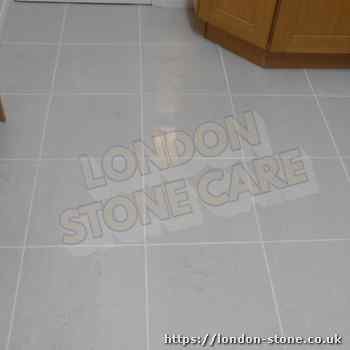 Porcelain is now an increasingly sought after alternative to standard ceramic tiles and natural stone.
Porcelain is very moisture-resistant, hence spillages should not pnetrate into the tile and lead to stains.
If the blend of ceramic isn't right, the surface of the tiles could be porous. similar to natural stone floors. This soil could be hard to remove.
We possess the experience and equipment to remove this hard to reach soil.
After cleaning, we use specialist Porcelain sealers to avoid this problem.
Solid color Porcelain may be ground and restored like Granite or Marble.
Cleaning Ceramic Tiles Floors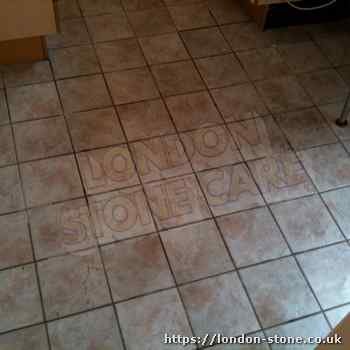 Professional cleaning of Ceramic tiles can often take a shorter time than stone floors or clay tiles..
This happens as the tile surface is commonly glazed.
Nonetheless, professional cleaning, specialist cleaning agents and equipment will provide the most effective results.
We always put on an expert tile sealer after cleaning. Ceramic tile sealing helps to make cleaning much easier and helps protect from spillages.
A Number Of The Stone Floor Restoration Options Our Specialists Bring
Natural stone cleaning is rarely just cleaning, there exists regularly more restoration required. Natural stone restoration covers a number of services. At least, all stone floors suffer some sort of generic wear and tear. In most cases, soil, stains and traffic marks ruin floor's finish. Highly polished marble and granite floors show up wear quickly, as minute foot traffic scuff marks within the stone surface affect the luster and hold dirt. A surface sealer does not prevent porous tile and stone and tiles like Sandstone, Limestone and Terracotta gradually struggling with wear and spill problems. Most tile and stone flooring has cement grout. Cement grout is generally softer when compared with stone and more in danger of abrasive and chemical damage. Holes could be filled and cracks repaired included in a restoration. Stone and tile gets the appeal that a grubby, porous surface could be taken away, exposing a pleasant new surface. Grinding and honing removes surface damage from etching and surface scratching.
Tile and sealing is vital to help keep an innovative new natural stone finish looking stunning. Stone sealers should be put on new tile and and tile floors and just after any floor tile cleaning, stone polishing or tile restoration work. Impregnating or penetrating sealers are used following diamond floor polishing. Hybrid sealers or Surface sealers are best applied to coarse tile and or tiles.
The first shine on a stone and tile will gradually go dull. The loss in shine is due to foot traffic scratches and surface damage. The only method to replace the first finish is by polishing the stone and tile. On marble, Granite, Terrazzo, Polished Limestone and Polished Travertine floors, diamonds are utilized to eliminate the top wear and recover the initial sparkle. The shine on Honed Travertine, Honed Limestone, Sandstone, Slate and Clay tiles is established through the use of a top gloss sealer. Sealer removing products are applied to take away all traces of this existing sealer, after which a fresh gloss sealer is applied.
Is there unsightly chips on your natural stone floor?
You don't have to change the natural stone. Coloured resin fillers can fill chips and damage on a tile. When the resin cures, it offers to be sanded and polished. Chip repairs are less expensive than laying new tiles.
Contact the Industry Professionals for Natural Stone Repairs London - Call the Specialists.
Repairing Cracked Tiles
A slight movement inside the subfloor is going to make a crack in a marble tile. Cracks are often contained in doorways and in between rooms. Also, a crack can appear because of a deficiency or weak spot in the tile. Crack repaircosts not as much as replacing the tile.
When you have got a deep crack in your floor, vanity unit, tabletop or counter top, they truly are filled with coloured epoxy fillers. Hairline cracks are way too fine to accept a filler and in addition they need to be widened with diamond tools before they are filled.
Other areas near Hammersmith and Fulham we help include:
Hammersmith and FulhamHelpful Information
The London Borough of Hammersmith and Fulham About this soundpronunciation help·info is a London borough partly in West London Hammersmith, Shepherd Bush, West Kensington and partly in Southwest London Fulham; it forms part of Inner London. Traversed by the east€"west main roads of the A4 Great West Road and the A40 Westway, many international corporations have offices in the borough. The local council is Hammersmith and Fulham London Borough Council. The borough is amongst the four most expensive boroughs for residential properties in the United Kingdom, along with Kensington and Chelsea, the City of Westminster and Camden. The borough is unique in London in having three professional football clubs: Chelsea, Fulham and Queens Park Rangers.