Stone Floor Cleaning Swiss Cottage
Experience Terrific Stone Floor Cleaning Swiss Cottage.
A handful of photos showing the floors together with sizes usually are all we need.
We will email an in depth estimate after we have clarified your needs.
We Shall Respond Promptly
Most of the time we shall propose alternative treatments to suit most budgets.
Our quotation is going to be complemented with a document featuring samples of equivalent work.
We appear punctually.
When we get done you will be delighted
Why Choose London Stone care
Our stone floor cleaning Swiss Cottage service provides the finishing details to make your stone floors shine.
We utilize the latest technology, delivered with a personal touch, which means that your stone floors look more beautiful and maintain their pure beauty for a long time into the future.
Our experienced professionals are here to give you a free of charge quotation.
If you want cleaning tips, contact me and I will be more than happy to help.
Following restoring tile and stone floors to a stunning appearance, we provide a maintenance program, so floors will stay beautiful for years rather than weeks.
Contact Us Now!
Get your free of charge stone floor cleaning quotation now.
A Short Account Of Our Specialist Stone Floor Cleaning Services In Swiss Cottage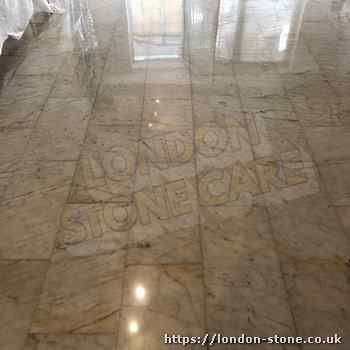 Marble ultimately looses the initial polish. Scratches and etch marks build up and damage the initial polish. The only way to revive the initial polish is by polishing the marble.
We use industrial diamonds to remove the damage and marks and rebuild the initial appearance.
If the tiles are not really, even this problem is referred to as "lippage". The only method to make a marble tile floor flat is by grinding off the lippage and irregular edges of the tiles. Grinding marble floors must be performed by professionals.
Following grinding, the marble and grout are at the exact same level. The marble floor will get the appearance of becoming a single piece of stone.
An even marble floor is much simpler to keep up. A smooth marble floor doesn't have grout depessions to trap dirt. Cracks, chips and hole repairs tend to be part of the marble restoration service. Once we inspect your floor, we will recommend he ideal restoration procedure.
Travertine Floor Restoration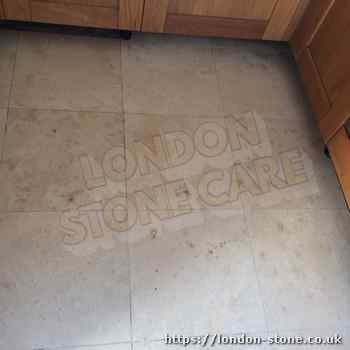 A Travertine floor is characterised by its honeycomb structure, with a lot of holes. Travertine floor tiles come in a variety of finishes, smooth honed, polished and tumbled. The initial hole filler often falls away, letting the holes fill with soil, dirt and mopping water.
Working to the highest standard, Travertine floor cleaning and restoration specialists have industrial-grade sealer removers and rotary scrubbing equipment to get rid of the coatings of old sealers and embedded soil.
After cleaning, any holes in the Travertine floor could be filled with colour matched grout. We then apply a long-lasting sealer that also makes the Travertine floora lot easier to look after.
Limestone Floor Restoration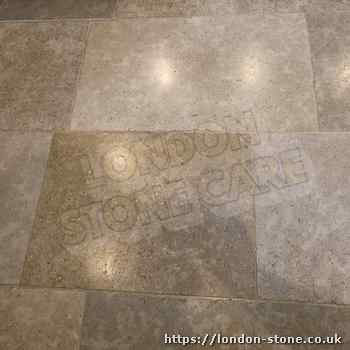 As time passes, Limestone will become dull and loose its appearance. The surface damage is due to foot traffic scratches and surface etching The best way to revive the original shine is by polishing the Limestone. We work with specialized equipment and industrial diamond tooling to grind and polish the Limestone.
Most Limestone tile floors are not even because the tiles are not installed level. We can grind off the irregular edges of the tiles, making the tile surface flat. This really is an involved process but the results are stunning. The Limestone will get the look of looking like a single area of stone.
After grinding, the Limestone will be flush with the grout. An even Limestone finish is much easier to keep. Also, soil does not get stuck into the grout lines. Holes, chips and crack repairs in many cases are part of the restoration process. Once we have inspected your floor, we will recommend on the optimum restoration procedure.
Terrazzo Cleaning And Sealing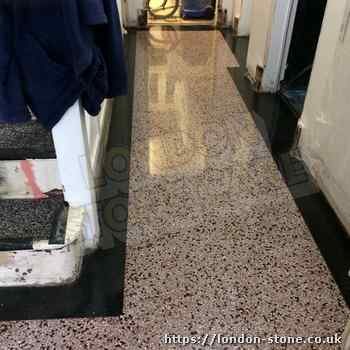 Terrazzo is manufactured out of natural stone pieces set in a cement or epoxy base which is either poured on site or precast as tiles. The original finish on a Terrazzo floor will slowly go dull. Small scratches and etch marks build up and take away the original polish.
The best way to restore the original finish is by polishing the Terrazzo to the highest standard. We use professional Terrazzo polishing equipment and diamond tooling to grind and polish the stone. Once your Terrazzo is cleaned and polished, we are able put on a sealer that protects against every day spillages.
Sandstone Floor Cleaning And Sealing
Sandstone is produced primarily from quartz, iron oxide, silica and calcium based deposits so it's a very long-lasting stone. Whilst sandstone is sturdy it is also porous, so cleaning slurry gets caught in the surface and it is tough to remove.
There is specialist scrubbing and rinsing equipment to remove the soil and old sealers, restoring the initial sandstone surface Once the sandstone is clean, we permit it to dry, then apply a long-lasting, easy to clean sealer. Once we inspect your floor, we can help you regarding the best restoration process.
Granite Cleaning And Sealing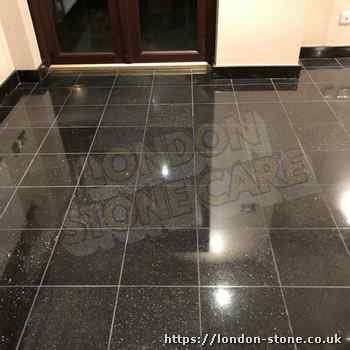 Granite is a tremendously popular tile. Granite is a tremendously hard-wearing material, well suited for heavy duty traffic lanes. The finish on a granite floor lasts much longer than other stones or tiles.
Few stone restoration companies restore Granite, since it is so difficult and hard to restore. We have invested in the experience and equipment to revive granite floors. to the highest standard.
Terracotta Cleaning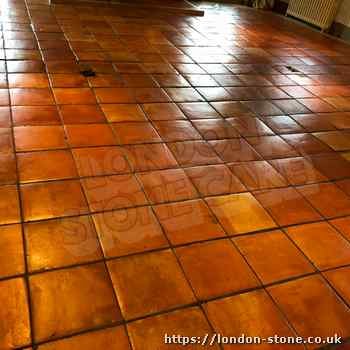 Terracotta is one of the most porous floors which we come across but has been used for floor tiles for thousands of years.
Abrasive chemicals such as popular floor cleaning solutions and bathroom tile cleaners can damage and mark Terracotta.
Notwithstanding its vulnerabilities, Terracotta could be restored back to a great finish.
Whilst we are able to seal Terracotta with Boiled linseed oil and wax, we recommend a durable synthetic sealer which will work for years, with minimum maintenance.
Slate Floor Cleaning
Slate is a very popular floor and wall tile due to its low porosity and the many varieties and textures of Slate available. Our company is mostly called to restore slate when it has layers of old coating with ingrained dirt, so that the finish appears worn and soiled.
We have specialist machinery and chemical treatments to eliminate the soil and old coatings, rejuvenating the initial slate finish. Once our professional cleaning is complete, use specialised sealers that last for many years not months.
Some slate floors could be ground to a smooth finish.
Victorian Tiles Floors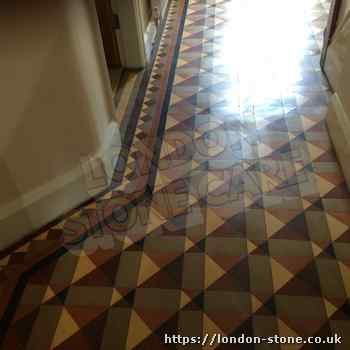 Victorian Clay Tiles are installed in many Victorian and Edwardian hallways.
The tiles have a matt finish and acquire their colour through the clay used in their manufacture.
Quite a lot of these floors have been sealed and then covered up with carpet and lino.
With their age, these kinds of floors might have a variety of coating residues, that need to have specialist cleaning
After cleaning, the original colours in the tiles can appear washed out, so we apply a colour intensifying impregnating sealer to replace the initial depth of colour. Topical sealers and waxes will provide a floor a sheen or glossy finish.
Quarry Tiles Restoration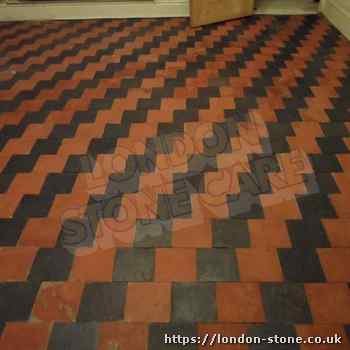 Quarry tiles have been a common fixture in kitchens and for indoor flooring for many years.
Damage to the surface of the tiles like scratches as well as other abrasions can occur if the tiles have not been properly sealed or the seal has worn down.
Professional cleaning can get rid of the several years of dirt and old coatings, revealing a beautiful floor. After cleaning, the tiles can be sealed with a lasting sealer.
Cleaning Of Porcelain Tile Floors
Porcelain is classified as a ceramic, but made with alternative ingredients to traditional glazed tiles.
The extra minerals helps to make Porcelain stronger than standard ceramic tiles.
Some inferior porcelain has tiny holes that may absorb soil similar to natural stone floors. It could be hard to remove this soil.
We can get rid of embedded soil using equipment built to get into the microscopic pits holding the soil.
We will help minimize the dirt with Porcelain sealers.
If you've got a trough-colour Porcelain, we are able to re-surface the tiles by Grinding and re-polishing.
Cleaning Ceramic Tile Floors
Professional cleaning of Ceramic tiles is usually easier compared to cleaning stone floors or clay tiles.
This glazed polish accelerates cleaning.
However, professional cleaning, professional cleaning solutions and equipment will give the best results.
Following cleaning and restoration we will put on a specialist tile sealer. Care is much simpler having a sealed tile floor, plus the sealer prevents spills transforming into stains.
A Number Of The Natural Stone Cleaning Work We Deliver
Sandstone tile cleaning is rarely just cleaning, there exists regularly more restoration required. Natural stone restoration covers a number of services. At least, all stone floors suffer some type of generic wear and tear. In most cases, soil, stains and traffic marks ruin floor's finish. Highly polished marble and granite floors show up wear quickly, as minute foot traffic scuff marks within the stone surface affect the luster and hold dirt. A surface sealer does not prevent porous tile and and tiles like Sandstone, Limestone and Terracotta gradually struggling with wear and spill problems. Most stone floor flooring has cement grout. Cement grout is typically softer compared to stone and a lot more in danger of abrasive and chemical damage. Holes could be filled and cracks repaired included in a restoration. Stone floor gets the appeal that a grubby, porous surface could be taken away, exposing a pleasant new surface. Grinding and honing removes surface damage from etching and surface scratching.
Stone floor sealing is essential to keep a unique tile and stone finish looking stunning. Stone sealers should always be put on new natural stone and tile floors and soon after any floor tile cleaning, stone polishing or tile restoration work. Impregnating or penetrating sealers are employed following diamond floor polishing. Hybrid sealers or Surface sealers would be best put on coarse stone floor or tiles.
The initial shine on a natural stone will gradually go dull. The loss in shine is brought on by foot traffic scratches and surface damage. The only way to replace the first finish is by polishing the stone floor. On marble, Granite, Terrazzo, Polished Limestone and Polished Travertine floors, diamonds are utilized to remove the outer lining wear and recover the first sparkle. The shine on Honed Travertine, Honed Limestone, Sandstone, Slate and Clay tiles is made by making use of a higher gloss sealer. Sealer removing products are applied to take away all traces associated with existing sealer, after which a unique gloss sealer is applied.
Is there unsightly chips on your tile and stone floor?
You do not have to alter the tile and stone. Coloured resin fillers can fill chips and damage on a tile. When the resin cures, this has to be sanded and polished. Chip repairs are less expensive than laying new tiles.
Contact the Industry Professionals for Natural Stone Repairs London - Call the Specialists.
Repairing Cracked Tiles
A slight movement within the subfloor could make a crack in a marble tile. Cracks in many cases are present in doorways as well as in between rooms. Also, a crack can appear because of a deficiency or weak spot in the tile. Crack repaircosts never as much as replacing the tile.
When you have got a deep crack in your floor, vanity unit, tabletop or counter top, they've been filled up with coloured epoxy fillers. Hairline cracks are way too fine to simply accept a filler and so they should be widened with diamond tools before these are generally filled.
Other areas near Swiss Cottage we work in include:
Swiss CottageHelpful Information
Swiss Cottage is an area of Hampstead in the London Borough of Camden, England. It is centred on the junction of Avenue Road and Finchley Road and includes Swiss Cottage tube station. Swiss Cottage lies 3.25 miles 5.23 km north-northwest of Charing Cross. The area was named after a public house in the centre of it, known as €œYe Olde Swiss Cottage€.