Stone Floor Cleaning Newington
Discover The Very Best Stone Floor Cleaning Newington.
The Way We Work With Each Other
Give The Size And Sort Of Stone
In most cases the size and kind of stone, plus a handful of photos showing the appearance of the floors is all we require.
We will email an in depth price after we have clarified your needs.
Stone floors can frequently have a number of finishes, so we will include alternatives to suit most budgets.
We will also e-mail a document showing instances of equivalent work.
We Decide On A Start Date
We arrive on time and equipped for work.
As soon as we are done with you are thrilled
Why Pick London Stone care
Our stone floor cleaning Newington and restoration specialists will bring new life to your stone floors.
We use the latest technology, brought to you with a personal touch, which means that your stone floors look more stunning and retain their natural beauty for many years to come.
When you have a stone and tile restoraiton project in Newington, call for a totally free quotation.
Our company is always very happy to assist you to take care of your tile and stone floors.
Following restoring a tile and stone floor, we provide you with a thorough maintenance program.
Contact Us Now!
Get your no-cost stone floor cleaning Newington quotation now.
A Quick Description Of Our Professional Stone Floor Cleaning And Polishing Services In Newington
Marble Polishing And Sealing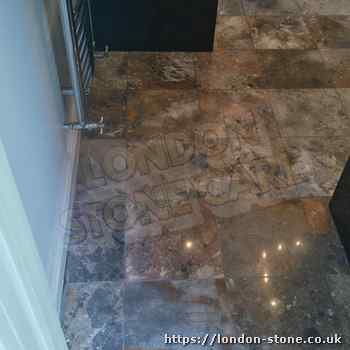 As time passes, Marble will be matt and loose its polish. Scratching and etching build up and take off the original appearance. Marble Polishing is your only way to revive the initial finish.
We use industrial diamonds to take away the surface damage and bring back the original gloss.
The majority of marble surfaces are not even due to the fact marble tiles are not installed level. The only method to make a marble floor smooth is by grinding away the lippage and uneven tile edges. Grinding marble should really be undertaken by restoration professionals.
After grinding, the marble and grout are at exactly the same level. The marble will get the appearance of appearing as just one area of marble.
After grinding and polishing cleaning is a piece of cake, because the mop slides over the floor. There are no depressed grout lines to hold soil. If your marble has chips and cracks, we are able to repair the damage using resin fillers, colour matched to the marble. The restoration needed is going to be dependant on the state of the floor.
Travertine Polishing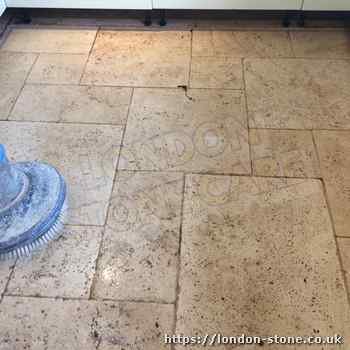 A Travertine floor is distinct with its honeycomb structure, with lots of holes. There will various types of Travertine floor tiles, including tumbled, honed and polished. As the travertine wears, the hole filler comes away, and the holes fill up with unattractive soil, dirt and mopping water.
Working to the highest standard, Travertine floor restoration businesses have use a mix of machine scrubbing, hand scrubbing and pressure rinsing to eliminate old sealers and embedded soil.
After cleaning, the Travertine floor can be re-grouted to fill any open holes. After cleaning and grouting the Travertine floor we use a resilient, easy to clean sealer.
Limestone Cleaning
Bit by bit Limestone tiles will loose the initial shine. The dull appearance is caused by tiny scratches on the surface of the tile where it's been walked over. The only way to revive the original appearance is through polishing the Limestone. We use diamonds to eliminate the scratches anddamage and repair the initial appearance.
Most Limestone tile floors are uneven because the Limestone tiles are not put down level. A Limestone tile floor can be leveled by grinding away the lippage and uneven tile edges. Limestone tile grinding is a specialist procedure, providing outstanding results. The Limestone will have a monolithic appearance as just one piece of stone.
After grinding, the grout sits will be level with the Limestone. It is easier to mop a smooth floor than a bumpy floor. A smooth surface Limestone floor does not have grout depessions to retain grime. Cracks, chips and hole repairs tend to be an element of the restoration service. We can recommend the correct restoration service.
Terrazzo Polishing
Terrazzo is made from natural stone pieces set in a cement or epoxy base and it is either poured on site or cast as tiles. Eventually a Terrazzo floor will loose the initial finish. The surface damage is due to traffic scratches and surface damage.
The only way to revive the initial finish is by polishing the Terrazzo to the highest standard. We use specialist Terrazzo polishing equipment and diamond tooling to grind and polish the stone. We can help avoid this soil with Terrazzo sealers.
Sandstone Floor Cleaning And Sealing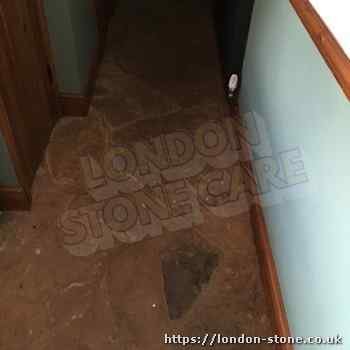 Sandstone is made from compressed sand, as well as various minerals such as quartz and feldspar. Whilst sandstone is sturdy it's also porous, so soil gets stuck in the surface and is difficult to remove.
We have dedicated scrubbing and rinsing machinery to eliminate the soil and old coatings, rejuvenating the initial sandstone appearance We then use specialist sealers that will last for years not just months. Once we look over your floor, we can help you the best restoration process.
Granite Restoration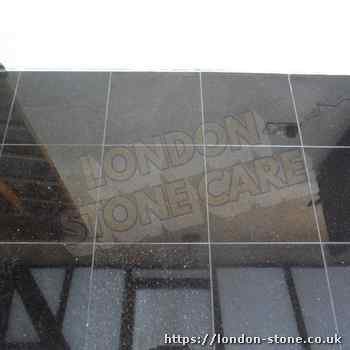 Granite is a favorite tile flooring for commercial and home rooms. Granite is a tremendously hard flooring, well suited for heavy-duty foot traffic areas. Granite resists wear longer as compared to some other natural stones, like limestone or marble.
As a result of the stone's hardness, granite really needs expert renovation. We offer the full array of Granite cleaning and restoration services. to the highest standard.
Terracotta Cleaning And Sealing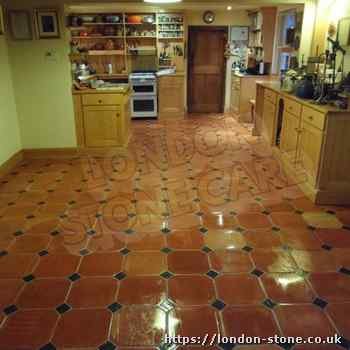 Terracotta offers a distinctive coloring and a rustic feel in your home, but really needs careful maintenance to keep it looking its best.
Terracotta can easily start to show marks, particularly if the current sealer has completely worn down.
Heavy duty sealer removers and cleansing agent help in removing old coatings and soil, while simultaneously conserving the attractive surface.
Whilst we are able to seal Terracotta with Boiled linseed oil and wax, we advise a tough synthetic sealer which will last for years, with minimal maintenance.
Slate Floor Cleaning
Slate is an incredibly versatile flooring that may be finished using many different finishes from rough surface, smooth honed or polished polish. Slate needs regular sealing to stop soil and spills marking the appearance.
We use a mix of machine scrubbing and hand scrubbing to remove all traces of old dirty sealers and clean the floor. After professional cleaning we use hard wearing sealers.
If you like a smooth finish, we are able to grind the slate, but we must gauge the slate before grinding.
Victorian Tiles Restoration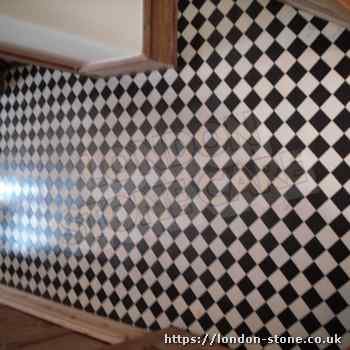 Minton geometric floor tiles are mainly found in Victorian and Edwardian Hallways.
The tiles have a matt finish to get their colour through the clay found in their manufacture.
Along with the changes in interior design, many of these floors come with carpet underlay, lino adhesive, bitumen and other glue deposits.
With their age, many of these floors may have a variety of covering residues, that need to have specialist cleaning
After cleaning, a colour intensifying sealer is put on to regenerate the natural colours in the floor. If you like a sheen or gloss finish a surface sealer or wax may be used.
Quarry Tiles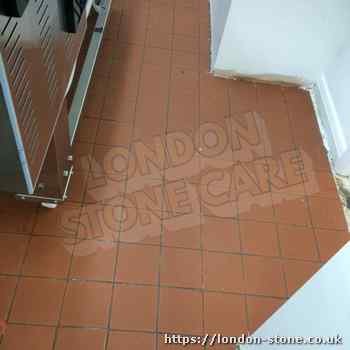 Quarry tile flooring is usually several decades old and sometimes needs a full professional clean and restoration to restore it back again to life.
Surface damage like scratches and other abrasions can occur in the event that tiles have not been correctly sealed or even the existing slealer has worn out.
While the tiles may seem soiled and discoloured, they're surprisingly tough and can look just like new after an effective clean. As soon as the quarry tiles are cleaned they should be sealed to provide several years of life.
Cleaning Of Porcelain Floors.
Porcelain is classed as a ceramic, but manufactured with different ingredients to standard glazes and clay tiles.
Porcelain is extremely moisture-resistant, hence spills are not able to pnetrate into the tile and lead to stains.
There are substandard porcelains that can absorb soil and spills just like natural stone floors. If you have an inferior Porcelain, surface soil could be difficult to remove.
You need specialist machines and cleaners to eliminate this soil.
We can help minimize the dirt using Porcelain sealers.
Solid color Porcelain may be ground and restored just like Granite or Marble.
Cleaning Of Ceramic Tile Floors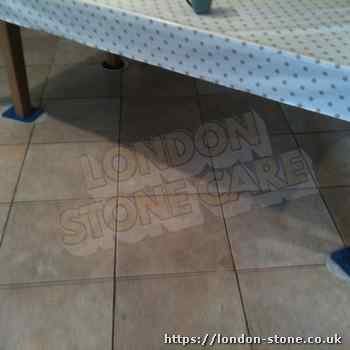 Professional cleaning of Ceramic tile floors is commonly easier than cleaning and restoring natural stone floors or clay tiles.
Grime are usually on the surface of ceramic tiles.
Though, specialist stone and tile cleaning will give your floor a better finish.
Once your floor is cleaned we'll apply a tile sealer. Maintenance is much simpler with a sealed tile floor, plus a sealer prevents spills transforming into stains.
Some Of The Natural Stone Restoration Services Our Specialists Give
Sandstone tile cleaning is rarely just cleaning, there exists regularly more restoration required. Stone and tile restoration covers a variety of services. At the least, all stone floors suffer some sort of generic wear and tear. In most cases, soil, stains and traffic marks ruin floor's finish. Highly polished marble and granite floors show up wear quickly, as minute foot traffic scuff marks in the stone surface affect the luster and hold dirt. A surface sealer does not prevent porous stone and tile and tiles like Sandstone, Limestone and Terracotta gradually struggling with wear and spill problems. Most tile and stone flooring has cement grout. Cement grout is generally softer compared to stone and many other things in danger of abrasive and chemical damage. Holes could be filled and cracks repaired included in a restoration. Stone and tile has got the appeal that a grubby, porous surface may be taken away, exposing a pleasant new surface. Grinding and honing removes surface damage from etching and surface scratching.
Stone floor sealing is vital to help keep a fresh natural stone finish looking stunning. Stone sealers must be placed on new tile and stone and tile floors and immediately after any floor tile cleaning, stone polishing or tile restoration work. Impregnating or penetrating sealers are utilized following diamond floor polishing. Hybrid sealers or Surface sealers are best placed on coarse natural stone or tiles.
The initial shine on a stone and tile will gradually go dull. The loss in shine is brought on by foot traffic scratches and surface damage. The only way to replace the original finish is through polishing the tile and. On marble, Granite, Terrazzo, Polished Limestone and Polished Travertine floors, diamonds are utilized to eliminate the surface wear and recover the original sparkle. The shine on Honed Travertine, Honed Limestone, Sandstone, Slate and Clay tiles is done by applying a higher gloss sealer. Sealer removing items are applied to take away all traces associated with existing sealer, and then a brand new gloss sealer is applied.
Are there unsightly chips on your tile and stone floor?
You do not have to improve the natural stone. Coloured resin fillers can fill chips and damage on a tile. After the resin cures, it offers to be sanded and polished. Chip repairs are less costly than laying new tiles.
Contact the Industry Professionals for Natural Stone Repairs London - Call the Specialists.
Repairing Cracked Tiles
A small movement within the subfloor will likely make a crack in a marble tile. Cracks in many cases are present in doorways and in between rooms. Also, a crack can appear as a result of a deficiency or weak spot inside the tile. Crack repaircosts not as much as replacing the tile.
When you yourself have got a deep crack in your floor, vanity unit, tabletop or counter top, these are typically filled up with coloured epoxy fillers. Hairline cracks are too fine to simply accept a filler and so they should be widened with diamond tools before they have been filled.
Other areas near Newington we help include:
NewingtonHelpful Information
Newington grew up after about 1200, when the establishment of nearby Lambeth Palace brought increased traffic along the Kent road. The 19th century saw increasingly dense housebuilding. Trinity church was built in 1824 on land in the north of the parish that has belonged to the Corporation of Trinity House since 1661. The surrounding square was then laid out with smart terraced houses, some of which have since been converted laterally into flats across two or three house widths. With the exception of this estate, most of Newington was rebuilt during the course of the 20th century by a succession of municipal authorities.