Stone Floor Cleaning Enfield
Learn About Superior Stone Floor Cleaning Enfield.
Give The Size And Sort Of Stone
In most cases the dimensions and kind of stone, plus a number of pictures detailing the appearance of the floors will be all we need.
After we have defined your needs we will email an extensive written quote.
We Shall Respond Promptly
In many cases we shall offer other finishes to match most budgets.
We shall also send a document showing photos of similar work.
We come well prepared for work as well as on time.
We're going to do an excellent job
Reasons Why You Need To Contact Us
Our specialists can handle virtually any stone floor cleaning Enfield or restoration task that you could need for your room.
Our company has been offering stone cleaning, polishing and restoration solutions since 1996.
Whether you are planning to restore or refinish your natural stone or tile floors, we are certain that we can help.
If you need cleaning advice, make contact and I will be more than pleased to help.
After restoring a stone floor, we leave a thorough maintenance program.
Contact Us Now!
Get a completely free stone floor cleaning Enfield quote now.
A Short Review Of Our Specialised Stone Floor Restoration Services In Enfield
Marble Polishing & Sealing
Marble eventually looses the initial polish. The dullness is caused by small marks on the surface where it's been walked on. Ultimately, the tiles will have to be re-polished.
We use industrial diamond polishing to hone and polish a floor and recover the original shine.
If the tiles are not really, perfectly even this problem is named "lippage". The only method to make a marble floor perfectly smooth is by grinding away the lippage and uneven tile edges. That is an involved process however the results are stunning.
Following grinding, the tiles will be the same level the grout. The marble floor will get a monolithic appearance as just one area of stone.
Mopping a ground and polished marble floor is much like cleaning an individual piece of glass. There are no uneven grout deressions to hold soil. Cracks and chips can be repaired with colour matched resin fillers. We can advise the correct marble restoration service.
Travertine Floor Cleaning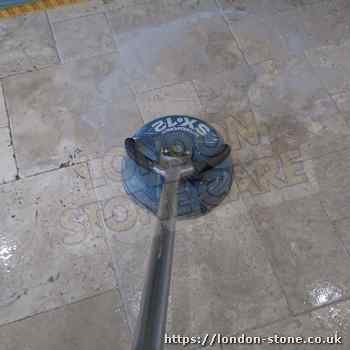 A Travertine floor is distinct with a honeycomb structure, with plenty of holes. There are very different types of Travertine floor tiles, including polished, honed and tumbled. The initial hole filler often falls away, allowing the holes to fill with dirt and soil.
Working to the highest standard, restoration service providers use specialist equipment and cleaners to remove soil and old sealers on a Travertine floor.
After cleaning, any holes on the Travertine floor may be filled with coloured grout. Then we use specialist sealers that will last for years to protect the Travertine floor.
Limestone Cleaning And Sealing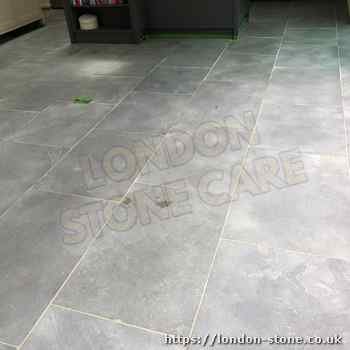 Limestone ultimately looses the initial polish. Surface scratches and etch damage pile-up and remove the initial appearance. Before long, your Limestone floor will have to be polished. We use industrial diamond polishing to grind, hone and polish the Limestone tiles and recover the original shine.
Most Limestone tile floors are uneven because the Limestone tiles are not laid level. We can grind off the jagged tile edges, making the floor surface flat. That is an involved process however the results are fabulous. The Limestone floor will get a monolithic appearance as a single piece of stone.
Following grinding, the Limestone tiles be flush with the grout. An even Limestone finish is much easier to maintain. There are no grout lines to retain soil. Hole cracks and chip repairs tend to be an element of the restoration service. The restoration needed is going to be based on the current state of your floor.
Terrazzo Floor Polishing
Terrazzo is a stylish and hard-wearing flooring, hence its use as a flooring in supermarkets, airports, commercial and industrial buildings. Bit by bit a Terrazzo floor will loose the original finish. Surface damage is brought on by traffic scratches and surface damage.
The only way to restore the initial finish is by polishing the Terrazzo to the highest standard. We have diamond polishing equipment to grind the Terrazzo and restore the initial finish. Once the Terrazzo is cleaned and polished, we are able use a sealer which provides protection against daily spillages.
Sandstone Restoration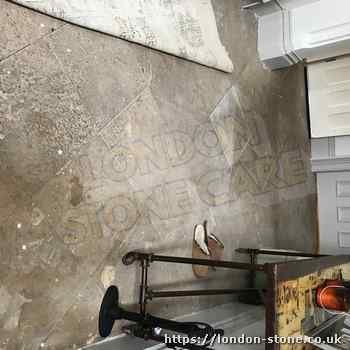 Sandstone is produced primarily of quartz, iron oxide, silica and calcium based deposits making it a very stable stone. Sandstone can end up with ingrained soil which makes it look dull and hard to clean.
We use specialist sealer removers, rotary scrubbing equipment and pressure rinsing to remove the layers of old sealer Once the sandstone is clean, we permit it to dry, then apply a durable, easy to clean sealer. We shall advise the correct restoration service.
Granite Floor Restoration
Granite is a tremendously popular tile flooring. Granite is a really hard wearing material, ideal for heavy traffic lanes. Specialized maintenance is generally needed more infrequently than alternative stones tile limestone and marble.
As a result of the stone's hardness, granite really needs specialized cleaning and restoration. Our Company will restore all types of granite. to the highest standard.
Terracotta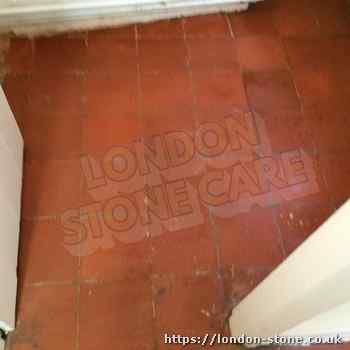 Terracotta offers a unique coloring and a rustic feel in the house, but really needs careful maintenance in order to keep it looking its best.
Abrasive chemicals such as regular floor cleaners and bathroom tile cleaners can permanently damage and mark Terracotta.
Cleaning terracotta tiles commences with taking away the old polish, sealers and ingrained dirt with specialist coating removers and cleaning solutions.
We use a resilient sealer for terracotta, and that means you get the most value from your own cleaning.
Slate Floor Cleaning And Sealing
Slate floors look great with their distinctive appearance and stunning colours. We have been commonly called to clean slate when it has layers of old sealer with ingrained soil, so that the appearance appears worn and soiled.
We use rotary brushing machines and sealer removers clean the slate. Then we put on durable sealers.
If you want a smooth floor, we could grind the floor, subject towards the slate being suited to grinding.
Victorian Tiles Floors
Victorian Clay Tiles are installed in a lot of Victorian and Edwardian hallways.
The tiles are unglazed utilizing the the natural colours of the clay used to make them.
A lot of these floors have been sealed and then covered with carpet or lino.
The key issues with victorian floor tiles is removing several of polished, oils, dirt, waxes and grime while not causing harm to the tiles.
A colour intensifying sealer is used immediately after cleaning, to displace the original colours when you look at the tiles. If you like a sheen or gloss finish a surface sealer or wax could be applied.
Quarry Tiles Floor Restoration
Quarry tile flooring is normally several decades old and sometimes needs a complete professional clean and restoration to bring it back once again to life.
Damage to the surface of the tiles like scratches as well as other abrasions can occur in the event that tiles have not been properly sealed or even the existing slealer has worn down.
As the tiles may appear dirty and discoloured, they're remarkably tough and can look just like new after a proper clean. If the tiles are laid on sand, ash or lime, use sealers that enable the free movement of moisture.
Cleaning Of Porcelain Floors.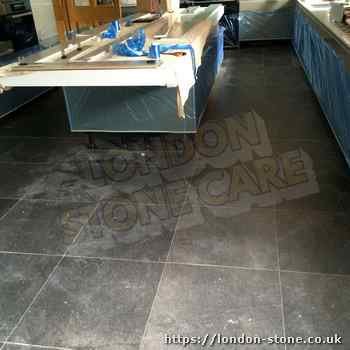 Porcelain has become an increasingly desirable alternative to traditional ceramic tiles and natural stone.
This helps make Porcelain a lot more stain resistant and easier to maintain than traditional ceramic tiles.
There are some inferior porcelains that will absorb soil and spills similar to natural stone floors. This soil may be tough to remove.
We have the equipment and experience to get rid of this hard to reach soil.
When your porcelain floor is clean we can which protects against everyday soil and spills.
In the event that porcelain is a through-colour, we could resurface the porcelain, the same as granite or marble restoration.
Professional cleaning of Ceramic tile floors often takes less time compared to stone floors or clay tiles..
Ingrained soil usually are on the surface of the ceramic tile.
Specialized tile cleaning and restoration services will still give you a better finish.
We always use a professional tile sealer after cleaning. Sealing will make cleaning much simpler and helps to protect from spills.
Some Of The Stone And Tile Restoration Treatments We Give
Sandstone tile cleaning is rarely just cleaning, there exists regularly more restoration required. Natural stone restoration covers many different services. At the least, all stone floors suffer some form of generic wear and tear. In most cases, soil, stains and traffic marks ruin floor's finish. Highly polished marble and granite floors show up wear quickly, as minute foot traffic scuff marks when you look at the stone surface alter the luster and hold dirt. A surface sealer will not prevent porous tile and stone and tiles like Sandstone, Limestone and Terracotta gradually struggling with wear and spill problems. Most tile and stone flooring has cement grout. Cement grout is usually softer compared to stone plus much more at risk of abrasive and chemical damage. Holes could possibly be filled and cracks repaired included in a restoration. Tile and stone contains the appeal that a grubby, porous surface may be taken away, exposing a lovely new surface. Grinding and honing removes surface damage from etching and surface scratching.
Natural stone sealing is essential to help keep a new tile and stone finish looking stunning. Stone sealers must be placed on new natural stone and tile floors and immediately after any floor tile cleaning, stone polishing or tile restoration work. Impregnating or penetrating sealers are utilized following diamond floor polishing. Hybrid sealers or Surface sealers are best placed on coarse natural stone or tiles.
The original shine on a natural stone will gradually go dull. The loss in shine is attributable to foot traffic scratches and surface damage. The only method to replace the original finish is by polishing the tile and stone. On marble, Granite, Terrazzo, Polished Limestone and Polished Travertine floors, diamonds are utilized to eliminate the area wear and recover the first sparkle. The shine on Honed Travertine, Honed Limestone, Sandstone, Slate and Clay tiles is made through the use of a high gloss sealer. Sealer removing products are applied to take away all traces regarding the existing sealer, after which an innovative new gloss sealer is applied.
Is there unsightly chips on your own stone floor floor?
You do not have to change the tile and stone. Coloured resin fillers can fill chips and damage on a tile. Once the resin cures, it has to be sanded and polished. Chip repairs are less costly than laying new tiles.
Contact the Industry Professionals for Natural Stone Repairs London - Call the Specialists.
Repairing Cracked Tiles
A slight movement inside the subfloor is going to make a crack in a marble tile. Cracks tend to be contained in doorways plus in between rooms. Also, a crack can appear as a result of a deficiency or weak spot in the tile. Crack repaircosts not as much as replacing the tile.
For those who have got a deep crack in your floor, vanity unit, tabletop or counter top, they are filled up with coloured epoxy fillers. Hairline cracks are too fine to just accept a filler and they also should be widened with diamond tools before they truly are filled.
Other areas near Enfield we help include:
EnfieldHelpful Information
Explore Enfield, the hidden gem of London. Nestled in the northern part of the city, Enfield is a vibrant and bustling community that offers a unique blend of urban and suburban living.
Discover the charm of Enfield's historic town centre, where you can wander through the quaint shops and cafes that line the streets. Or take a stroll through one of the many parks and green spaces, where you can escape the hustle and bustle of the city and enjoy a peaceful moment in nature.Enfield is also home to a diverse range of cultural attractions, from museums and art galleries to theatres and music venues. You can experience the rich history and heritage of Enfield at the local museums, or catch a performance at one of the many theatres.But Enfield isn't just about culture and history. It's also a hub for innovation and entrepreneurship, with a thriving business community that is constantly pushing the boundaries of what's possible. Whether you're a small business owner or a tech startup, Enfield has everything you need to succeed.And let's not forget about the food scene. Enfield is home to some of the best restaurants and cafes in London, serving up delicious cuisine from all over the world. Whether you're in the mood for a hearty breakfast or a fancy dinner, you'll find it all in Enfield.But what really sets Enfield apart is its sense of community. It's a place where neighbours know each other by name, where people come together to celebrate and support one another. It's a place where you can truly feel at home.So why not come and see for yourself what Enfield has to offer? You won't be disappointed.