Stone Floor Cleaning Charing Cross
See Incredible Stone Floor Cleaning Charing Cross.
Inform Us About The Floor
More often than not the dimensions and types of stone, plus a few photographs detailing the appearance of the floors is all we require.
After we have clarified your requirements we will email an extensive written quotation.
You Can Expect To Have A Punctual Reply
In many cases we will propose other finishes to match most budgets.
Our quotation should be supported with a document demonstrating samples of comparable work.
We show up equipped for work and on time.
We shall do a fantastic job
Why Want London Stone care
Our stone floor cleaning Charing Cross & restoration specialists will breathe new life into your stone floors.
Stone floor cleaning and restoraiton skills and experience dating back for over 20 years.
Regardless if you are about to restore or refinish your stone or tile floors, our company is confident that we can help you.
If you need cleaning tips, contact me and I will be more than pleased to help you.
After restoring a tile and stone floor, we provide a detailed maintenance program.
Contact Us Now!
Book your stone for cleaning quote today.
Our Specialized Stone Floor Cleaning And Polishing Services In Charing Cross Explained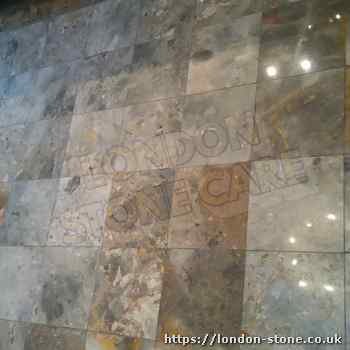 Over time marble tiles will lose its original finish. The dull appearance is caused by tiny scratching on the surface where it is often walked on. Marble Polishing is your only way to reinstate the original appearance.
We use industrial diamond polishing machinery to reinstate the original gloss.
Most marble surfaces are uneven due to the fact tiles are not laid level. We can grind off the jagged tile edges, making the floor surface level. Grinding marble floor tiles must only be completed by professionals.
Following grinding, the tiles will be flush with the grout lines. The marble floor looks "monolithic", appearing to be manufactured from just one area of stone.
After grinding honing and polishing cleaning is very simple, because the mop slides over the floor. Also, soil doesn't get stuck in the grout lines. Chips and cracks can be filled with coloured resin fillers. We can advise the correct restoration service.
Travertine Restoration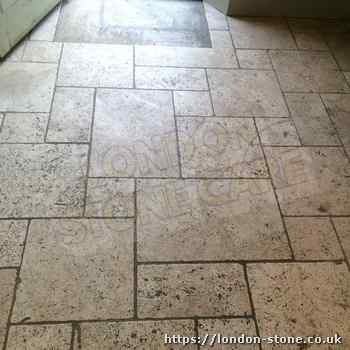 The vast majority of Travertine installed in the UK has a honeycomb framework with a large amount of holes. Travertine floor tiles will come in many different finishes, smooth honed, tumbled and polished. In the long run, the initial hole filler falls away, then the holes get filled with ugly soil.
Working to the highest standard, restoration Companies have specialist machinery and cleaners to remove the soil and old sealers on a Travertine floor.
After cleaning, any open holes in a Travertine floor could be filled with colour matched grout. After restoration and re-grouting the Travertine floor we use a long-lasting, easy to clean sealer.
Limestone Floor Restoration
Over time, Limestone will be dull and loose its appearance. The dullness is brought on by microscopic marks on the surface of the Limestone where it was walked over. Before long, the floor will need to be repolished. We use industrial diamond polishing machines to reinstate the finish.
If your floor happens to be laid leaving jagged tiles, this really is referred to as "lippage". The only way to make a Limestone tile floor smooth is by grinding off the lippage and jagged edges of the tiles. You need specialized equipment and many years of Limestone grinding and polishing to grind a Limestone tile floor, however the results are gorgeous. The Limestone looks "monolithic", appearing to be made from a single piece of Limestone.
Following grinding, the tiles and grout are at the same level. After grinding mopping is a piece of cake, because the mop slides over the floor. There will be no uneven grout deressions to trap soil. Holes, chips and crack repairs in many cases are an element of the restoration procedure. After assessing the Limestone, we can advise the best Limestone restoration program.
Terrazzo Floor Polishing
Terrazzo is an appealing yet durable flooring, thus its use as flooring in supermarkets, airports, commercial and industrial buildings. Gradually a Terrazzo floor will loose the initial finish. Surface damage is due to traffic scratches and surface damage.
Sooner or later, the Terrazzo will need to be polished to the highest standard. We use specialised Terrazzo polishing equipment and diamond tools to grind and polish the Terrazzo. Our Terrazzo sealers can help stop further soil issues.
Sandstone Floor Restoration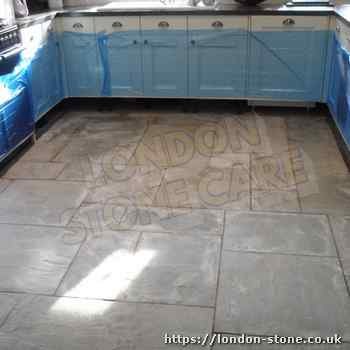 Sandstone floor tiles can be bought in a number of different shades of brown, red, yellow and cream. Whilst sandstone is sturdy it's also porous, so dirt gets caught within the surface and is hard to remove.
Professionals use rotary brushing machines, sealer removers and pressurised rinsing to completely clean the sandstone Then we use specialist sealers that will last for many years not months. Once we look over your floor, we are able to advise you from the best restoration process.
Granite Floor Restoration
Granite is a popular stone for commercial and home rooms. Granite is a really hard flooring and is extremely resistant to damage from scratches and staining compared to other stone like marble and limestone. Granite tile needs less specialized routine maintenance in comparison to other stone.
Due to its hardness, granite needs specialist renovation. We offer a complete selection of granite restoration, cleaning polishing and sealing services. to the highest standard.
Terracotta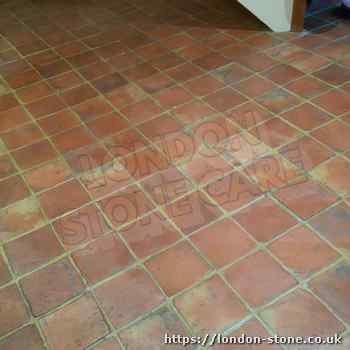 Terracotta doesn't have glaze on the surface, so it will absorb spills and soil very quickly.
Terracotta is extremely porous so it's essential to protect it with a protective seal.
Despite its vulnerabilities, Terracotta can be restored returning to a great look.
Whilst we can seal Terracotta with Linseed oil and wax, we recommend a tough synthetic sealer that will work for years, with minimal maintenance.
Slate Cleaning & Sealing
Slate is an incredibly adaptable stone that can be protected using a range of finishes including rough surface, smooth honed or polished appearance. Even though slate has a minimal porosity, it will probably nevertheless partially absorb and oil based spills, causing annoying marks.
We use professional sealer removal treatments and rotary scrubbing machines to remove the layers of old coatings. Once our professional cleaning is finished, then use professional sealers that will last for a long time not months.
If you like a smooth finish, we are able to grind the tiles, but we have to assess the slate before grinding.
Victorian Tiles Floor Cleaning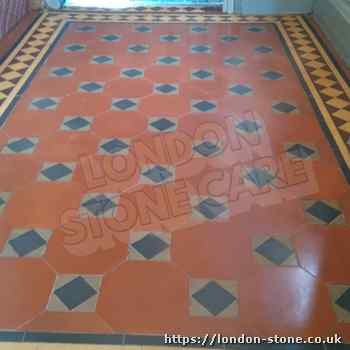 Minton geometric floor tiles are laid in Victorian and Edwardian Hallways.
The tiles are unglazed from the natural colours of the clay used to make them.
With the variations in interior decoration, these kinds of floors come with underlay from carpet, lino adhesive, bitumen and different adhesive residues.
Old polishes, waxes, paint spills and sealer deposits can make cleaning many of these floors a challenge.
After cleaning, the original colours of the floor tiles can look dull, so we put on a colour intensifying impregnating sealer to bring back the original . Topical sealers and waxes can give the floor a sheen or glossy finish.
Quarry Tiles Cleaning & Sealing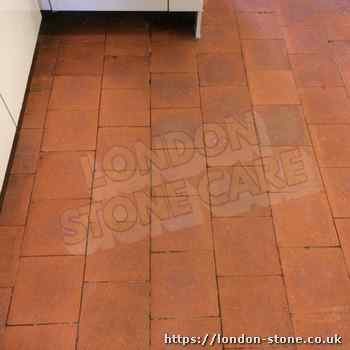 Quarry tile flooring is generally many years old and sometimes needs a full professional clean and restoration to restore it back once again to life.
One universal problem is old coatings of sealer which should be removed.
As the tiles may appear soiled and discoloured, the tiles are amazingly resilient and could look as good as new after a suitable clean. After cleaning, the tiles should be finished with a long lasting sealer.
Cleaning Porcelain Tile Floors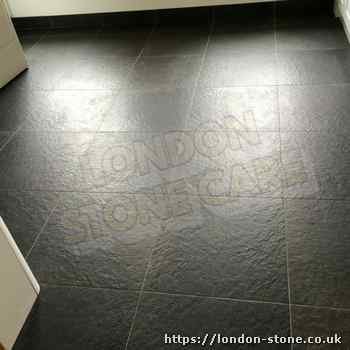 Porcelain is a type of ceramic tile.
Porcelain is extremely moisture-resistant, therefore spillages are not able to soak into the tile and lead to stains.
There are substandard porcelains that can absorb surface soil and spills similar to natural stone floors. It could be difficult to remove this soil.
We know how to get rid of ingrained dirt with equipment made to go into the microscopic pits where the soil is held.
We can help minimize the dirt using Porcelain sealers.
Solid colour Porcelain Tiles may also be ground and polished, the same as Granite or Marble.
Cleaning Of Ceramic Floors.
Professional cleaning of Ceramic floor tiles often takes a shorter time in comparison to natural stone floors or clay tiles..
This is because the top of the tile is commonly glazed.
Nonetheless, you will definitely still achieve a better finish using professional equipment.
A professional tile sealer will be put on after the the cleaning process. Tile sealing makes cleaning much easier and helps to protect against spillages.
Some Of The Stone And Tile Cleaning Options Our Specialists Give
Sandstone tile cleaning is rarely just cleaning, there may be regularly more restoration required. Stone floor restoration covers a number of services. At the very least, all stone floors suffer some type of generic wear and tear. In most cases, soil, stains and traffic marks ruin floor's finish. Highly polished marble and granite floors show up wear quickly, as minute foot traffic scuff marks in the stone surface affect the luster and hold dirt. A surface sealer does not prevent porous tile and stone and tiles like Sandstone, Limestone and Terracotta gradually struggling with wear and spill problems. Most stone and tile flooring has cement grout. Cement grout is typically softer when compared with stone and many other things at risk of abrasive and chemical damage. Holes could possibly be filled and cracks repaired included in a restoration. Stone and tile has got the appeal that a grubby, porous surface can be taken away, exposing a lovely new surface. Grinding and honing removes surface damage from etching and surface scratching.
Stone floor sealing is essential to keep a fresh tile and stone finish looking stunning. Stone sealers should always be put on new stone floor and tile floors and immediately after any floor tile cleaning, stone polishing or tile restoration work. Impregnating or penetrating sealers are utilized following diamond floor polishing. Hybrid sealers or Surface sealers would be best placed on coarse stone and tile or tiles.
The first shine on a natural stone will gradually go dull. The loss in shine is attributable to foot traffic scratches and surface damage. The only way to replace the original finish is by polishing the tile and. On marble, Granite, Terrazzo, Polished Limestone and Polished Travertine floors, diamonds are utilized to get rid of the top wear and recover the initial sparkle. The shine on Honed Travertine, Honed Limestone, Sandstone, Slate and Clay tiles is created by applying a high gloss sealer. Sealer removing items are applied to take away all traces for the existing sealer, and then a new gloss sealer is applied.
Are there unsightly chips on the stone floor floor?
There is no need to alter the stone and tile. Coloured resin fillers can fill chips and damage on a tile. Once the resin cures, this has to be sanded and polished. Chip repairs are less expensive than laying new tiles.
Contact the Industry Professionals for Natural Stone Repairs London - Call the Specialists.
Repairing Cracked Tiles
A slight movement inside the subfloor could make a crack in a marble tile. Cracks in many cases are present in doorways as well as in between rooms. Also, a crack can appear as a result of a deficiency or weak spot inside the tile. Crack repaircosts not as much as replacing the tile.
If you have got a deep crack in your floor, vanity unit, tabletop or counter top, they truly are filled with coloured epoxy fillers. Hairline cracks are too fine to accept a filler and in addition they should be widened with diamond tools before they truly are filled.
Other areas near Charing Cross we work in include:
Charing CrossHelpful Information
Charing Cross is a junction in London, England, where six routes meet. Clockwise from north these are: the east side of Trafalgar Square leading to St Martin Place and then Charing Cross Road; the Strand leading to the City; Northumberland Avenue leading to the Thames; Whitehall leading to Parliament Square; The Mall leading to Admiralty Arch and Buckingham Palace; and two short roads leading to Pall Mall. A bronze equestrian statue of Charles I by French sculptor Hubert Le Sueur has stood near the junction since 1675. The original Charing Cross was one of the medieval Eleanor crosses that stood here in the heart of the hamlet of Charing, Westminster, from the 1290s until its destruction on the orders of Parliament in 1647. The cross gave its name to the immediate locality, and to landmarks including Charing Cross railway station, on the forecourt of which stands the ornate Queen Eleanor Memorial Cross built to commemorate the original Eleanor cross in 1864€"1865. Until 1931, €œCharing Cross€ also referred to the part of Whitehall between Great Scotland Yard and Trafalgar Square. Drummonds Bank, on the corner with The Mall, retains the address 49 Charing Cross not to be confused with Charing Cross Road. Since the early 19th century, Charing Cross has been the notional €œcentre of London€ and is now the point from which distances from London are measured.