Stone Floor Cleaning Oakwood
Discover The Best Quality Stone Floor Cleaning Oakwood.
The Way We Work With Each Other
Send Us Details About Your Floor
A few photos showing the floors together with sizes are often all we want.
Once we have clarified your needs we will email a thorough written quote.
You Will Get A Prompt Reply
Stone floors can often have a range of finishes, so we will include alternatives to suit most budgets.
Our quotation will be supported with a document demonstrating samples of comparable work.
We Decide On A Start Date
We appear on time.
Your stone floor will look incredible
Why You Really Should Select London Stone Care
We give you comprehensive stone floor cleaning Oakwood service for the luxurious stone that help to make a house a dream home.
We use the most advanced technology, delivered with a personal touch, which means that your stone floors look beautiful and maintain their natural beauty for a long time into the future.
If you are prepared to unleash the elegance of your natural stone floors, make contact with our restoration department!
If you need cleaning recommendations, make contact and I will be happy to assit.
Following restoring stone floors to a stunning finish, we provide a cleaning and maintenance program, so floors will stay breathtaking for years instead of weeks.
Contact Us Now!
Get your free of cost stone floor cleaning quote now.
A Short Description Of Our Specialized Stone Floor Restoration Services In Oakwood
Marble Cleaning And Sealing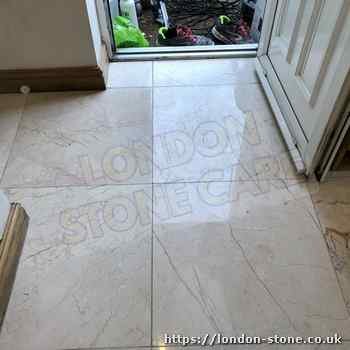 Steadily marble tiles will lose the original shine. The dull appearance is brought on by microscopic scratches on the surface of the tile where it has been walked on. Marble Polishing is the only way to revive the appearance.
We use diamond polishing to hone and polish the marble tiles and repair the initial shine.
Nearly all marble floors are uneven because the marble tiles are not set flat. We can grind off the uneven tile edges, making a floor surface flat. Grinding marble floor tiles really should only be carried out by restoration professionals.
After grinding, the tiles will be at the same level the grout. The marble floor will have the appearance of looking like an individual area of marble.
An even marble surface is much simpler to keep up. There are no uneven grout lines to hold soil. If your marble has cracks and chips, we are able to repair them using resin fillers, closely colour matched to the marble. The particular restoration needed will be determined by the current state of the marble floor.
Travertine Floor Cleaning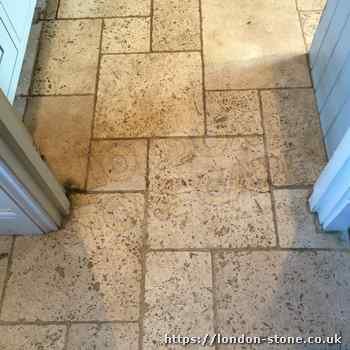 A Travertine floor is distinct with its honeycomb structure, with a lot of holes. There will various forms of Travertine floor tiles, including polished, honed and tumbled. As time passes, the initial hole filler falls away, then the holes get filled with ugly soil.
Working to the highest standard, Travertine floor restoration service providers have use a variety of machine scrubbing, hand scrubbing and pressure rinsing to remove old sealers and ingrained soil.
After cleaning, any open holes on a Travertine floor could be filled up with colour matched grout. After cleaning and re-grouting the Travertine floor we put on a resilient, very easy to clean sealer.
Limestone Floor Polishing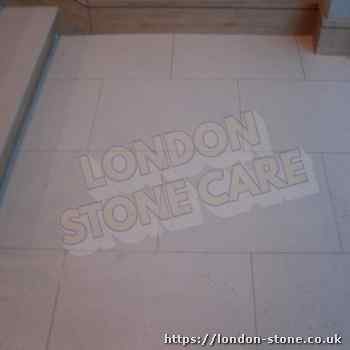 An initial polish on a Limestone floor will ultimately loose its gloss. The dullness is brought on by tiny scratching on the surface where it's been walked on. Before long, the floor will have to be repolished. We make full use of industrial-grade equipment and diamond tooling to grind, hone and polish the stone.
Nearly all Limestone floors are uneven due to the fact Limestone tiles are not set level. We can grind away the uneven tile edges, making the tile surface perfectly flat. Limestone tile grinding is an expert process, giving stunning results. The floor will appear like an individual slab of stone.
Following grinding, the Limestone tiles be flush with the grout lines. Maintaining a ground and polished Limestone floor is a lot like cleaning just one piece of glass. There are no uneven grout lines to trap soil. Cracks and chips can be repaired with colour matched resin fillers. After checking the floor, we can advise the best Limestone restoration service.
Terrazzo Floor Cleaning & Sealing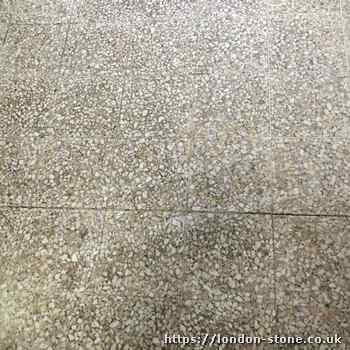 Terrazzo is an attractive yet hard-wearing flooring, hence its popularity as flooring in supermarkets, airports, commercial and industrial buildings. Over time a Terrazzo floor will loose the initial finish. The change in appearance is brought on by microscopic scratches on top where it's been walked over.
The best way to revive the initial finish is through polishing the Terrazzo to the highest standard. Diamonds eliminate the surface damage and restore the initial Terrazzo shine. Our Terrazzo sealers will help stop further siol related issues.
Sandstone Cleaning & Sealing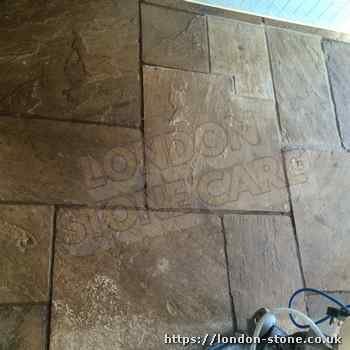 Sandstone floor tiles are available several different shades of brown, red, yellow and cream. Sandstone can end up getting ingrained soil making it look dull and difficult to clean.
We use dedicated wax removers, rotary scrubbing equipment and pressurised rinsing to eliminate the layers of old sealer Once the sandstone is clean, we permit it to dry, then use a long-lasting, easy to clean sealer. We will advise the correct restoration service.
Granite Floor Restoration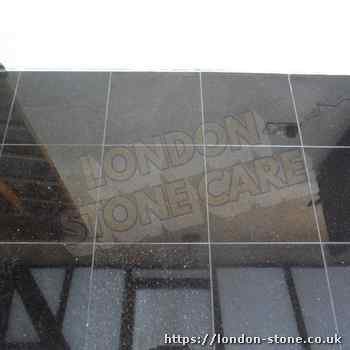 Granite is widely utilized in home and commercial interiors. Granite is a really hard wearing stone flooring, perfect for heavy duty traffic areas. Granite Tile resists wear longer compared to other stone flooring, like marble or limestone.
Very few stone floor cleaning and restoration companies restore Granite, since it is so very hard and difficult to restore. We offer the full range of Granite cleaning and restoration services. to the highest standard.
Terracotta Restoration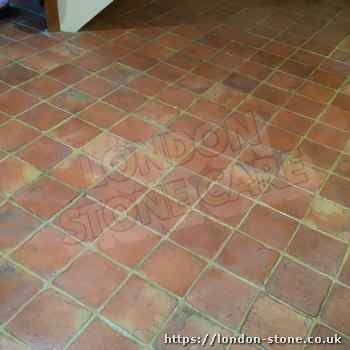 Terracotta is made from natural clay and has been used throughout history for roof tiles, sculptures, bricks and floor tiles.
Terracotta is quite porous so it's important to protect it with some protective sealer.
Cleaning and restoring terracotta tiles starts with stripping the old polish, sealers and embedded soil with specialised coating removers and cleaning solutions.
Whilst we are able to seal Terracotta with Linseed oil and wax, we recommend a durable synthetic sealer that will last for years, with minimum maintenance.
Slate Floor Restoration
Slate floors look fantastic using their distinctive finish and vibrant colour. Our company is commonly called to restore slate when it suffers form layers of old sealer with ingrained soil, and so the finish looks dull and dirty.
We now have specialist equipment and chemical treatments to remove the soil and old sealers, reviving the original slate finish. After our professional cleaning is completed, use industrial-grade sealers that last for years not just months.
If you like a smooth floor, we can grind the floor, subject towards the slate being ideal for grinding.
Victorian Tiles Cleaning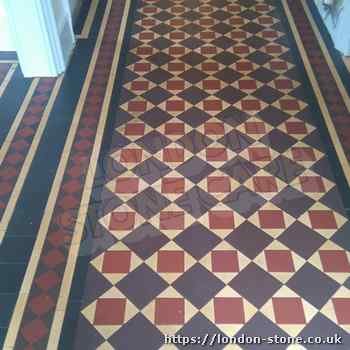 Many Victorian and Edwardian hallways could have floors made from Geometric Encaustic tiles.
The primary qualities of Victorian tiles are the natural clay colours and a matt finish.
Along with the changes in residential decoration, many of these floors come with carpet underlay, lino adhesive, bitumen and different sticky deposits.
Owing to their age, these floors may have a variety of coating residues, that need to have expert cleaning
A colour intensifying sealer is applied after cleaning, to restore the first colours in the tiles. Topical sealers and waxes will give the floor a sheen or glossy finish.
Quarry Tiles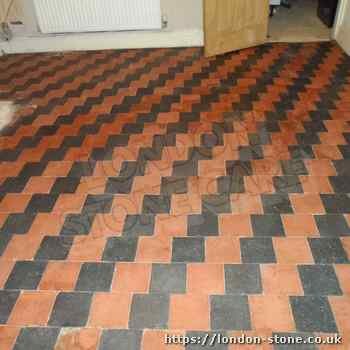 Quarry tiles have been a typical fixture in cooking areas and for interior flooring for decades.
Whilst the tiles may seem dirt, these floors are remarkably resilient and will look as good as new after a suitable clean.
We can eliminate the layers of old selaers and soil, providing you with a lovely new finish. Once the quarry tiles have been cleaned they can be sealed to provide years of life.
Cleaning Of Porcelain Tiles Floors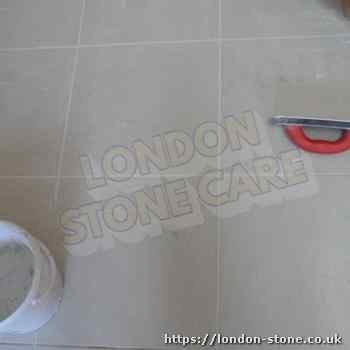 Porcelain is classified as a ceramic, but made with different ingredients to conventional glazes and clay tiles.
The added minerals helps make Porcelain more robust than traditional ceramic tiles.
There are inferior porcelains that can absorb surface soil and spills just like natural stone floors. This soil may be hard to remove.
We have the equipment and experience to eliminate this difficult to reach soil.
After cleaning, we use specific Porcelain sealers to prevent this problem.
If the porcelain is a solid colour, we are able to resurface the porcelain, just like granite or marble restoration.
Cleaning Of Ceramic Tile Floors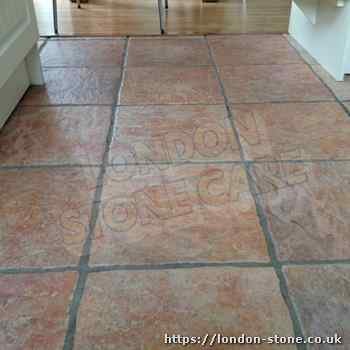 Professional cleaning of Ceramic tiles usually takes a shorter time in comparison to natural stone floors or clay tiles..
A glassy surface is simpler to clean.
But, professional cleaning, specialist cleaners and equipment can give the most effective results.
Following cleaning we apply a specialist tile sealer. Sealing prevents liquid spills changing into permanent stains, making cleaning and restoration more effective.
A Number Of The Stone And Tile Restoration And Cleaning Services We Bring
Stone and tile cleaning is rarely just cleaning, there is certainly regularly more restoration required. Stone floor restoration covers many different services. At the very least, all stone floors suffer some sort of generic wear and tear. In most cases, soil, stains and traffic marks ruin floor's finish. Highly polished marble and granite floors show up wear quickly, as minute foot traffic scuff marks during the stone surface affect the luster and hold dirt. A surface sealer does not prevent porous tile and stone and tiles like Sandstone, Limestone and Terracotta gradually struggling with wear and spill problems. Most natural stone flooring has cement grout. Cement grout is typically softer in comparison to stone and many other things in danger of abrasive and chemical damage. Holes might be filled and cracks repaired included in a restoration. Tile and stone gets the appeal that a grubby, porous surface may be taken away, exposing an attractive new surface. Grinding and honing removes surface damage from etching and surface scratching.
Stone floor sealing is crucial to help keep an innovative new tile and stone finish looking stunning. Stone sealers should be placed on new tile and stone and tile floors and just after any floor tile cleaning, stone polishing or tile restoration work. Impregnating or penetrating sealers are utilized following diamond floor polishing. Hybrid sealers or Surface sealers would be best applied to coarse tile and or tiles.
The original shine on a natural stone will gradually go dull. The loss in shine is brought on by foot traffic scratches and surface damage. The only way to replace the initial finish is through polishing the stone floor. On marble, Granite, Terrazzo, Polished Limestone and Polished Travertine floors, diamonds can be used to eliminate the outer lining wear and recover the initial sparkle. The shine on Honed Travertine, Honed Limestone, Sandstone, Slate and Clay tiles is established by applying a top gloss sealer. Sealer removing items are applied to take away all traces of the existing sealer, after which a new gloss sealer is applied.
Is there unsightly chips on your tile and floor?
There is no need to alter the stone floor. Coloured resin fillers can fill chips and damage on a tile. When the resin cures, it offers to be sanded and polished. Chip repairs are less expensive than laying new tiles.
Contact the Industry Professionals for Natural Stone Repairs London - Call the Specialists.
Repairing Cracked Tiles
A slight movement in the subfloor is going to make a crack in a marble tile. Cracks in many cases are contained in doorways as well as in between rooms. Also, a crack can appear due to a deficiency or weak spot inside the tile. Crack repaircosts never as much as replacing the tile.
For those who have got a deep crack in your floor, vanity unit, tabletop or counter top, they truly are filled with coloured epoxy fillers. Hairline cracks are way too fine to just accept a filler and they also should be widened with diamond tools before they have been filled.
Other areas near Oakwood we work in include:
OakwoodHelpful Information
Experience Oakwood, the ultimate urban oasis in the heart of London. With its prime location, Oakwood provides easy access to the city's top attractions, while also offering a peaceful retreat from the hustle and bustle.Step into our luxurious accommodations and feel instantly at home. Our rooms are designed with your comfort in mind, featuring modern amenities and sleek furnishings that exude sophistication.Take a break from the city and unwind in our serene courtyard, a hidden gem in the middle of the urban jungle. Or, if you're feeling active, head to our state-of-the-art fitness center and work up a sweat. At Oakwood, we understand the importance of balance. That's why we offer a variety of services that cater to both your professional and personal needs. From our fully equipped business center to our concierge services, we've got you covered. And when it comes to dining, Oakwood delivers. Our on-site restaurant serves up delicious cuisine that will tantalize your taste buds and leave you wanting more. But what really sets Oakwood apart is our commitment to sustainability. We believe in doing our part to protect the environment, and we've implemented a number of eco-friendly practices throughout our property.So why wait? Book your stay at Oakwood today and experience the perfect blend of luxury and sustainability in the heart of London.