Stone Floor Cleaning Holborn
Find Out About Premium Stone Floor Cleaning Holborn.
Give The Size And Form Of Stone
A few photos showing the floors plus the sizes are often all we require.
Once we have defined your requirements we will email an extensive written quote.
We Shall Contact You Quickly
In many cases we will offer other treatments to match most budgets.
We will also send a document showing photos of comparable work.
We Decide On A Work Schedule
We show up organized for work as well as on time.
We are going to do an incredible job
Your natural stone and tile floors polished and restored to like-new - or even better!
An unwavering attention on the requirements of our clients, supplying top quality natural stone cleaning, repair, and restoration work with competitive prices.
When you are prepared to unleash the charm of your natural stone and tile floors, speak to our restoration department!
Professional cleaning and maintenance advice
Following restoring a tile and stone floor, we provide you with a detailed ongoing maintenance program.
Contact Us Now!
Schedule a quote for your stone floor cleaning Holborn
A Short Description Of Our Professional Stone Floor Restoration Services In Holborn
With time, Marble will be matt and loose its surface. Surface scratches and etching pile up and take off the initial shine. The only way to restore the initial finish is by polishing the floor.
We use diamonds to take away the scratches and damage and repair the shine.
If your floor has been put down leaving not level tiles, this really is referred to as "lippage". A marble tile floor is leveled by grinding away the lippage and irregular tile edges. Marble grinding is a professional job, that provides fantastic results.
Following grinding, the tiles will be at the same level the grout lines. The marble looks "monolithic", appearing to be produced from just one piece of marble.
A smooth marble finish is much simpler mop. A smooth floor won't have grout depessions to hold dirt. If your marble floor has cracks and chips, we are able to repair them with resin fillers, closely colour matched to the marble. Once we have assessed your floor, we can suggest on the ideal marble restoration service.
Travertine Floor Restoration
A Travertine floor is distinct with a honeycomb structure, with plenty of holes. There will various forms of Travertine floor tiles, including polished, honed and tumbled. The original hole filler often comes away, permitting the holes to fill with dirt and soil.
Working to the highest standard, restoration businesses have specialist machines and chemicals to get rid of soil and old sealer residues on a Travertine floor.
After cleaning, the Travertine floor is often grouted to refill any open holes. After restoration and re-grouting the Travertine floor we apply a resilient, easy to clean sealer.
Limestone Floor Restoration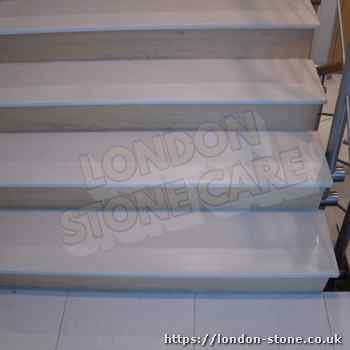 Over time, Limestone will be worn and loose its surface. Scratching and spill damage build and dull the original surface. Limestone Polishing is the best way to bring back the finish. Diamonds are used to take away the marks and scratches and bring back the initial finish.
Nearly all Limestone floors are not even due to the fact Limestone tiles are not laid flat. The only method to make a Limestone tile floor perfectly flat is by grinding off the lippage and jagged edges of the tiles. That is an involved process however the the finished results are beautiful. The Limestone will have a monolithic appearance as an individual piece of Limestone.
After grinding, the Limestone be at the same level the grout. It is incredibly easier to mop a smooth, sleek Limestone than a jagged floor. There will be no uneven grout deressions to trap soil. Limestone restoration typically includes a few crack and chip repairs, using Limestone resin fillers. We will recommend the appropriate Limestone restoration process.
Terrazzo Floor Cleaning & Sealing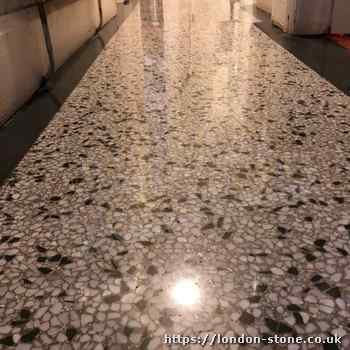 Terrazzo has been used for thousands of years as a decorative flooring The original finish on a Terrazzo floor will slowly go dull. The change in the finish is due to microscopic scratches on the surface where it was walked on.
Terrazzo Polishing is the best way to restore finish to the highest standard. We use specialised Terrazzo polishing equipment and diamond tools to grind and polish the stone. Our Terrazzo sealers will help reduce further soil problems.
Sandstone Floor Cleaning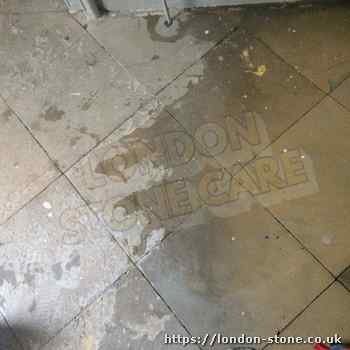 Sandstone floor tiles appear in a number of different shades of brown, red, yellow and cream. The voids amongst the sandstone grains trap dirt which can be difficult to remove.
We use a rotary brushing equipment, sealer removers and pressure rinsing to completely clean the sandstone Then we use specialist sealers that last for many years not just months. Once we inspect your floor, we are able to give you advice regarding the best restoration process.
Granite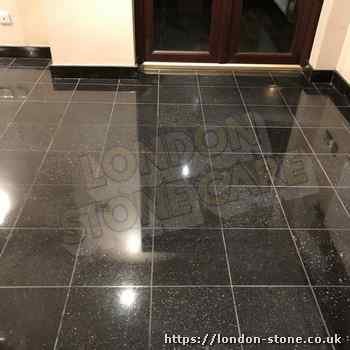 Granite is a really popular tile flooring. Granite is a very hard flooring and is very resistant to surface damage from scratches and staining compared to other stone like marble and limestone. Granite resists wear longer as compared to some other natural stones, like limestone or marble.
Because of its hardness, granite must have specialist cleaning and restoration. Our Company will restore all forms of granite flooring. to the highest standard.
Terracotta Floor Restoration
Terracotta has got a distinctive colour and a rustic feel in the home, but needs careful maintenance in order to keep it looking its best.
Terracotta can easily start to show marks, particularly where the existing sealer has worn down.
Sealer deposits, dirt and marks can be removed with scrubbing equipment and sealer removers.
We could wax the Terracotta or apply a hard wearing synthetic sealer that is much simpler to take care of.
Slate Floor Cleaning And Sealing
Slate is an incredibly versatile material that can be finished with a range of finishes from rough texture, smooth honed or polished surface. Slate floors need regular sealing to stop soil and spills marking the surface.
We use professional sealer removers and rotary scrubbing devices to remove the layers of old coatings. When the professional cleaning is completed , we leave the floor to dry, then use a durable, easy to clean sealer.
If you have a suitable slate, it can be ground smooth, making it easier to clean.
Victorian Tiles Cleaning & Sealing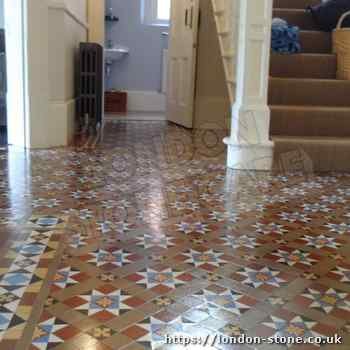 Victorian Clay or Minton geometric tiles are laid in Victorian and Edwardian Hallways.
Victorian tiles are made from natural clay and have a normal matt finish.
Along with the variations in interior decor, these floors come with carpet underlay, lino adhesive, bitumen and different glue residues.
Cleaning these floors can be challenging because of the range of old sealers and covering residues.
After cleaning an impregnating sealer is used to improve the colours and protect the floor tiles. A topical sealer or wax finish will provide the floor tiles with a low-sheen finish.
Quarry Tiles Floor Cleaning And Sealing
Quarry tiles were a typical fixture in kitchens and for indoor flooring for many years.
Whilst the tiles can happen dirty and discoloured, these floors are very tough and can look just like new after an effective clean.
An expert clean and reseal can be just enough to restore a quarry tile floor. Quarry tiles tend to be laid without a damp proof membrane layer, therefore we need certainly to apply the proper sealer to allow the tiles to breathe.
Cleaning Of Porcelain Floors.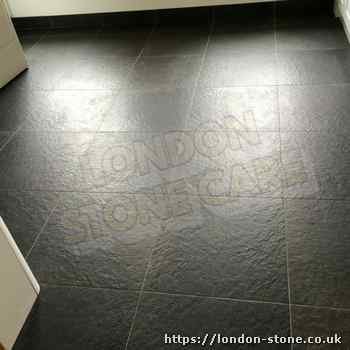 Porcelain is now an progressively sought after alternative to standard ceramic tiles and natural stone.
The extra minerals makes Porcelain much stronger than traditional ceramic tiles.
If Porcelain isn't properly produced, the surface can absorb soil just like natural stone floors. It may be hard to remove this soil.
We possess the equipment and experience to eliminate this hard to reach soil.
After cleaning, we use specific Porcelain sealers to prevent this problem.
If the porcelain is a through-colour, we could resurface the porcelain, the same as granite or marble restoration.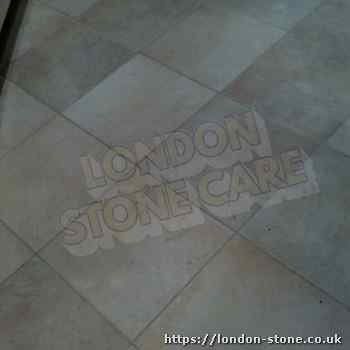 Professional cleaning of Ceramic tiles is commonly quicker as compared to cleaning natural stone floors or clay tiles.
This is because the surface of the tile is usually glazed.
But, professional cleaning, specialist chemicals and machinery will provide the most effective results.
A specialist tile sealer is applied following the cleaning. A sealed floor is simpler to keep clean and helps avoid stains.
A Number Of The Natural Stone Restoration Solutions Our Technicians Bring
Natural stone cleaning is rarely just cleaning, there may be regularly more restoration required. Stone floor restoration covers a number of services. At least, all stone floors suffer some type of generic wear and tear. More often than not, soil, stains and traffic marks ruin floor's finish. Highly polished marble and granite floors show up wear quickly, as minute foot traffic scuff marks within the stone surface affect the luster and hold dirt. A surface sealer will not prevent porous tile and stone and tiles like Sandstone, Limestone and Terracotta gradually struggling with wear and spill problems. Most tile and stone flooring has cement grout. Cement grout is usually softer in comparison to stone plus much more in danger of abrasive and chemical damage. Holes could be filled and cracks repaired included in a restoration. Stone floor gets the appeal that a grubby, porous surface could be taken away, exposing a pleasant new surface. Grinding and honing removes surface damage from etching and surface scratching.
Natural stone sealing is a must to keep an innovative new stone floor finish looking stunning. Stone sealers should always be put on new stone floor and tile floors and soon after any floor tile cleaning, stone polishing or tile restoration work. Impregnating or penetrating sealers are used following diamond floor polishing. Hybrid sealers or Surface sealers would be best placed on coarse tile and or tiles.
The original shine on a sandstone floor will gradually go dull. The loss in shine is attributable to foot traffic scratches and surface damage. The only method to replace the initial finish is by polishing the stone and tile. On marble, Granite, Terrazzo, Polished Limestone and Polished Travertine floors, diamonds can be used to remove the area wear and recover the initial sparkle. The shine on Honed Travertine, Honed Limestone, Sandstone, Slate and Clay tiles is created through the use of a higher gloss sealer. Sealer removing products are applied to take away all traces regarding the existing sealer, after which a new gloss sealer is applied.
Are there unsightly chips on the stone floor floor?
You don't have to alter the tile and stone. Coloured resin fillers can fill chips and damage on a tile. When the resin cures, this has to be sanded and polished. Chip repairs are less costly than laying new tiles.
Contact the Industry Professionals for Natural Stone Repairs London - Call the Specialists.
Repairing Cracked Tiles
A small movement in the subfloor is likely to make a crack in a marble tile. Cracks in many cases are present in doorways plus in between rooms. Also, a crack can appear because of a deficiency or weak spot within the tile. Crack repaircosts never as much as replacing the tile.
When you yourself have got a deep crack in your floor, vanity unit, tabletop or counter top, they truly are filled with coloured epoxy fillers. Hairline cracks are way too fine to simply accept a filler and so they should be widened with diamond tools before they've been filled.
Other areas near Holborn we help include:
HolbornHelpful Information
Holborn is a district in central London, which covers the south-eastern part of the London Borough of Camden and a part St Andrew Holborn Below the Bars, of the Ward of Farringdon Without in the City of London. The area has its roots in the ancient parish of Holborn, which lay on the west bank of the now buried River Fleet, taking its name from an alternative name for the river. The area is sometimes described as part of the West End of London or of the wider West London area. The River Fleet also gave its name to the streets Holborn and High Holborn which extend west from the site of the former Newgate in the London Wall, over the Fleet, through Holborn and towards Westminster. The district benefits from a central location which helps provides a strong mixed economy. The area is particularly noted for its links to the legal profession, the diamond centre at Hatton Garden and Great Ormond Street Hospital.