Stone Floor Cleaning Roehampton
Presenting Top-Quality Stone Floor Cleaning Roehampton.
Inform Us About The Floor
More often than not the dimensions and types of stone, plus a few pictures displaying the condition of the floors will be all we require.
We shall email an in depth quote after we have cleared up your needs.
Stone floors can often have a variety of finishes, therefore we may include alternatives to match most budgets.
We will also email a document displaying photos of matching work.
We show up organized for work and on time.
Your natural stone floor will be exquisite
Why Choose London Stone care
Providing stone floor cleaning Roehampton, Polishing, Repair and Restoration Services.
No matter the type of stone you have got, our technicians can make them new again.
Regardless if you are likely to restore or refinish your natural stone or tile floors, we are certain that we can help you.
Expert stone cleaning and maintenance advice
Following restoring a stone floor, we leave a thorough maintenance program.
Contact Us Now!
Your stone floor cleaning Roehampton quotation is only one click away.
Our Specialised Stone Floor Cleaning And Polishing Services In Roehampton Outlined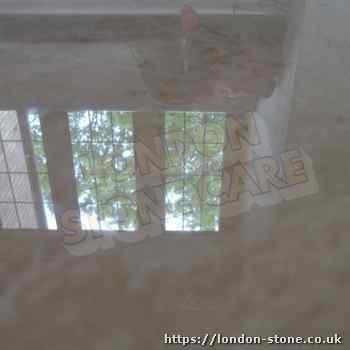 An initial surface on a marble floor will slowly loose its gloss. Scratches and stains build up and dull the initial polish. Sooner or later, your marble floor will need to be repolished.
We use diamond polishing to grind, hone and polish a marble floor and recover the appearance.
If the tiles are not really, perfectly even this problem is named "lippage". The only method to make a marble floor flat is by grinding away the lippage and irregular edges of the tiles. Marble floor grinding is an expert service, that provides great results.
After grinding, the grout sits is level with the marble tiles. The marble looks "monolithic", appearing to be produced from just one slab of marble.
It is faster and easier to clean a smooth, sleek floor than an irregular floor. Also, soil doesn't get stuck within the grout lines. Cracks, chips and hole repairs tend to be part of the marble restoration service. We will advise the right restoration service.
Travertine Floor Cleaning & Sealing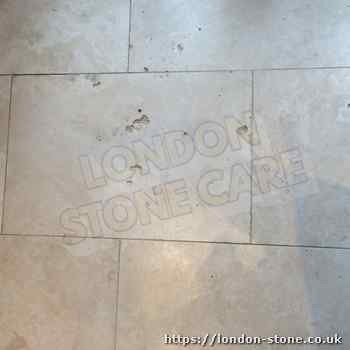 Most of Travertine used in the UK has a honeycomb framework with lots of holes. Travertine floor tilescan be supplied in a number of finishes, including honed, polished and tumbled. With time, the original hole filler falls out, thereafter the holes fill with unattractive soil.
Working to the highest standard, Travertine floor cleaning and restoration specialists use specialist sealer removers and rotary scrubbing machines to eliminate the coatings of old sealers and ingrained soil.
After cleaning, any open holes on the Travertine floor could be filled up with coloured grout. Finally, we apply specialist sealers that will last for many years to guard the Travertine floor.
Limestone Polishing & Sealing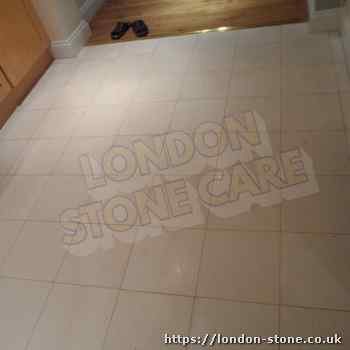 Bit by bit Limestone tiles will loose the original appearance. The damage to the surface is caused by foot traffic scratches and surface etching The only way to revive the original shine is by polishing the tiles. We use diamonds to get rid of the surface damage and rebuild the initial surface.
If your floor has been installed with jagged tiles, this might be known as lippage. A Limestone tile floor is smoothed by grinding away the lippage and uneven tile edges. Limestone tile grinding is a specialist procedure, that gives superb results. The Limestone floor will get the look of looking like an individual piece of stone.
After grinding, the Limestone and the grout will be at the exact same level. Cleaning a ground and polished Limestone floor is much like cleaning a single slab of glass. There are no uneven grout deressions to trap soil. Chips, cracks and hole repairs tend to be part of the restoration procedure. After checking out the Limestone, we can advise the best Limestone restoration service.
Terrazzo Polishing
Terrazzo is created by mixing chips made from marble, granite, quartz, or glass chips into a cement or epoxy medium . Over time, Terrazzo will become dull and lose its finish. The change in appearance is caused by microscopic scratches on top where it has been walked over.
The only way to revive the initial finish is by polishing the Terrazzo to the highest standard. We have diamond polishing machines to grind the Terrazzo and restore the original finish. Our Terrazzo sealers can help prevent further siol related problems.
Sandstone Floor Restoration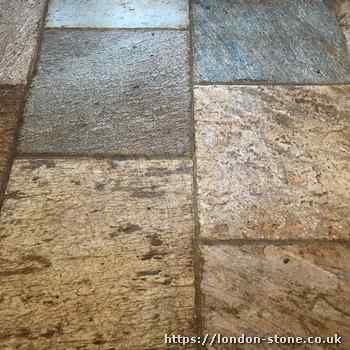 Sandstone floor tiles are available a number of different shades of brown, red, yellow and cream. Old sandstone can be covered with many different old coarings and trapped dirt, so preferably, it needs expert cleaning and sealing.
We use a rotary brushing equipment, coating removers and pressurised rinsing to clean the sandstone Then we use specialist sealers that last for many years not months. The specific restoration needed should be based on the health of your floor.
Granite Floor Cleaning
You can find granite in a lot of homes and buildings. Granite is exceedingly hard-wearing.Granite is frequently chosen because of the stone's hard wearing qualities. Granite flooring wears longer as compared to alternative stone flooring, like limestone or marble.
Granite is so hard, that many companies don't have the equipment or skills to revive granite floors. We offer a full variety of granite restoration, cleaning polishing and sealing services. to the highest standard.
Terracotta Floor Cleaning And Sealing
Terracotta has no glaze on the surface, so it will absorb spills and soil very quickly.
Aggressive cleaners including basic floor cleaning solutions and bathroom tile cleaners can easily mark and damage Terracotta.
Even with its vulnerabilities, Terracotta can be restored back once again to a great finish.
We can wax the Terracotta or apply a hard wearing synthetic sealer that is much easier to maintain.
Slate Cleaning
Slate floors look great using their textured finish and vibrant colours. Even though slate has a minimal porosity, it's going to nevertheless to some extent absorb and oil based spills, causing aggravating spots.
We now have specialist machinery and chemical treatments to get rid of the soil and old sealers, rejuvenating the initial slate finish. When the professional cleaning is finished, use industrial-grade sealers that will last for a long time not just months.
If you like a smooth floor, we are able to grind the floor, subject to the slate being suited to grinding.
Victorian Tiles Cleaning & Sealing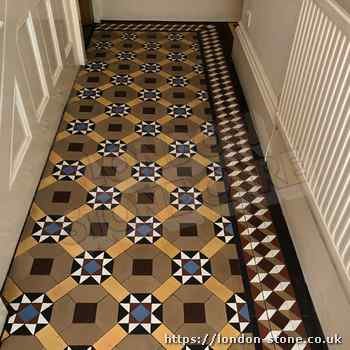 Minton geometric tiles are installed in Victorian and Edwardian Hallways.
The tiles are unglazed utilizing the the natural colours of the clay used in their manufacture.
Lots of these floors were sealed and then covered up with carpet or lino.
The primary concerns with victorian floor tiles is removing the of polished, oils, dirt, waxes and grime whilst not harming the tiles.
A colour intensifying sealer is put on immediately after cleaning, to restore the initial colours in the tiles. If you prefer a sheen or gloss finish a surface sealer or wax may be applied.
Quarry Tiles Floor Restoration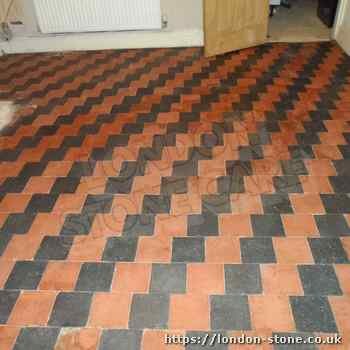 Quarry tiles are a common fixture in kitchen areas and for interior flooring for decades.
One common problem is former coatings of sealer which have to be taken off.
Whilst the tiles may seem dirty and discoloured, they're remarkably resilient and could look as good as new after a suitable clean. Quarry tiles in many cases are laid with no damp proof membrane layer, therefore we need certainly to apply the right sealer to permit the tiles to breathe.
Cleaning Of Porcelain Tiles Floors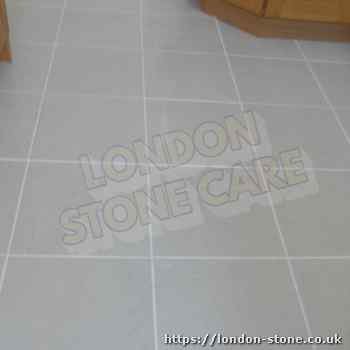 Porcelain is a type of ceramic tile.
The extra minerals makes Porcelain tougher than standard ceramic tiles.
If the blend of ceramics isn't correct, the surface of the tiles can be porous. similar to natural stone floors. If you have got a substandard Porcelain, the surface soil can be hard to remove.
We have the experience and equipment to eliminate this difficult to reach soil.
After your porcelain floor has been cleaned we are able to use a sealer to protect against day to day soil and spills.
Solid colour Porcelain Tiles can be ground and polished, similar to Granite or Marble.
Cleaning Of Ceramic Tile Floors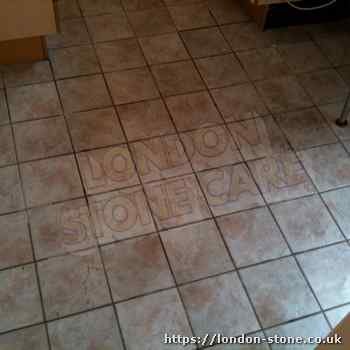 Professional cleaning of Ceramic tiles is frequently a bit less complicated when compared to stone floors cleaning..
The polish on Ceramic tiles isn't permeable.
However, professional cleaning, specialist products and machinery will provide the best results.
After cleaning we use a specialist tile sealer. Sealing prevents liquid spills turning out to be stains, making cleaning and restoring more efficient.
Some Of The Natural Stone Cleaning Options Our Specialists Deliver
Sandstone tile cleaning is rarely just cleaning, there is certainly regularly more restoration required. Stone floor restoration covers a range of services. At least, all stone floors suffer some form of generic wear and tear. More often than not, soil, stains and traffic marks ruin floor's finish. Highly polished marble and granite floors show up wear quickly, as minute foot traffic scuff marks into the stone surface affect the luster and hold dirt. A surface sealer does not prevent porous natural stone and tiles like Sandstone, Limestone and Terracotta gradually struggling with wear and spill problems. Most stone and tile flooring has cement grout. Cement grout is normally softer in comparison to stone and much more at risk of abrasive and chemical damage. Holes could be filled and cracks repaired included in a restoration. Tile and stone contains the appeal that a grubby, porous surface could be taken away, exposing a lovely new surface. Grinding and honing removes surface damage from etching and surface scratching.
Stone floor sealing is vital to keep a fresh stone floor finish looking stunning. Stone sealers should be placed on new tile and and tile floors and immediately after any floor tile cleaning, stone polishing or tile restoration work. Impregnating or penetrating sealers are employed following diamond floor polishing. Hybrid sealers or Surface sealers are best put on coarse tile and stone or tiles.
The initial shine on a stone and tile will gradually go dull. The loss in shine is brought on by foot traffic scratches and surface damage. The only method to replace the original finish is by polishing the stone and tile. On marble, Granite, Terrazzo, Polished Limestone and Polished Travertine floors, diamonds can be used to get rid of the top wear and recover the original sparkle. The shine on Honed Travertine, Honed Limestone, Sandstone, Slate and Clay tiles is established by applying a high gloss sealer. Sealer removing items are applied to take away all traces for the existing sealer, after which a new gloss sealer is applied.
Are there unsightly chips on your tile and floor?
You do not have to alter the tile and. Coloured resin fillers can fill chips and damage on a tile. After the resin cures, this has to be sanded and polished. Chip repairs are less expensive than laying new tiles.
Contact the Industry Professionals for Natural Stone Repairs London - Call the Specialists.
Repairing Cracked Tiles
A small movement in the subfloor will likely make a crack in a marble tile. Cracks in many cases are present in doorways and in between rooms. Also, a crack can appear because of a deficiency or weak spot inside the tile. Crack repaircosts never as much as replacing the tile.
If you have got a deep crack in your floor, vanity unit, tabletop or counter top, they have been filled with coloured epoxy fillers. Hairline cracks are way too fine to accept a filler and they also need to be widened with diamond tools before these are typically filled.
Other areas near Roehampton we service include:
RoehamptonHelpful Information
Roehampton is a suburban district in southwest London, in the Putney SW15 postal district, and takes up a far western strip running north to south of the London Borough of Wandsworth. It occupies high land in the south that adjoins its northern part, Richmond Park, Richmond Park Golf Courses, and Putney Heath. At its southern extreme, it forms an east€"west strip heritage conservation area and a street built in the 1980s comprising Roehampton Vale. The Vale straddles the A3 which in turn adjoins many sports pitches, Putney Vale, and Wimbledon Common. Altogether, Roehampton takes up a long area between the former village of Barnes to the north, Putney to the east, and the green areas around its southern part, beyond which are Kingston Vale and Raynes Park, uniquely in its borough distant from a railway station. Roehampton most densely populated area has a long border with the largest of London Royal Parks, Richmond Park. The area is centred about 6.3 miles roughly 10 km south-west of Charing Cross and gained its first church in the 19th century in its narrow central conservation area between the Alton Estate and Dover House Estate.