Stone Floor Cleaning Balham
Discover The Highest Quality Stone Floor Cleaning Balham.
Provide The Size And Sort Of Stone
More often than not the dimensions and form of stone, plus a number of photographs displaying the appearance of the floors is all we require.
After we have defined your needs we shall email an extensive written quote.
You Can Expect To Receive A Quick Reply
Most of the time we shall offer alternative finishes to accommodate most budgets.
Our quotation will be accompanied with a document demonstrating types of equivalent work.
We visit on time.
We're going to do an unforgettable job
The Reasons Why You Should Contact London Stone Care
Delivering stone floor cleaning Balham, Polishing, Repair and Full Restoration Services.
Exceptionally knowledgeable and professional craftsmen, properly trained with high tech procedures.
We offer free quotes in Balham without any obligation!
Totally free cleaning and maintenance help
After restoring stone floors to a stunning finish, we leave a cleaning and maintenance program, so stone floors will stay attractive for years instead of months.
Contact Us Now!
Your stone floor cleaning Balham quote is simply one click away.
A Quick Outline Of Our Specialized Stone Floor Cleaning And Polishing Services In Balham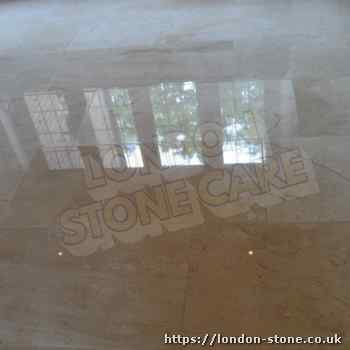 Eventually a marble floor will lose its original polish. The damage to the surface is due to traffic scratching and etch marks Marble Polishing is the best way to restore the original polish.
We use industrial diamond polishing to grind and polish the floor and recover the original appearance.
If your floor happens to be laid with jagged tiles, this is described as lippage. A marble tile floor is smoothed by grinding off the lippage and irregular edges of the tiles. It is a complicated process however the results are amazing.
After grinding, the marble will be at the same level the grout lines. The floor will appear like a single slab of stone.
An even marble finish is much easier to keep up. There will be no grout channels to hold dirt. Holes, chips and crack repairs tend to be part of the restoration work. Once we assess your floor, we will suggest on the ideal restoration service.
Travertine Floor Cleaning & Sealing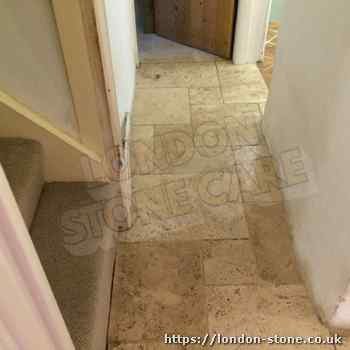 A Travertine floor has a porous structure, with plenty of holes. Travertine floor tiles will come in a number of finishes, smooth honed, polished and tumbled. The initial hole filler often comes away, allowing the holes to fill with dirt, soil and mopping water.
Working to the highest standard, Travertine floor restoration businesses have use a variety of machine scrubbing, hand scrubbing and pressurised rinsing to remove old sealers and embedded soil.
After cleaning, the Travertine floor could be grouted to fill any open holes. After restoration and grouting the Travertine floor we put on a long-lasting, simple to clean sealer.
Limestone
Limestone ultimately looses the original shine. The dullness is brought on by small scratching on the surface of the stone where it has been walked on. Ultimately, your Limestone will have to be re-polished. We operate professional equipment and industrial diamond tooling to grind and polish the stone.
The majority of Limestone floors are uneven due to the fact Limestone tiles are not set flat. A Limestone tile floor is leveled by grinding off the lippage and uneven edges of the tiles. It is a complicated process but the the finished results are amazing. The Limestone floor looks monolithic, appearing to be made from an individual piece of Limestone.
Following grinding, the grout sits is level with the Limestone. It is a lot easier to maintain a smooth floor than an uneven floor. Also, soil doesn't get stuck into the grout lines. Holes, chips and crack repairs in many cases are an element of the Limestone restoration process. The restoration needed should be determined by the state of your floor.
Terrazzo Floor Cleaning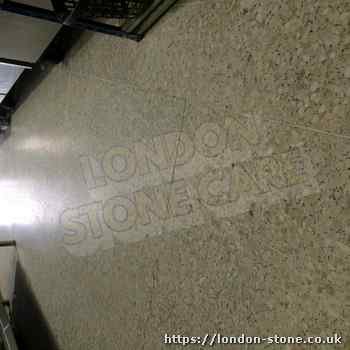 Terrazzo is an appealing and hard wearing flooring, hence its popularity as a flooring in supermarkets, airports, commercial and industrial buildings. As time passes, Terrazzo will end up dull and lose its finish. The surface damage is brought on by traffic scratches and surface damage.
Terrazzo Polishing is definitely the best way to bring back the original finish to the highest standard. We use specialised Terrazzo polishing machines and diamond tooling to grind and polish the Terrazzo. Once your Terrazzo is cleaned and polished, we could put on a sealer that provides protection against daily spills.
Sandstone Cleaning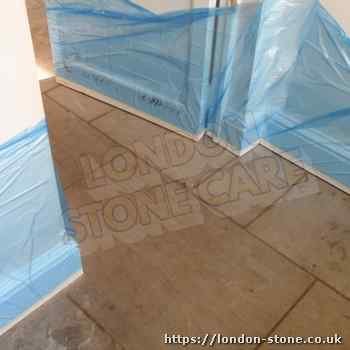 Sandstone is produced principally from quartz, iron oxide, silica and calcium based deposits so it is a very long-lasting stone. Whilst sandstone is durable it is also porous, so cleaning slurry gets stuck within the surface and is difficult to remove.
We use a mix of machine scrubbing, hand scrubbing and pressurised rinsing to remove all traces of old soiled sealers and clean a floor to the highest standard. Once the sandstone is clean, we permit it to dry, then apply a durable, easy to clean sealer. The specific restoration needed will be based on the condition of your floor.
Granite Restoration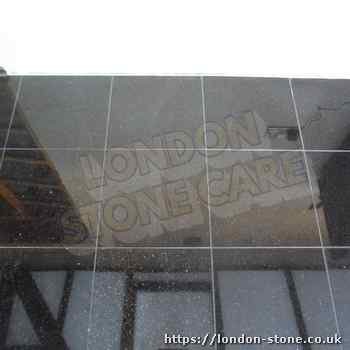 Granite is a favorite flooring for commercial and domestic rooms. Granite is very hard wearing.Granite is regularly selected for its hard-wearing properties. A finish on a granite floor lasts much longer than other natural stones.
Few stone floor restoration companies actually restore Granite, because it is so difficult and difficult to restore. We offer the full array of Granite polishing and restoration services. to the highest standard.
Terracotta Floor Cleaning & Sealing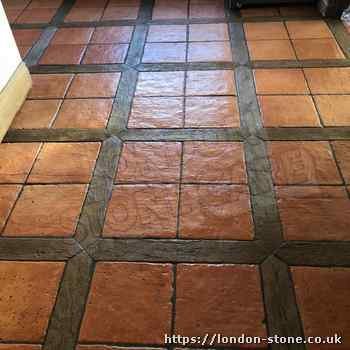 Terracotta does not have any glaze on top, so that it will absorb spills and soil extremely quickly.
Terracotta can easily begin to show surface marks, particularly where the current sealer has worn away.
Sealer remains, dirt and marks may be taken out with scrubbing equipment and sealer removers.
We can re-seal the Terracotta with an original beeswax finish or a durable synthetic sealer.
Slate Floor Cleaning
Slate flooring is just one of the most widely used types of natural stone, as it calls for less maintenance and cleaning. Slate floors need regular sealing to stop spills and soil marking the finish.
We use industrial-grade sealer removal treatments and rotary scrubbing devices to get rid of the layers of old sealer. When the professional cleaning is completed,we then use a long-lasting sealer that will make the floor easier to clean.
If you prefer a smooth floor, we could grind the ground, subject towards the slate being suited to grinding.
Victorian Tiles Floor Cleaning
Many Victorian and Edwardian hallways will have floors made from Geometric Encaustic tiles.
The primary attributes of Victorian tiles are the natural clay colours and a matt finish.
A lot of these floors were sealed and then covered up with carpet and lino.
Cleaning these floors could be challenging owing to all of the old sealers and covering residues.
After cleaning, the initial colours of the tiles can appear washed-out, so we put on a colour intensifying impregnating sealer to replace the initial depth of colour. The mat finish may be polished by making use of a wax or topical sealer.
Quarry Tiles Floors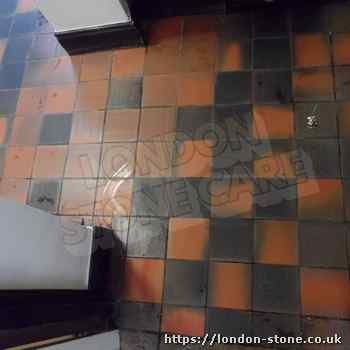 Quarry tiles have been a standard fixture in kitchens and for indoor flooring for many years.
Whilst the tiles can take place dirt, they're surprisingly resilient and can look just like new after a suitable clean.
A professional clean and reseal can be just enough to restore a quarry tile floor. When the quarry tiles are cleaned they may be sealed to offer years of life.
Cleaning Of Porcelain Floors.
Porcelain is actually a ceramic blend with sand and feldspar added to produce a more compact tile.
Quality Porcelain has really low porosity, which means less stains, less water damage and mold, and less need for sealing.
There are inferior porcelains that may absorb soil and spills similar to natural stone floors. This soil can be hard to remove.
We have the equipment and experience to get rid of this difficult to reach soil.
Once your porcelain floor has been cleaned we are able to use a sealer which protects against day to day spillages.
Solid colour Porcelain Tiles can certainly be ground and polished, just like Granite or Marble.
Cleaning Of Ceramic Tiles Floors
Professional cleaning of Ceramic tile floors is usually easier than cleaning and restoring stone floors or clay tiles.
This is because the surface of the tile is commonly glazed.
Nevertheless, professional stone and tile cleaning and restoration will give a better finish.
As soon as your floor is cleaned we will use a sealer for ceramic tiles. Care is much easier by having a sealed floor, in addition a sealer prevents spills transforming into stains.
A Number Of The Natural Stone Restoration Services Our Technicians Supply
Stone floor cleaning is rarely just cleaning, there may be regularly more restoration required. Natural stone restoration covers many different services. At the very least, all stone floors suffer some type of generic wear and tear. More often than not, soil, stains and traffic marks ruin floor's finish. Highly polished marble and granite floors show up wear quickly, as minute foot traffic scuff marks when you look at the stone surface affect the luster and hold dirt. A surface sealer will not prevent porous stone floor and tiles like Sandstone, Limestone and Terracotta gradually struggling with wear and spill problems. Most tile and stone flooring has cement grout. Cement grout is generally softer in comparison to stone and more vulnerable to abrasive and chemical damage. Holes could possibly be filled and cracks repaired included in a restoration. Stone and tile gets the appeal that a grubby, porous surface can be taken away, exposing a pleasant new surface. Grinding and honing removes surface damage from etching and surface scratching.
Stone and tile sealing is essential to keep a new stone and tile finish looking stunning. Stone sealers must certanly be placed on new tile and and tile floors and immediately after any floor tile cleaning, stone polishing or tile restoration work. Impregnating or penetrating sealers are employed following diamond floor polishing. Hybrid sealers or Surface sealers are best put on coarse tile and or tiles.
The first shine on a natural stone will gradually go dull. The loss in shine is attributable to foot traffic scratches and surface damage. The only method to replace the original finish is by polishing the stone and tile. On marble, Granite, Terrazzo, Polished Limestone and Polished Travertine floors, diamonds are utilized to remove the area wear and recover the original sparkle. The shine on Honed Travertine, Honed Limestone, Sandstone, Slate and Clay tiles is done by making use of a higher gloss sealer. Sealer removing items are applied to take away all traces for the existing sealer, after which a unique gloss sealer is applied.
Is there unsightly chips on the tile and stone floor?
You do not have to improve the tile and. Coloured resin fillers can fill chips and damage on a tile. Once the resin cures, this has to be sanded and polished. Chip repairs are less costly than laying new tiles.
Contact the Industry Professionals for Natural Stone Repairs London - Call the Specialists.
Repairing Cracked Tiles
A slight movement within the subfloor is likely to make a crack in a marble tile. Cracks tend to be contained in doorways and in between rooms. Also, a crack can appear because of a deficiency or weak spot inside the tile. Crack repaircosts never as much as replacing the tile.
For those who have got a deep crack in your floor, vanity unit, tabletop or counter top, they are filled up with coloured epoxy fillers. Hairline cracks are way too fine to simply accept a filler and in addition they need to be widened with diamond tools before these are generally filled.
Other areas near Balham we work in include:
BalhamHelpful Information
Balham is a neighbourhood in south London, England, mostly in the London Borough of Wandsworth with small parts in the neighbouring Borough of Lambeth. The area has been settled since Saxon times and appears in the Domesday Book as Belgeham. Balham is overwhelmingly in Wandsworth, with only small parts in the neighbouring Borough of Lambeth and encompasses the A24 north of Tooting Bec and the roads radiating off it. The Balham SW12 postcode includes the southern part of Clapham Park otherwise known as Clapham South and the Hyde Farm area, both east of Cavendish Road and within Lambeth historically Clapham, except for Weir Road as well as a small detached part of Clapham south of Nightingale Lane, and part of Battersea the roads north of Nightingale Lane. The southern part of Balham, towards Tooting Bec, near the 1930s block of Art Deco flats called Du Cane Court and the area to the south of Wandsworth Common, comes under the SW17 postcode. The Heaver Estate lies to the south of Balham in Tooting. The Estate mainly comprises substantial houses, was built in the grounds of the old Bedford Hill House and was the work of local Victorian builder, Alfred Heaver. Balham is situated between four south London commons: Clapham Common to the north, Wandsworth Common to the west, Tooting Graveney Common to the south, and the adjoining Tooting Bec Common to the east €" the latter two historically distinct areas are referred to by both Wandsworth Council and some local people as Tooting Common. Neighbouring areas are: Battersea, Brixton, Clapham Park, Clapham South, Earlsfield, Streatham and Tooting.