Stone Floor Cleaning Battersea
Find Out About Excellent Stone Floor Cleaning Battersea.
Send Us Information Regarding Your Floor
A few photos showing the floors and the sizes usually are all we want.
We will email a detailed quote once we have cleared up your requirements.
You Can Expect To Receive A Punctual Reply
Stone floors can often have many different finishes, so we will include alternatives to match most budgets.
We will also send a document featuring images of equivalent work.
We Agree A Working Schedule
We arrive punctually and equipped for work.
When we finish you'll be happy
Reasons To Choose London Stone care
We recognise your investment in stone floors and our stone floor cleaning Battersea services will help you to maintain its splendor over time.
Close to thirty years in the stone restoration business, developing a sturdy reputation.
When you have a restoration project in Battersea, call for a free quotation.
Specialized cleaning and maintenance advice
After restoring a stone floor, we provide a thorough ongoing maintenance program.
Contact Us Now!
Schedule a stone for cleaning Battersea quote today.
Our Specialist Stone Floor Cleaning And Restoration Services In Battersea Revealed
With time, Marble will become matt and loose its polish. The dull appearance is brought on by tiny scratches on the surface of the marble where it has been walked over. Marble Polishing is your only way to restore the original finish.
We operate specialised machines and diamond tooling to hone and polish the stone. to the highest standard
In the event that tiles are not really, perfectly even this problem is referred to as "lippage". A marble tile floor should be smoothed by grinding away the lippage and jagged edges of the tiles. Grinding marble floors should really be completed by experts.
After grinding, the marble tiles and grout will be at the exact same level. The marble will have a monolithic appearance as a single piece of marble.
A smooth marble finish is much easier to keep up. There are no uneven grout lines to trap soil. If your marble floor has chips and cracks, we can repair the damage using resin fillers, colour matched to the marble. The restoration needed should be determined by the current condition of your marble floor.
Travertine Floor Cleaning And Sealing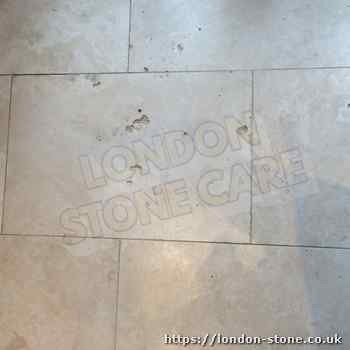 A lot of the Travertine installed in the United Kingdom has a honeycomb structure with a great deal of holes. Travertine floor tiles will come in a number of finishes, smooth honed, polished and tumbled. As the stone wears, the hole filler comes out, and the holes fill with awful dirt, soil and mopping water.
Working to the highest standard, Travertine floor restoration specialists have industrial-grade sealer removers and rotary scrubbing machines to eliminate the coatings of old sealers and ingrained soil.
As soon as the Travertine floor tiles and the holes are cleaned, any open holes are grouted using a coloured grout. We then put on specialist sealers that last for many years to protect the Travertine floor.
Limestone Floor Cleaning And Sealing
Steadily a Limestone floor will loose its initial surface. The dull appearance is caused by tiny marks on the surface of the stone where it's been walked over. The best way to reinstate the initial finish is through polishing the Limestone. We utilize industrial-grade machines and diamond tooling to grind, hone and polish the Limestone.
If your floor happens to be laid leaving jagged tiles, this will be known as "lippage". We can grind away the uneven edges of the tiles, making the tile surface flat. Grinding Limestone floors should really only be completed by specialists. The floor will appear like a single area of Limestone.
After grinding, the grout sits will sit at the same level as the Limestone tiles. It is much easier to clean a smooth floor than a jagged floor. There will be no grout channels to retain dirt. Cracks and chips can be repaired with colour matched resin fillers. After checking out the Limestone, we will advise the very best Limestone restoration service.
Terrazzo Floors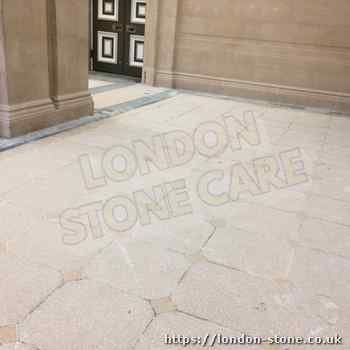 Terrazzo has been used for thousands of years as a decorative flooring The original finish on a Terrazzo floor will eventually go dull. Surface damage is caused by traffic scratches and surface damage.
Terrazzo Polishing is definitely the best way to revive finish to the highest standard. We use specialist Terrazzo polishing equipment and diamond tools to grind and polish the Terrazzo. After cleaning and polishing, we use specialised Terrazzo sealers.
Sandstone Floor Restoration
Sandstone is produced primarily of quartz, iron oxide, silica and calcium based deposits so it's a very long-lasting stone. Sandstone can end up with ingrained soil making it look dull and difficult to clean.
We have dedicated scrubbing and rinsing equipment to eliminate the soil and old coatings, restoring the initial sandstone appearance Then we apply a long-lasting sealer which also makes your floor more straightforward to clean. Once we look over your floor, we can help you the best restoration process.
Granite Floor Polishing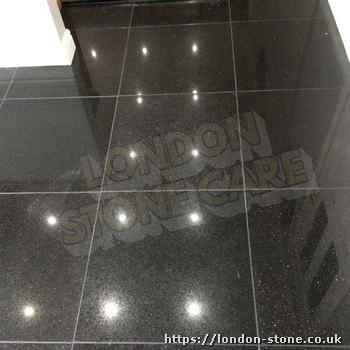 Granite is a well known stone flooring for commercial and home installations. Granite is exceptionally hard.Granite is frequently chosen for its hard wearing attributes. The finish on a granite floor lasts longer than other natural stones.
Few stone floor cleaning and restoration companies actually restore Granite, because it is so very hard and tough to restore. We offer a complete variety of granite restoration, cleaning polishing and sealing services. to the highest standard.
Terracotta Floors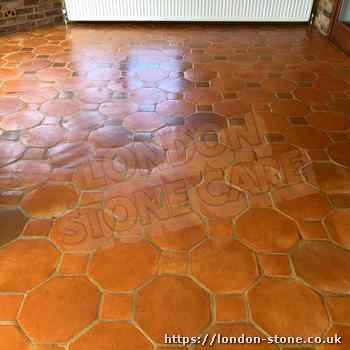 Terracotta provides a unique colour and a rustic feel in the home, but must have careful maintenance in order to keep it looking its best.
Terracotta is very porous so it is essential to protect it with a protective seal.
Cleaning terracotta tiles starts off with stripping the old polish, sealers and embedded dirt with industrial-grade sealer removers and cleaning solutions.
We can re-seal the Terracotta with a genuine beeswax finish or a tough synthetic sealer.
Slate Restoration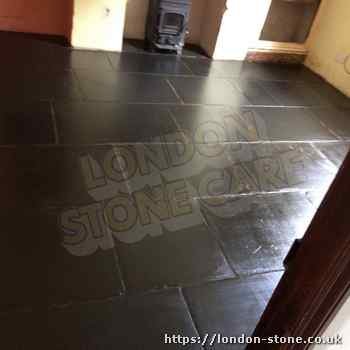 Slate is a wonderfully functional material that can be sealed using a number of finishes including rough surface, smooth honed or polished polish. Our company is commonly called to clean slate when it has layers of old coating with embedded dirt, and so the surface looks dull and soiled.
We use specialist sealer removers and scrubbing machines to get rid of the layers of old coatings. Once our professional cleaning is finished,we then apply a long-lasting sealer that will make the floor more straightforward to maintain.
Some slate floors could be ground to a smooth finish.
Victorian Tiles
Victorian Clay Tiles are found in lots of Victorian and Edwardian hallways.
Victorian tiles are manufactured from natural clay and have a natural matt finish.
A good number of these floors were initially sealed and then covered with carpet and lino.
Cleaning these floors can be challenging because of the range of old sealers and covering residues.
After cleaning, a colour intensifying sealer is put on to revive the oroginal colours in the floor. A topical sealer or wax finish will give the tiles with a sheen finish.
Quarry Tiles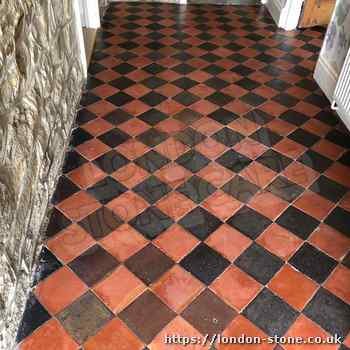 Quarry tile floors were at one time a major feature in terraces and farmhouses across the country, however, many of the floors have since fallen into different states of disrepair.
Years of ground in dirt and old sealers often leads some individuals to imagine their floor is beyond repair, but that's often not the case.
We can remove the layers of old coatings and soil, providing you with a pleasant new finish. Quarry tiles in many cases are laid with no damp proof membrane layer, therefore we need to apply the best sealer to permit the tiles to breathe.
Cleaning Of Porcelain Floors.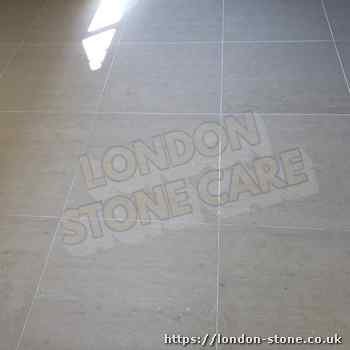 Porcelain is becoming an extremely preferred option to ordinary ceramic tiles and natural stone.
Porcelain is very resistant to moisture, and so spillages cannot soak into the tile and cause stains.
If the blend of ceramic isn't correct, the top of tiles can be porous. similar to natural stone floors. This soil may be tough to remove.
We possess the experience and equipment to eliminate this hard to reach soil.
Our Porcelain sealers can help stop further soil problems.
If you've got a trough-colour Porcelain, we are able to re-surface the tiles by Grinding and re-polishing.
Cleaning Ceramic Tiles Floors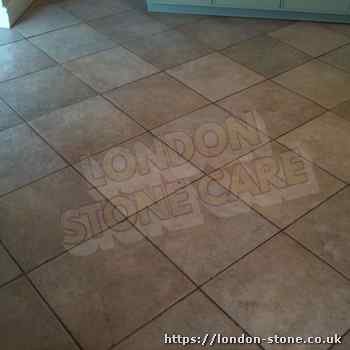 Professional cleaning of Ceramic tile floors can often take a shorter time than stone floors or clay tiles..
A glazed finish is simpler to clean and restore.
Nevertheless, you certainly will still get a better finish using professional equipment and materials.
A professional tile sealer is put on following the cleaning. Maintenance is much easier having a sealed tile floor, additionally a sealer prevents spills turning into stains.
A Few Of The Stone And Tile Restoration Options We Give
Sandstone tile cleaning is rarely just cleaning, there may be regularly more restoration required. Natural stone restoration covers a range of services. At least, all stone floors suffer some type of generic wear and tear. More often than not, soil, stains and traffic marks ruin floor's finish. Highly polished marble and granite floors show up wear quickly, as minute foot traffic scuff marks within the stone surface alter the luster and hold dirt. A surface sealer will not prevent porous tile and and tiles like Sandstone, Limestone and Terracotta gradually struggling with wear and spill problems. Most stone and tile flooring has cement grout. Cement grout is normally softer when compared with stone and a lot more vulnerable to abrasive and chemical damage. Holes might be filled and cracks repaired included in a restoration. Natural stone gets the appeal that a grubby, porous surface could be taken away, exposing a lovely new surface. Grinding and honing removes surface damage from etching and surface scratching.
Stone and tile sealing is a must to keep a fresh natural stone finish looking stunning. Stone sealers ought to be placed on new stone floor and tile floors and immediately after any floor tile cleaning, stone polishing or tile restoration work. Impregnating or penetrating sealers are used following diamond floor polishing. Hybrid sealers or Surface sealers would be best put on coarse stone floor or tiles.
The original shine on a natural stone will gradually go dull. The loss in shine is attributable to foot traffic scratches and surface damage. The only way to replace the initial finish is by polishing the tile and stone. On marble, Granite, Terrazzo, Polished Limestone and Polished Travertine floors, diamonds are used to remove the top wear and recover the first sparkle. The shine on Honed Travertine, Honed Limestone, Sandstone, Slate and Clay tiles is done through the use of a top gloss sealer. Sealer removing products are applied to take away all traces for the existing sealer, after which a new gloss sealer is applied.
Are there unsightly chips on your tile and stone floor?
You do not have to alter the stone and tile. Coloured resin fillers can fill chips and damage on a tile. After the resin cures, it offers to be sanded and polished. Chip repairs are less expensive than laying new tiles.
Contact the Industry Professionals for Natural Stone Repairs London - Call the Specialists.
Repairing Cracked Tiles
A slight movement within the subfloor could make a crack in a marble tile. Cracks tend to be present in doorways as well as in between rooms. Also, a crack can appear as a result of a deficiency or weak spot within the tile. Crack repaircosts not as much as replacing the tile.
If you have got a deep crack in your floor, vanity unit, tabletop or counter top, these are generally filled with coloured epoxy fillers. Hairline cracks are too fine to just accept a filler and so they need to be widened with diamond tools before they are filled.
Other areas near Battersea we cover include:
BatterseaHelpful Information
Battersea is a district of South West London, England, within the London Borough of Wandsworth. It is located on the south bank of the River Thames, 2.9 miles 4.7 km southwest of Charing Cross. Historically a part of Surrey, Battersea was centred on a church established on an island at the mouth of the Falconbrook; a small river that rises in Tooting Bec Common and flowed through south London to the River Thames. Battersea is mentioned in Anglo-Saxon times as Badrices ?eg = Badric's Island and later Patrisey. As with many former parishes beside major rivers some land was reclaimed by draining marshland and building culverts for streams. The original village nucleus is marked by St. Mary's Churchwhich is on a site that has featured churches since the 9th century. The present churchwhich was completed in 1777hosted the marriage of William Blake and Catherine Blake née Boucher in 1782; Benedict Arnoldhis wifePeggy Shippen and their daughter were buried in its crypt. The settlement appears in the Domesday Book as Patricesyheld by St Peter's AbbeyWestminster. Its Domesday Assets were: 18 hides and 17 ploughlands of cultivated land; 7 mills worth £42 9s 8d per year82 acres 33 ha of meadowwoodland worth 50 hogs. It rendered in total: £75 9s 8d. The former parish of Battersea includedin a detached parta few hundred acres at Penge andor Crystal Palace. The borough dates from the London Government Act of 1899and includes the greater part of the original ecclesiastical parish of St. Mary Battersea. Under the same Act Pengeformerly a hamlet of Batterseawas constituted a separate urban district...the curious anomalies of [Battersea's] local government led to its formation as a separate urban district and its transfer to the county of Kent in 1900. Penge was a wooded districtover which the tenants of Battersea Manor had common of pasture.