Stone Floor Cleaning Colindale
Introducing Top-Quality Stone Floor Cleaning Colindale.
Send Us Information Regarding Your Floor
A handful of photos showing the floors together with sizes are usually all we need.
We will email a detailed estimate once we have cleared up your needs.
Stone floors can frequently have a variety of finishes, therefore we will include alternatives to suit most budgets.
Our quotation should be supported with a document detailing types of comparable work.
We arrive punctually.
We shall do an incredible job
Our stone floor cleaning Colindale work provides the finishing touches to make your stone floors shine.
Our business has been supplying stone cleaning, polishing and restoration services since 1996.
If you have a stone and tile restoraiton project in Colindale, call for a free of charge quotation.
Stone cleaning and maintenance help from the specialists
After restoring a stone floor, we supply a comprehensive ongoing maintenance program.
Contact Us Now!
Your very own stone floor cleaning Colindale quotation is simply a click away.
Our Specialist Stone Floor Cleaning Services In Colindale Explored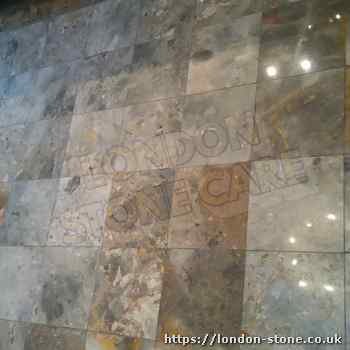 Marble ultimately looses its initial surface. The dullness is due to microscopic marks on the surface of the tile where it has been walked over. Marble Polishing is the best way to bring back the appearance.
We use industrial diamond polishing equipment to reinstate the original gloss.
Nearly all marble tile surfaces are not even because the marble tiles are not installed flat. We can grind off the irregular edges of the tiles, making the tile surface smooth. Marble floor grinding is an expert job, that brings superb results.
After grinding, the marble tiles and the grout will be at the same level. The marble floor looks monolithic, appearing to be manufactured from a single slab of marble.
Maintaining a ground, honed and polished marble floor is like cleaning a single slab of glass. There will be no uneven grout deressions to hold soil. Marble restoration commonly includes a few chip and crack repairs, using marble resin fillers. After checking out the floor, we can advise the best marble restoration service.
Travertine Floor Polishing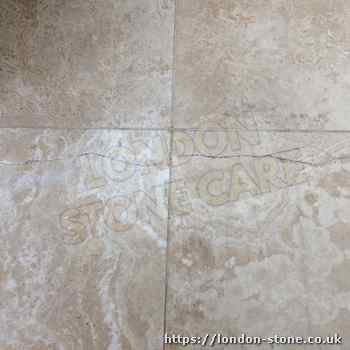 A lot of Travertine used in the United Kingdom has a honeycomb framework with a large amount of holes. Travertine floor tilescan be supplied in several finishes, including honed, polished and tumbled. In time, the initial hole filler comes away, then the holes are quickly filled with unsightly soil.
Working to the highest standard, restoration firms use rotary scrubbing equipment and pressurised rinsing to wash the Travertine floor.
After cleaning, any holes on a Travertine floor could be filled up with coloured grout. After cleaning and grouting the Travertine floor we use a durable, simple to clean sealer.
Limestone Floor Cleaning
Eventually Limestone will loose the original surface. Surface scratches and etch marks build up and damage the original finish. Gradually, your Limestone floor will need to be repolished. We use diamond polishing machines to reinstate the original luster.
Most Limestone surfaces are not even since the tiles are not set level. The only way to make a Limestone floor flat is by grinding away the lippage and jagged edges of the tiles. You should have specialist machinery and several years of Limestone grinding and polishing to successfully grind a Limestone tile floor, nevertheless the result is spectacular. The Limestone floor will get the appearance of becoming just one piece of stone.
Following grinding, the Limestone tiles will sit at the same level the grout. An even Limestone floor is much simpler clean. Also, soil does not get stuck within the grout lines. Cracks, chips and hole repairs are often part of the Limestone restoration process. The type of restoration needed should be dependant on the current condition of your floor.
Terrazzo Floor Polishing
Terrazzo is an attractive and hard-wearing flooring, hence its use as a flooring in supermarkets, airports, commercial and industrial buildings. The original finish on a Terrazzo floor will progressively go dull. The dullness is brought on by microscopic scratches on the surface where it has been walked on.
Ultimately, the Terrazzo will need to be polished to the highest standard. We use diamond polishing equipment to re-surface the Terrazzo and restore the initial finish. We can help to stop this soil using Terrazzo sealers.
Sandstone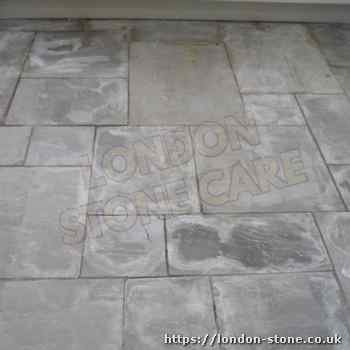 Sandstone floor tiles can be bought in a number of different shades of brown, red, yellow and cream. Whilst sandstone is sturdy it is porous, so dirt gets caught within the surface and it is tough to remove.
There are dedicated wax removers, rotary scrubbing equipment and pressure rinsing to get rid of the layers of old sealer When the sandstone is clean, we permit it to dry, then apply a long-lasting, easy to clean sealer. The specific restoration needed should be determined by the health of your floor.
Granite Floors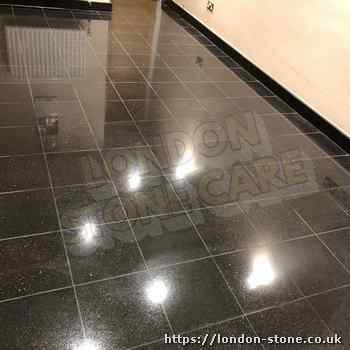 Granite is widely utilized in domestic and commercial interiors. Granite is exceedingly hard wearing.Granite is commonly chosen for the stone's hard wearing characteristics. Granite Tile wears longer than some other natural stones, like marble or limestone.
Due to the stone's hardness, granite really needs expert restoration. We have the experience and equipment to revive your granite floor. to the highest standard.
Terracotta Cleaning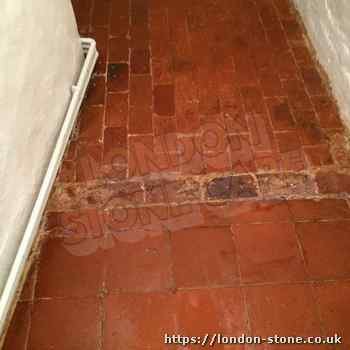 Terracotta is made from natural clay and has been used throughout history for roof tiles, sculptures, bricks and floor tiles.
Abrasive cleaners like conventional floor cleaning solutions and bathroom tile cleaners can permanently damage and mark Terracotta.
Cleaning and restoring terracotta tiles starts off with taking away the existing polish, sealers and ingrained dirt with professional coating removers and cleaning solutions.
We can wax the Terracotta or use a hard-wearing synthetic sealer that is much simpler to take care of.
Slate Floors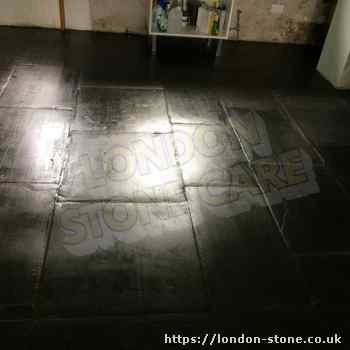 Slate is a tremendously popular floor and wall tile because of its low porosity and the numerous varieties and textures of Slate available. Even though slate has a minimal porosity, it's going to still partly absorb and oil based spills, causing frustrating marks.
We now have specialist equipment and chemical treatments to remove the soil and old coatings, restoring the initial slate finish. Once our professional cleaning is complete , the floor is left to dry, then apply a lasting, easy to maintain sealer.
If you prefer a smooth finish, we are able to grind the floor, but we must measure the slate before grinding.
Victorian Tiles Restoration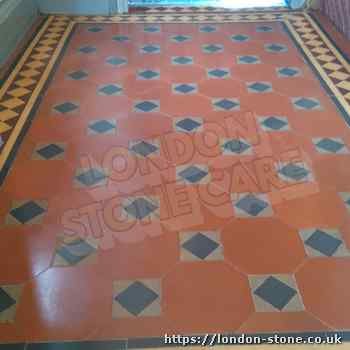 Victorian Clay Tiles are found in a lot of Victorian and Edwardian hallways.
The tiles are unglazed from the natural colours of the clay used in their manufacture.
With the variations in home decoration, these floors have carpet underlay, lino, bitumen and other sticky deposits.
With their age, these types of floors might have a variety of coating residues, that really need professional cleaning
After cleaning an impregnating sealer is applied to improve the colours and protect the floor. Topical sealers and waxes will provide the floor a sheen or glossy finish.
Quarry Tiles Floor Cleaning
Quarry tile floors were at one time a major feature in terraces and farmhouses in the country, however, many of these floors have since fallen into assorted states of repair.
Years of soil and old sealers can lead many people to think their tile floor is past repair, but that's often not the case.
Professional cleaning will remove the several years of grime and older coatings, revealing a lovely floor. As soon as the quarry tiles are cleaned they should be sealed to give years of life.
Cleaning Of Porcelain Tiles Floors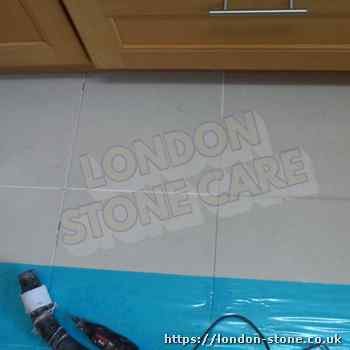 Porcelain is classed as a ceramic, but manufactured with alternative ingredients than standard glazed tiles.
Premium Porcelain has really low porosity, which means less stains, less water damage and mold, much less need to be sealed.
If the blend of ceramic is not right, the top of tiles may be porous. similar to natural stone floors. This soil could be tough to remove.
We are able to get rid of ingrained soil with equipment made to go into the microscopic pits holding the soil.
We can help stop the dirt with Porcelain sealers.
If you've got a solid colour Porcelain, we can re-surface the tiles by Grinding and re-polishing.
Cleaning Of Ceramic Floors.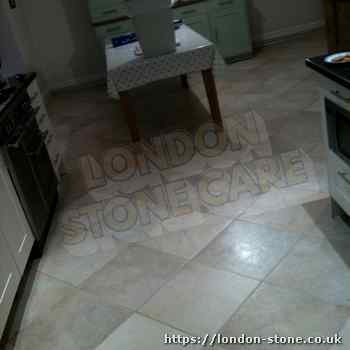 Professional cleaning of Ceramic floor tiles is commonly less complicated when compared with natural stone floors cleaning..
This is because the tile surface is normally glazed.
However, you are going to still have a better finish using professional equipment.
Once your floor is cleaned we will use a sealer for ceramic tiles. Tile sealing will make mopping much easier and helps to protect from spillages.
A Number Of The Stone And Tile Cleaning Solutions We Deliver
Stone floor cleaning is rarely just cleaning, there may be regularly more restoration required. Natural stone restoration covers a range of services. At least, all stone floors suffer some sort of generic wear and tear. In most cases, soil, stains and traffic marks ruin floor's finish. Highly polished marble and granite floors show up wear quickly, as minute foot traffic scuff marks during the stone surface alter the luster and hold dirt. A surface sealer does not prevent porous tile and and tiles like Sandstone, Limestone and Terracotta gradually struggling with wear and spill problems. Most tile and stone flooring has cement grout. Cement grout is normally softer in comparison to stone and even more in danger of abrasive and chemical damage. Holes could be filled and cracks repaired included in a restoration. Stone and tile gets the appeal that a grubby, porous surface can be taken away, exposing a lovely new surface. Grinding and honing removes surface damage from etching and surface scratching.
Tile and sealing is crucial to help keep a new stone floor finish looking stunning. Stone sealers must be placed on new stone and tile and tile floors and right after any floor tile cleaning, stone polishing or tile restoration work. Impregnating or penetrating sealers are used following diamond floor polishing. Hybrid sealers or Surface sealers are best placed on coarse natural stone or tiles.
The first shine on a sandstone floor will gradually go dull. The loss in shine is attributable to foot traffic scratches and surface damage. The only way to replace the first finish is through polishing the stone and tile. On marble, Granite, Terrazzo, Polished Limestone and Polished Travertine floors, diamonds are utilized to remove the area wear and recover the initial sparkle. The shine on Honed Travertine, Honed Limestone, Sandstone, Slate and Clay tiles is created by applying a top gloss sealer. Sealer removing items are applied to take away all traces for the existing sealer, after which an innovative new gloss sealer is applied.
Is there unsightly chips on your own tile and floor?
You do not have to improve the stone and tile. Coloured resin fillers can fill chips and damage on a tile. Once the resin cures, this has to be sanded and polished. Chip repairs are less expensive than laying new tiles.
Contact the Industry Professionals for Natural Stone Repairs London - Call the Specialists.
Repairing Cracked Tiles
A slight movement within the subfloor can certainly make a crack in a marble tile. Cracks tend to be contained in doorways as well as in between rooms. Also, a crack can appear due to a deficiency or weak spot in the tile. Crack repaircosts never as much as replacing the tile.
When you yourself have got a deep crack in your floor, vanity unit, tabletop or counter top, these are generally filled with coloured epoxy fillers. Hairline cracks are too fine to just accept a filler and they also should be widened with diamond tools before these are typically filled.
Other areas near Colindale we service include:
ColindaleHelpful Information
Colindale is a London district in the borough of Barnet, although the western side of Colindale main shopping street on the A5 including Colindale Business Park falls within the boundaries of Brent. Colindale is an area of suburban character, and in recent years has emerged as a hotspot for new build apartments amid a large regeneration scheme. It also the location of the 1960s-1970s Grahame Park housing estate, built on former parts of Hendon Aerodrome. It is situated about eight miles thirteen kilometres northwest of Charing Cross, directly northwest of Hendon, to the south of Edgware and east of Queensbury.