Stone Floor Cleaning Cricklewood
Check Out The Best Quality Stone Floor Cleaning Cricklewood.
Send Us Information Regarding Your Floor
A handful of photos showing the floors and the sizes are often all we require.
We shall email a detailed estimate once we have clarified your needs.
You Can Expect To Have A Punctual Reply
Stone floors can frequently have a variety of finishes, therefore we may include alternatives to match most budgets.
We shall also e-mail a document detailing instances of equivalent work.
We arrive organized for work and on time.
As we get done you're going to be thrilled
Why You Really Should Select Us
We provide total stone floor cleaning Cricklewood service for the luxurious stone that help make a house a perfect home.
We take advantage of the most advanced technology, brought to you with a personal touch, so that your stone floors look more stunning and retain their natural splendor for many years into the future.
We offer free quotes in Cricklewood without any obligation!
If you need cleaning help, drop me a line and I will be pleased to help.
After restoring tile and stone floors to a beautiful appearance, we supply a maintenance program, so stone floors will stay beautiful for years rather than months.
Contact Us Now!
It is quick to schedule a quote for your stone floor cleaning .
A Simple Account Of Our Specialist Stone Floor Cleaning And Polishing Services In Cricklewood
Marble Polishing & Sealing
Marble ultimately looses the original finish. This surface damage is due to foot traffic scratches and surface etching The only way to revive the shine is through polishing the marble.
We make full use of specialist machines and industrial diamond tooling to polish the marble. to the highest standard
It's nearly impossible to install a marble floor absolutely flat. The only method to make a marble floor flat is by grinding off the lippage and irregular edges of the tiles. This is an involved process nevertheless the the finished results are breathtaking.
After grinding, the grout sits will be level with the marble tiles. The marble floor will get the appearance of becoming an individual slab of marble.
An even marble floor is much simpler to maintain. There are no grout channels to trap dirt. Marble restoration commonly includes a few chip and crack repairs, using marble fillers. The particular restoration needed will be based on the state of the marble floor.
Travertine Floor Cleaning
A Travertine floor is unique with a honeycomb structure, with plenty of holes. Travertine floor tiles will come in a range of finishes, tumbled, smooth honed and polished. As the travertine wears, the hole filler breaks away, and the holes get filled with dreadful soil, dirt and mopping water.
Working to the highest standard, Travertine floor restoration businesses use use a variety of machine scrubbing, hand scrubbing and pressure rinsing to eliminate old sealers and embedded soil.
After cleaning, any open holes in a Travertine floor may be filled up with coloured grout. Finally, we put on specialist sealers that keep working for a long time to guard the Travertine floor.
Limestone
Limestone eventually looses the initial shine. This surface damage is brought on by traffic scratches and etch marks The best way to revive the original shine is through polishing the tiles. We use diamond polishing to hone and polish a floor and rejuvenate the initial appearance.
The majority of Limestone surfaces are not even as the Limestone tiles are not put down level. The only method to make a Limestone tile floor perfectly flat is by grinding away the lippage and jagged edges of the tiles. Limestone floor grinding is a specialist process, providing brilliant results. The floor will look like an individual area of Limestone.
After grinding, the Limestone will be flush with the grout. After grinding and polishing Limestone maintenance is a breeze, because the mop slides over the floor. A smooth floor doesn't have grout lines to retain dirt. Limestone restoration usually features a few crack and chip repairs, using resin fillers. We can recommend the appropriate restoration service.
Terrazzo Cleaning & Sealing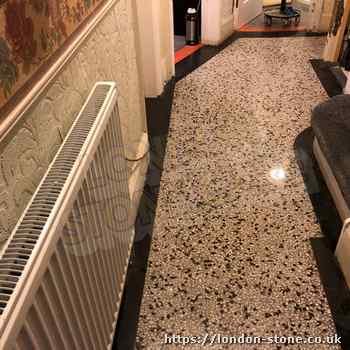 Terrazzo has been utilized for thousands of years as a decorative flooring Terrazzo eventually loses the original finish. Minute scratches and etching builds up and damage the initial surface.
The only way to revive the initial finish is through polishing the Terrazzo to the highest standard. We use specialist Terrazzo polishing equipment and diamond tools to grind and polish the stone. Our Terrazzo sealers will help minimize further soil issues.
Sandstone Cleaning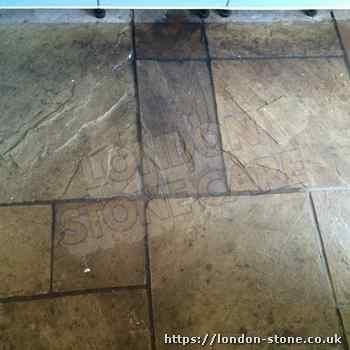 Sandstone floor tiles come in several different shades of brown, red, yellow and cream. Whilst sandstone is sturdy it is also porous, so cleaning slurry gets stuck in the surface and it is difficult to remove.
We use a rotary brushing equipment, coating removers and pressure rinsing to clean the sandstone Then we apply a long-lasting sealer that also makes your floor more straightforward to clean. After inspecting a floor, we are going to advise the best Sandstone restoration service.
Granite Floors
Granite is a popular stone for commercial and home installations. Granite is incredibly hard-wearing.Granite is typically chosen for the stone's hard wearing characteristics. A granite floor needs less frequent professional routine maintenance in comparison to other stone.
Granite is so hard, that many companies do not have the equipment or experience to restore the stone. We provide the full range of Granite cleaning and restoration services. to the highest standard.
Terracotta Cleaning & Sealing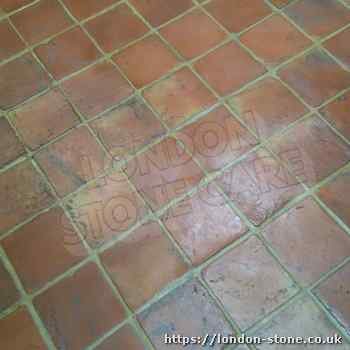 Terracotta provides a distinctive coloring and a rustic appearance in the home, but needs careful maintenance in order to keep it looking its best.
Terracotta can very quickly begin to show marks, particularly if the existing sealer has worn down.
Regardless of its vulnerabilities, Terracotta may be restored back again to an excellent look.
We can re-seal the Terracotta with an original beeswax finish or a durable synthetic sealer.
Slate Cleaning
Slate is a very popular floor and wall tile due to its low porosity and the numerous varieties and textures of Slate available. We have been commonly called to clean slate when it suffers form layers of old sealer with embedded dirt, so the surface looks dull and soiled.
We use a mix of machine and hand scrubbing to remove all traces of old soiled sealers and clean the tiles. Then we apply hard-wearing sealers.
If you want a smooth finish, we could grind the slate, but we have to assess the slate before grinding.
Victorian Tiles Cleaning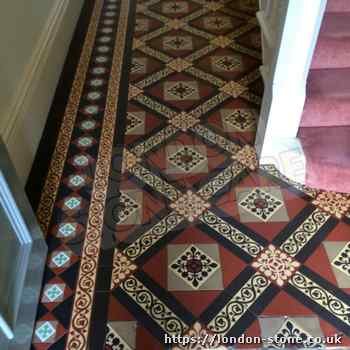 Period Geometric or Encaustic floor tiles are installed in Victorian and Edwardian hallways.
The tiles have a matt finish and obtain their colour from the clay utilized in their manufacture.
Due to how old they are, these floors have experienced plenty of wear and often have layers of various sealers.
The key concerns with victorian floor tiles is to remove decades of polished, oils, waxes, dirt and grime without causing damage to the floor tiles.
After cleaning, the original colours in the floor tiles can look washed-out, therefore we use a colour intensifying sealer to bring back the original depth of colour. A topical sealer or wax finish can give the floor with a low-sheen finish.
Quarry Tiles Floor Cleaning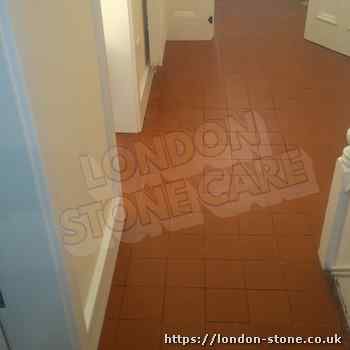 Quarry tiles have been a standard fixture in cooking areas and for indoor flooring for many years.
One universal problem is worn out layers of sealer that must be taken off.
A professional clean and reseal is often just enough to restore a quarry tile floor. After cleaning, the tiles can be finished with a long lasting sealer.
Cleaning Of Porcelain Tile Floors
Porcelain is actually a ceramic mix with sand and feldspar added to create a denser tile.
This helps make Porcelain more resistant to stains and easier to keep up than traditional ceramic tiles.
If Porcelain isn't produced properly, the surface can absorb soil similar to natural stone floors. This soil could be tough to remove.
We have the equipment and experience to get rid of this difficult to reach soil.
We will help minimize the dirt with Porcelain sealers.
Solid colour Porcelain Tiles may also be ground and polished, just like Granite or Marble.
Cleaning Ceramic Tile Floors
Professional cleaning of Ceramic tiles is normally quicker than cleaning and restoring natural stone floors or clay tiles.
Grime usually are on top of ceramic tile.
Still, specialist tile and stone cleaning and restoration will certainly render a cleaner appearance.
Following cleaning and restoration we put on a professional sealer. Tile sealing prevents spills turning into stains, and makes mopping more effective.
A Few Of The Stone Floor Cleaning Treatments We Bring
Natural stone cleaning is rarely just cleaning, there may be regularly more restoration required. Natural stone restoration covers a range of services. At the least, all stone floors suffer some type of generic wear and tear. In most cases, soil, stains and traffic marks ruin floor's finish. Highly polished marble and granite floors show up wear quickly, as minute foot traffic scuff marks when you look at the stone surface affect the luster and hold dirt. A surface sealer does not prevent porous tile and stone and tiles like Sandstone, Limestone and Terracotta gradually struggling with wear and spill problems. Most stone and tile flooring has cement grout. Cement grout is typically softer compared to stone plus much more in danger of abrasive and chemical damage. Holes could possibly be filled and cracks repaired included in a restoration. Stone and tile contains the appeal that a grubby, porous surface could be taken away, exposing a pleasant new surface. Grinding and honing removes surface damage from etching and surface scratching.
Natural stone sealing is crucial to keep a unique stone and tile finish looking stunning. Stone sealers ought to be placed on new tile and and tile floors and just after any floor tile cleaning, stone polishing or tile restoration work. Impregnating or penetrating sealers are employed following diamond floor polishing. Hybrid sealers or Surface sealers would be best placed on coarse stone floor or tiles.
The first shine on a natural stone will gradually go dull. The loss in shine is brought on by foot traffic scratches and surface damage. The only way to replace the initial finish is by polishing the tile and stone. On marble, Granite, Terrazzo, Polished Limestone and Polished Travertine floors, diamonds are used to remove the top wear and recover the initial sparkle. The shine on Honed Travertine, Honed Limestone, Sandstone, Slate and Clay tiles is established by making use of a higher gloss sealer. Sealer removing products are applied to take away all traces of this existing sealer, after which a unique gloss sealer is applied.
Is there unsightly chips in your tile and stone floor?
There is no need to improve the tile and. Coloured resin fillers can fill chips and damage on a tile. After the resin cures, this has to be sanded and polished. Chip repairs are less costly than laying new tiles.
Contact the Industry Professionals for Natural Stone Repairs London - Call the Specialists.
Repairing Cracked Tiles
A slight movement within the subfloor will make a crack in a marble tile. Cracks are often contained in doorways as well as in between rooms. Also, a crack can appear due to a deficiency or weak spot inside the tile. Crack repaircosts not as much as replacing the tile.
When you have got a deep crack in your floor, vanity unit, tabletop or counter top, they've been filled up with coloured epoxy fillers. Hairline cracks are too fine to simply accept a filler and they also should be widened with diamond tools before these are generally filled.
Other areas near Cricklewood we help include:
CricklewoodHelpful Information
Cricklewood is an area of London, England, which spans the boundaries of three London boroughs: Barnet to the east, Brent to the west and Camden to the south-east. The Crown pub, now the Clayton Crown Hotel, is a local landmark and lies 5 miles 8.0 km north-west of Charing Cross. Cricklewood was a small rural hamlet around Edgware Road, the Roman road which was later called Watling Street and which forms the boundary between the three boroughs that share Cricklewood. The area urbanised after the arrival of the surface and underground railways in nearby Willesden Green in the 1870s. The shops on Cricklewood Broadway, as Edgware Road is known here, contrast with quieter surrounding streets of largely late-Victorian, Edwardian, and 1930s housing. The area has strong links with Ireland due to a sizeable Irish population. The 35-hectare 86-acre Gladstone Park lies on the area northern periphery. Cricklewood has two conservation areas, the Mapesbury Estate and the Cricklewood Railway Terraces, and in 2012 was awarded £1.65 million from the Mayor of London office to improve the area.