Stone Floor Cleaning Finsbury
Experience The Finest Stone Floor Cleaning Finsbury.
Inform Us About The Floor
A handful of photos of the floors and the sizes usually are all we need.
We will email an in depth estimate once we have cleared up your preferences.
You Can Expect To Get A Punctual Reply
In many cases we will present some other finishes to suit most budgets.
Our quotation will be associated with a document displaying samples of similar work.
We come ready for work as well as on time.
Once we get done you're going to be happy
Reasons Why You Should Choose London Stone Care
We bring you total stone floor cleaning Finsbury services for the expensive stones that help to make a house a dream home.
Affordable rates designed to make stone floor cleaning budget friendly on nearly every budget.
We provide free estimates in Finsbury without any obligation!
If you'd like cleaning advice, drop me a line and I will be happy to help you.
After restoring a tile and stone floor, we provide a detailed maintenance program.
Contact Us Now!
Book a quotation for your stone floor cleaning
Our Specialized Stone Floor Restoration Services In Finsbury Explored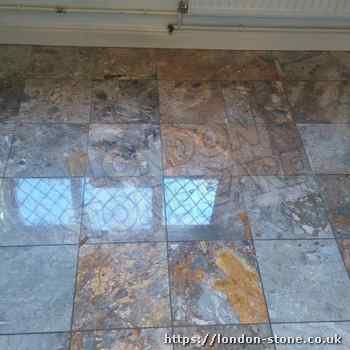 Marble eventually looses the initial finish. The dull appearance is caused by minute marks on the surface of the marble where it has been walked over. The only way to restore the polish is through polishing the tiles.
We use industrial diamond polishing to hone and polish the marble floor and bring back the finish.
If the tiles are not even, even this disorder is known as "lippage". A marble floor can be smoothed by grinding away the lippage and irregular edges of the tiles. Marble tile grinding is a specialist job, bringing brilliant results.
After grinding, the grout sits is level with the marble tiles. The marble looks "monolithic", appearing to be made from a single piece of stone.
An even marble floor is much simpler to keep. A smooth floor does not have grout lines to hold dirt. Marble floor restoration commonly features some crack and chip repairs, using marble resin fillers. The particular restoration needed should be decided by the state of your floor.
Travertine Floor Cleaning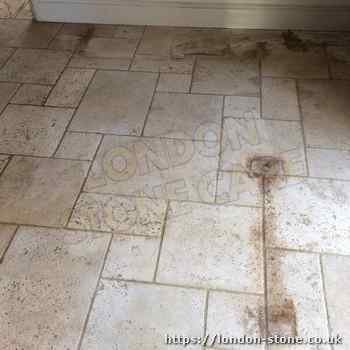 A lot of Travertine used in the United Kingdom has a honeycomb structure with lots of holes. Travertine floor tilescould be supplied in many different finishes, including tumbled, honed and polished. The initial hole filler often comes out, permitting the holes to fill with dirt, soil and mopping water.
Working to the highest standard, restoration businesses use rotary scrubbing machines and pressurised rinsing to clean the Travertine floor.
After cleaning, any open holes on the Travertine floor may be filled with colour matched grout. Then we put on specialist sealers that keep working for years to guard the Travertine floor.
Limestone Polishing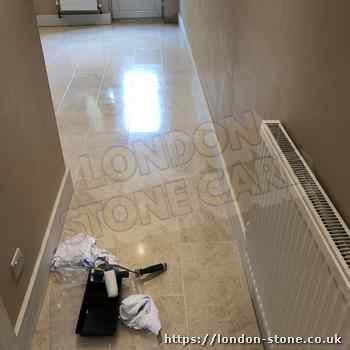 An initial surface on Limestone tiles will gradually loose its finish. Scratching and etch marks pile-up and remove the initial polish. Limestone Polishing is your only way to restore the initial finish. We work with specialised equipment and diamond tooling to hone and polish the Limestone.
It's almost unachievable to install a Limestone floor completely flat. We can grind off the uneven tile edges, making the floor surface smooth. It is an involved process however the the finished results are spectacular. The floor will look like an individual area of stone.
Following grinding, the Limestone tiles be flush with the grout lines. Cleaning a ground and polished Limestone floor is like cleaning a single bit of glass. There will be no grout lines to trap dirt. Hole cracks and chip repairs tend to be part of the Limestone restoration work. We can advise the appropriate restoration process.
Terrazzo Polishing
Terrazzo has been used for thousands of years as a flooring Eventually a Terrazzo floor will loose the initial finish. Minute scratches and etching builds up and damage the original polish.
Terrazzo Polishing is definitely the only way to revive finish to the highest standard. We use diamond polishing machines to re-surface the Terrazzo and restore the initial finish. We can help avoid this soil with Terrazzo sealers.
Sandstone Floor Cleaning & Sealing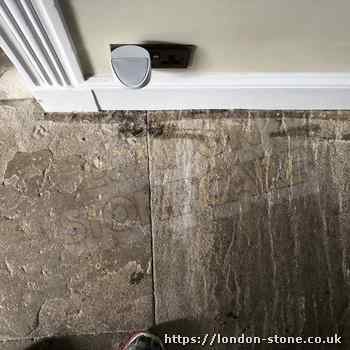 Sandstone floor tiles are available in several different shades of brown, red, yellow and cream. Sandstone can end up getting ingrained soil making it look dull and hard to clean.
We use dedicated sealer removers, rotary scrubbing machines and pressure rinsing to get rid of the layers of old sealer Then we apply a long-lasting sealer that also makes your sandstone easier to clean. We will advise the right restoration service.
Granite Floor Polishing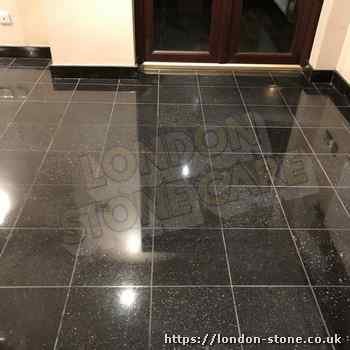 Granite is a popular tile flooring for domestic and commercial rooms. Granite is a really hard-wearing stone flooring, perfect for heavy traffic areas. The surface on a granite floor lasts longer than other stones.
Due to its hardness, granite really needs specialist cleaning and restoration. We offer a full range of granite cleaning, polishing, restoration and sealing services. to the highest standard.
Terracotta Floor Cleaning
Terracotta does not have any glaze on top, therefore it will soak up spills and soil very quickly.
Traditional Terracotta sealers will need frequent maintenance and re-application, if they're not cared for, the top will start to get dirty and become porous.
Heavy-duty sealer removers and cleansing agent help to remove old sealers and dirt, while keeping the appealing finish.
We use a long lasting sealer for terracotta, and that means you get the most value from your own cleaning.
Slate Floors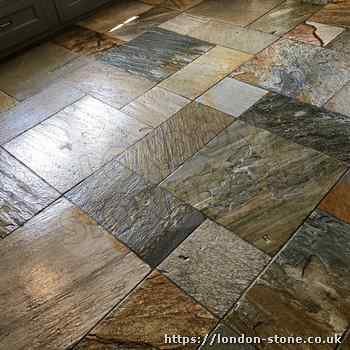 Slate floors look great with regards to textured surface and vibrant colour. Cleft slate will get an accumulation of dirt in the crevices that is hard to remove.
We use a combination of machine scrubbing and hand scrubbing to eliminate all traces of existing dirty sealers and clean the tiles. Once our professional cleaning is finished,finally we apply a lasting sealer that also makes your floor much easier to mop.
If you want a smooth floor, we could grind the floor, subject towards the slate being suited to grinding.
Victorian Tiles Floors
Victorian Clay Tiles are found in lots of Victorian and Edwardian hallways.
The tiles have a matt finish and acquire their colour through the clay used in their manufacture.
Due to how old they are, these floors have had lots of wear and can have layers of various sealers.
Old paint spills, polishes, waxes and sealer deposits helps make cleaning these types of floors tricky.
A colour intensifying sealer is used after cleaning, to bring back the original colours into the tiles. If you want a sheen or gloss finish a surface sealer or wax may be used.
Quarry Tiles Floor Cleaning And Sealing
Quarry tiles are very durable however they still suffer from a couple of issues.
Decades of ground in dirt and old sealers may lead some people to think their tile floor is past repair, but that is often far from the truth.
We can remove the layers of old selaers and dirt, giving you a pleasant new finish. After cleaning, the tiles can be finished with a long-lasting sealer.
Porcelain Tiles Cleaning
Porcelain is a form of ceramic tile.
High quality Porcelain has very low porosity, which means less stains, less water damage, much less need to be sealed.
If Porcelain is not produced correctly, the surface can be absorbent just like natural stone floors. The minute surface pits insure that it is hard to remove this soil.
We know how to get rid of embedded soil with equipment designed to get into the microscopic pits holding the soil.
After cleaning, we apply specific Porcelain sealers to prevent this problem.
Solid colour Porcelain Tiles can be ground and polished, the same as Granite or Marble.
Cleaning Ceramic Tiles Floors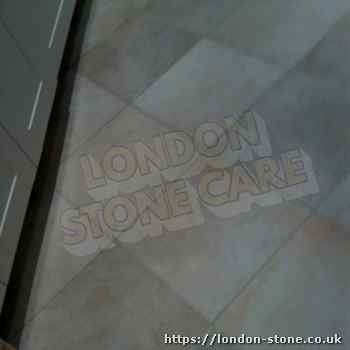 Professional cleaning of Ceramic tile floors can often take a shorter time than natural stone floors or clay tiles..
This is because the tile surface is commonly glazed.
Specialized tile and stone cleaning will still give you a better finish.
Once your ceramic tile is cleaned we'll apply a sealer for ceramic tiles. A sealed tile is a lot easier to mop and the sealer helps stop staining.
A Few Of The Stone And Tile Restoration Options Our Technicians Give
Sandstone tile cleaning is rarely just cleaning, there exists regularly more restoration required. Stone and tile restoration covers a range of services. At least, all stone floors suffer some form of generic wear and tear. More often than not, soil, stains and traffic marks ruin floor's finish. Highly polished marble and granite floors show up wear quickly, as minute foot traffic scuff marks during the stone surface affect the luster and hold dirt. A surface sealer does not prevent porous tile and stone and tiles like Sandstone, Limestone and Terracotta gradually struggling with wear and spill problems. Most natural stone flooring has cement grout. Cement grout is typically softer in comparison to stone and even more at risk of abrasive and chemical damage. Holes might be filled and cracks repaired included in a restoration. Stone and tile has got the appeal that a grubby, porous surface may be taken away, exposing a pleasant new surface. Grinding and honing removes surface damage from etching and surface scratching.
Stone and tile sealing is crucial to keep a unique tile and stone finish looking stunning. Stone sealers must certanly be placed on new stone and tile and tile floors and just after any floor tile cleaning, stone polishing or tile restoration work. Impregnating or penetrating sealers are utilized following diamond floor polishing. Hybrid sealers or Surface sealers would be best placed on coarse stone floor or tiles.
The first shine on a natural stone will gradually go dull. The loss in shine is attributable to foot traffic scratches and surface damage. The only method to replace the original finish is through polishing the stone floor. On marble, Granite, Terrazzo, Polished Limestone and Polished Travertine floors, diamonds are used to eliminate the outer lining wear and recover the original sparkle. The shine on Honed Travertine, Honed Limestone, Sandstone, Slate and Clay tiles is created through the use of a higher gloss sealer. Sealer removing products are applied to take away all traces of this existing sealer, and then a new gloss sealer is applied.
Is there unsightly chips on your tile and stone floor?
You do not have to change the tile and stone. Coloured resin fillers can fill chips and damage on a tile. When the resin cures, it offers to be sanded and polished. Chip repairs are less costly than laying new tiles.
Contact the Industry Professionals for Natural Stone Repairs London - Call the Specialists.
Repairing Cracked Tiles
A small movement inside the subfloor is going to make a crack in a marble tile. Cracks are often present in doorways as well as in between rooms. Also, a crack can appear due to a deficiency or weak spot within the tile. Crack repaircosts not as much as replacing the tile.
If you have got a deep crack in your floor, vanity unit, tabletop or counter top, they are filled up with coloured epoxy fillers. Hairline cracks are way too fine to just accept a filler and so they should be widened with diamond tools before they have been filled.
Other areas near Finsbury we cover include:
FinsburyHelpful Information
Finsbury is a district of Central London, forming the south-eastern part of the London Borough of Islington. It borders the City of London. The Manor of Finsbury is first recorded as Vinisbir 1231 and means €œmanor of a man called Finn. Finsbury lay just outside Cripplegate and on its later construction, Moorgate in London Wall. At that time, much of the manor was part of the great fen which washed against the northern wall of the City. Finsbury give its name to two larger administrative areas: the Finsbury Division of the Ossulstone Hundred of Middlesex, from the 17th century until 1900, and from 1900 to 1965 the Metropolitan Borough of Finsbury. The Metropolitan Borough included Finsbury also known as St Luke and Clerkenwell. The area should not be confused with Finsbury Park, a public space roughly 3 miles 5 km to the north and which gives its name to its surrounding mainly residential area.