Stone Floor Cleaning Kensal Town
Learn About The Very Best Stone Floor Cleaning Kensal Town.
Give The Size And Variety Of Stone
A few photos of the floors plus the sizes are usually all we want.
Once we have defined your needs we shall email a comprehensive written estimate.
Stone floors can often have a number of finishes, so we will include alternatives to match most budgets.
We shall also send a document detailing pictures of similar work.
We get there promptly and ready for work.
We're going to do a super job
Our stone floor cleaning Kensal Town and restoration professionals will bring new life to your stone floors.
We use the latest technology, brought to you with a personal touch, which means that your stone floors look beautiful and maintain their natural splendor for a long time to come.
Fill out our simple contact form for a free stone floor restoration quotation.
delighted to assist you you with cleaning and maintenance assistance
Following restoring stone floors to a stunning condition, we leave a cleaning and maintenance program, so stone floors will stay spectacular for years rather than weeks.
Contact Us Now!
Your stone floor cleaning Kensal Town quotation is simply one click away.
A Short Explanation Of Our Specialist Stone Floor Restoration Services In Kensal Town
Marble ultimately looses the initial polish. Surface scratches and etch marks pile up and take off the initial surface. Sooner or later, your marble floor will need to be repolished.
We use industrial diamond polishing to re-surface a marble floor and rebuild the appearance.
It's practically impossible to install a marble tile floor completely flat. The only way to make a marble floor perfectly smooth is by grinding off the lippage and irregular tile edges. Marble tile grinding is an expert service, giving incredible results.
Following grinding, the tiles will be the same level the grout lines. The floor will look like a single area of stone.
Maintaining a ground and polished marble floor is like cleaning an individual slab of glass. There are no grout lines to retain soil. Cracks and chips can be repaired with coloured resin fillers. The particular restoration needed should be determined by the current state of the marble floor.
Travertine Floor Cleaning
Most of the Travertine installed in the United Kingdom has a honeycomb framework with a great deal of holes. There are very different forms of Travertine floor tiles, including polished, honed and tumbled. The initial hole filler often falls away, allowing the holes to fill with dirt and soil.
Working to the highest standard, Travertine floor restoration experts have industrial-grade sealer removers and rotary scrubbing machinery to remove the coatings of old sealers and ingrained soil.
After cleaning, the Travertine floor could be re-grouted to fill any open holes. After cleaning and grouting the Travertine floor we apply a long-lasting, very easy to clean sealer.
Limestone Cleaning & Sealing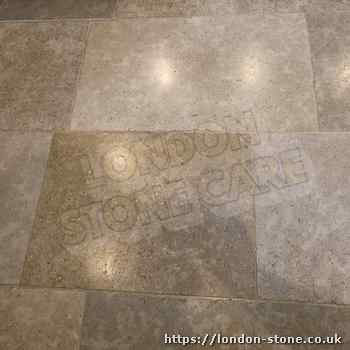 Bit by bit a Limestone floor will loose the original finish. Scratching and etching build and take off the initial appearance. The best way to bring back the initial polish is through polishing the Limestone. We use diamond polishing to hone and polish the Limestone floor and restore the initial finish.
If your floor happens to be laid with not level tiles, it is referred to as "lippage". The only method to make a Limestone tile floor flat is by grinding away the lippage and jagged edges of the tiles. Limestone floor grinding is a professional process, giving incredible results. The Limestone floor will have the look of appearing as an individual area of stone.
After grinding, the Limestone tiles be at the same level the grout lines. It is much simpler to maintain a smooth floor than an uneven floor. There are no uneven grout deressions to hold soil. Limestone floor restoration normally involves a few chip and crack repairs, using Limestone resin fillers. The particular restoration needed is going to be dependant on the current condition of your floor.
Terrazzo Cleaning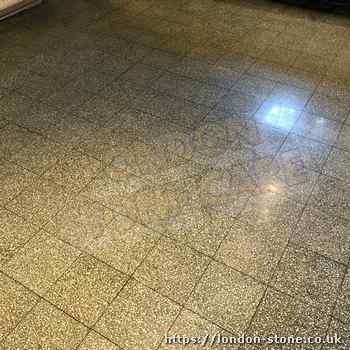 Terrazzo is created by mixing chips made of marble, granite, quartz, or glass chips into a cement or epoxy binder . Bit by bit a Terrazzo floor will loose the original finish. The change in appearance is due to microscopic scratches on top where it was walked on.
Terrazzo Polishing is the only way to bring back the original finish to the highest standard. We have diamond polishing machines to re-surface the Terrazzo and restore the initial finish. We can help to stop this soil using Terrazzo sealers.
Sandstone Cleaning & Sealing
Sandstone floor tiles can be bought in a number of different shades of brown, red, yellow and cream. Old sandstone may be covered with many different old coarings and trapped dirt, so ideally, it will need specialist cleaning and sealing.
There are specialist wax removers, rotary scrubbing equipment and pressurised rinsing to get rid of the layers of old sealer Right after cleaning we use hard wearing sealers. We shall advise the appropriate restoration service.
Granite Floor Polishing
Granite is a tremendously popular tile flooring. Granite is a very hard stone and is very resistant to damage from scratching and staining compared to other stone such as limestone and marble. Granite flooring needs less professional maintaining when compared with other stone flooring.
Granite is so hard, that lots of companies do not have the apparatus or knowledge to revive the stone. We have the experience and equipment to restore granite floors. to the highest standard.
Terracotta Floor Cleaning And Sealing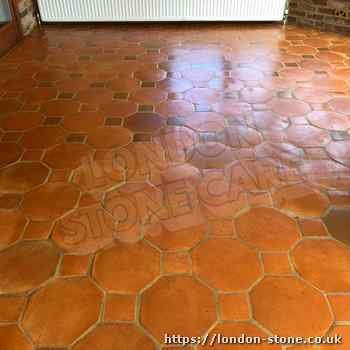 Terracotta is amongst the most permeable floors which we run into but has been used for floor tiles for thousands of years.
Aggressive chemical substances including conventional floor cleaners and bathroom tile cleaners can easily damage and mark Terracotta.
Regardless of its vulnerabilities, Terracotta could be restored returning to a delightful look.
We use a resilient sealer for terracotta, and that means you get the most value from your own cleaning.
Slate Floors
Slate floors look fantastic with their distinctive surface and stunning colours. Cleft slate can get an accumulation of dirt and sealer residues inside the crevices this is certainly hard to get rid of.
We use rotary cleaning devices and sealer removal treatments clean the slate. Then we use durable sealers.
If you want a smooth finish, we could grind the slate, but we have to gauge the slate before grinding.
Victorian Tiles Floor Cleaning & Sealing
Victorian Clay Tiles are installed in lots of Victorian and Edwardian hallways.
The tiles have a matt finish and get their colour from the clay used in their manufacture.
Owing to how old they are, these floors have experienced lots of wear and often have layers of different sealers.
Cleaning these floors can be challenging due to all of the old sealers and covering residues.
After cleaning an impregnating sealer is put on to boost the colours and protect the tiles. A topical sealer or wax finish will give the tiles with a low-sheen finish.
Quarry Tiles Cleaning & Sealing
Quarry tiles are extremely are particularly durable although they still suffer with a number of issues.
One common issue is worn out coatings of sealer which need to be removed.
A specialist clean and reseal can be just enough to restore a quarry tile floor. Quarry tiles are often laid without a damp proof membrane, therefore we need to apply the right sealer to allow the tiles to breathe.
Cleaning Of Porcelain Floors.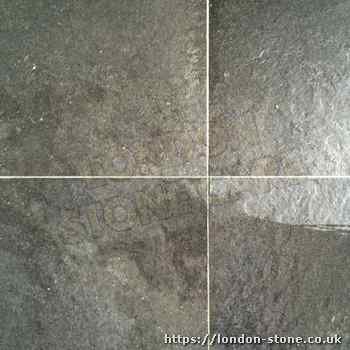 Porcelain is becoming an progressively preferred option to standard ceramic tiles and natural stone.
High quality Porcelain has very low porosity, this means less stains, less water damage and mold, much less need for sealing.
If Porcelain isn't properly made, the top can absorb soil similar to natural stone floors. The minute surface pits make it tough to remove this soil.
We can remove embedded dirt with equipment designed to get into the microscopic pits where the soil is held.
Our Porcelain sealers will help stop further soil problems.
In the event that porcelain is a solid colour, we could resurface the porcelain, exactly like granite or marble restoration.
Cleaning Of Ceramic Tiles Floors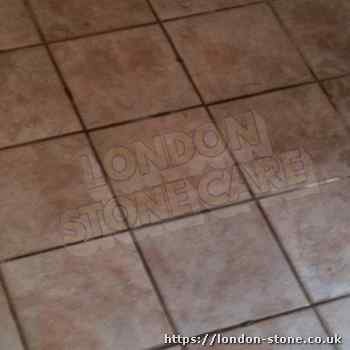 Professional cleaning of Ceramic tile floors can often take a shorter time than natural stone floors or clay tiles..
In general, the glazed surface liberates soil and dirt more easily.
But, you will still achieve better results with specialized equipment.
A professional tile sealer is put on after the the cleaning process. Sealing makes cleaning much simpler and will help protect from spillages.
Some Of The Stone Floor Restoration Services We Bring
Sandstone tile cleaning is rarely just cleaning, there exists regularly more restoration required. Stone and tile restoration covers a range of services. At the least, all stone floors suffer some type of generic wear and tear. In most cases, soil, stains and traffic marks ruin floor's finish. Highly polished marble and granite floors show up wear quickly, as minute foot traffic scuff marks within the stone surface affect the luster and hold dirt. A surface sealer does not prevent porous natural stone and tiles like Sandstone, Limestone and Terracotta gradually struggling with wear and spill problems. Most stone floor flooring has cement grout. Cement grout is generally softer when compared with stone plus much more vulnerable to abrasive and chemical damage. Holes could possibly be filled and cracks repaired included in a restoration. Natural stone has got the appeal that a grubby, porous surface may be taken away, exposing a pleasant new surface. Grinding and honing removes surface damage from etching and surface scratching.
Stone and tile sealing is essential to help keep a unique natural stone finish looking stunning. Stone sealers must certanly be put on new stone floor and tile floors and right after any floor tile cleaning, stone polishing or tile restoration work. Impregnating or penetrating sealers are employed following diamond floor polishing. Hybrid sealers or Surface sealers would be best put on coarse stone and tile or tiles.
The original shine on a sandstone floor will gradually go dull. The loss in shine is brought on by foot traffic scratches and surface damage. The only method to replace the original finish is by polishing the natural stone. On marble, Granite, Terrazzo, Polished Limestone and Polished Travertine floors, diamonds are utilized to remove the top wear and recover the initial sparkle. The shine on Honed Travertine, Honed Limestone, Sandstone, Slate and Clay tiles is made by applying a high gloss sealer. Sealer removing products are applied to take away all traces associated with the existing sealer, after which a fresh gloss sealer is applied.
Is there unsightly chips on your tile and floor?
You do not have to change the stone and tile. Coloured resin fillers can fill chips and damage on a tile. When the resin cures, it offers to be sanded and polished. Chip repairs are less expensive than laying new tiles.
Contact the Industry Professionals for Natural Stone Repairs London - Call the Specialists.
Repairing Cracked Tiles
A small movement inside the subfloor is likely to make a crack in a marble tile. Cracks in many cases are present in doorways plus in between rooms. Also, a crack can appear due to a deficiency or weak spot inside the tile. Crack repaircosts not as much as replacing the tile.
When you have got a deep crack in your floor, vanity unit, tabletop or counter top, they've been filled with coloured epoxy fillers. Hairline cracks are too fine to just accept a filler and so they need to be widened with diamond tools before these are generally filled.
Other areas near Kensal Town we service include:
Kensal TownHelpful Information
Kensal Town is a residential sub-district of Kensal Green in north-west London. It is located at the northern tip of the Royal Borough of Kensington and Chelsea where it meets the City of Westminster. Although local residents generally consider the area to be North Kensington, it is officially and historically an area of Kensal Green. It is included in the W postcode area and was first recorded in 1876 as Kensal New Town. This name had been used since the 1840s to distinguish the area south of the Harrow Road, in between the Grand Union Canal and the Great Western main line, where new housing was largely occupied by Irish immigrants. By the late 19th century the area had deteriorated into a run-down slum, though it was much improved when the slums were cleared and replaced with new council housing during the mid-20th century. It was a detached part of the ancient parish of St Luke Chelsea, and was also known as Chelsea-in-the-Wilderness or the Hamlet of Kensal Town. During the 19th century, the dog dealer Bill George Canine Castle establishment was on the Kensal Road. Kensal Town is recorded in the 1861 England Census as the birthplace of a resident of St. Pancras and in the 1851 Census as a village in its own right. Prominent buildings in the area include the distinctive Trellick Tower, designed by architect Ern? Goldfinger, and Our Lady of the Holy Souls Roman Catholic Church on Bosworth Road. Both buildings are listed by Historic England.