Stone Floor Cleaning St Margarets
Check Out Incredible Stone Floor Cleaning St Margarets.
Some photos of the floors and the sizes usually are all we require.
We shall email an in depth quote once we have cleared up your preferences.
You Can Expect To Get A Quick Reply
Stone floors can often have a variety of finishes, so we will include alternatives to accommodate most budgets.
We shall also email a document detailing images of similar work.
We Decide On A Start Date
We show up on time and prepared for work.
Your stone floor will appear fantastic
Our stone floor cleaning St Margarets and restoration experts will bring new life to your stone floors.
Close to thirty years in the stone restoration business, developing a trusted profile.
We provide free consultations in St Margarets without any obligation!
Stone cleaning and maintenance assistance from the experts
After restoring stone floors to a lovely finish, we supply a cleaning and maintenance program, so stone floors will stay attractive for years instead of months.
Contact Us Now!
Book a stone for cleaning quotation today.
Our Specialized Stone Floor Cleaning Services In St Margarets Described
Marble Cleaning And Sealing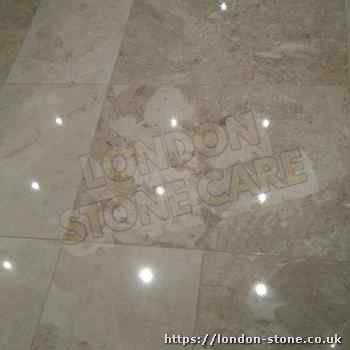 As time passes, Marble will end up matt and loose its polish. The dullness is due to small scratching on the surface where it is often walked on. Marble Polishing is your only way to reinstate the initial finish.
We use industrial diamond polishing to grind and polish the tiles and bring back the shine.
If the tiles are not really, perfectly even this disorder is named "lippage". We can grind away the uneven edges of the tiles, making the tile surface perfectly flat. It is a complicated process however the results are fabulous.
Following grinding, the tiles will be at the same level the grout. The marble will get the appearance of being a single slab of marble.
It is faster and easier to clean a smooth marble than a bumpy floor. Also, soil doesn't get stuck in the grout lines. If your marble floor has cracks or chips, we could repair them with resin fillers, closely colour matched with the marble. Once we have assessed your floor, we can recommend he optimum restoration processes.
Travertine Restoration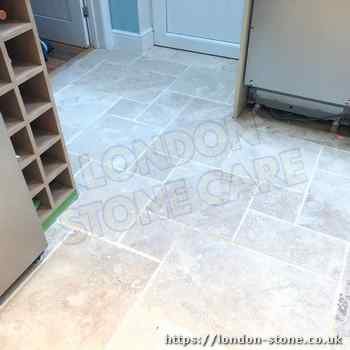 A Travertine floor is unique with its honeycomb structure, with lots of holes. There are different kinds of Travertine floor tiles, including polished, honed and tumbled. The original hole filler often falls away, permitting the holes to fill with dirt and soil.
Working to the highest standard, Travertine floor restoration businesses have use a combination of machine scrubbing, hand scrubbing and pressurised rinsing to remove old sealers and embedded soil.
Once the Travertine floor tiles and any holes are cleaned, any holes are grouted using a colour matched grout. After restoration and re-grouting the Travertine floor we use a long-lasting, easy to clean sealer.
Limestone Floors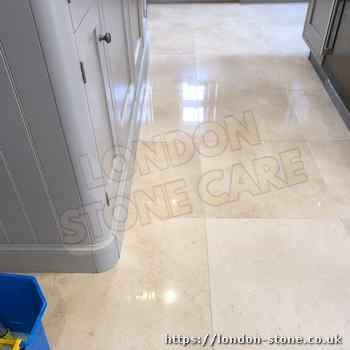 Eventually Limestone tiles will loose the original appearance. The dull appearance is brought on by microscopic marks on the surface where it was walked over. The only way to bring back the original polish is through polishing the floor. We use industrial diamond polishing to grind, hone and polish the Limestone floor and repair the original shine.
Almost all Limestone surfaces are not even due to the fact Limestone tiles are not laid flat. The only way to make a Limestone tile floor perfectly flat is by grinding off the lippage and jagged edges of the tiles. Limestone grinding is a professional service, that brings incredible results. The Limestone will get a monolithic appearance as a single slab of Limestone.
After grinding, the grout sits is level with the Limestone. After grinding and polishing mopping is very simple, as the mop slides over the floor. There are no uneven grout lines to hold soil. If your Limestone has chips and cracks, we could repair the damage with resin fillers, closely colour matched to the Limestone. After inspecting the floor, we will advise the best Limestone restoration program.
Terrazzo Restoration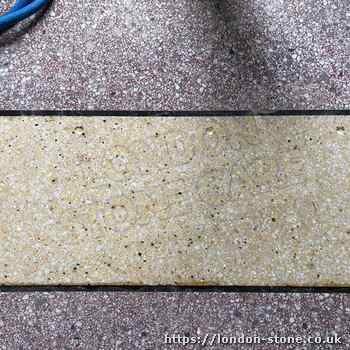 Terrazzo is made of natural stone segments set in a cement or epoxy medium which is either poured on location or precast as tiles. The initial finish on a Terrazzo floor will gradually go dull. Scratches and etching builds up and remove the original appearance.
Terrazzo Polishing is definitely the only way to restore finish to the highest standard. We use specialised Terrazzo polishing machines and diamond tools to grind and polish the stone. Once the Terrazzo has been cleaned and polished, we can use a sealer that provides protection against daily spills.
Sandstone Floor Cleaning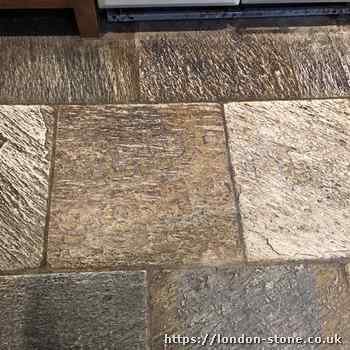 Sandstone is created principally of quartz, iron oxide, silica and calcium based deposits so it is a very durable stone. Whilst sandstone is sturdy it's also porous, so cleaning slurry gets trapped in the surface and it is difficult to remove.
We use a variety of machine scrubbing, hand scrubbing and pressure rinsing to remove all traces of old soiled sealers and clean a floor to the highest standard. Once the sandstone is clean, we give it time to dry, then use a durable, easy to clean sealer. We will advise the correct restoration service.
Granite
Granite is widely found in domestic and commercial interiors. Granite is a very hard-wearing tile flooring, ideal for heavy-duty traffic areas. Granite flooring resists wear longer than alternative stone flooring, like limestone or marble.
As a result of its hardness, granite needs specialist cleaning and restoration. We have the experience and equipment to revive your granite floor. to the highest standard.
Terracotta Floor Cleaning And Sealing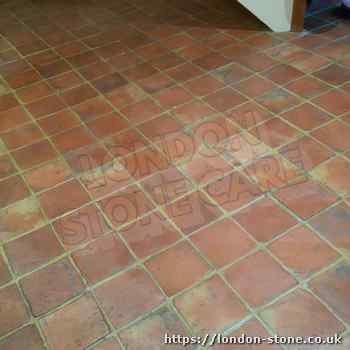 Terracotta is one of the most permeable floors which we run into but has been used for floor tiles for many thousands of years.
Conventional Terracotta sealers need to have regular upkeep and re-sealing, if they're not cared for, the top will start to get soiled and become porous.
In spite of its vulnerabilities, Terracotta could be restored returning to an excellent look.
Whilst we are able to seal Terracotta with Linseed oil and wax, we advise a tough synthetic sealer which will last for years, with minimal maintenance.
Slate Cleaning
Slate is a very popular floor and wall tile due to its low porosity and the many textures and varieties of Slate available. Whilst slate has a minimal porosity, it's going to nevertheless partly absorb and oil based spills, making annoying spots.
We use rotary brushing appliances and sealer removal treatments clean the slate. After our professional cleaning is finished, then use professional sealers that last for decades not just months.
If you want a smooth finish, we are able to grind the tiles, but we have to assess the slate before grinding.
Victorian Tiles Floor Cleaning
Victorian Clay Tiles are installed in lots of Victorian and Edwardian hallways.
The tiles have a matt finish and get their colour from the clay utilized in their manufacture.
With the variations in home design, these kinds of floors come with underlay from carpet, lino, bitumen and different adhesive residues.
Old waxes, polishes, paint spills and sealer deposits makes cleaning these kinds of floors challenging.
Following cleaning, a colour intensifying sealer is used to bring back the natural colours in the floor. A topical sealer or wax finish will give the floor with a high-sheen finish.
Quarry Tiles Restoration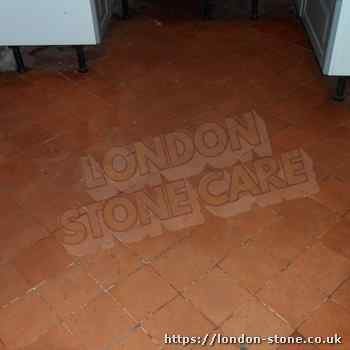 Quarry tile flooring is generally several decades old and frequently needs the full professional clean and restoration to bring it back once again to life.
Decades of dirt and old sealers often leads many people to imagine their tile floor is past repair, but that's often far from the truth.
An expert clean and reseal is frequently enough to restore a quarry tile floor. If Quarry tiles are laid on sand, ash or lime, put on sealers that enable the free movement of moisture.
Porcelain Tile Cleaning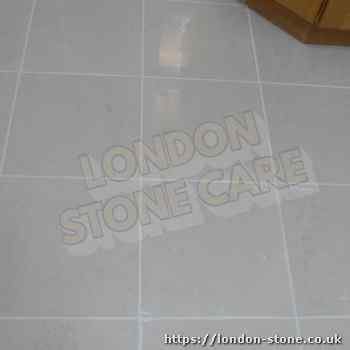 Porcelain is categorised as a ceramic, but made with different materials to standard ceramic tiles.
The additional minerals helps to make Porcelain much stronger than traditional ceramic tiles.
If Porcelain isn't correctly made, the surface can be absorbent similar to natural stone floors. It may be hard to remove this soil.
We have the equipment and experience to remove this hard to reach soil.
Our Porcelain sealers will help stop further soil problems.
If you have a solid colour Porcelain, we are able to re-surface the tiles by Grinding and re-polishing.
Cleaning Of Ceramic Floors.
Professional cleaning of Ceramic tiles is generally easier when compared with cleaning and restoring stone floors or clay tiles.
This happens as the surface of the tile is normally glazed.
Nevertheless, professional cleaning, specialized cleaning agents and equipment will provide the best results.
After cleaning and restoration we will put on a specialist sealer. Maintenance is much easier by having a sealed tile floor, plus a sealer prevents spills becoming stains.
A Number Of The Stone Floor Restoration And Cleaning Services Our Specialists Deliver
Sandstone tile cleaning is rarely just cleaning, there exists regularly more restoration required. Stone and tile restoration covers a range of services. At the least, all stone floors suffer some type of generic wear and tear. More often than not, soil, stains and traffic marks ruin floor's finish. Highly polished marble and granite floors show up wear quickly, as minute foot traffic scuff marks during the stone surface alter the luster and hold dirt. A surface sealer will not prevent porous natural stone and tiles like Sandstone, Limestone and Terracotta gradually struggling with wear and spill problems. Most tile and stone flooring has cement grout. Cement grout is usually softer compared to stone and many other things vulnerable to abrasive and chemical damage. Holes could be filled and cracks repaired included in a restoration. Stone and tile has got the appeal that a grubby, porous surface can be taken away, exposing a lovely new surface. Grinding and honing removes surface damage from etching and surface scratching.
Stone and tile sealing is vital to help keep a unique natural stone finish looking stunning. Stone sealers must certanly be put on new natural stone and tile floors and right after any floor tile cleaning, stone polishing or tile restoration work. Impregnating or penetrating sealers are utilized following diamond floor polishing. Hybrid sealers or Surface sealers are best applied to coarse natural stone or tiles.
The original shine on a stone floor will gradually go dull. The loss in shine is due to foot traffic scratches and surface damage. The only method to replace the initial finish is through polishing the natural stone. On marble, Granite, Terrazzo, Polished Limestone and Polished Travertine floors, diamonds are utilized to remove the surface wear and recover the first sparkle. The shine on Honed Travertine, Honed Limestone, Sandstone, Slate and Clay tiles is done through the use of a high gloss sealer. Sealer removing products are applied to take away all traces associated with existing sealer, after which an innovative new gloss sealer is applied.
Is there unsightly chips in your tile and stone floor?
You don't have to improve the natural stone. Coloured resin fillers can fill chips and damage on a tile. After the resin cures, it has to be sanded and polished. Chip repairs are less expensive than laying new tiles.
Contact the Industry Professionals for Natural Stone Repairs London - Call the Specialists.
Repairing Cracked Tiles
A slight movement within the subfloor can certainly make a crack in a marble tile. Cracks tend to be contained in doorways as well as in between rooms. Also, a crack can appear due to a deficiency or weak spot within the tile. Crack repaircosts not as much as replacing the tile.
When you have got a deep crack in your floor, vanity unit, tabletop or counter top, they've been filled up with coloured epoxy fillers. Hairline cracks are way too fine to accept a filler and so they need to be widened with diamond tools before they are filled.
Other areas near St Margarets we help include:
St MargaretsHelpful Information
St Margarets is a part of north-east Twickenham, separated from Isleworth by the River Crane. From the 16th century this area was the northern part of Twickenham Park, with a house on the boundary of Isleworth and Twickenham parishes. The house was demolished by 1805 and the estate was broken up. Around 1830 the Marquis of Ailsa built a house called St Margarets on the site of a 17th-century property that had once been home to the dramatist Richard Sheridan. The marquis died in 1846 and the St Margarets estate was put up for sale in the 1850s. Ailsa house was demolished and replaced by one built for €" but never occupied by €" the second Earl of Kilmorey. In 1856 this house became home to the Royal Naval school. In 1867 the earl rebuilt the neighbouring Gordon House, which also subsequently became part of the naval school. By this time, new roads had been laid out on the St Margarets estate, but little building had taken place. The St Margarets area was considered merely ordinary for much of the 20th century but it is now very popular with members of the professional classes.