Stone Floor Cleaning Dulwich
Check Out The Best Stone Floor Cleaning Dulwich.
Inform Us About Your Floor
More often than not the size and types of stone, plus a handful of images displaying the appearance of the floors will be all we need.
After we have defined your requirements we shall email a thorough written quote.
You Can Expect To Receive A Quick Reply
Stone floors can often have a number of finishes, so we may include alternatives to accommodate most budgets.
We shall also email a document displaying images of matching work.
We show up organized for work as well as on time.
We are going to do a brilliant job
Precisely Why You Can Rely On London Stone Care
We appreciate your investment in stone floors and our stone floor cleaning Dulwich service will help you to safeguard its natural splendor as time passes.
We have been serving home owners with stone floor cleaning and restoration for well over 20 years.
Our experienced technicians are here to give you a free quotation.
We are always pleased to help you care for your stone floors.
Following restoring a stone floor, we provide a comprehensive ongoing maintenance program.
Contact Us Now!
It is simple to arrange a quotation for your stone floor cleaning .
Our Expert Stone Floor Cleaning And Polishing Services In Dulwich Outlined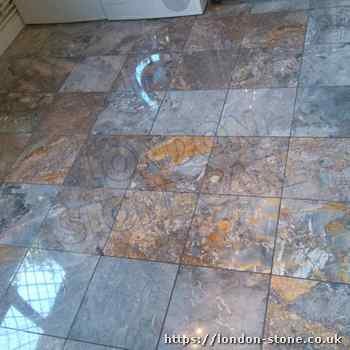 The original surface on marble will bit by bit loose its finish. The dull appearance is due to microscopic marks on the surface of the stone where it's been walked over. Marble Polishing is the best way to restore the original finish.
We use diamond polishing machinery to revive the finish.
Nearly all marble tile floors are uneven as the marble tiles are not installed level. The only method to make a marble floor flat is by grinding off the lippage and jagged tile edges. Grinding marble floors really should only be performed by experts.
Following grinding, the grout sits will sit at the same level as the marble tiles. The marble will get a monolithic appearance as an individual area of marble.
Cleaning a ground, honed and polished marble floor is like cleaning a single slab of glass. A smooth marble floor does not have grout lines to hold soil. Marble restoration normally involves some chip and crack repairs, using marble fillers. We will recommend the appropriate marble restoration service.
Travertine Restoration
A Travertine floor is distinct with a honeycomb structure, with lots of holes. There are very different forms of Travertine floor tiles, including honed, polished and tumbled. As the stone wears, the hole filler comes away, and the holes fill up with unappealing soil, dirt and mopping water.
Working to the highest standard, Travertine floor restoration specialists use professional sealer removers and rotary scrubbing machines to eliminate the coatings of old sealers and ingrained soil.
After the Travertine floor tiles and the holes are cleaned, any open holes are grouted with a coloured grout. We then use a durable sealer that also makes the Travertine floormuch simpler to look after.
Limestone Floor Restoration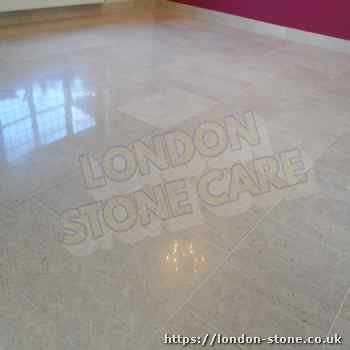 With time, Limestone will end up matt and loose its surface. The dullness is brought on by tiny scratching on the surface of the stone where it's been walked on. Gradually, your Limestone floor will have to be repolished. We make full use of professional equipment and industrial diamond tooling to grind and polish the stone.
It really is practically unachievable to install a Limestone floor completely flat. The only way to make a Limestone floor perfectly flat is by grinding away the lippage and jagged edges of the tiles. This really is a complicated process however the results are breathtaking. The Limestone floor will get a monolithic appearance as a single piece of Limestone.
Following grinding, the tiles and the grout are at the same level. It is much simpler to maintain a smooth, sleek floor than a jagged floor. There will be no grout channels to hold soil. Hole cracks and chip repairs in many cases are part of the restoration work. Once we have assessed your Limestone floor, we will advice he ideal restoration process.
Terrazzo Restoration
Terrazzo is an attractive yet hard-wearing flooring, hence its use as a flooring in supermarkets, airports, commercial and industrial buildings. Terrazzo eventually loses the original finish. Surface damage is due to wear scratches and surface damage.
Terrazzo Polishing is definitely the best way to bring back the original finish to the highest standard. Diamonds are used to eliminate the surface damage and restore the original Terrazzo shine. Our Terrazzo sealers can help avoid further soil problems.
Sandstone Floor Cleaning & Sealing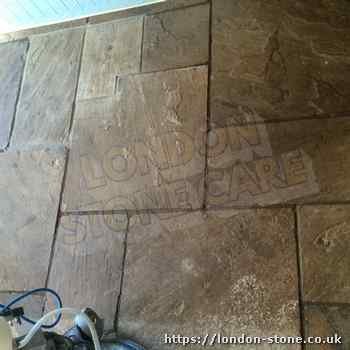 Sandstone floor tiles appear in a number of different shades of brown, red, yellow and cream. Sandstone can end up getting ingrained soil making it look dull and tough to clean.
Professionals use rotary brushing equipment, sealer removers and pressure rinsing to completely clean the sandstone Then we apply a long-lasting sealer which also makes your sandstone more straightforward to clean. Once we look at your floor, we can help you regarding the best restoration process.
Granite Polishing & Sealing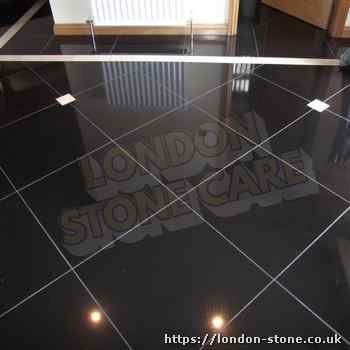 You are able to find granite in many domestic homes and commercial buildings. Granite is a tremendously hard wearing material, perfect for heavy duty foot traffic lanes. A granite floor requires less specialist service in comparison to other stone flooring.
Granite is so hard, that many companies do not have the gear or knowledge to restore granite. We have the experience and equipment to restore your granite floor. to the highest standard.
Terracotta Floor Cleaning And Sealing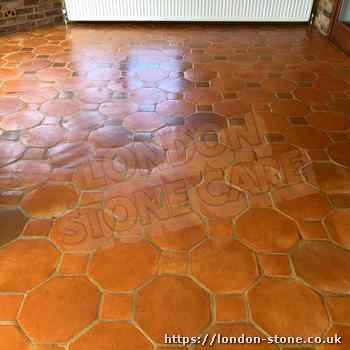 Terracotta is one of the most porous floors which we run into but has been utilized for floor tiles for thousands of years.
Traditional Terracotta sealers need regular upkeep and re-application, if they are not looked after, the top will begin to get dirty and become porous.
Cleaning and restoring terracotta tiles commences with taking away the previous polish, sealers and embedded soil with industrial-grade sealer removers and cleaning chemicals.
We can re-wax the Terracotta or use a hard-wearing synthetic sealer that is much easier to take care of.
Slate Restoration
Slate is an extremely popular floor and wall tile because of its low porosity and the numerous textures and varieties of Slate available. We have been mostly called to restore slate when it suffers form layers of old coating with ingrained soil, so the finish appears dull and soiled.
We now have specialist machinery and products to eliminate the soil and old sealers, rejuvenating the original slate finish. Once our professional cleaning is complete, use specialist sealers that will last for many years not just months.
Some slate floors can be ground to a smooth finish.
Victorian Tiles Floors
Victorian Clay Tiles are installed in many Victorian and Edwardian hallways.
The tiles have a matt finish to get their colour from the clay utilized in their manufacture.
With the variations in interior design, many of these floors get carpet underlay, lino, bitumen and additional glue deposits.
Old paint spills, waxes, polishes and sealer deposits tends to make cleaning these floors tricky.
After cleaning an impregnating sealer is put on to boost the colours and protect the floor. The mat finish can be polished by making use of a wax or topical sealer.
Quarry Tiles Floor Cleaning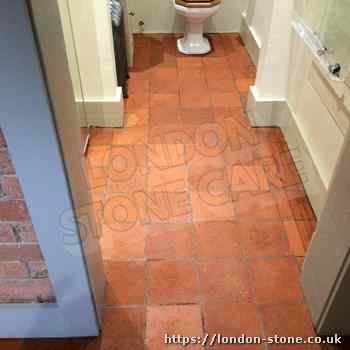 Quarry tile floors were once a proud feature in terraced houses and farmhouses across the country, but some of the floors have since fallen into assorted states of repair.
Whilst the tiles can happen dirt, these floors are very robust and can look as good as new after an effective clean.
Whilst the tiles may appear dirty and discoloured, they are very durable and can look just like new after a suitable clean. Quarry tiles tend to be laid with no damp proof membrane, therefore we need certainly to apply the right sealer to allow the tiles to breathe.
Porcelain Tiles Cleaning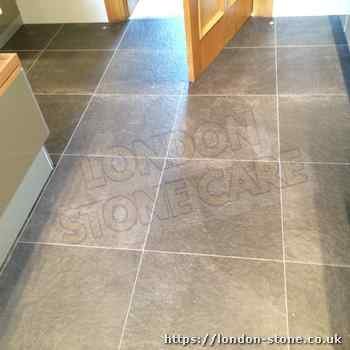 Porcelain is becoming an extremely desirable alternative to traditional ceramic tiles and natural stone.
Premium Porcelain has very low porosity, which means less stains, less water damage and mold, much less need to be sealed.
There are inferior porcelains that will absorb soil and spills similar to natural stone floors. This soil could be hard to remove.
We know how to remove ingrained soil with equipment designed to enter into the microscopic pits where the soil is held.
We will help stop the dirt with Porcelain sealers.
Solid color Porcelain can be ground and restored like Granite or Marble.
Cleaning Ceramic Tile Floors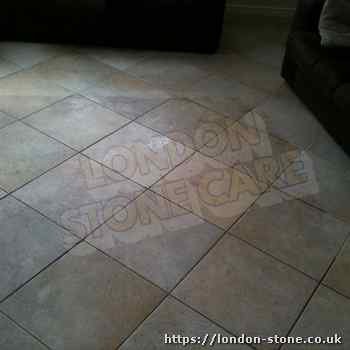 Professional cleaning of Ceramic tile floors can often take less time than natural stone floors or clay tiles..
This glazed finishing speeds up cleaning and restoring.
Nevertheless, professional cleaning, specialized cleaning agents and machinery can give the most effective results.
We always use a professional tile sealer after cleaning. A sealed tile is simpler to keep clean and the sealer helps reduce stains.
A Number Of The Natural Stone Restoration Solutions Our Specialists Bring
Stone floor cleaning is rarely just cleaning, there exists regularly more restoration required. Stone floor restoration covers a number of services. At least, all stone floors suffer some type of generic wear and tear. In most cases, soil, stains and traffic marks ruin floor's finish. Highly polished marble and granite floors show up wear quickly, as minute foot traffic scuff marks during the stone surface alter the luster and hold dirt. A surface sealer will not prevent porous tile and and tiles like Sandstone, Limestone and Terracotta gradually struggling with wear and spill problems. Most natural stone flooring has cement grout. Cement grout is generally softer in comparison to stone and even more in danger of abrasive and chemical damage. Holes could be filled and cracks repaired included in a restoration. Tile and stone gets the appeal that a grubby, porous surface may be taken away, exposing a pleasant new surface. Grinding and honing removes surface damage from etching and surface scratching.
Stone and tile sealing is essential to keep an innovative new natural stone finish looking stunning. Stone sealers should always be placed on new tile and and tile floors and immediately after any floor tile cleaning, stone polishing or tile restoration work. Impregnating or penetrating sealers are employed following diamond floor polishing. Hybrid sealers or Surface sealers are best applied to coarse natural stone or tiles.
The original shine on a sandstone floor will gradually go dull. The loss in shine is due to foot traffic scratches and surface damage. The only way to replace the initial finish is through polishing the stone and tile. On marble, Granite, Terrazzo, Polished Limestone and Polished Travertine floors, diamonds are utilized to get rid of the top wear and recover the initial sparkle. The shine on Honed Travertine, Honed Limestone, Sandstone, Slate and Clay tiles is established by making use of a higher gloss sealer. Sealer removing products are applied to take away all traces of the existing sealer, after which a brand new gloss sealer is applied.
Is there unsightly chips on the tile and floor?
You do not have to improve the tile and stone. Coloured resin fillers can fill chips and damage on a tile. Once the resin cures, this has to be sanded and polished. Chip repairs are less expensive than laying new tiles.
Contact the Industry Professionals for Natural Stone Repairs London - Call the Specialists.
Repairing Cracked Tiles
A small movement within the subfloor can certainly make a crack in a marble tile. Cracks tend to be contained in doorways as well as in between rooms. Also, a crack can appear due to a deficiency or weak spot within the tile. Crack repaircosts not as much as replacing the tile.
For those who have got a deep crack in your floor, vanity unit, tabletop or counter top, they have been filled with coloured epoxy fillers. Hairline cracks are way too fine to just accept a filler and in addition they should be widened with diamond tools before they truly are filled.
Other areas near Dulwich we cover include:
DulwichHelpful Information
Dulwich DUL-itch is an area of south London, England. The settlement is mostly in the London Borough of Southwark, with parts in the London Borough of Lambeth, and consists of Dulwich Village, East Dulwich, West Dulwich, and the Southwark half of Herne Hill which is often referred to as the North Dulwich triangle. Dulwich lies in a valley between the neighbouring districts of Camberwell to the west, Crystal Palace, Denmark Hill, Forest Hill, Peckham, Sydenham Hill, and Tulse Hill. For the last four centuries Dulwich has been centred on the College of God Gift, also known as the €œOld College€, which owned most of the land in the area today known as the Dulwich Estate. The College, founded with educational and charitable aims, established three large independent schools in the 19th century Dulwich College, Alleyn School and James Allen Girls School. In recent decades four large state secondary schools have opened in the area The Charter School East Dulwich, The Charter School North Dulwich, Kingsdale Foundation School and Harris Boys Academy East Dulwich. Dulwich formed part of the ancient parish of Camberwell in Surrey, which became the Metropolitan Borough of Camberwell within the County of London in 1889; in 1965, the borough was abolished and the area became part of the newly-created London Borough of Southwark.