Stone Floor Cleaning Earlsfield
Learn About Spectacular Stone Floor Cleaning Earlsfield.
Give The Size And Type Of Stone
In most cases the size and kind of stone, plus a few images detailing the condition of the floors will be all we need.
Once we have clarified your needs we shall email a thorough written estimate.
Most of the time we shall propose some other finishes to accommodate most budgets.
We will also email a document showing images of comparable work.
We show up ready for work as well as on time.
We shall do an extraordinary job
Precisely Why You Need To Contact Us
We appreciate your investment in stone floors and our stone floor cleaning Earlsfield work can help you to maintain its natural charm as time passes.
With brilliant results, affordable rates and seasoned staff, we are excited to become your number 1 choice for cleaning and restoration of natural stone.
Our experienced professionals are here to offer a totally free quotation.
ready to assist you you with cleaning and maintenance advice
After restoring tile and stone floors to a gorgeous finish, we leave a maintenance program, so floors stay spectacular for years instead of months.
Contact Us Now!
It's easy to get a quotation for your stone floor cleaning .
Our Specialized Stone Floor Cleaning Services In Earlsfield Explained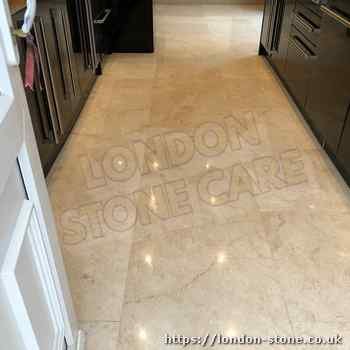 Bit by bit a marble floor will lose its initial finish. The dull appearance is brought on by microscopic scratching on the surface of the tile where it has been walked on. Before long, the marble will need to be re-polished.
We use industrial diamond polishing machinery to bring back the sparkle.
In the event that tiles are not even, even this disorder is referred to as "lippage". We can grind away the uneven tile edges, making the floor surface smooth. You require specialist machinery and several years of hands on experience to grind and hone a marble floor, however the final results are stunning.
Following grinding, the marble will be the same level the grout lines. The marble floor will get a monolithic appearance as a single slab of stone.
An even marble surface is much simpler to maintain. A smooth marble floor does not have grout lines to retain soil. Hole cracks and chip repairs are often an element of the restoration work. After assessing the floor, we can advise the best marble restoration program.
Travertine Floor Cleaning And Sealing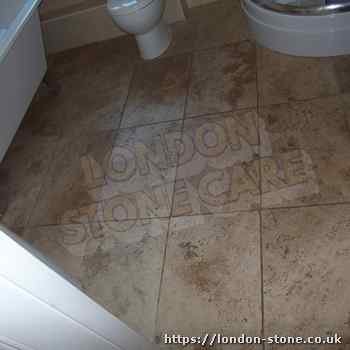 Most of the Travertine used in the UK has a honeycomb structure with a large amount of holes. Travertine floor tiles will come in many different finishes, polished, smooth honed and tumbled. As the stone wears, the hole filler comes away, and the holes fill up with unappealing dirt, soil and mopping water.
Working to the highest standard, Travertine floor restoration service providers use use a mix of machine scrubbing, hand scrubbing and pressurised rinsing to remove old sealers and embedded soil.
After cleaning, the Travertine floor is often re-grouted to fill any exposed holes. After cleaning and grouting the Travertine floor we use a resilient, simple to clean sealer.
Limestone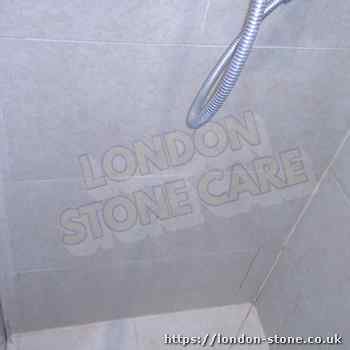 With time, Limestone will end up matt and loose its appearance. Scratches and etch marks pile-up and take off the initial finish. The best way to revive the original shine is through polishing the tiles. We work with professional machines and diamond tooling to polish the Limestone.
Nearly all Limestone tile surfaces are not even as the tiles are not laid level. We can grind off the uneven tile edges, making the floor surface smooth. This is a complicated process however the the finished results are amazing. The Limestone floor looks monolithic, appearing to be made from an individual area of stone.
After grinding, the Limestone tiles be at the same level the grout. It is much easier to maintain a smooth Limestone than a bumpy floor. There are no grout lines to capture dirt. Cracks and chips can be repaired with colour matched resin repair fillers. After we have assessed the Limestone floor, we can advise the best Limestone restoration service.
Terrazzo Floor Cleaning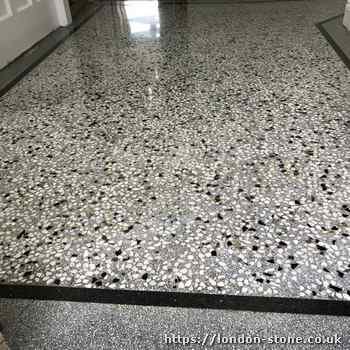 Terrazzo is manufactured out of natural stone pieces set in a cement or epoxy medium and it is either poured on location or cast as tiles. Gradually, Terrazzo will lose the original finish. Scratches and etching builds up and take away the original finish.
The only way to revive the initial finish is through polishing the Terrazzo to the highest standard. Diamonds are used to take away the surface damage and restore the initial Terrazzo shine. Our Terrazzo sealers can help stop further soil problems.
Sandstone Restoration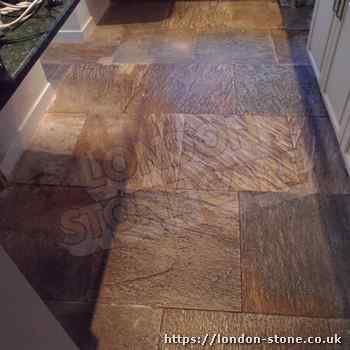 Sandstone is created primarily from quartz, iron oxide, silica and calcium based deposits so it is a very long-lasting stone. The voids amongst the sandstone grains trap dirt which can be tough to get rid of.
We use a variety of machine scrubbing, hand scrubbing and pressure rinsing to eliminate all traces of old soiled sealers and clean the floor to the highest standard. After cleaning we apply hard wearing sealers. After inspecting the tiles, we are going to advise the best Sandstone restoration service.
Granite Floor Restoration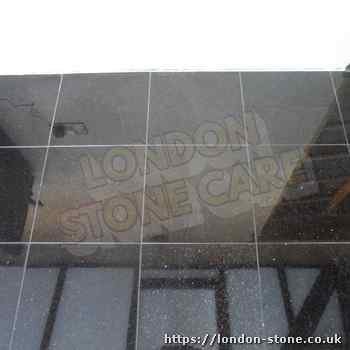 Granite is a really popular stone flooring. Granite is a very hard tile flooring and is resistant to damage from scratching and stains compared to other stone such as marble and limestone. Specialist routine maintenance is generally required less often as compared to other stones tile limestone or marble.
Granite is so hard, that lots of companies do not have the equipment or skills to revive granite floors. We have the experience and equipment to restore granite floors. to the highest standard.
Terracotta Floor Restoration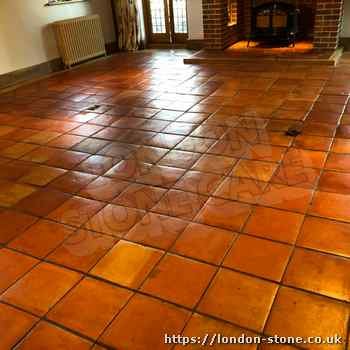 Terracotta offers a distinctive colour and a rustic feel in your home, but must have careful maintenance to keep it looking its best.
Conventional Terracotta sealers will need frequent maintenance and re-application, if they are not taken care of, the top will quickly get soiled and become porous.
Irrespective of its vulnerabilities, Terracotta may be restored returning to a wonderful appearance.
We use a resilient sealer for terracotta, and that means you get the maximum benefit and value from your cleaning.
Slate Restoration
Slate is a really popular floor and wall tile due to its low porosity and the many varieties and textures of Slate available. Slate floors need regular sealing to stop spills and soil marking the finish.
We use a combination of machine and hand scrubbing to get rid of all traces of existing dirty sealers and clean the slate. Then we apply hard wearing sealers.
If you want a smooth floor, we are able to grind a floor, subject to the slate being ideal for grinding.
Victorian Tiles Restoration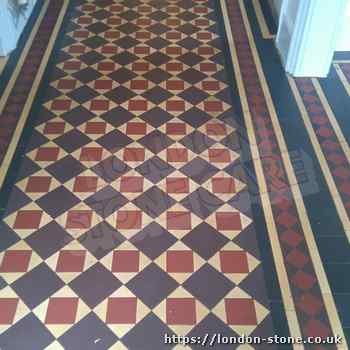 Victorian Clay Tiles are found in lots of Victorian and Edwardian hallways.
The primary features of Victorian tiles include natural clay colours and a matt finish.
With the changes in residential design, these kinds of floors have carpet underlay, lino adhesive, bitumen and additional sticky remains.
The primary issues with victorian floor tiles is removing several of polished, oils, waxes, dirt and grime while not harming the floor.
A colour intensifying sealer is used following cleaning, to bring back the original colours when you look at the tiles. A topical sealer or wax finish will provide the tiles with a high-sheen finish.
Quarry Tiles Cleaning
Quarry tiles were a standard fixture in kitchen areas and for indoor flooring for many years.
Damage to the surface of the tiles like scratches along with other abrasions can happen in the event that tiles haven't been properly sealed or perhaps the seal has worn down.
We can take away the layers of old coatings and dirt, leaving an attractive new finish. After the quarry tiles have been cleaned they may be sealed to provide years of life.
Porcelain Tiles Cleaning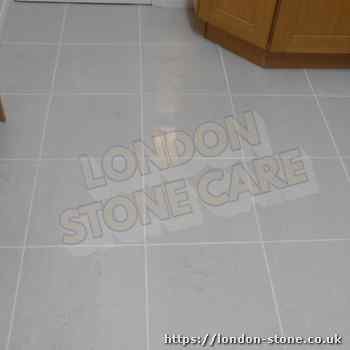 Porcelain is now an extremely sought after alternative to traditional ceramic tiles and natural stone.
Porcelain is very moisture-resistant, and so spillages are unable soak into the tile and lead to stains.
If Porcelain isn't properly processed, the top can absorb soil similar to natural stone floors. The minute surface pits make it difficult to remove this soil.
We possess the equipment and experience to get rid of this hard to reach soil.
Once your porcelain floor has been cleaned we can which protects against day to day soil and spills.
Solid color Porcelain can be ground and restored like Granite or Marble.
Cleaning Ceramic Tile Floors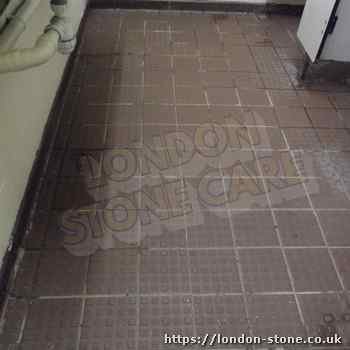 Professional cleaning of Ceramic tile floors can often take less time than natural stone floors or clay tiles..
This is because the top of the tile is normally glazed.
However, professional cleaning, specialist products and machinery can give the very best results.
A professional sealer will be applied following the the cleaning process. A sealed ceramic tile is easier to clean and it helps avoid stains.
A Few Of The Natural Stone Restoration Solutions We Deliver
Stone and tile cleaning is rarely just cleaning, there exists regularly more restoration required. Sandstone floor restoration covers many different services. At the very least, all stone floors suffer some type of generic wear and tear. In most cases, soil, stains and traffic marks ruin floor's finish. Highly polished marble and granite floors show up wear quickly, as minute foot traffic scuff marks within the stone surface alter the luster and hold dirt. A surface sealer does not prevent porous tile and stone and tiles like Sandstone, Limestone and Terracotta gradually struggling with wear and spill problems. Most tile and stone flooring has cement grout. Cement grout is usually softer when compared with stone and more at risk of abrasive and chemical damage. Holes could be filled and cracks repaired included in a restoration. Stone and tile contains the appeal that a grubby, porous surface could be taken away, exposing an attractive new surface. Grinding and honing removes surface damage from etching and surface scratching.
Tile and stone sealing is crucial to keep a fresh tile and stone finish looking stunning. Stone sealers must be placed on new natural stone and tile floors and immediately after any floor tile cleaning, stone polishing or tile restoration work. Impregnating or penetrating sealers are employed following diamond floor polishing. Hybrid sealers or Surface sealers would be best placed on coarse tile and stone or tiles.
The initial shine on a stone floor will gradually go dull. The loss in shine is attributable to foot traffic scratches and surface damage. The only method to replace the first finish is by polishing the natural stone. On marble, Granite, Terrazzo, Polished Limestone and Polished Travertine floors, diamonds are used to remove the outer lining wear and recover the first sparkle. The shine on Honed Travertine, Honed Limestone, Sandstone, Slate and Clay tiles is established by making use of a top gloss sealer. Sealer removing products are applied to take away all traces associated with the existing sealer, and then a fresh gloss sealer is applied.
Is there unsightly chips in your stone floor floor?
You do not have to alter the tile and. Coloured resin fillers can fill chips and damage on a tile. After the resin cures, it has to be sanded and polished. Chip repairs are less expensive than laying new tiles.
Contact the Industry Professionals for Natural Stone Repairs London - Call the Specialists.
Repairing Cracked Tiles
A slight movement within the subfloor will make a crack in a marble tile. Cracks in many cases are present in doorways plus in between rooms. Also, a crack can appear because of a deficiency or weak spot inside the tile. Crack repaircosts never as much as replacing the tile.
For those who have got a deep crack in your floor, vanity unit, tabletop or counter top, they've been filled up with coloured epoxy fillers. Hairline cracks are too fine to just accept a filler and in addition they should be widened with diamond tools before they truly are filled.
Other areas near Earlsfield we work in include:
EarlsfieldHelpful Information
Earlsfield is an area within the London Borough of Wandsworth, London, England. It is a typical London suburb and comprises mostly residential Victorian terraced houses with a high street of shops, bars, and restaurants between Garratt Lane, Allfarthing Lane, and Burntwood Lane. The population of Earlsfield at the 2001 Census was 12,903, increasing to 15,448 at the 2011 Census. Earlsfield railway station provides access to central London three stops to London Waterloo Clapham Junction, Vauxhall, Waterloo in 12 minutes and other areas in South London Victoria €" changing at Clapham Junction, Wimbledon one stop. The station redevelopment was completed in April 2013.