Stone Floor Cleaning Richmond
Learn About Excellent Stone Floor Cleaning Richmond.
Some photos showing the floors plus the sizes usually are all we want.
We will email a detailed quotation once we have clarified your needs.
You Will Have A Punctual Reply
Quite often we shall propose some other treatments to match most budgets.
We will also e-mail a document showing images of matching work.
We Agree A Working Schedule
We visit punctually and prepared for work.
We will do a super job
Reasons Why You May Want To Choose London Stone Care
Our professionals are ready to take on any stone floor cleaning Richmond task that you might need.
We use the most advanced technology, delivered with a personal touch, so your stone floors look gorgeous and preserve their natural beauty for a long time to come.
Fill in our simple contact page for a free of charge stone and tile restoration quotation.
If you are not sure of how to care for your marble floor, make contact and we can give the finest advice.
After restoring tile and stone floors to a gorgeous condition, we provide a cleaning and maintenance program, so stone floors stay stunning for years rather than months.
Contact Us Now!
Schedule your very own stone for cleaning Richmond quote today.
A Light Review Of Our Specialised Stone Floor Cleaning And Restoration Services In Richmond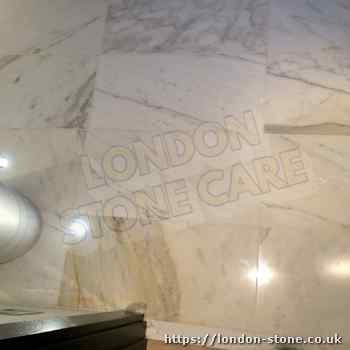 Marble eventually looses its original polish. The damage to the surface is brought on by foot traffic scratches and etch marks Eventually, the floor will need to be re-polished.
We use industrial diamonds to eliminate the surface damage and restore the original shine.
In the event that tiles are not even, perfectly even this problem is called "lippage". The only way to make a marble floor perfectly smooth is by grinding off the lippage and irregular edges of the tiles. Grinding marble floor tiles should really be carried out by professionals.
Following grinding, the marble will be at the same level the grout lines. The marble floor will get the look of looking like an individual piece of stone.
After grinding honing and polishing marble maintenance is very simple, because the mop slides on the floor. There will be no depressed grout lines to retain dirt. Marble restoration usually features a few chip and crack repairs, using marble fillers. We will advise the right restoration service.
Travertine Polishing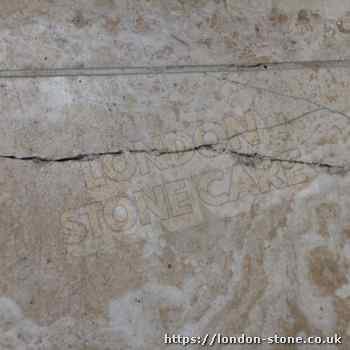 The vast majority of the Travertine used in the UK has a honeycomb framework with a great deal of holes. Travertine floor tilescould be supplied in many different finishes, including honed, polished and tumbled. As time passes, the original hole filler falls away, thereafter the holes fill with dreadful soil.
Working to the highest standard, Travertine floor cleaning and restoration experts have specialist sealer removers and rotary scrubbing machines to remove the coatings of old sealers and embedded soil.
After cleaning, the Travertine floor could be re-grouted to refill any open holes. Following restoration and grouting we apply hard wearing sealers.
Limestone Polishing And Sealing
An initial appearance on Limestone will bit by bit loose its finish. The damage to the surface is caused by foot traffic scores and etch marks Ultimately, your Limestone floor will need to be re-polished. We use industrial diamonds to remove the marks and scratches and rebuild the original appearance.
Nearly all Limestone floors are not even as the tiles are not set flat. The only way to make a Limestone floor perfectly smooth is by grinding off the lippage and irregular tile edges. Limestone floor grinding is a specialist process, that gives outstanding results. The Limestone will have the appearance of becoming a single piece of stone.
After grinding, the Limestone tiles be flush with the grout lines. A smooth Limestone floor is much easier to maintain. There will be no grout lines to retain soil. Cracks and chips can be repaired with colour matched resin repair fillers. After inspecting the Limestone, we can advise the best Limestone restoration process.
Terrazzo Floors
Terrazzo has been used for thousands of years as a flooring With time, Terrazzo will end up dull and lose its finish. Scratches and etching builds up and take away the original polish.
The only way to revive the original finish is by polishing the Terrazzo to the highest standard. We use diamond polishing equipment to grind the Terrazzo and restore the original finish. After cleaning and polishing, we apply specialist Terrazzo sealers.
Sandstone Floors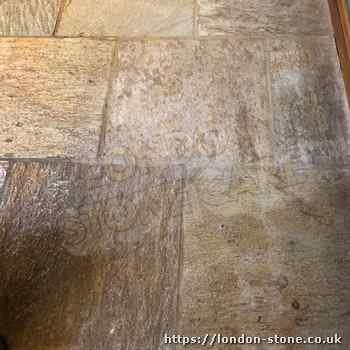 Sandstone is made of highly compressed sand, as well as a variety of minerals including quartz and feldspar. Old sandstone can be covered with a number of old coarings and trapped dirt, so ideally, it really needs specialist cleaning and sealing.
Professionals use rotary brushing machines, sealer removers and pressure rinsing to completely clean the sandstone We then use specialist sealers that last for years not just months. The specific restoration needed should be based on the health of your floor.
Granite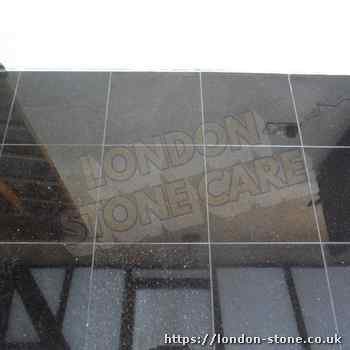 Granite is a popular flooring for home and commercial installations. Granite is an extremely hard stone and is extremely resistant to surface damage from scratches and staining compared to other stone such as marble and limestone. A granite floor needs less frequent professional maintenance compared to other natural stones.
As a result of its hardness, granite requires specialized restoration. We offer a full selection of granite cleaning, polishing, restoration and sealing services. to the highest standard.
Terracotta Cleaning And Sealing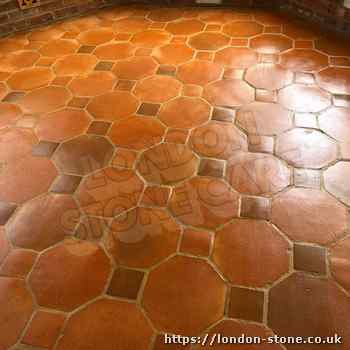 Terracotta has no glaze on the surface, therefore it will absorb spills and soil very quickly.
Terracotta can very quickly start to show surface marks, particularly where the current sealer has completely worn away.
Regardless of its vulnerabilities, Terracotta may be restored back into a wonderful look.
We can wax the Terracotta or employ a hard wearing synthetic sealer that is much simpler to care for.
Slate Floor Cleaning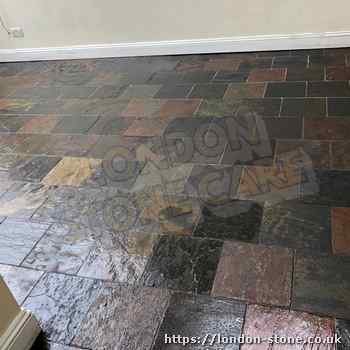 Slate floors look fantastic with their textured surface and vibrant colours. Our company is mostly called to clean slate when it has layers of old coating with ingrained soil, so that the finish appears worn and dirty.
We use rotary cleaning appliances and sealer removers clean the slate. When our professional cleaning is complete, use specialist sealers that last for many years not just months.
Some slate floors can be ground to a smooth finish.
Victorian Tiles Cleaning And Sealing
Victorian Clay or Minton geometric floor tiles are installed in Victorian and Edwardian Hallways.
The tiles have a matt finish and obtain their colour from the clay used in their manufacture.
Owing to their age, these floors have experienced lots of wear and often have layers of different sealers.
Old polishes, waxes, paint spills and sealer residues helps make cleaning these kinds of floors a challenge.
A colour intensifying sealer is applied following cleaning, to restore the original colours in the tiles. A topical sealer or wax finish will give the tiles with a high-sheen finish.
Quarry Tiles Floors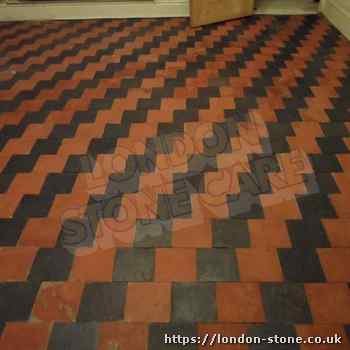 Quarry tiles are extremely are particularly durable however they do suffer with a number of issues.
One common problem is previous layers of sealer that have to be taken off.
As the tiles may appear soiled and discoloured, the tiles are surprisingly robust and can look just like new after a suitable clean. If Quarry tiles are laid on sand, ash or lime, put on sealers that enable the free movement of moisture.
Cleaning Porcelain Tiles Floors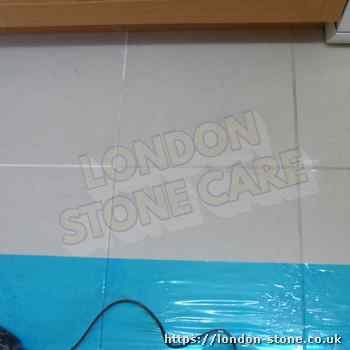 Porcelain is categorised as a ceramic, but manufactured with different materials to traditional ceramic tiles.
This makes Porcelain a lot more stain resistant and easier to keep up than standard ceramic tiles.
There are substandard porcelains that will absorb surface soil and spills just like natural stone floors. This soil could be hard to remove.
We are able to get rid of ingrained dirt using equipment built to get into the microscopic pits where the soil is held.
Our Porcelain sealers can help stop further soil problems.
Solid colour Porcelain Tiles can also be ground and polished, just like Granite or Marble.
Cleaning Of Ceramic Floors.
Professional cleaning of Ceramic tile floors is normally a bit less complicated as compared to stone floors cleaning..
The glassy surface is simpler to clean.
But, professional tile cleaning and restoration will render a cleaner finish.
We always apply an expert tile sealer after cleaning. Sealing stops liquid spills changing into stains, and makes cleaning and restoring more effective.
A Number Of The Natural Stone Cleaning Treatments Our Specialists Bring
Sandstone tile cleaning is rarely just cleaning, there is certainly regularly more restoration required. Stone floor restoration covers a variety of services. At the least, all stone floors suffer some form of generic wear and tear. In most cases, soil, stains and traffic marks ruin floor's finish. Highly polished marble and granite floors show up wear quickly, as minute foot traffic scuff marks within the stone surface alter the luster and hold dirt. A surface sealer does not prevent porous tile and and tiles like Sandstone, Limestone and Terracotta gradually struggling with wear and spill problems. Most tile and stone flooring has cement grout. Cement grout is generally softer compared to stone plus much more in danger of abrasive and chemical damage. Holes could possibly be filled and cracks repaired included in a restoration. Stone floor gets the appeal that a grubby, porous surface may be taken away, exposing an attractive new surface. Grinding and honing removes surface damage from etching and surface scratching.
Stone floor sealing is crucial to keep a new natural stone finish looking stunning. Stone sealers must be placed on new stone floor and tile floors and immediately after any floor tile cleaning, stone polishing or tile restoration work. Impregnating or penetrating sealers are used following diamond floor polishing. Hybrid sealers or Surface sealers would be best put on coarse tile and or tiles.
The first shine on a stone and tile will gradually go dull. The loss in shine is brought on by foot traffic scratches and surface damage. The only way to replace the original finish is by polishing the natural stone. On marble, Granite, Terrazzo, Polished Limestone and Polished Travertine floors, diamonds are used to get rid of the area wear and recover the original sparkle. The shine on Honed Travertine, Honed Limestone, Sandstone, Slate and Clay tiles is established through the use of a high gloss sealer. Sealer removing products are applied to take away all traces regarding the existing sealer, after which a brand new gloss sealer is applied.
Are there unsightly chips in your stone and tile floor?
You do not have to improve the tile and stone. Coloured resin fillers can fill chips and damage on a tile. Once the resin cures, it offers to be sanded and polished. Chip repairs are less expensive than laying new tiles.
Contact the Industry Professionals for Natural Stone Repairs London - Call the Specialists.
Repairing Cracked Tiles
A slight movement in the subfloor can make a crack in a marble tile. Cracks in many cases are contained in doorways and in between rooms. Also, a crack can appear as a result of a deficiency or weak spot within the tile. Crack repaircosts not as much as replacing the tile.
If you have got a deep crack in your floor, vanity unit, tabletop or counter top, they have been filled up with coloured epoxy fillers. Hairline cracks are way too fine to accept a filler and they also should be widened with diamond tools before they are filled.
Other areas near Richmond we service include:
RichmondHelpful Information
Richmond is a town in south-west London, 8.2 miles 13.2 km west-southwest of Charing Cross. It is on a meander of the River Thames, with many parks and open spaces, including Richmond Park, and many protected conservation areas, which include much of Richmond Hill. A specific Act of Parliament protects the scenic view of the River Thames from Richmond. Richmond was founded following Henry VII's building of Richmond Palace in the 16th century, from which the town derives its name. The palace itself was named after Henry's earldom of Richmond, North Yorkshire. During this era the town and palace were particularly associated with Elizabeth I, who spent her last days there. During the 18th century Richmond Bridge was completed and many Georgian terraces were built, particularly around Richmond Green and on Richmond Hill. These remain well preserved and many have listed building architectural or heritage status. The opening of the railway station in 1846 was a significant event in the absorption of the town into a rapidly expanding London. Richmond was formerly part of the ancient parish of Kingston upon Thames in the county of Surrey. In 1890 the town became a municipal borough, which was later extended to include Kew, Ham, Petersham and part of Mortlake North Sheen. The municipal borough was abolished in 1965 when, as a result of local government reorganisation, Richmond was transferred from Surrey to Greater London. Richmond is now part of the London Borough of Richmond upon Thames, and has a population of 21,469 consisting of North Richmond and South Richmond wards. It has a significant commercial and retail centre with a developed day and evening economy.