Stone Floor Cleaning Barnsbury
Find Out About Incredible Stone Floor Cleaning Barnsbury.
Provide The Size And Variety Of Stone
More often than not the dimensions and type of stone, plus a handful of photographs detailing the condition of the floors will be all we need.
Once we have defined your needs we will email a thorough written quotation.
You Will Get A Prompt Reply
Most of the time we shall offer other treatments to accommodate most budgets.
Our quotation is going to be accompanied with a document displaying examples of equivalent work.
We Decide On A Start Date
We get there promptly and equipped for work.
Your tile and stone floor will look stunning
The Reasons Why You Can Trust Us
Providing stone floor cleaning Barnsbury, Polishing, Repair and Restoration Services.
Our business has been delivering stone cleaning, polishing and restoration solutions since 1996.
Get a totally free assessment, to restore your marble, grout and tile and stone back to its original beauty.
Professional cleaning and maintenance assistance
Following restoring stone floors to a striking finish, we provide a cleaning and maintenance program, so floors stay beautiful for years rather than weeks.
Contact Us Now!
Your stone floor cleaning Barnsbury quotation is merely a click away.
A Brief Explanation Of Our Expert Stone Floor Restoration Services In Barnsbury
An initial appearance on marble tiles will eventually loose its shine. The surface damage is brought on by foot traffic scores and etch marks Gradually, the marble will have to be re-polished.
We use diamonds to take away the scratches and damage and restore the original shine.
If your floor happens to be laid leaving uneven tiles, this is certainly known as lippage. A marble floor is smoothed by grinding away the lippage and irregular tile edges. Grinding marble should only be carried out by professionals.
After grinding, the tiles will be at the same level the grout. The marble floor will get the look of becoming just one slab of marble.
An even marble floor is much simpler clean. Also, soil does not get stuck into the grout lines. Chips, cracks and hole repairs tend to be part of the marble restoration work. We can recommend the correct restoration process.
Travertine Floor Restoration
A Travertine floor is a type of Limestone. Travertine floor tilescan be supplied in many different finishes, including polished, honed and tumbled. In time, the initial hole filler comes away, thereafter the holes get filled with unsightly soil.
Working to the highest standard, Travertine floor restoration Companies have use a variety of machine scrubbing, hand scrubbing and pressure rinsing to remove old sealers and ingrained soil.
After cleaning, the Travertine floor can be grouted to refill any open holes. After cleaning and grouting the Travertine floor we use a resilient, simple to clean sealer.
Limestone Cleaning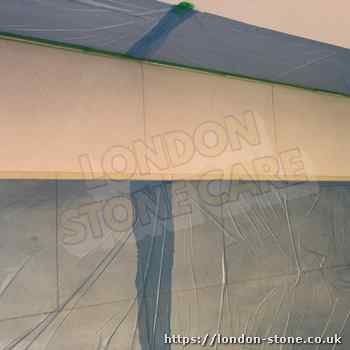 In time, Limestone will end up dull and loose its polish. The dull appearance is brought on by microscopic marks on the surface where it is often walked over. Gradually, the tiles will have to be repolished. Diamonds are used to get rid of the surface damage and rebuild the initial shine.
It's pretty much impossible to lay a Limestone floor completely flat. We can grind away the jagged tile edges, making the tile surface flat. You need specialized equipment and years of experience to grind a Limestone floor, however the results are fabulous. The Limestone floor will get the appearance of appearing as an individual slab of Limestone.
Following grinding, the Limestone tiles be at the same level the grout lines. It is a lot easier to mop a smooth Limestone than a jagged floor. There are no grout channels to trap dirt. Chips, cracks and hole repairs are often part of the Limestone restoration procedure. After assessing the floor, we will advise the very best Limestone restoration process.
Terrazzo Floor Polishing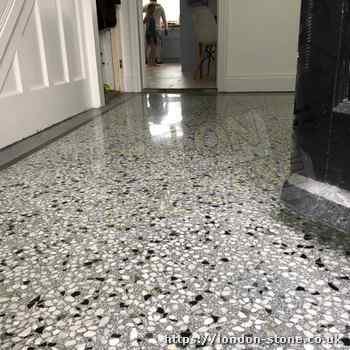 Terrazzo is manufactured out of natural stone segments set in a cement or epoxy medium which is either poured on site or cast as tiles. In the long run, Terrazzo will end up dull and lose its finish. The dullness is brought on by microscopic scratches on top where it was walked on.
Terrazzo Polishing is the best way to restore finish to the highest standard. We use diamond polishingto bring back the original Terrazzo shine. We can help to prevent this soil with Terrazzo sealers.
Sandstone Cleaning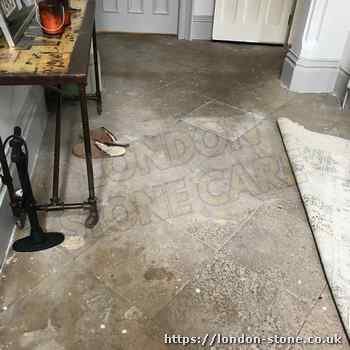 Sandstone is formulated mostly from quartz, iron oxide, silica and calcium based deposits making it a very resilient stone. Whilst sandstone is sturdy it is also porous, so cleaning slurry gets caught in the surface and is hard to remove.
We use a rotary brushing machines, sealer removers and pressurised rinsing to completely clean the sandstone Then we use specialist sealers that last for years not months. Once we inspect your floor, we are able to help you from the best restoration process.
Granite Floors
You are able to find granite in many domestic homes and buildings. Granite is extremely hard.Granite is often chosen for the product's hard-wearing characteristics. A surface on a granite floor lasts much longer than other stones or tiles.
Due to the stone's hardness, granite really needs professional renovation. We can restore all forms of granite. to the highest standard.
Terracotta Floors
Terracotta has no glaze on top, so that it will soak up spills and soil extremely quickly.
Terracotta can easily begin to show marks, particularly if the existing sealer has worn away.
Sealer residues, dirt and marks could be removed with scrubbing equipment and sealer removers.
We use a durable sealer for terracotta, and that means you get the most value from your own cleaning.
Slate Restoration
Slate floors look fantastic due to their textured finish and vibrant colours. Slate floors need regular sealing to avoid soil and spills marking the appearance.
We use a combination of machine scrubbing and hand scrubbing to get rid of all traces of older soiled sealers and clean the tiles. Then we apply hard-wearing sealers.
If you have an appropriate slate, it could be ground smooth, rendering it better to clean.
Victorian Tiles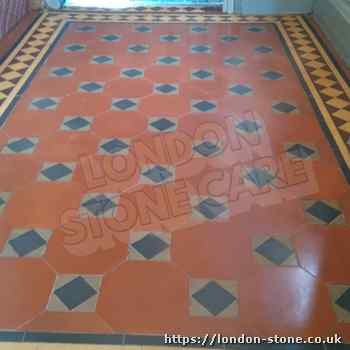 Many Victorian and Edwardian hallways will have floors made from Geometric Encaustic tiles.
Victorian tiles are produced from natural clay with a normal matt finish.
A good number of these floors have been sealed and then covered with carpet and lino.
Cleaning these floors can be challenging due to the range of old sealers and residues.
After cleaning, the original colours in the floor can appear washed-out, so we put on a colour intensifying impregnating sealer to restore the original depth of colour. A topical sealer or wax finish will give the tiles with a low-sheen finish.
Quarry Tiles Floors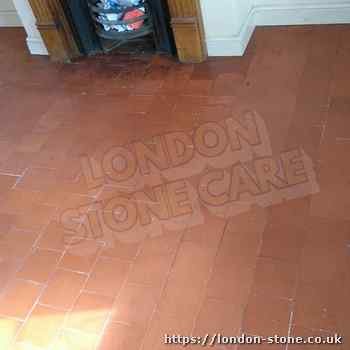 Quarry tiles are extremely are particularly durable but they do have problems with a couple of issues.
Decades of dirt and old sealers often leads some individuals to think their tile floor is beyond repair, but that is often far from the truth.
While the tiles may appear soiled and discoloured, they're amazingly robust and can look just like new after an effective clean. If the tiles are laid on sand, ash or lime, apply sealers that allow the free transfer of moisture.
Cleaning Porcelain Tile Floors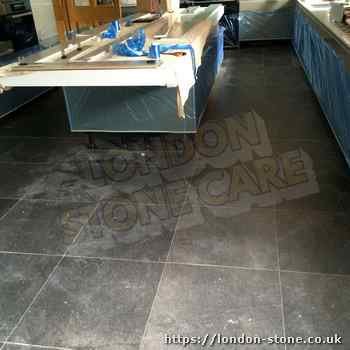 Porcelain is a type of ceramic tile.
This makes Porcelain more stain resistant and easier to keep up than traditional ceramic tiles.
If the blend of ingredients is not right, the top of tiles could be porous. similar to natural stone floors. If you've got a substandard Porcelain, the surface soil can be hard to remove.
We know how to remove ingrained dirt with equipment designed to get into the microscopic pits holding the soil.
After cleaning, we apply specific Porcelain sealers to avoid this problem.
In the event that porcelain is a through-colour, we could resurface the porcelain, just like granite or marble restoration.
Cleaning Of Ceramic Floors.
Professional cleaning of Ceramic tiles usually takes a shorter time compared to stone floors or clay tiles..
This is because the tile surface is normally glazed.
Professional tile and stone cleaning services will still give a better finish.
Following cleaning we put on a professional tile sealer. Tile sealing stops spills turning out to be stains, making cleaning and restoration more efficient.
A Number Of The Stone And Tile Restoration And Cleaning Treatments We Deliver
Sandstone tile cleaning is rarely just cleaning, there may be regularly more restoration required. Sandstone floor restoration covers a number of services. At the least, all stone floors suffer some type of generic wear and tear. In most cases, soil, stains and traffic marks ruin floor's finish. Highly polished marble and granite floors show up wear quickly, as minute foot traffic scuff marks when you look at the stone surface alter the luster and hold dirt. A surface sealer will not prevent porous stone and tile and tiles like Sandstone, Limestone and Terracotta gradually struggling with wear and spill problems. Most stone floor flooring has cement grout. Cement grout is usually softer in comparison to stone and even more in danger of abrasive and chemical damage. Holes could be filled and cracks repaired included in a restoration. Tile and stone has got the appeal that a grubby, porous surface can be taken away, exposing a pleasant new surface. Grinding and honing removes surface damage from etching and surface scratching.
Stone and tile sealing is essential to keep a fresh stone floor finish looking stunning. Stone sealers should really be put on new tile and and tile floors and just after any floor tile cleaning, stone polishing or tile restoration work. Impregnating or penetrating sealers are utilized following diamond floor polishing. Hybrid sealers or Surface sealers are best placed on coarse stone and tile or tiles.
The original shine on a natural stone will gradually go dull. The loss in shine is brought on by foot traffic scratches and surface damage. The only method to replace the initial finish is through polishing the stone and tile. On marble, Granite, Terrazzo, Polished Limestone and Polished Travertine floors, diamonds are utilized to eliminate the top wear and recover the first sparkle. The shine on Honed Travertine, Honed Limestone, Sandstone, Slate and Clay tiles is made by making use of a high gloss sealer. Sealer removing products are applied to take away all traces regarding the existing sealer, and then a new gloss sealer is applied.
Are there unsightly chips on the stone and tile floor?
You do not have to improve the stone and tile. Coloured resin fillers can fill chips and damage on a tile. Once the resin cures, it offers to be sanded and polished. Chip repairs are less costly than laying new tiles.
Contact the Industry Professionals for Natural Stone Repairs London - Call the Specialists.
Repairing Cracked Tiles
A slight movement within the subfloor is going to make a crack in a marble tile. Cracks tend to be contained in doorways and in between rooms. Also, a crack can appear as a result of a deficiency or weak spot within the tile. Crack repaircosts never as much as replacing the tile.
For those who have got a deep crack in your floor, vanity unit, tabletop or counter top, these are typically filled up with coloured epoxy fillers. Hairline cracks are too fine to accept a filler and in addition they need to be widened with diamond tools before they've been filled.
Other areas near Barnsbury we work in include:
BarnsburyHelpful Information
Barnsbury is an area of north London in the London Borough of Islington, in the N1 postal district. The name is a syncopated form of Bernersbury 1274, being so called after the Berners family: powerful medieval manorial lords who gained ownership of a large part of Islington after the Norman Conquest. The area of Barnsbury was predominantly rural until the early nineteenth century. By the end of the 18th century, however, Barnsbury, like other parts of Islington, was being regarded as attractive part-rural suburbs by the comparatively wealthy people wanting to move out of the cramped City of London and industrial Clerkenwell. The area is close to the city, and had strong local trade in its position as the first staging post for travellers making the journey from London to the north, and with considerable agricultural traffic and cattle driving to the nearby Smithfield cattle market in the city. Barnard Park, consisting of 10 acres including a large area of football pitches, was created in 1967 on an area of housing that had been bombed during World War Two and named after former Islington Mayor Cllr George Barnard. Pentonville Prison built 1842 is located within Barnsbury. Since 2006, Barnsbury ward has been represented by three Labour councillors.