Stone Floor Cleaning Mayfair
Introducing Remarkable Stone Floor Cleaning Mayfair.
Inform Us About The Floor
Some photos of the floors together with sizes are often all we want.
After we have clarified your needs we will email a thorough written estimate.
In many cases we shall propose alternative treatments to accommodate most budgets.
We will also email a document detailing examples of comparable work.
We come punctually and equipped for work.
Your natural stone floor will look incredible
Reasons Why You May Want To Choose Us
Our professionals are ready to work with any stone floor cleaning Mayfair job that that you need.
We use the most advanced technology, brought to you with a personal touch, which means that your stone floors look more gorgeous and preserve their natural beauty for a long time into the future.
Regardless if you are planning to restore or refinish your natural stone or tile floors, we are confident that we can help.
If you like cleaning tips, make contact and I will be more than happy to help.
Following restoring stone floors to a lovely appearance, we provide a cleaning and maintenance program, so floors stay stunning for years rather than months.
Contact Us Now!
Get a 100 percent free stone floor cleaning Mayfair quotation today.
Our Expert Stone Floor Cleaning And Polishing Services In Mayfair Outlined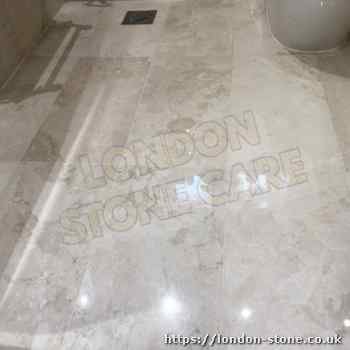 The original appearance on a marble floor will steadily loose its gloss. The dull appearance is caused by microscopic marks on the surface of the stone where it was walked over. The best way to revive the original shine is through polishing the marble.
We use industrial diamonds to remove the marks and scratches and recover the original shine.
It's pretty much unachievable to install a marble floor absolutely flat. We can grind away the jagged tile edges, making a floor surface level. It is an involved process however the results are beautiful.
Following grinding, the grout sits will be level with the marble. The marble looks monolithic, appearing to be manufactured from an individual slab of marble.
It is much simpler to clean a smooth marble than a jagged floor. There are no uneven grout deressions to hold soil. Holes, chips and crack repairs are often an element of the marble restoration service. After we have inspected the floor, we can advise the best marble restoration process.
Travertine cleaning And Sealing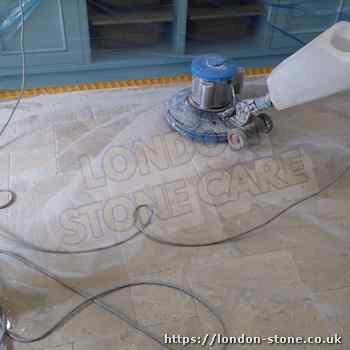 A Travertine floor is distinct with a honeycomb structure, with plenty of holes. Travertine floor tiles qre available in a range of finishes, tumbled, smooth honed and polished. With time, the original hole filler falls out, and the holes fill with unattractive soil.
Working to the highest standard, restoration service providers use specialist machines and cleaners to get rid of the soil and old sealer residues on a Travertine floor.
After cleaning, any open holes in the Travertine floor could be filled with colour matched grout. We then apply a durable sealer which also helps make the Travertine floora lot easier to clean.
Limestone Cleaning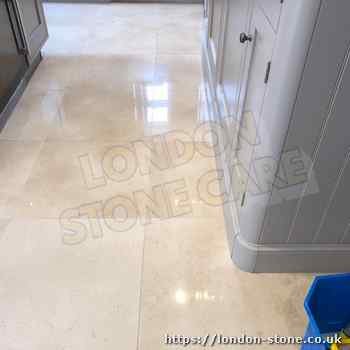 As time passes, Limestone will be worn and loose its surface. Scratching and etch damage pile up and take off the initial polish. Before long, the floor will need to be polished. We use diamond polishing to re-surface the Limestone floor and repair the original polish.
It is virtually unachievable to lay a Limestone floor really flat. A Limestone floor should be smoothed by grinding away the lippage and irregular tile edges. This really is an involved process however the the finished results are spectacular. The Limestone floor will get a monolithic appearance as an individual slab of Limestone.
After grinding, the tiles will be flush with the grout. It is much easier to mop a smooth, sleek Limestone than an uneven floor. There are no grout channels to retain soil. Holes, chips and crack repairs tend to be part of the restoration process. We can advise the correct Limestone restoration process.
Terrazzo
Terrazzo has been used for thousands of years as a flooring The original finish on a Terrazzo floor will progressively go dull. The dullness is brought on by microscopic scratches on top where it's been walked on.
Eventually, the Terrazzo will have to be polished to the highest standard. We use diamond polishingequipment to replace the initial Terrazzo shine. After cleaning and polishing, we use specialised Terrazzo sealers.
Sandstone Cleaning & Sealing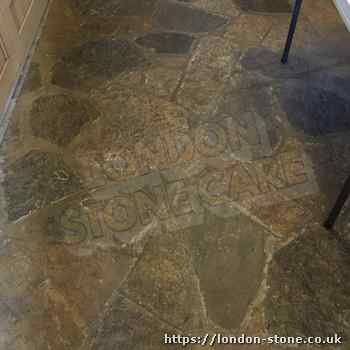 Sandstone is formulated principally of quartz, iron oxide, silica and calcium based deposits that makes it a very durable stone. Old sandstone may be covered with a number of old sealers and trapped dirt, so ultimately, it will need expert cleaning and re-sealing.
We use a variety of machine scrubbing, hand scrubbing and pressure rinsing to eliminate all traces of old soiled coatings and clean the floor to the highest standard. We then use specialist sealers that will last for a long time not just months. We will advise the correct restoration service.
Granite Floors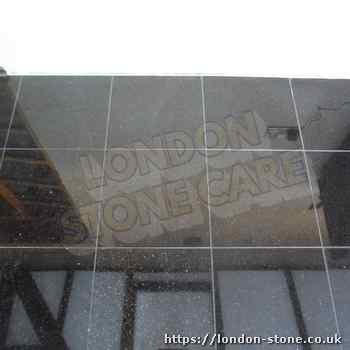 Granite is a tremendously popular stone flooring. Granite is a very hard stone and is resistant to surface damage from scratches and stains compared to other stone like marble and limestone. Granite requires less professional maintenance compared to other stone.
Granite is so hard, that many companies do not have the apparatus or skills to restore granite. We offer a full selection of granite restoration, cleaning polishing and sealing services. to the highest standard.
Terracotta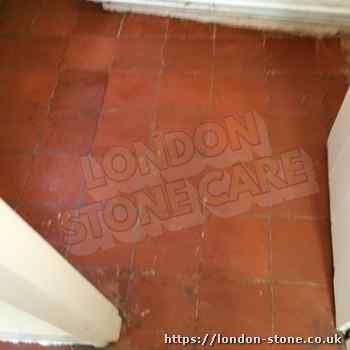 Terracotta does not have any glaze on top, therefore it will soak up spills and soil extremely quickly.
Terracotta is quite porous so it is essential to protect it with some protective seal.
Sealer remains, soil and scratches could be removed with rotary scrubbing and sealer removers.
We can seal the Terracotta with a genuine beeswax finish or a tough synthetic sealer.
Slate Cleaning
Slate floors look fantastic along with their distinctive appearance and vibrant colours. We have been mostly called to restore slate when it suffers form layers of old sealer with embedded dirt, so the appearance looks dull and dirty.
We use specialist sealer removers and rotary scrubbing devices to eliminate the layers of old coatings. After the professional cleaning is completed , we leave the floor to dry, then apply a lasting, easy to maintain sealer.
If you have an appropriate slate, it could be ground smooth, rendering it easier to clean.
Victorian Tiles
Many Victorian and Edwardian hallways will have floors made of Geometric Encaustic tiles.
Victorian tiles are made from natural clay and have a natural non-shiny finish.
With the variations in residential decor, these kinds of floors have carpet underlay, lino, bitumen and different glue residues.
Owing to their age, these types of floors may have a variety of covering residues, that have to have expert cleaning
After cleaning, the initial colours in the floor tiles can look dull, therefore we apply a colour intensifying sealer to bring back the original depth of colour. Topical sealers and waxes will provide a floor a sheen or glossy finish.
Quarry Tiles Floors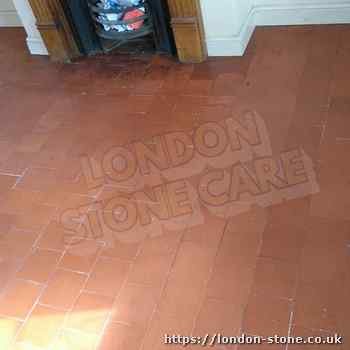 Quarry tiles are extremely are particularly durable however they do suffer from a number of issues.
One common problem is previous films of sealer that must be taken off.
We can take away the layers of old selaers and soil, giving you an attractive new finish. After cleaning, the tiles can be protected with a long lasting sealer.
Porcelain Tiles Cleaning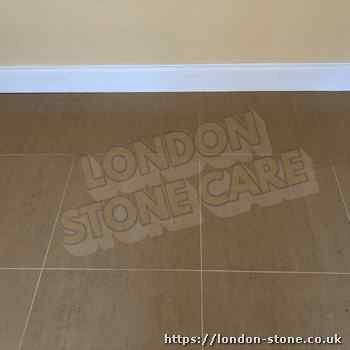 Porcelain is a form of ceramic tile.
The added minerals helps to make Porcelain tougher than standard ceramic tiles.
If Porcelain is not processed correctly, the surface can absorb soil similar to natural stone floors. This soil could be difficult to remove.
We are able to get rid of ingrained dirt using equipment made to enter into the microscopic pits holding the soil.
After cleaning, we apply specific Porcelain sealers to avoid this problem.
If you have a solid colour Porcelain, we are able to re-surface the tiles by Grinding and re-polishing.
Cleaning Of Ceramic Floors.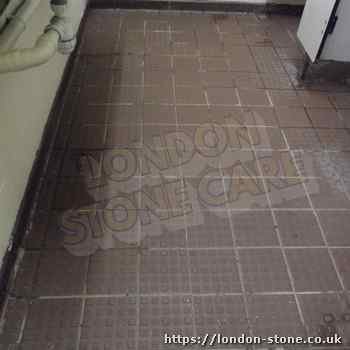 Professional cleaning of Ceramic floor tiles is normally quicker when compared with cleaning natural stone floors or clay tiles.
The polish in Ceramic floor tiles isn't permeable.
However, professional cleaning, professional cleaners and machinery will give the best results.
After cleaning and restoration we apply a specialist tile sealer. A sealed floor is a lot easier to clean and helps avoid stains.
A Few Of The Natural Stone Restoration And Cleaning Options We Deliver
Stone floor cleaning is rarely just cleaning, there exists regularly more restoration required. Natural stone restoration covers a range of services. At the very least, all stone floors suffer some form of generic wear and tear. In most cases, soil, stains and traffic marks ruin floor's finish. Highly polished marble and granite floors show up wear quickly, as minute foot traffic scuff marks when you look at the stone surface alter the luster and hold dirt. A surface sealer will not prevent porous tile and and tiles like Sandstone, Limestone and Terracotta gradually struggling with wear and spill problems. Most tile and stone flooring has cement grout. Cement grout is typically softer when compared with stone and much more vulnerable to abrasive and chemical damage. Holes could be filled and cracks repaired included in a restoration. Stone floor gets the appeal that a grubby, porous surface could be taken away, exposing a lovely new surface. Grinding and honing removes surface damage from etching and surface scratching.
Tile and stone sealing is vital to keep a unique natural stone finish looking stunning. Stone sealers should always be put on new stone floor and tile floors and immediately after any floor tile cleaning, stone polishing or tile restoration work. Impregnating or penetrating sealers are utilized following diamond floor polishing. Hybrid sealers or Surface sealers are best placed on coarse tile and or tiles.
The initial shine on a stone floor will gradually go dull. The loss in shine is brought on by foot traffic scratches and surface damage. The only way to replace the initial finish is by polishing the tile and stone. On marble, Granite, Terrazzo, Polished Limestone and Polished Travertine floors, diamonds can be used to get rid of the surface wear and recover the first sparkle. The shine on Honed Travertine, Honed Limestone, Sandstone, Slate and Clay tiles is established by making use of a higher gloss sealer. Sealer removing products are applied to take away all traces of this existing sealer, after which a brand new gloss sealer is applied.
Is there unsightly chips on your tile and stone floor?
There is no need to alter the natural stone. Coloured resin fillers can fill chips and damage on a tile. When the resin cures, it offers to be sanded and polished. Chip repairs are less costly than laying new tiles.
Contact the Industry Professionals for Natural Stone Repairs London - Call the Specialists.
Repairing Cracked Tiles
A slight movement in the subfloor can make a crack in a marble tile. Cracks are often present in doorways and in between rooms. Also, a crack can appear because of a deficiency or weak spot in the tile. Crack repaircosts never as much as replacing the tile.
For those who have got a deep crack in your floor, vanity unit, tabletop or counter top, these are typically filled up with coloured epoxy fillers. Hairline cracks are too fine to just accept a filler and they also need to be widened with diamond tools before these are typically filled.
Other areas near Mayfair we cover include:
MayfairHelpful Information
Mayfair is in the West End of London towards the eastern edge of Hyde Park, in the City of Westminster, between Oxford Street, Regent Street, Piccadilly and Park Lane. It is one of the most expensive districts in London and the world. The area was originally part of the manor of Eia and remained largely rural until the early 18th century. It became well known for the annual €œMay Fair€ that took place from 1686 to 1764 in what is now Shepherd Market. Over the years, the fair grew increasingly downmarket and unpleasant, and it became a public nuisance. The Grosvenor family who became Dukes of Westminster acquired the land through marriage and began to develop it under the direction of Thomas Barlow. The work included Hanover Square, Berkeley Square and Grosvenor Square, which were surrounded by high-quality houses, and St George Hanover Square Church. By the end of the 18th century, most of Mayfair was built on with upper-class housing; unlike some nearby areas of London, it has never lost its affluent status. The decline of the British aristocracy in the early 20th century led to the area becoming more commercial, with many houses converted into offices for corporate headquarters and various embassies. Mayfair retains a substantial quantity of high-end residential property, upmarket shops and restaurants, and luxury hotels along Piccadilly and Park Lane. Its prestigious status has been commemorated by being the most expensive property square on the London Monopoly board.