Stone Floor Cleaning Whitehall
Learn About The Finest Stone Floor Cleaning Whitehall.
Provide The Size And Kind Of Stone
More often than not the size and variety of stone, plus a number of photographs displaying the appearance of the floors will be all we require.
We shall email an in depth estimate after we have cleared up your requirements.
In many cases we shall offer some other treatments to match most budgets.
Our quotation is going to be supported with a document detailing samples of comparable work.
We come ready for work as well as on time.
Your natural stone floor will look lovely
Reasons Why You May Want To Select Us
Our contractors can take care of any kind of stone floor cleaning Whitehall or restoration project that you will need for your room.
Exceptionally experienced and professional technicians, trained with state of the art practices.
If you are ready to unleash the appeal of your stone floors, make contact with our restoration team!
happy to help you with stone cleaning and maintenance assistance
Following restoring stone floors to a lovely condition, we supply a cleaning and maintenance program, so stone floors stay wonderful for years instead of weeks.
Contact Us Now!
Book a quote for your stone floor cleaning
Our Professional Stone Floor Cleaning And Polishing Services In Whitehall Explored
Marble Cleaning And Sealing
Marble ultimately looses its original polish. The dullness is due to minute marks on the surface of the marble where it was walked over. Gradually, the tiles will need to be re-polished.
We use industrial diamond polishing to re-surface a floor and rejuvenate the finish.
It really is practically impossible to lay a marble tile floor really flat. We can grind off the jagged edges of the tiles, making the floor surface level. Marble grinding is a professional service, providing superb results.
After grinding, the grout sits at the same level as the the marble. The marble floor will get the appearance of appearing as just one slab of marble.
A smooth marble surface is much simpler mop. Also, soil does not get stuck into the grout lines. If your marble has cracks or chips, we are able to repair them using resin fillers, colour matched with the marble. The type of restoration needed should be decided by the condition of of your marble floor.
Travertine Floor Cleaning And Sealing
Much of the Travertine used in the UK has a honeycomb framework with a great deal of holes. Travertine floor tilescould be supplied in many finishes, including tumbled, honed and polished. The original hole filler often comes out, allowing the holes to fill with dirt, soil and mopping water.
Working to the highest standard, restoration businesses use rotary scrubbing equipment and pressurised rinsing to clean the Travertine floor.
After the Travertine floor tiles and the holes are clean, any holes are grout filled with a colour matched grout. Finally, we use specialist sealers that keep working for a long time to protect the Travertine floor.
Limestone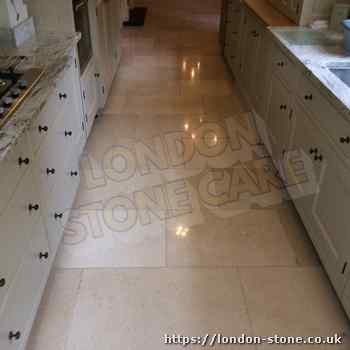 Limestone ultimately looses the initial shine. The dullness is caused by small scratches on the surface of the Limestone where it was walked over. Eventually, your Limestone will have to be polished. We operate specialized equipment and industrial diamond tooling to grind, hone and polish the Limestone.
If your floor happens to be put down with uneven tiles, this will be referred to as "lippage". A Limestone tile floor is leveled by grinding away the lippage and irregular edges of the tiles. Grinding Limestone should be performed by specialists. The floor will look like an individual slab of Limestone.
After grinding, the Limestone and grout will be at exactly the same level. Mopping a ground, honed and polished Limestone floor is similar to cleaning a single slab of glass. A smooth surface Limestone floor won't have grout depessions to capture soil. Cracks and chips can be repaired with coloured resin repair fillers. The type of restoration needed should be based on the condition of of the floor.
Terrazzo Cleaning
Terrazzo has been utilized for many thousands of years as a flooring The initial finish on a Terrazzo floor will eventually go dull. Scratches and etch marks build up and damage the original finish.
Sooner or later, the Terrazzo will have to be polished to the highest standard. We use specialist Terrazzo polishing machines and diamond tools to grind and polish the Terrazzo. Once your Terrazzo is cleaned and polished, we can apply a sealer which protects against routine spills.
Sandstone Cleaning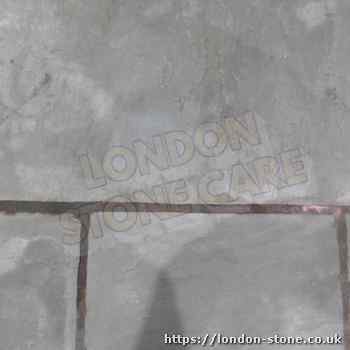 Sandstone is made of compressed sand, as well as various minerals such as quartz and feldspar. Old sandstone can be covered with a range of old sealers and trapped dirt, so ultimately, it will need specialist cleaning and re-sealing.
There are industrial-grade wax removers, rotary scrubbing apparatus and pressurised rinsing to eliminate the layers of old sealer We then use specialist sealers that last for a long time not just months. After inspecting a floor, we will advise the most appropriate Sandstone restoration service.
Granite Restoration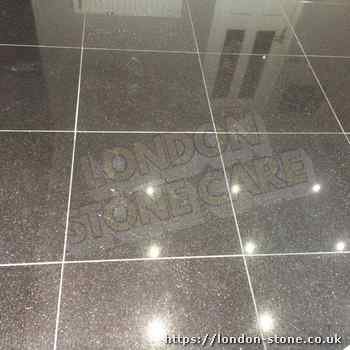 Granite is a favorite stone flooring for home and commercial rooms. Granite is an extremely hard wearing tile, ideal for heavy duty foot traffic areas. Specialized routine maintenance is usually required less often compared to different stones tile marble or limestone.
Granite is so hard, that many companies don't have the gear or knowledge to restore granite floors. We can restore all types of granite. to the highest standard.
Terracotta Floor Restoration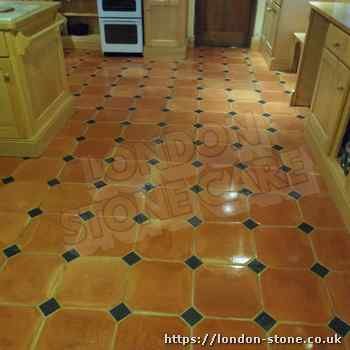 Terracotta is amongst the most permeable floors which we come across but has been utilized for floor tiles for many thousands of years.
Terracotta can very quickly start to show surface marks, particularly if the existing sealer has completely worn away.
In spite of its vulnerabilities, Terracotta could be restored back once again to a wonderful finish.
Whilst we can seal Terracotta with Boiled linseed oil and wax, we recommend a durable synthetic sealer which will last for years, with minimum maintenance.
Slate Floor Cleaning
Slate floors look fantastic making use of their textured surface and vibrant colours. We have been mostly called to restore slate when it suffers form layers of old coating with embedded dirt, so that the appearance looks worn and soiled.
We use rotary scrubbing equipments and sealer removers clean the slate. After the professional cleaning is finished , we leave the floor to dry, then use a durable, easy to maintain sealer.
If you like a smooth floor, we can grind the ground, subject to the slate being suitable for grinding.
Victorian Tiles Cleaning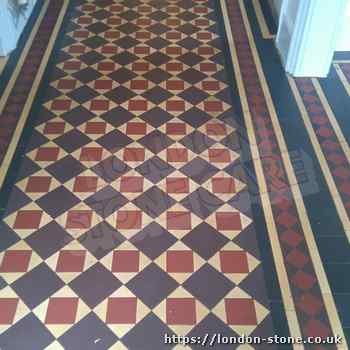 Period Geometric or Encaustic floor tiles are found in Victorian and Edwardian hallways.
The tiles are unglazed resulting from the natural colours of the clay used to make them.
Along with the variations in home design, many of these floors get underlay from carpet, lino adhesive, bitumen and different glue remains.
Owing to their age, these kinds of floors can have a range of coating residues, that need to have expert cleaning
A colour intensifying sealer is used immediately after cleaning, to restore the original colours within the tiles. A topical sealer or wax finish will provide the tiles with a low-sheen finish.
Quarry Tiles Floor Restoration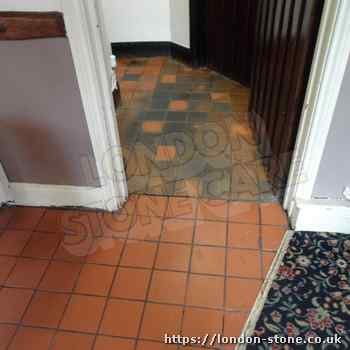 Quarry tiles were a standard fixture in cooking areas and for interior flooring for many years.
Whilst the tiles can take place dirt, these floors are remarkably durable and can look as good as new after an effective clean.
Professional cleaning can remove the several years of grime and old sealers, exposing an attractive floor. Quarry tiles tend to be laid without a damp proof membrane, therefore we want to apply the proper sealer to permit the tiles to breathe.
Cleaning Of Porcelain Floors.
Porcelain is actually a ceramic mix with additional sand and feldspar included to create a denser tile.
The extra minerals makes Porcelain more robust than traditional ceramic tiles.
Some inferior porcelains have tiny holes that may absorb soil just like natural stone floors. The microscopic surface pits insure that it is hard to remove this soil.
We know how to get rid of ingrained dirt using equipment built to enter into the microscopic pits holding the soil.
We can help stop the dirt with Porcelain sealers.
If you've got a solid colour Porcelain, we can re-surface the tiles by Grinding and re-polishing.
Cleaning Of Ceramic Floors.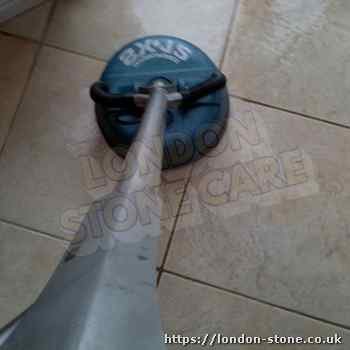 Professional cleaning of Ceramic floor tiles is generally a bit less complicated when compared with natural stone floors cleaning..
Generally speaking, the glazed polish releases ingrained soil more easily.
But, professional cleaning, professional cleaners and equipment will give the best results.
We always put on an expert sealer after cleaning and restoraiton. Tile sealing avoids spills turning into stains, and makes cleaning more efficient.
A Number Of The Stone And Tile Cleaning Options Our Specialists Bring
Stone floor cleaning is rarely just cleaning, there may be regularly more restoration required. Stone and tile restoration covers many different services. At least, all stone floors suffer some type of generic wear and tear. More often than not, soil, stains and traffic marks ruin floor's finish. Highly polished marble and granite floors show up wear quickly, as minute foot traffic scuff marks during the stone surface alter the luster and hold dirt. A surface sealer does not prevent porous tile and and tiles like Sandstone, Limestone and Terracotta gradually struggling with wear and spill problems. Most natural stone flooring has cement grout. Cement grout is typically softer when compared with stone and much more in danger of abrasive and chemical damage. Holes might be filled and cracks repaired included in a restoration. Tile and stone contains the appeal that a grubby, porous surface can be taken away, exposing an attractive new surface. Grinding and honing removes surface damage from etching and surface scratching.
Tile and stone sealing is vital to help keep a fresh stone and tile finish looking stunning. Stone sealers should be placed on new tile and and tile floors and soon after any floor tile cleaning, stone polishing or tile restoration work. Impregnating or penetrating sealers are used following diamond floor polishing. Hybrid sealers or Surface sealers would be best placed on coarse stone and tile or tiles.
The initial shine on a sandstone floor will gradually go dull. The loss in shine is due to foot traffic scratches and surface damage. The only way to replace the initial finish is through polishing the tile and. On marble, Granite, Terrazzo, Polished Limestone and Polished Travertine floors, diamonds are utilized to get rid of the top wear and recover the original sparkle. The shine on Honed Travertine, Honed Limestone, Sandstone, Slate and Clay tiles is made by applying a high gloss sealer. Sealer removing products are applied to take away all traces of the existing sealer, after which a new gloss sealer is applied.
Are there unsightly chips in your stone and tile floor?
You do not have to alter the stone and tile. Coloured resin fillers can fill chips and damage on a tile. When the resin cures, it has to be sanded and polished. Chip repairs are less costly than laying new tiles.
Contact the Industry Professionals for Natural Stone Repairs London - Call the Specialists.
Repairing Cracked Tiles
A slight movement in the subfloor is likely to make a crack in a marble tile. Cracks are often contained in doorways as well as in between rooms. Also, a crack can appear as a result of a deficiency or weak spot inside the tile. Crack repaircosts not as much as replacing the tile.
When you yourself have got a deep crack in your floor, vanity unit, tabletop or counter top, they truly are filled with coloured epoxy fillers. Hairline cracks are way too fine to simply accept a filler and they also should be widened with diamond tools before they've been filled.
WhitehallHelpful Information
Whitehall is a road and area in the City of Westminster, Central London. The road forms the first part of the A3212 road from Trafalgar Square to Chelsea. It is the main thoroughfare running south from Trafalgar Square towards Parliament Square. The street is recognised as the centre of the Government of the United Kingdom and is lined with numerous departments and ministries, including the Ministry of Defence, Horse Guards and the Cabinet Office. Consequently, the name Whitehall is used as a metonym for the British civil service and government, and as the geographic name for the surrounding area. The name was taken from the Palace of Whitehall that was the residence of Kings Henry VIII through to William III, before its destruction by fire in 1698; only the Banqueting House has survived. Whitehall was originally a wide road that led to the front of the palace; the route to the south was widened in the 18th century following the destruction of the palace. As well as government buildings, the street is known for its memorial statues and monuments, including the UK primary war memorial, the Cenotaph. South of the Cenotaph the thoroughfare becomes Parliament Street. The Whitehall Theatre, now the Trafalgar Studios, has been popular for farce comedies since the mid-20th century.